10 Things You Didn't Know About Decorating
1. Find you right style:
It's all about kissing frogs! You need to kiss a lot of frogs to find your Prince and finding your style is no different. It really is as simple as "Style & Error". This is a fundamental method of solving problems, including design ones. "Style & Error" means repeated, varied attempts, until you find a style that is just right. It can be as unsystematic as you like. Don't expect this to be a finite or static thing either...the "Style & Error" operation will continue throughout your life. Each new life phase or new property will force your hand, to somewhat reinvent your ideas on style. This is the ridiculously fun part – embrace it.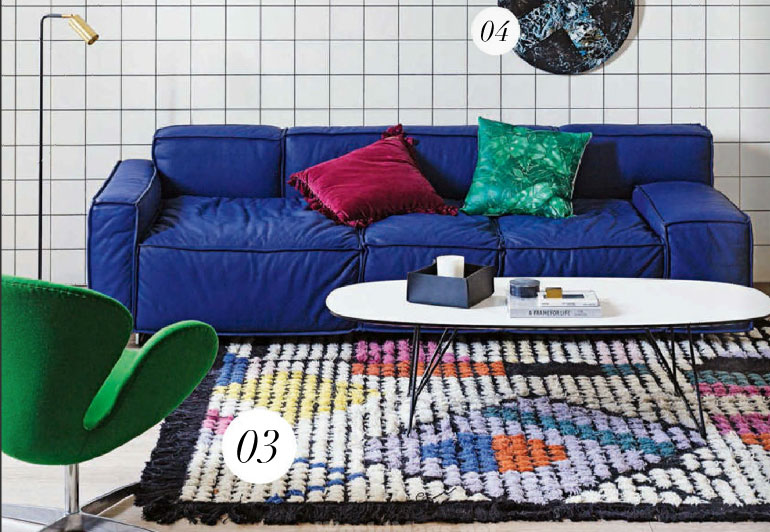 2. Get the light right
Aim to have a variety of layered lighting that can be individually controlled for different times of the day, events or moods. Most rooms require three types of lighting: general, accent, and task. Ambient or general lighting illuminates a room in a fairly uniform manner. Accent lighting is used to emphasise a room's features, such as art and decorative objects. Task lighting is all about directional and adjustable light sources - think reading lights and study lamps. Try and illuminate most of your room with an assortment of lights and lamps, preferably all fitted with dimmers. And please, enough already with downlights!
3. How to buy art:
A great art collection starts with just one piece...and like any big project, getting started is the hardest part. Here are my top tips for the beginner collector:
• Research And Development – discover your art preference. - • Buy what you like, * Limited-edition prints, lithographs, silksçreens, photography, vintage posters and sculptures are usually more affordable to buy. • As with all VIP purchases, remember to keep your records — it's important to know the What, Where and From Whom you bought a piece of art. This information
adds provenance to your piece and could improve its value. • When it comes to seeking out the next big thing, look for galleries that have both emerging and local artists together with the establishment • Remember, an : auction— is at its most intimidating the first time – then it's beyond sun. It's very grown-up.
4: Try before you buy:
A surprising number of retail stores and suppliers will let you take things home on "appro". You can have 24 hours to interview the contender before making the big decision: to buy or not to buy. Rugs and artworks are two VIP"try before you buy" candidates. I would even suggest that it's impossible to make a great rug selection without first viewing it insitu. The lovely exception is if you have the opportunity to simply buy what you like and build the perfect room around it.
5. Designers: What to Expect
Thinking of hiring an interior designer? The following points are good to know. • A designer will invade your personal spaces trying to figure out not only what you think you want but also what you do need. We negotiate the "his and hers" ideas and merge them into harmony. Sometimes, with respect, I will set the client's brief aside, and check what is good for the space, room, or overall house. (Sometimes, unwittingly, clients ask for the wrong thing.) • A designer is part cheerleader. We encourage our clients to be brave and question conventional thinking. The goal is to achieve a truly personal space that's perfect for how YOU live. • A designer is part clairvoyant. We see things that aren't there... yet! We see the possibilities that pertain to your space and you can, too.
6. Design - Should it be about resale potential?
The short answer is No, not if you're talking about the family home. The typical improvements made during a renovation should be adequate to ensure a good sale. (If you're a developer, or renovating for profit, flipping houses, then it's a different story.) Make the kitchen, bathrooms and landscaping what YOU want them to be, not what you perceive some unknown future buyer might want. Your family home is just that, so pay homage to YOUR family!
7. Making a brief:
Even if you are going to be your own designer it's important to follow a process. It all starts with the brief... or perhaps a long wish list. A good design brief should focus on the outcome of the design. A design brief is often referred to as a scope of works. It includes details on all elements that need to be covered in the project, a shopping list of needs and wants, together with ideas on the budget and timeline. For most, it will be easier to prepare a brief room by room. This will enable you to quickly list requirements for the space — for instance, you need to seat 10 at the dining table on a regular basis, or you need a study nook in the kitchen.
8. Make too small artworks work:
Hang small artworks off centre and lower than usual – this pulls the image into the space and, in the instance pictured here, makes it group or connect with the sofa. This asymetrical style of hanging will also work just as well above a bed, sideboard, or even TV unit. The arrangement is win-win, allowing for additional artworks to be added to the mix later on.
9. Source like a designer:
Brainstorm all your options, from the modest to the deliciously over-the-top. Travel, magazines, journals and trade shows help to keep a designer up to date with new products and materials, and even design ideas. It's important to remain open to opportunities along the way, too - just because the plan, brief, or moodboard has a material or element locked in doesn't mean that we should miss an opportunity. Sometimes the best plan is to be open to change the plan, Seize the day.
10: Understand your space:
The easiest way to understand the size of a space is mock it up within a large room (or even a shed!). Include the key items of furniture, either by using real pieces or a stack of Cardboard boxes to resemble the Volume. Masking tape and chalk can help with this process, too. The idea is to figure out what you need and where you can cheat.
More Great Looks Like This