Black Painted Country Kitchen
Incorporate darker finishes into your home to add drama and dimension perfectly in keeping with a rustic country look.
Camille Galati-Naeger, whose home is featured in our March 2015 issue, believes in black magic — at least when it comes to decorating. She started working the color into her Missouri home with a little paint in a stairwell and on wood trim, eventually moving on to painting entire doors and incorporating dark furniture and accessories. She admits to being hesitant about the hue at first, but she soon found she loved the results. "Every room can benefit from some black," she says. "I don't think a room feels complete unless it has a few black touches." Add a little dramatic color to your own country interiors with these tips:

Accentuate Walls. An entire black room would likely be overwhelming, but painting one wall or half wall black or a darker rustic color adds depth and drama. Camille painted one narrow kitchen wall and the breakfast bar her signature dramatic hue (right).

Start Small. Not ready to introduce black via painted walls? Small touches such as distressed mantels, pillows, lanterns and accessories are subtle statements and can be good ways to get your feet wet before committing to a bigger, bolder look.

Let There Be Light. For anyone worried that spaces will be too dark, Camille says, "I like coupling black elements throughout my rooms with candles and lanterns. The reflection of the light off the dark color helps the rooms pop and really says old-time coziness to me."

Think Texture. Glass, metal, lace, burlap and distressed surfaces soften dark edges and look great paired with black furniture and accessories, and Camille used many of these materials throughout her welcoming home.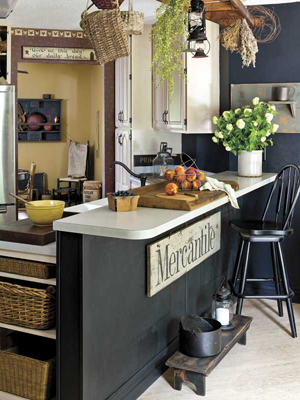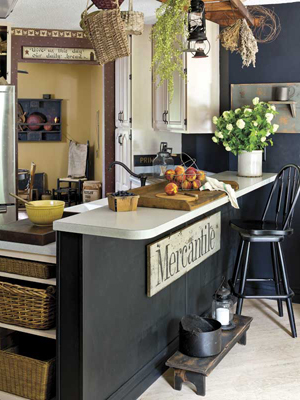 See more of this home in the March 2015 issue of Country Sampler.
Written by Khristi Zimmeth
Photographed by Bill Mathews
Styled by Gina Gorman