9 Interior Decor Living Rooms in Moody Blue
9 Interior Decor Living Rooms in Moody Blue. Blue walls, blue sofas, blue ceilings and more! Moody blue living room interiors you'll love!
A moody blue living room that is cool (in color and energy) in a Modern Contemporary style. An interesting rounded organic shape for the sofa draws your attention immediately in this space. The walls and carpet follow the same pure blue hues creating harmony and continuity, the white abstract art on the walls gives us some relief from all that blue, but conforms when it comes to shapes as it too is oddly shaped like many of the other elements in this living room interior decor. Overall this is a very dark living room that may be loved by those who like smaller, cozy spaces.
Another example of the perfect moody blue living room. The walls are painted in a dark blue hue, a single blue velvet armchairs sits by a large window, soaking in all the natural light that comes into the living room.
Interior decorating, living rooms in the perfect moody blue looks even better when combined with white trim and accents. In the following moody blue interior from Barrett Oswald Designs blue and white are combined seamlessly. A faux stag head, faux taxidermy deer, walls painted in Benjamin Moore Old Navy, living room ghost chair, sheep pillow, abstract artworks and white trim.
Love the layering in this blue interior decor living room with the cowhide rug sitting upon a sisal rug.
Denim blues mixed in with moody darker blues along with tie dyed patterns, wicker chairs, a hanging birdcage styled lampshade and rustic blonde wood floors gives this blue living room decor a bohemian vibe.
Interior decor living rooms with a moody feel work best when using darker blue shades of paint like Benjamin Moore's Slate Teal. Love this living room decor with blue walls in Benjamin Moore Slate Teal that extends to the trim, bookshelves and ceiling!
Pair a mellow yellow with navy - An egg-yolk-yellow velvet chair warms up the deep tones in this room. The hue has a depth similar to the wood tones, so it doesn't shout or overpower the other elements. The navy walls are painted in a color like that of Grand Illusions's Nordic Blue. Image from photographer Charlie Birchmore.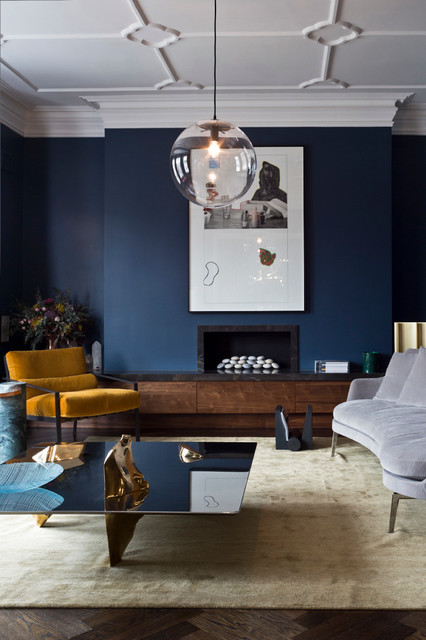 Dark, moody and eclectic living room in all blue hues. Living room with dark blue marine walls, layered art, and a vintage table.
A cosy dark blue living room that works so well because the large amounts of natural light that is streaming in through the windows.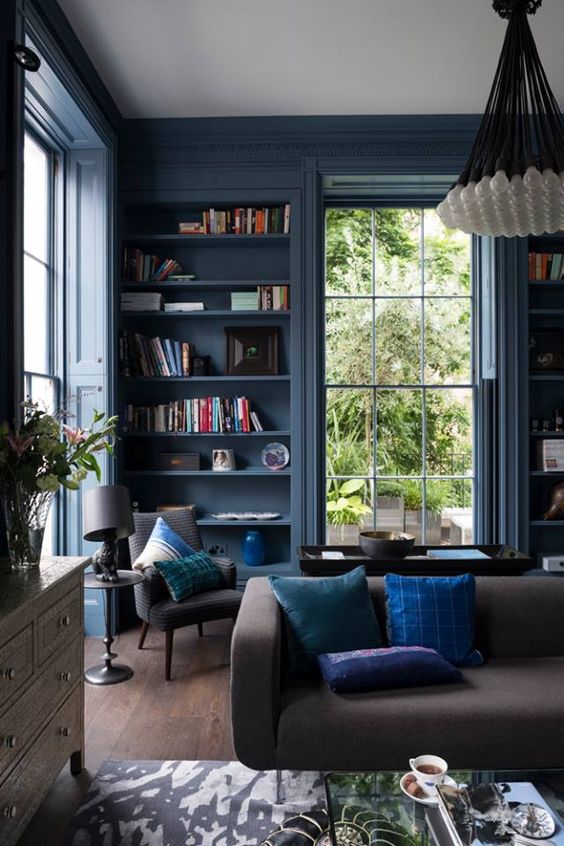 A modern take on the moody blue living room! A unique design element is seen in how half the wall is painted in white and the other half in a blue that matches the color of the sofa.