Farrow & Ball Elephant's Breath
If you want to go for a gray wall in your living area that is not too dark then, Farrow & Ball suggest using colours with a yellow base which will make for a warmer grey. Try using Elephant's Breath No.229 has the most contemporary feel, with a purple undertone.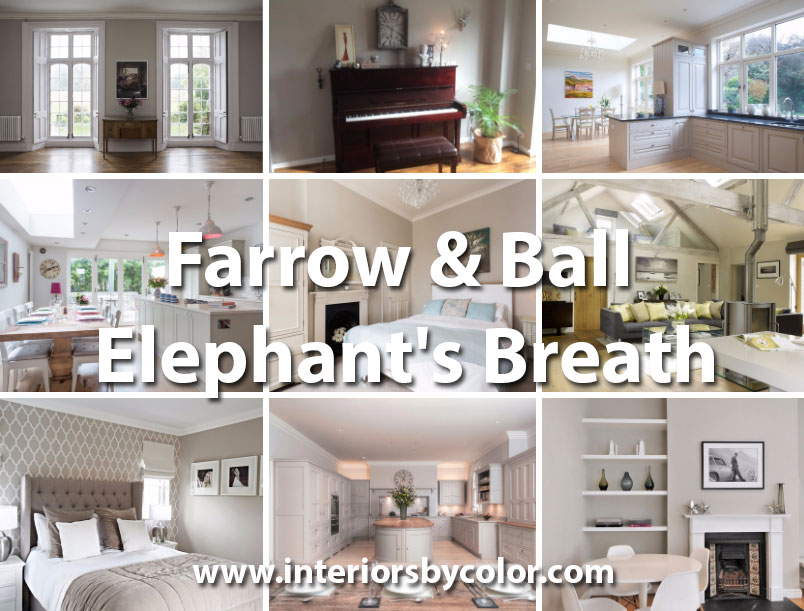 "Elephant's Breath with its hint of magenta will read as a warm contemporary grey but can become almost lilac in west facing rooms. To make it less lilac it is best not used with All White, but with the softer Strong White. For fashionable interiors, offset it with Charleston Gray and London Clay as slightly more intense accents. Mid Tones Undercoat…An interpretation of this famously named colour by John Fowler. Use as a colour in its own right, or as part of a 'stone' scheme. Use Undercoat No. 1."
Farrow & Ball Elephants Breath can be slightly beige in a south-facing room and more grey in the blue light of a north-facing room. It is a great color chameleon giving different color tones throughout the day giving the appearance of either a pure gray, a kahki green, a stoney gray and even some pale heather undertones. This paint color looks great paired up with white trim and white cabinets in the kitchen.
Farrow & Ball Elephant's Breath painted living rooms
Farrow & Ball Elephant's Breath is a great paint color choice for living rooms.
Farrow & Ball Elephant's Breath painted kitchen cabinets, walls and ceiling
This warm gray paint with slight purple undertones makes for a fantastic paint color for your kitchen cabinets, look at the examples below.
Farrow & Ball Elephant's Breath painted bedroom walls