Gray Paint Colors for 2020
Gray paint colors for 2020. Grey paint color is still very much on the cards for 2020, it is contemporary and goes with everything! Here are some tips to help you choose the perfect shade for your space: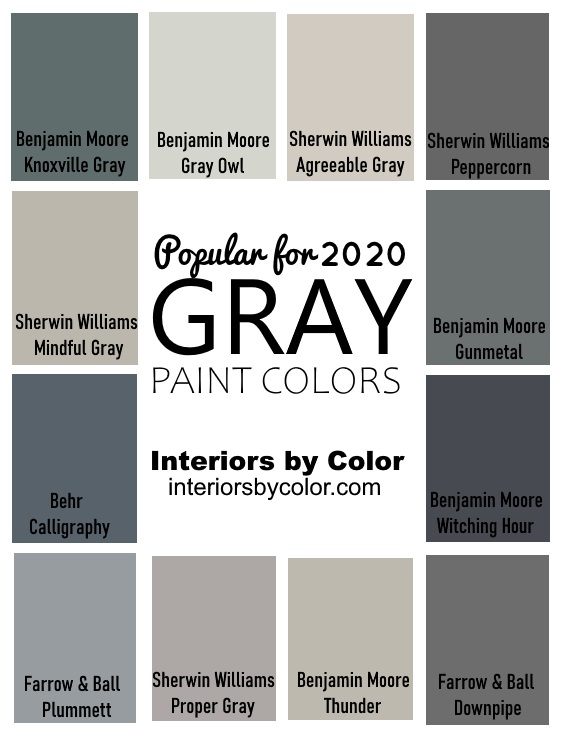 Choosing Gray Paint Color Tips
Don't just trust the picture on your phone, magazine, tablet etc as color gets a bit distorted during photo processing. Always get a paint swatch from your local paint supplier.
Decide what temperature gray you want. Cool grays will be blue/violet based, warm tones green/brown. Keep in mind that taking a sample paint home is a good idea because some of these undertones may not be noticeable until you see them on your walls.
When undecided, combining 3 shades of gray together can create a great atmosphere. Use a charcoal accent for the the backs of built ins that are visible and for the lower elements in a room like wainscoting and kitchen island, use a cool white for all the trim and a lighter shade of gray/griege for the walls.
Grays Paint Color Ideas for 2020
Farrow & Ball Pavilion Gray is a serene, warm and sophisticated paint color, making it a perfect gray for bedrooms.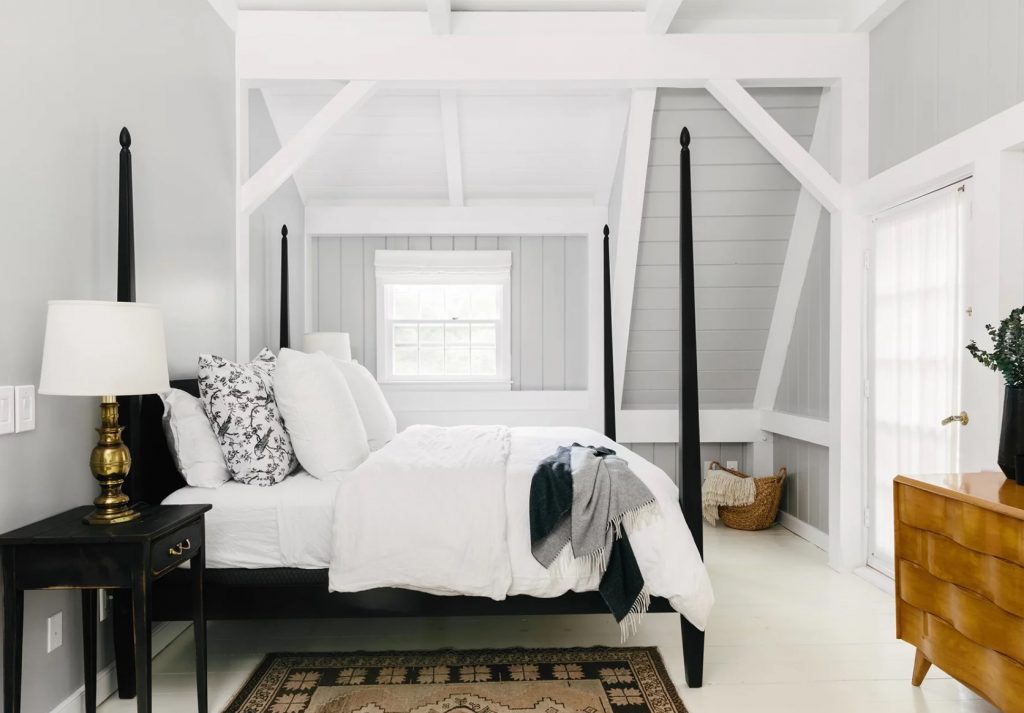 Farrow & Ball Pavilion Gray looks fantastic when combined with a crisp white trim. It is an elegant and sophisticated paint color with a nostalgic quality.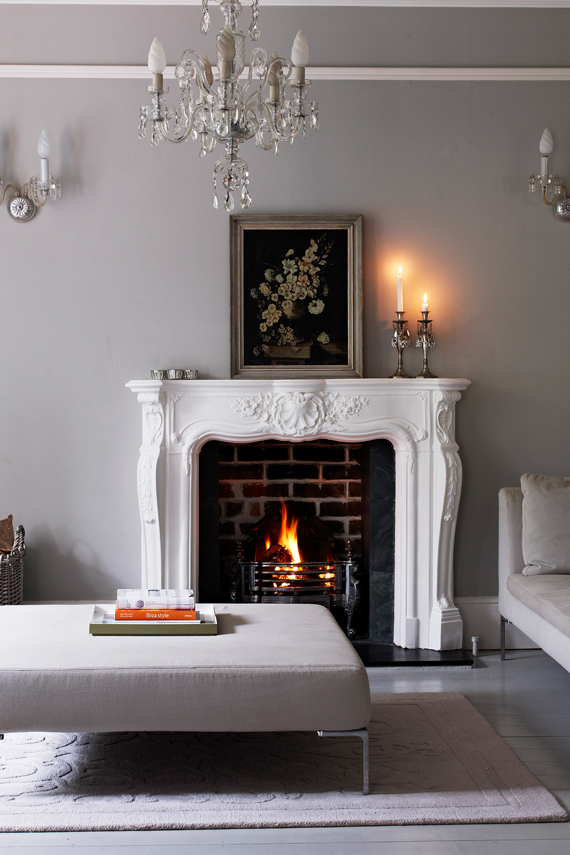 Benjamin Moore Knoxville Gray painted kitchen cabinets look great in combination with a wood finish and white painted walls.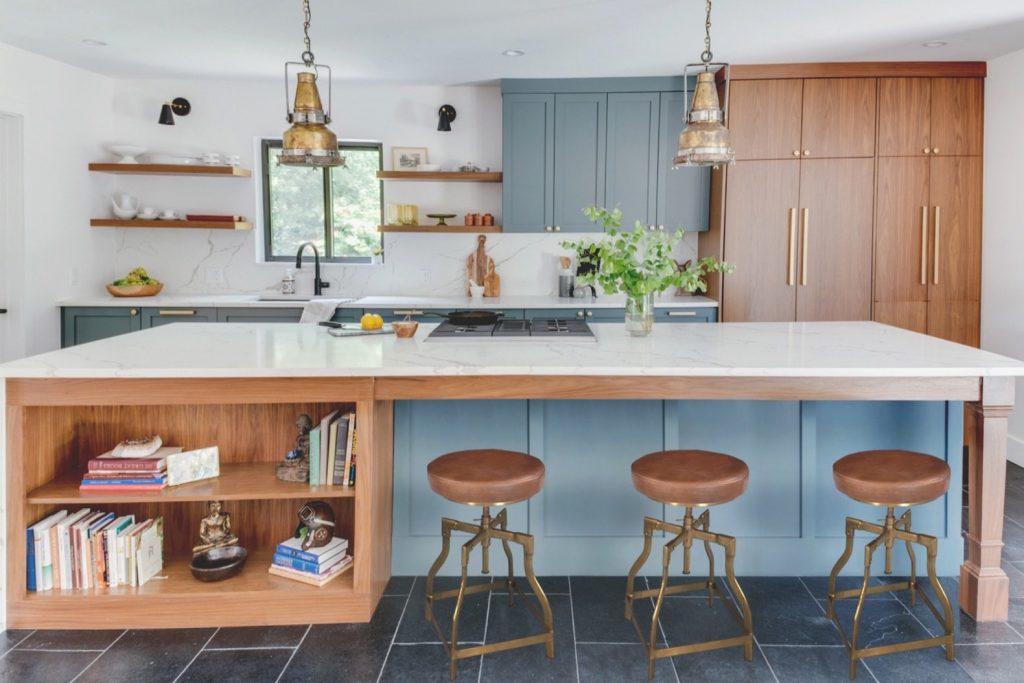 Kitchen island painted in Benjamin Moore Gray Owl from mandyenohome.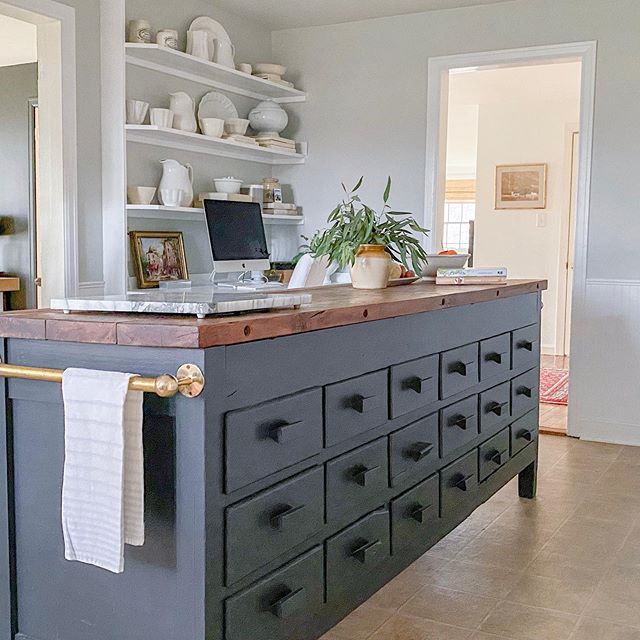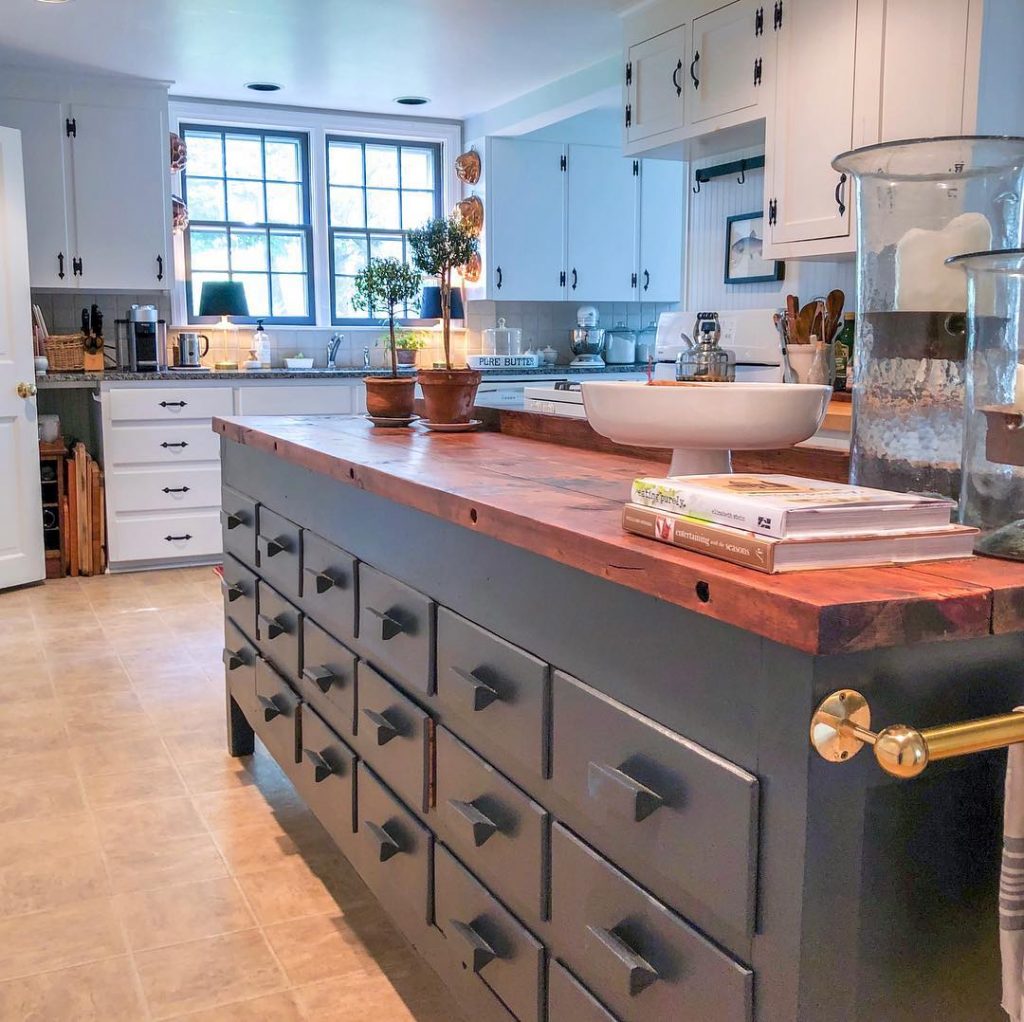 A fantastic gray paint color trend for 2020 would be the ever popular neutral Agreeable Gray by Sherwin Williams. This is a light gray color, but not so light that it looks off white. The great thing about this gray is that it doesn't have very intense blue undertones, it does have a griege undertone.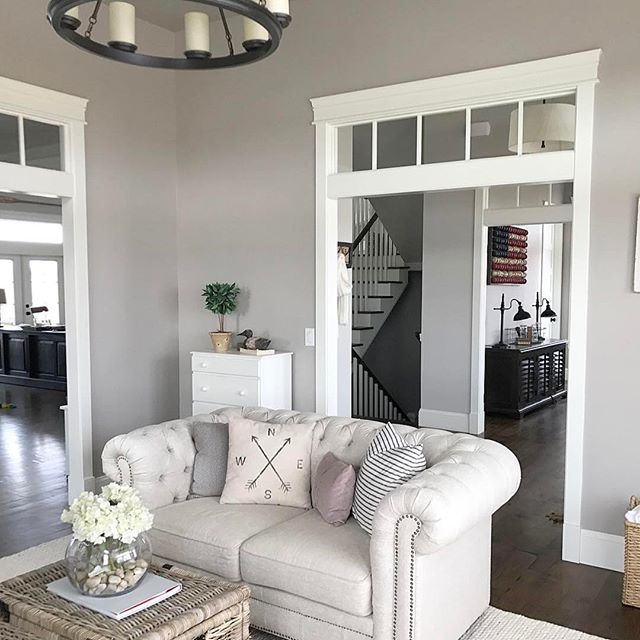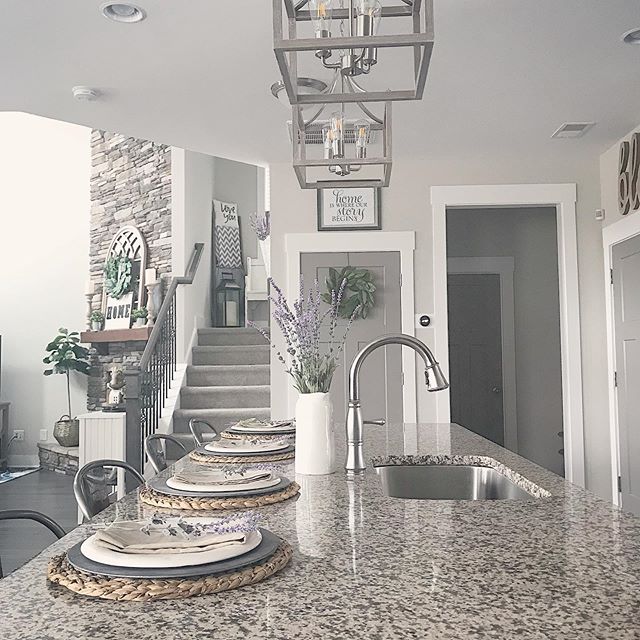 Gorgeous Sherwin Williams gray paint colors used throughout this farmhouse home. Kitchen island color in Dove by Wellborn Cabinets. Images via whitefancyfarmhouse.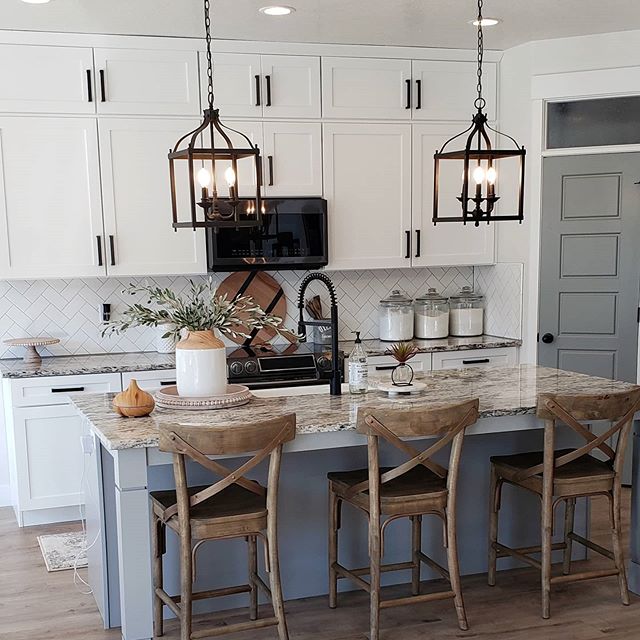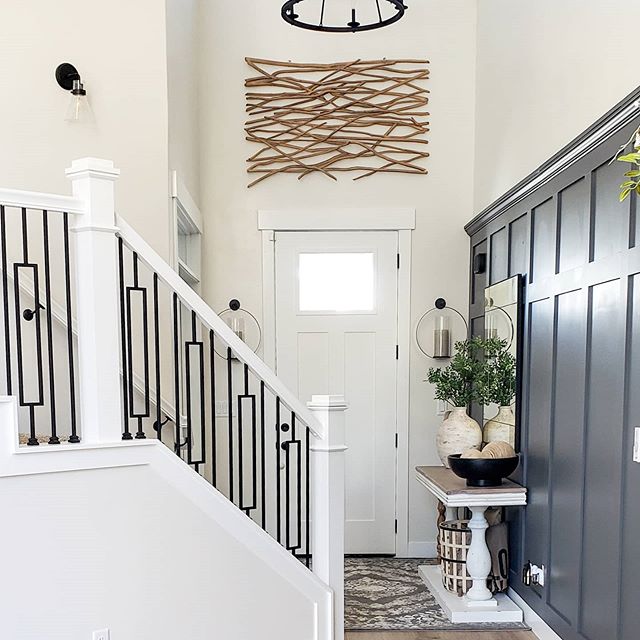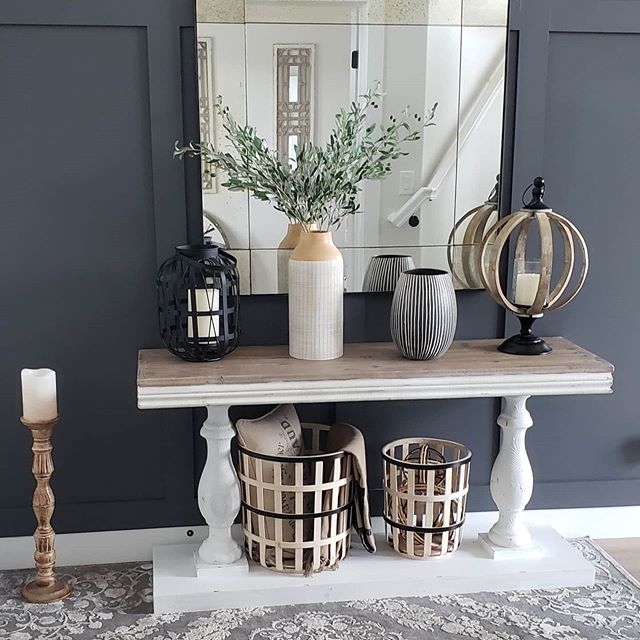 Sherwin Williams Mindful Gray for the walls of this bathroom. A stunning lighter gray with a calming vibe that pairs up well with black and white. Check out the mindful message on the floor of these tiles. Image via ourupstatehome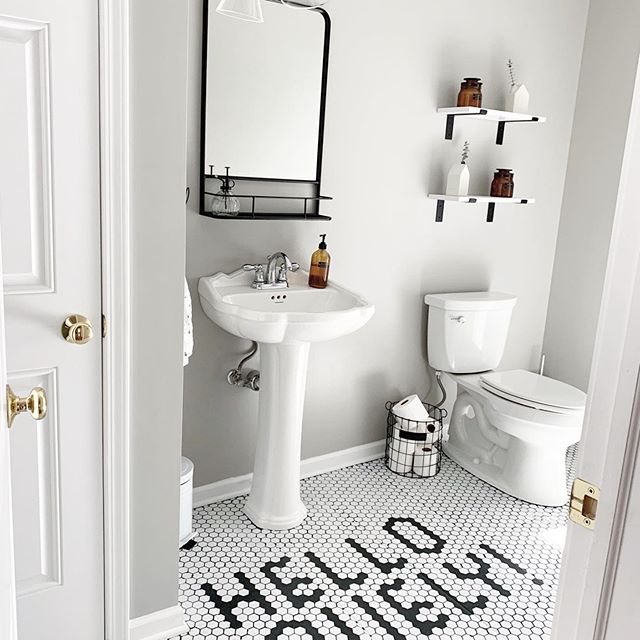 Benjamin Moore Gunmetal exterior paint color in a San Francisco home.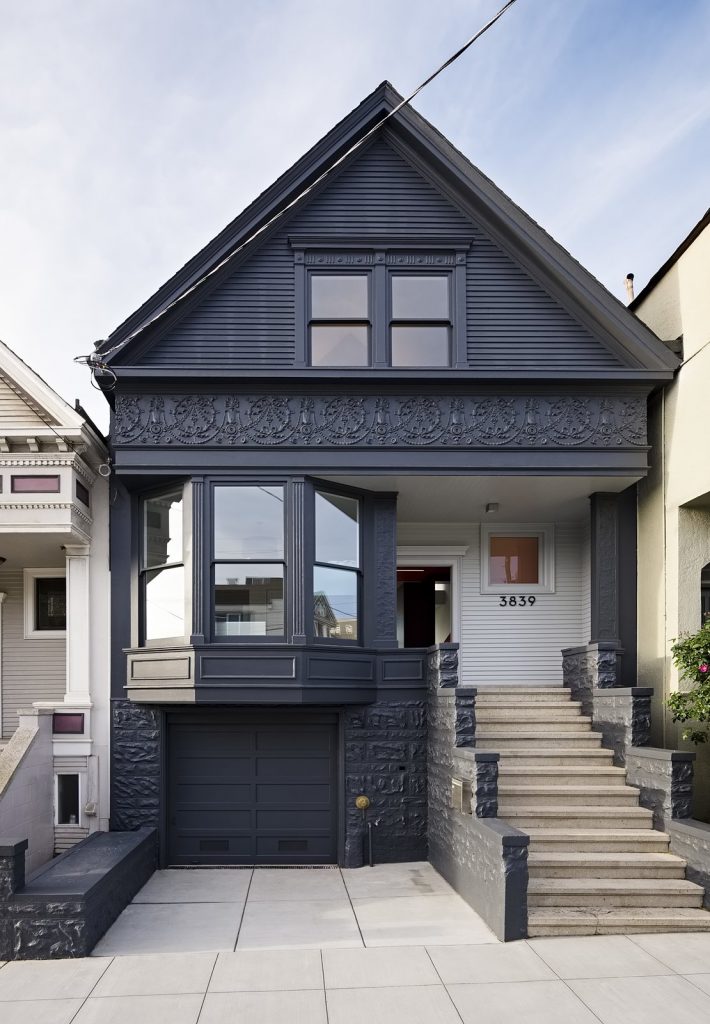 The space is now defined by a contrasting coat of Benjamin Moore Witching Hour. The cozy niche contains a vintage Overman loveseat and Pholc wall sconce. Via Dwell.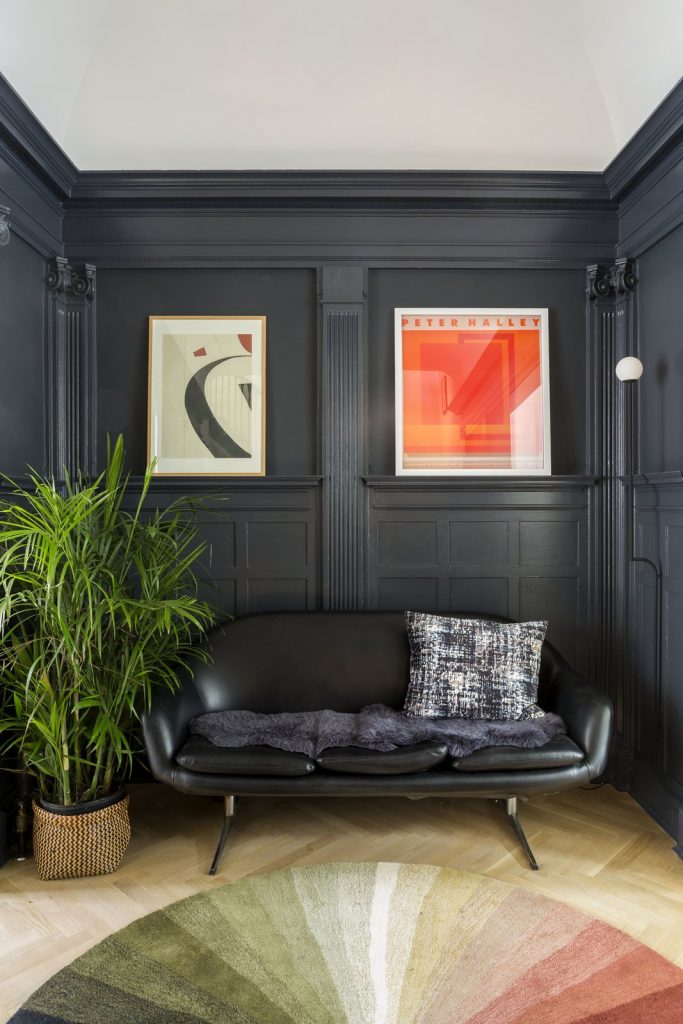 One of Benjamin Moore's color trend for 2020 is "Thunder", a warm medium depth, moody and sultry gray paint color. Great paint color for those who like Earthy grays without it being a griege. A great neutral gray! Via Source.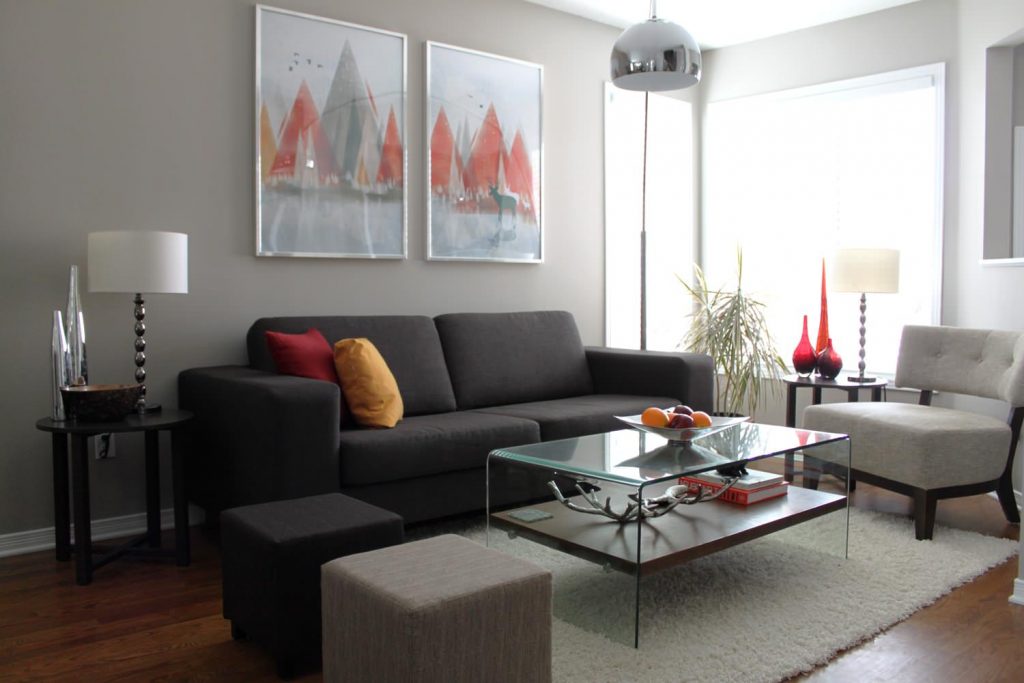 Benjamin Moore Thunder kitchen cabinets. Via Tracery Interiors. This warm gray paint color is great to make your kitchen cabinets stand out in a neutral kitchen.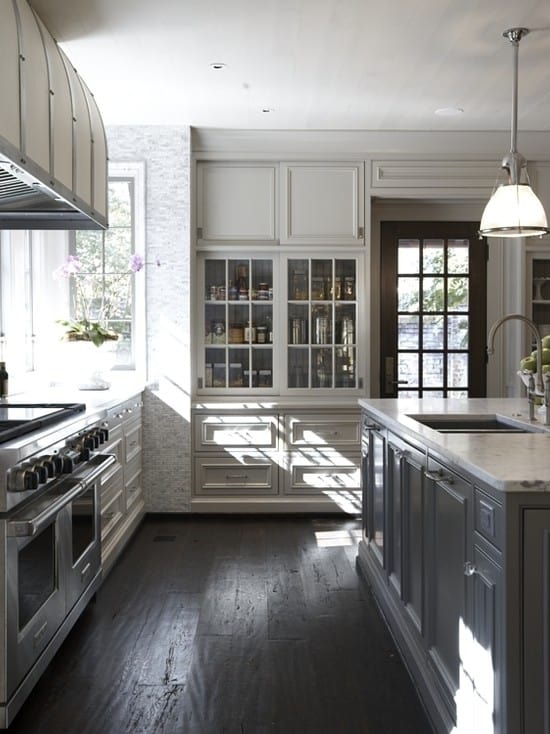 Many people who are looking for a neutral gray paint color, one without a lot of undertones, not too cool or warm often choose Stonington Gray by Benjamin Moore.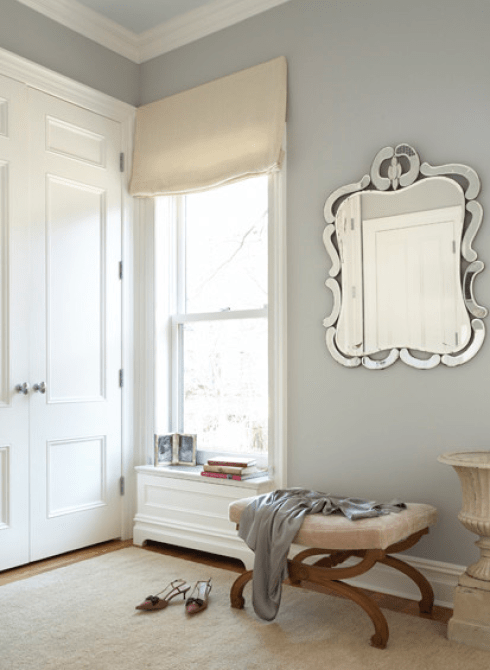 One coat of Benjamin Moore Stonington Gray looks amazing in the renovation of this home by Summit House Views.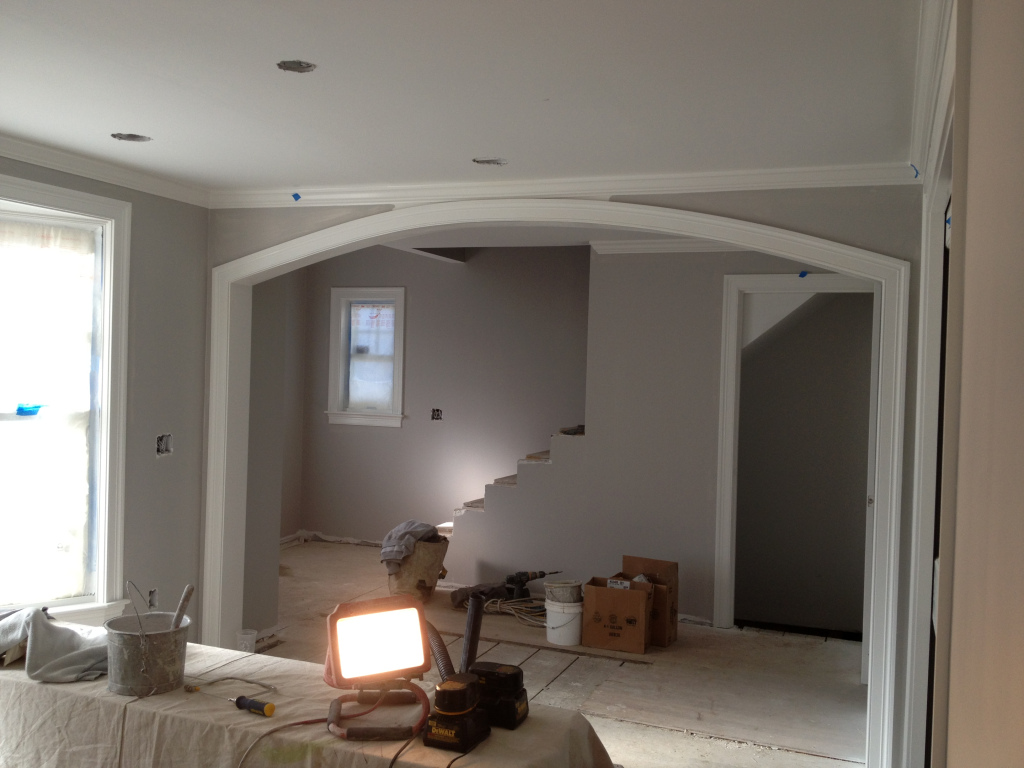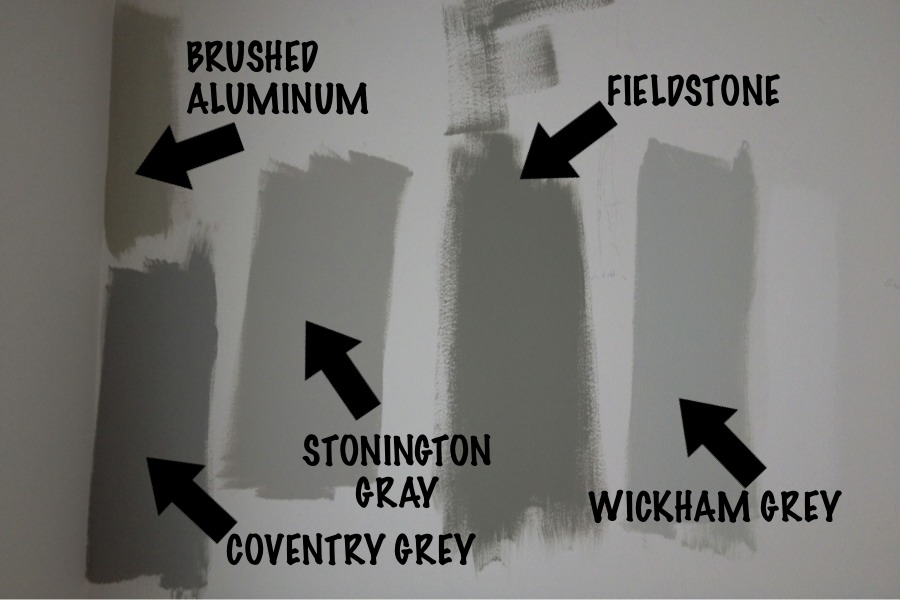 A fabulous kitchen with a 50 shades of gray theme from Benjamin Moore paints. Wall: Stonington Gray HC-170, Aura Interior, Matte Wainscoting: Sparrow AF-720, Advance, Satin Ceiling: Stonington Gray HC-170, Waterborne Ceiling Paint, Flat Cabinet: Iron Mountain 2134-30, Advance, Satin. An all gray kitchen with two farmhouse sinks and marble counter tops with eclectic matching lighting fixtures.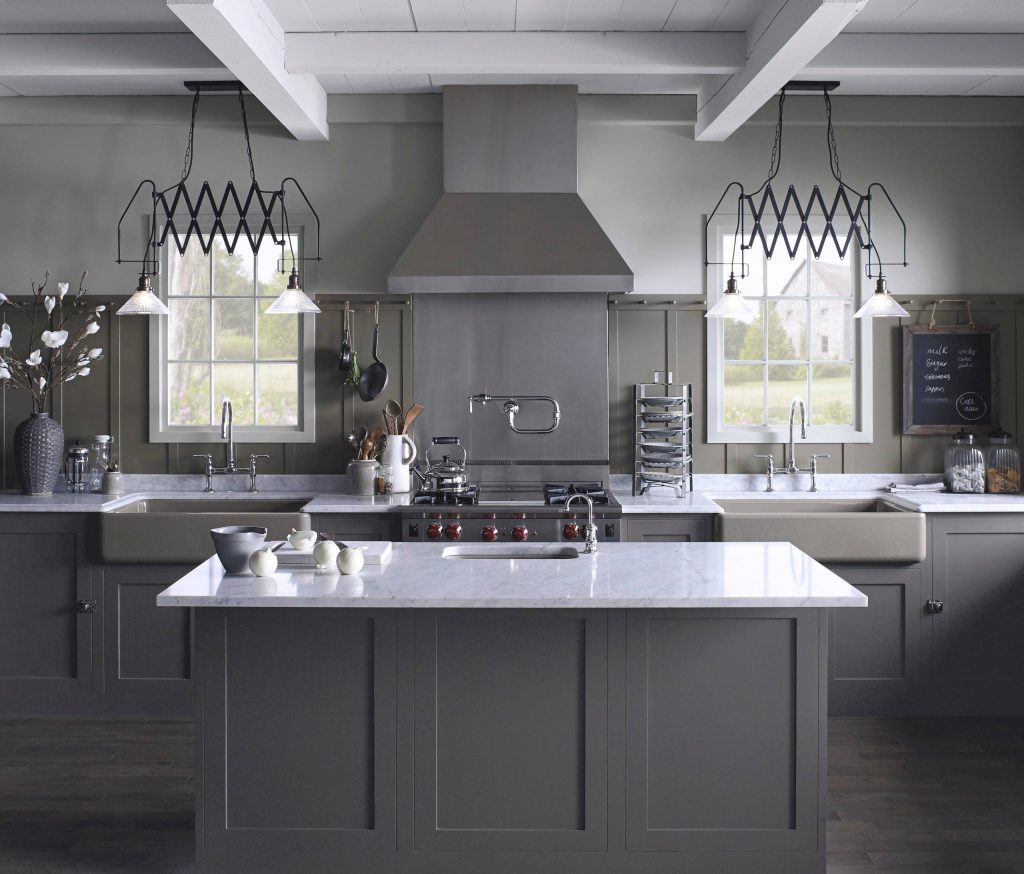 Benjamin Moore Iron Mountain is the perfect charcoal gray, fantastic to use as an accent color for cabinets, paneling, doors and as an exterior paint. This bold and saturated gray paint color plays nice when paired with other shades of gray as in the kitchen above, but also looks great with a crisp white. Iron Mountain has a unique grey brown finish.
Loving this blue toned medium/dark gray color Calligraphy by Behr paints. Kitchen island and lower cabinets are painted in this stunning gray paint from Julia Drye Interiors.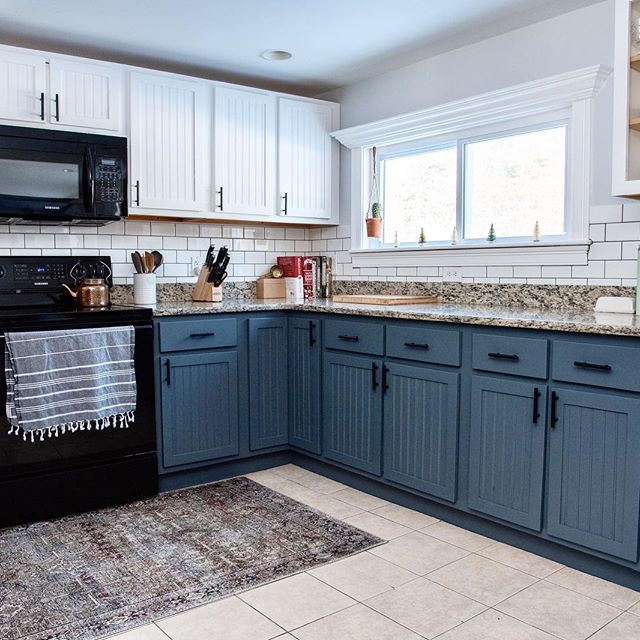 They custom shelves and cabinets are painted in Behr Calligraphy paint color. Via offseasonflip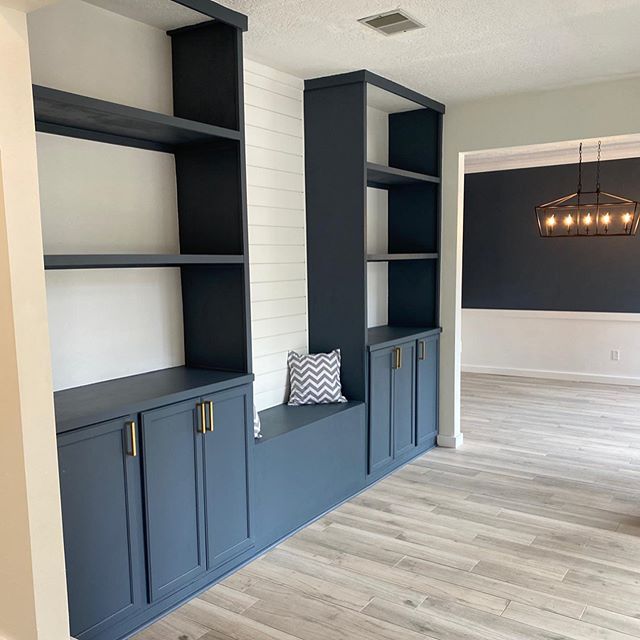 Sherwin Williams Proper Gray painted bathroom vanity by bigdogpainting.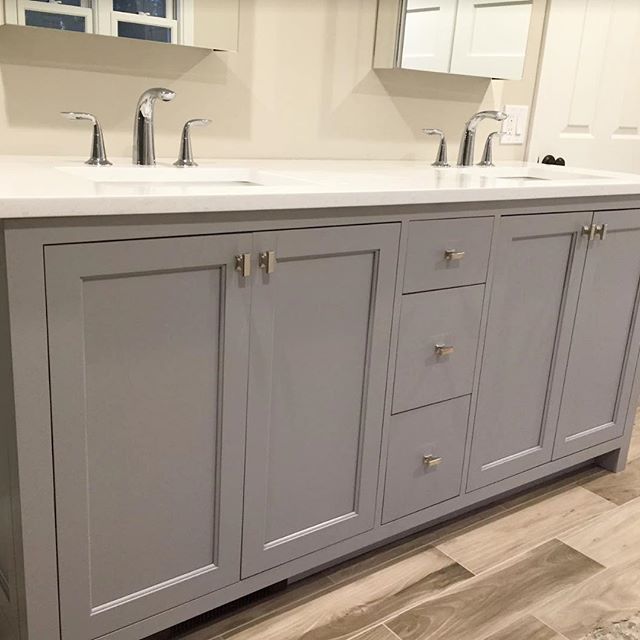 Farrow & Ball Downpipe is still going strong in 2020. Unexpected design decisions are our favorite design decisions. For the powder room at #niceandneatclient, we went with Downpipe! | Builder: @mcnaughtonbrothers #kmidesignstyle @neatmethod | Photo by @stofferphotographyinteriors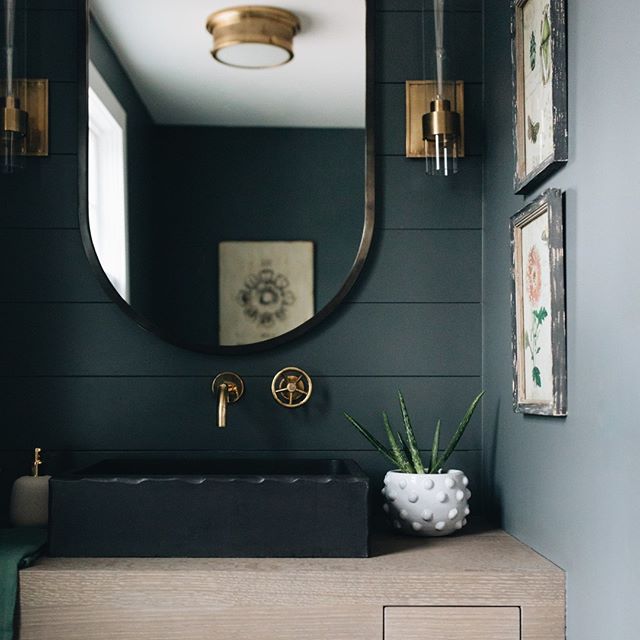 Farrow & Ball Downpipe paint color.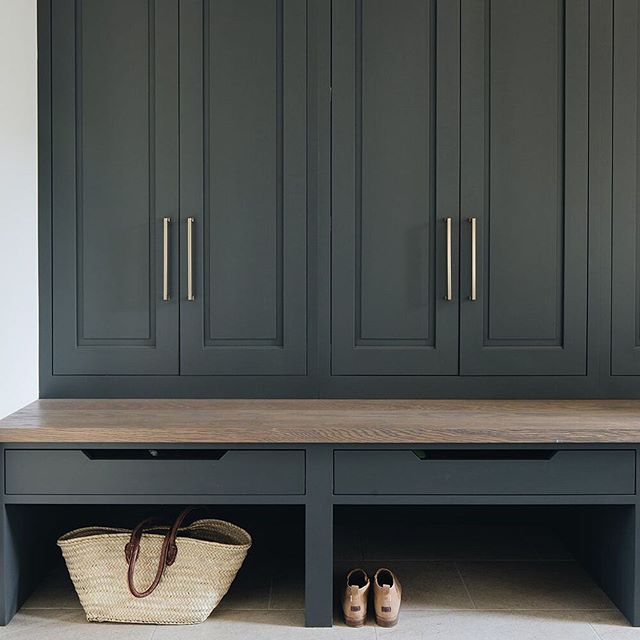 Farrow & Ball Plummet is on the walls, shelves and doors of this child's bedroom.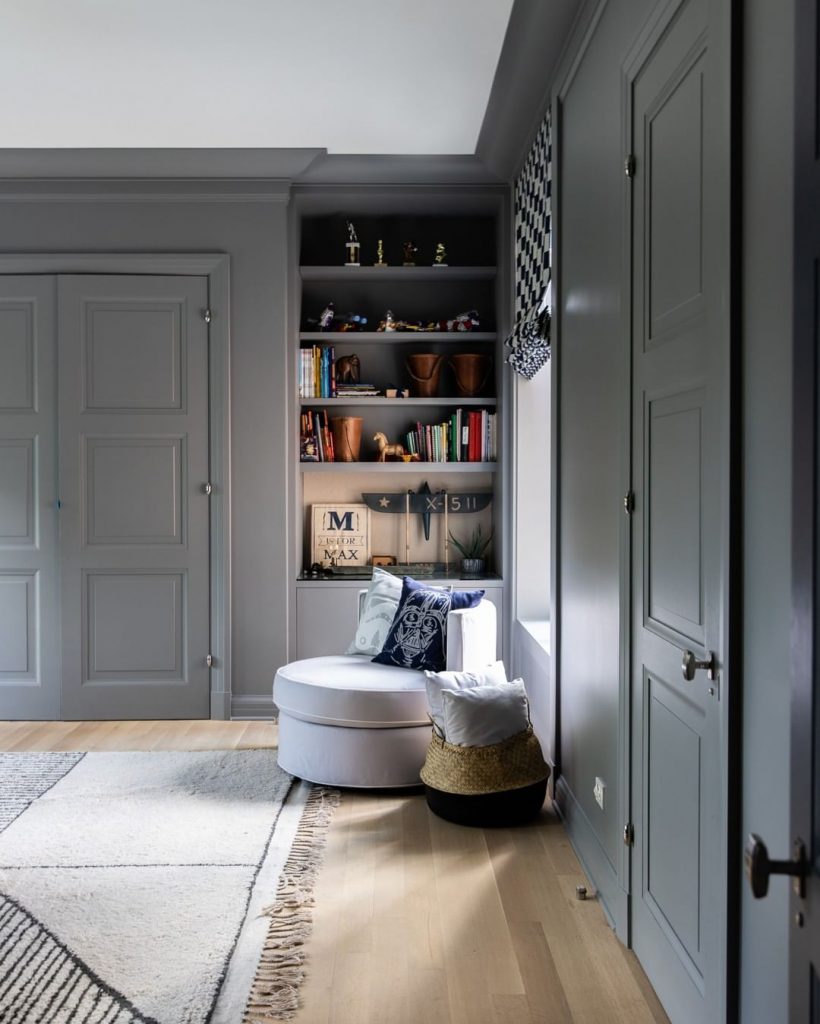 Farrow & Ball Railings wall color in gray looks great with yellow. From mrcbpaintsandpaper.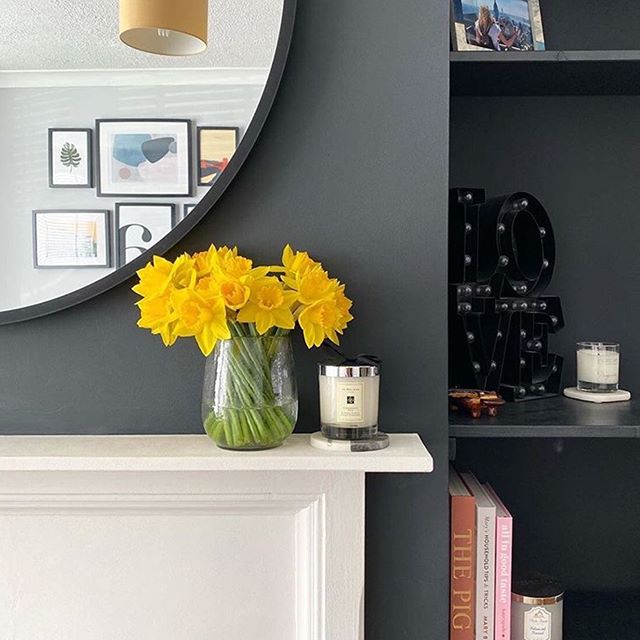 Paint Color Swatches
Gray paint color swatches.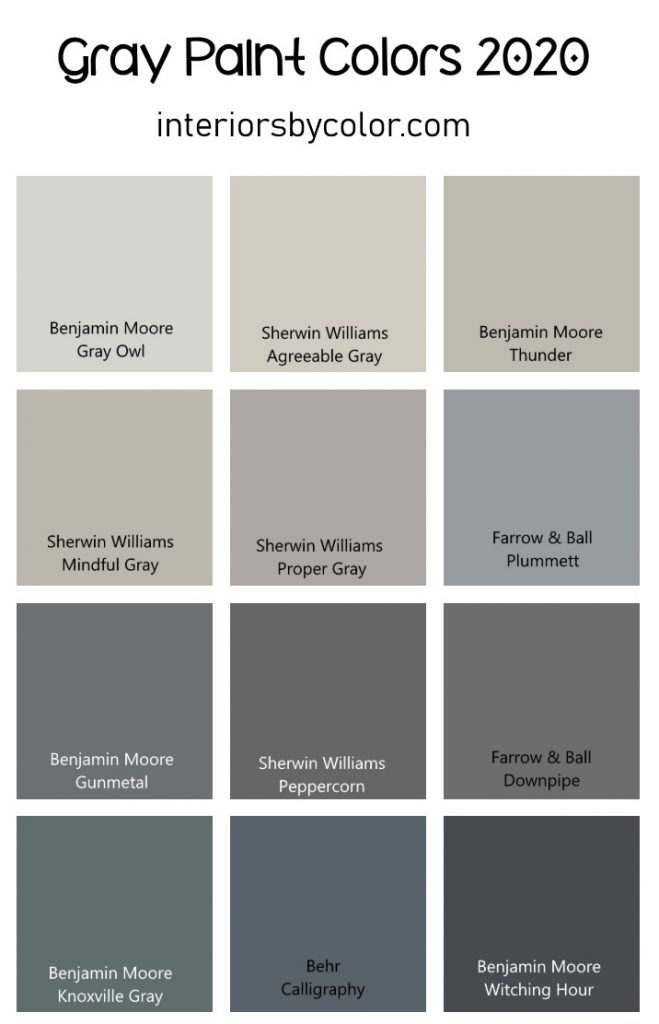 Tags:
Benjamin Moore Gunmetal
,
Benjamin Moore Iron Mountain
,
Benjamin Moore Knoxville Gray
,
Benjamin Moore Sparrow
,
Benjamin Moore Thunder
,
Benjamin Moore Witching Hour
,
Farrow & Ball Pavilion Gray
,
Farrow & Ball Plummet
,
Farrow & Ball Railings
,
gray kitchen cabinets
,
gray kitchens
,
Gray Paint Colors
,
gray wall
,
gray walls
,
Sherwin Williams Agreeable Gray
,
Sherwin Williams Proper Gray