Pink Kitchen Cabinets Inspiration 2022
Pink Kitchen Design Ideas for 2022. Pink Kitchen Cabinets Inspiration 2022. I like to find the best real world example of kitchens with references to the paint color that was used and links directly to the creators so that you can successfully find the right tools to create your perfect pink kitchen!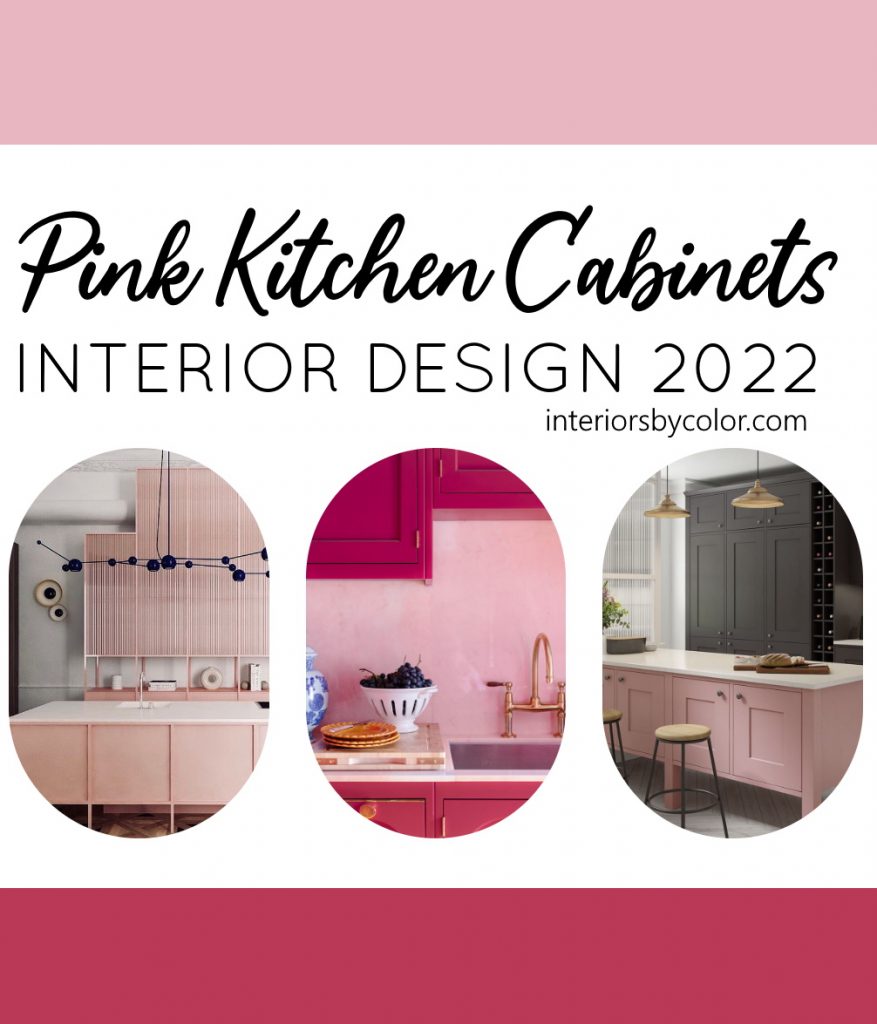 Pink kitchens color schemes that wow include combining pink and gray, pink and green, pink and white, ass accents in natural wood tones, terrazzo and brass hardware.
Kitchen Designs Using Light Pink
Light pinks and plaster pinks that incorporate some beige are great for adding pink to your kitchen while maintaining a neutral look.
A plaster pink kitchen, with brass hardware, marble countertops and checkerboard flooring. Kitchen by Barr Kitchens. Designed by @samanthatodhunterdesign. The kitchen cabinets paint color is Farrow & Ball Setting Plaster.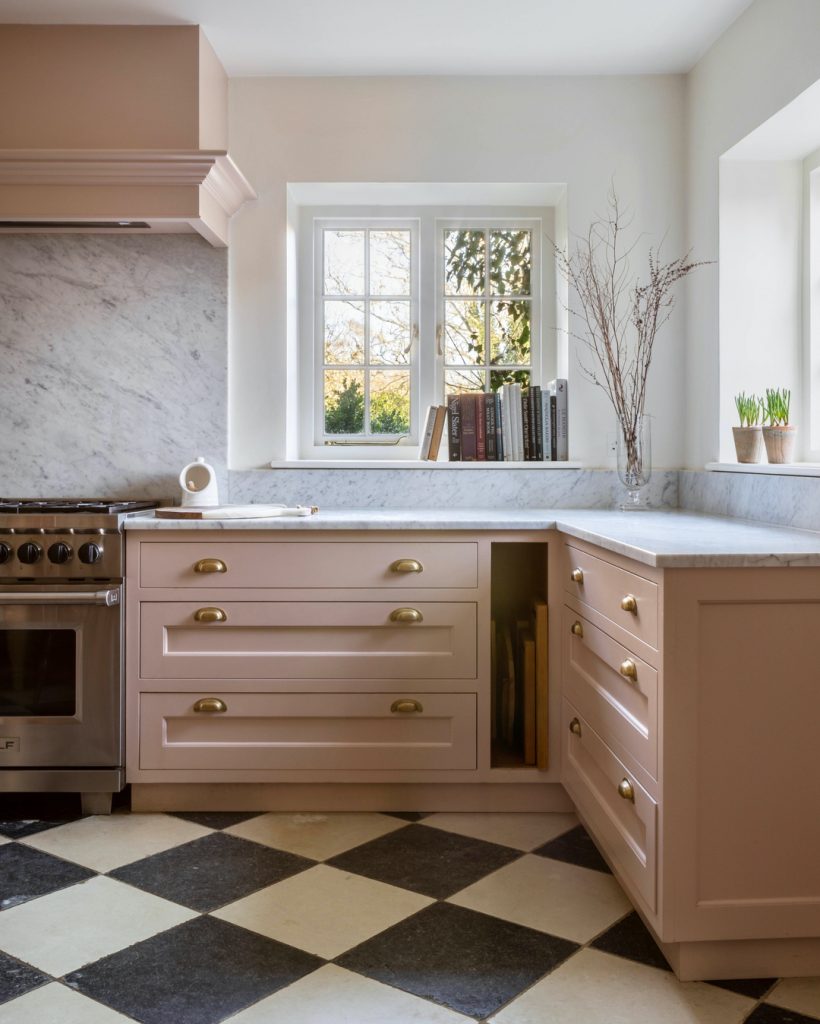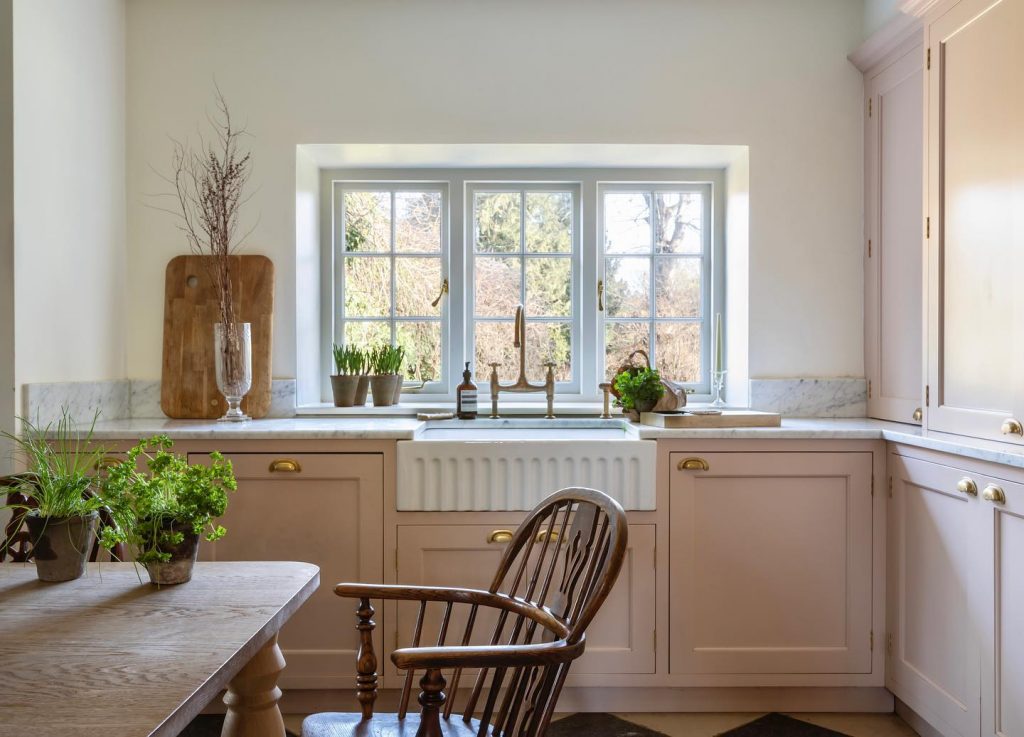 Another dream kitchen in a soft pink with cabinets painted in Farrow & Ball Calamine. Design: @jeanross, house by @grace.lovekin and photography by @kielyramosphoto.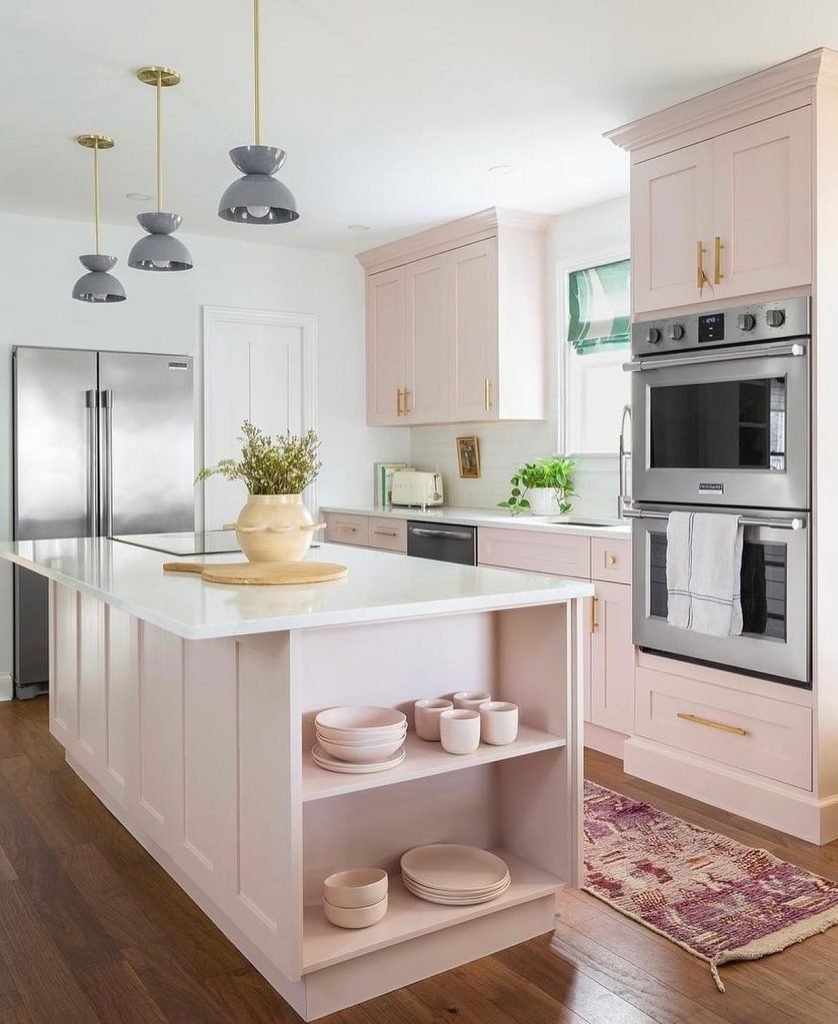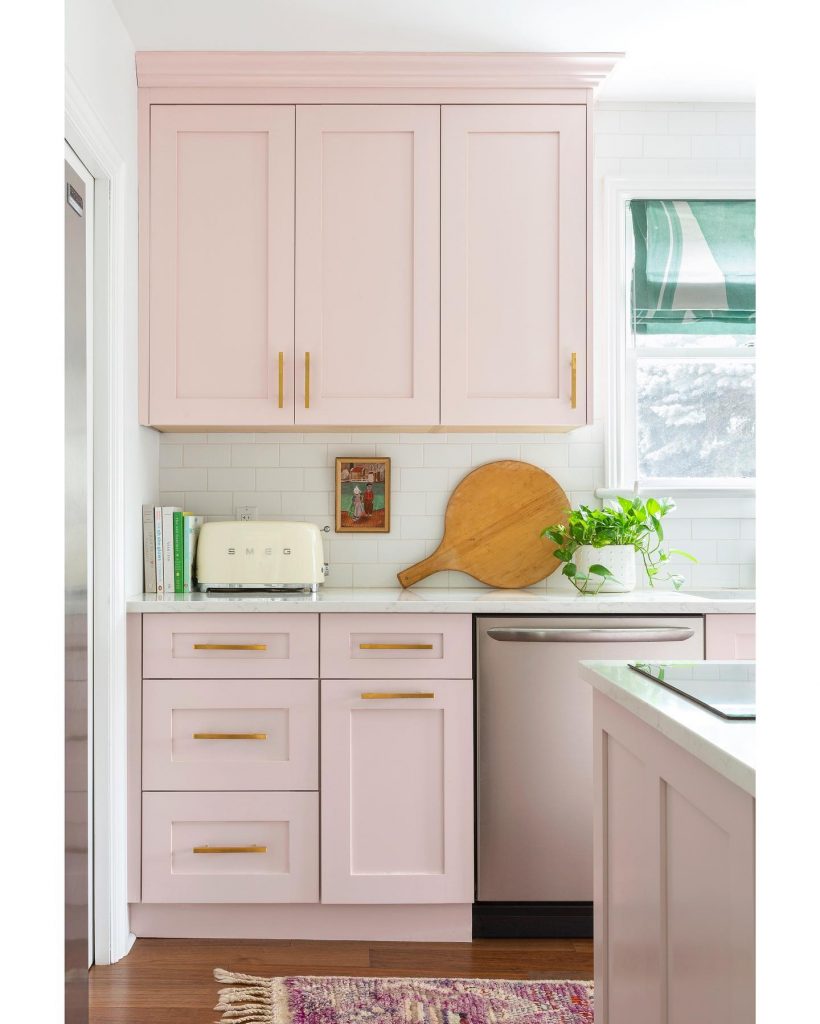 Here is another kitchen painted in Calamine by F&B. "Pretty in Pink" kitchen in Carnegie Hill Townhouse renovation. Via weilfriedmanarchitects.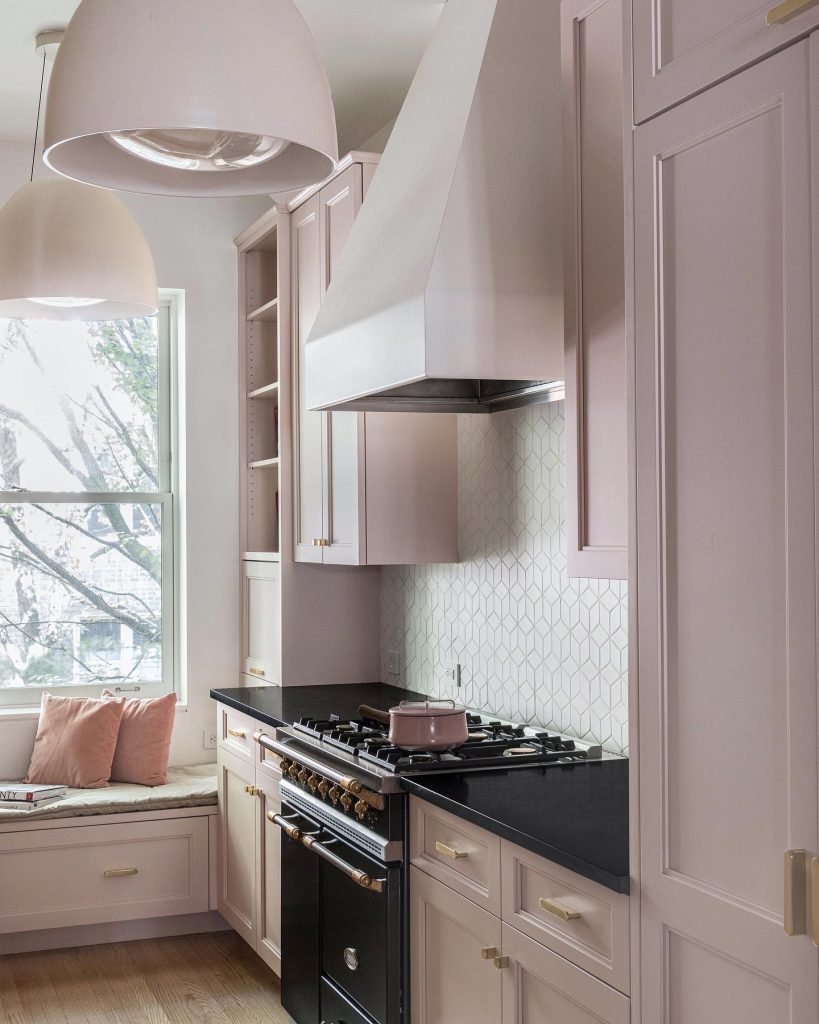 A beautiful light pink is chosen for the kitchen cabinets of this kitchen using Farrow & Ball Pink Ground. Via ourhouseedit. "This dusty pink started out as a delicate wallpaper background which was often requested as a paint colour. Pink Ground, with its large dose of yellow pigment, now creates the softest blush of colour for a warm and soothing finish that doesn't feel sugary. Rather than contrasting with a bright white, try pairing with the warmer shade of Great White on the woodwork for a unique look in your home. "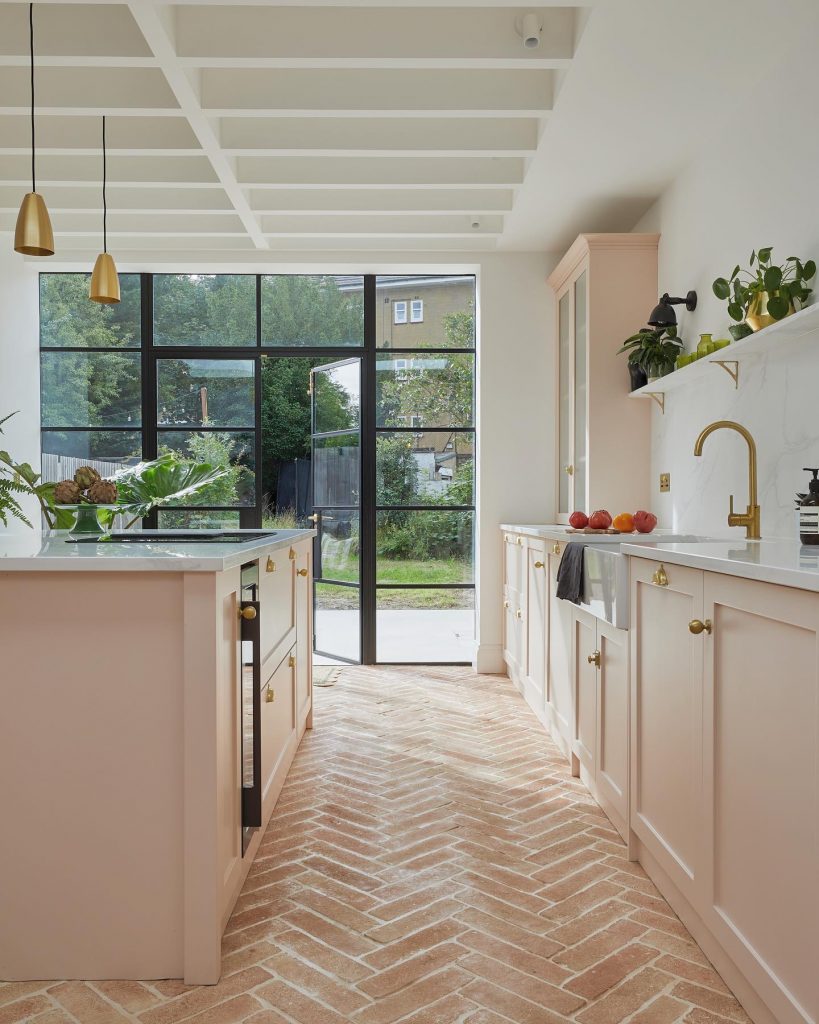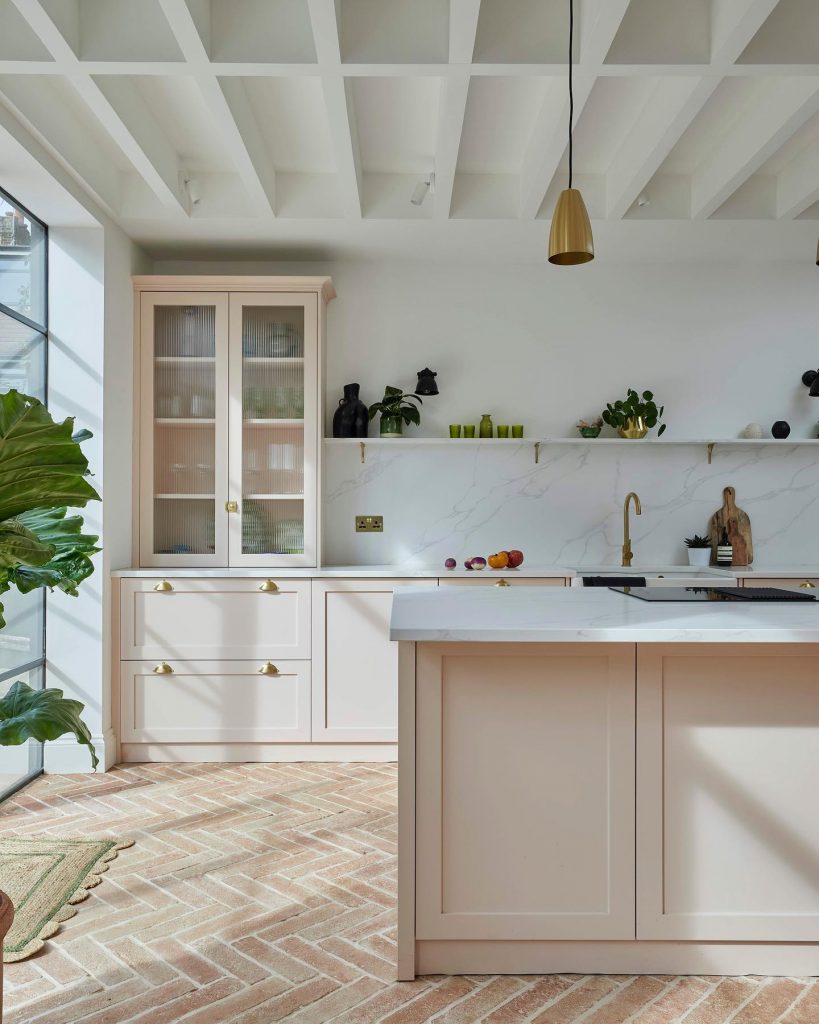 A light pink kitchen island combined with light gray shaker cabinets, white walls and marble look splashback. Kitchen by Impress Kitchens. Paint color used for the kitchen island is the ever so popular Farrow & Ball Setting Plaster.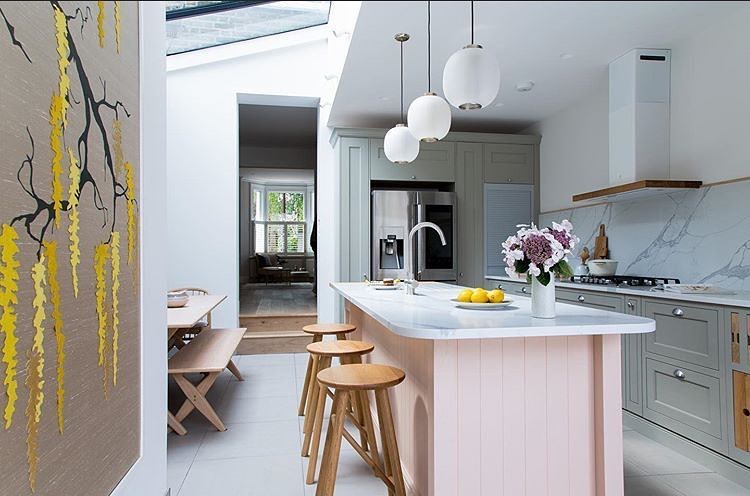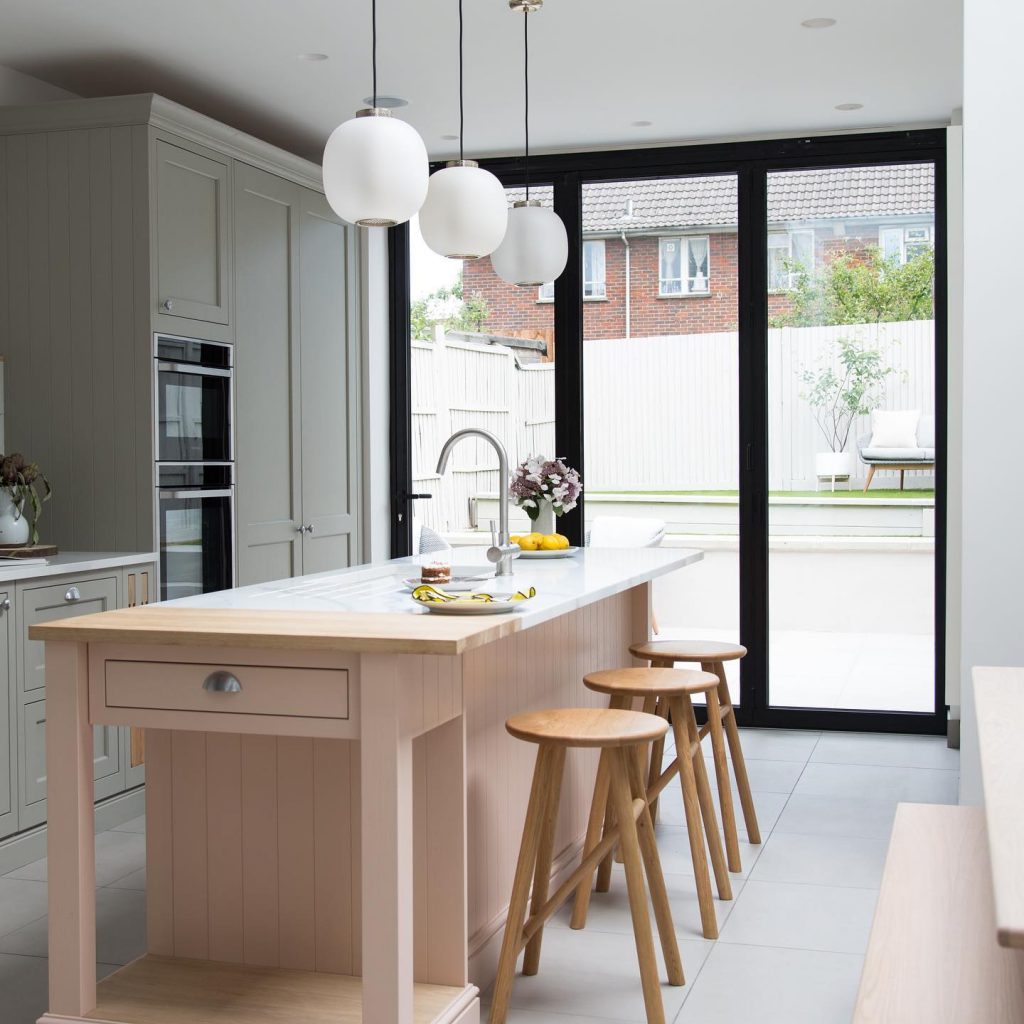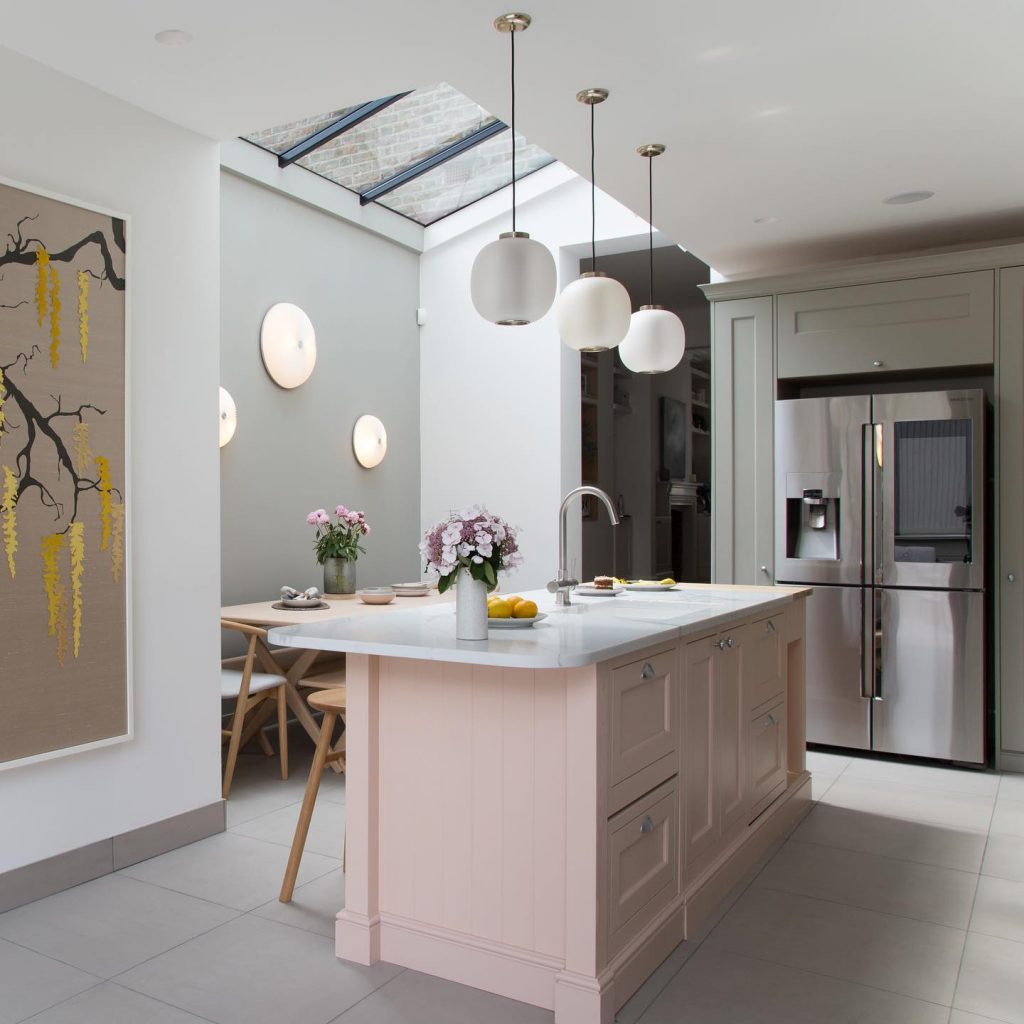 Contemporary kitchen in light pink by Katarzyna Baumiller Studio.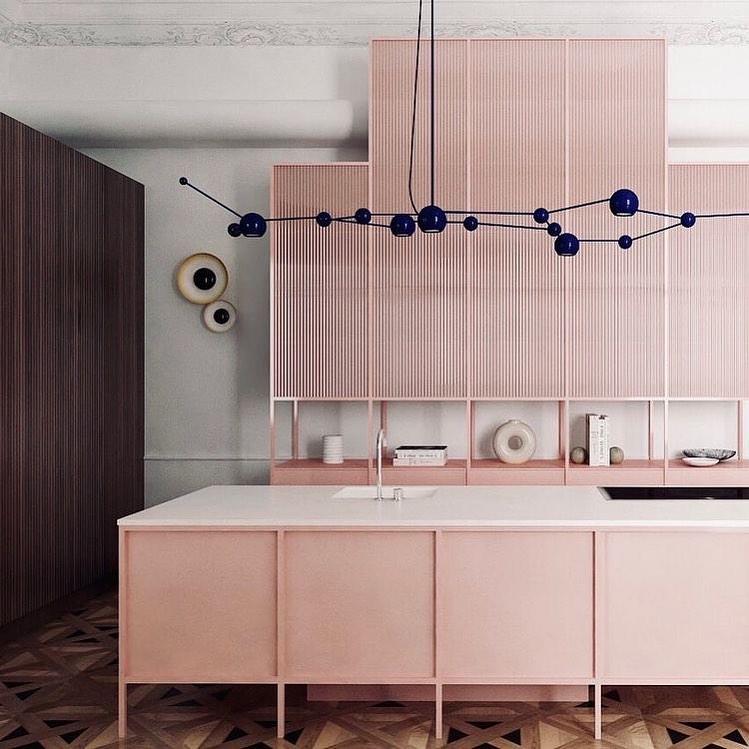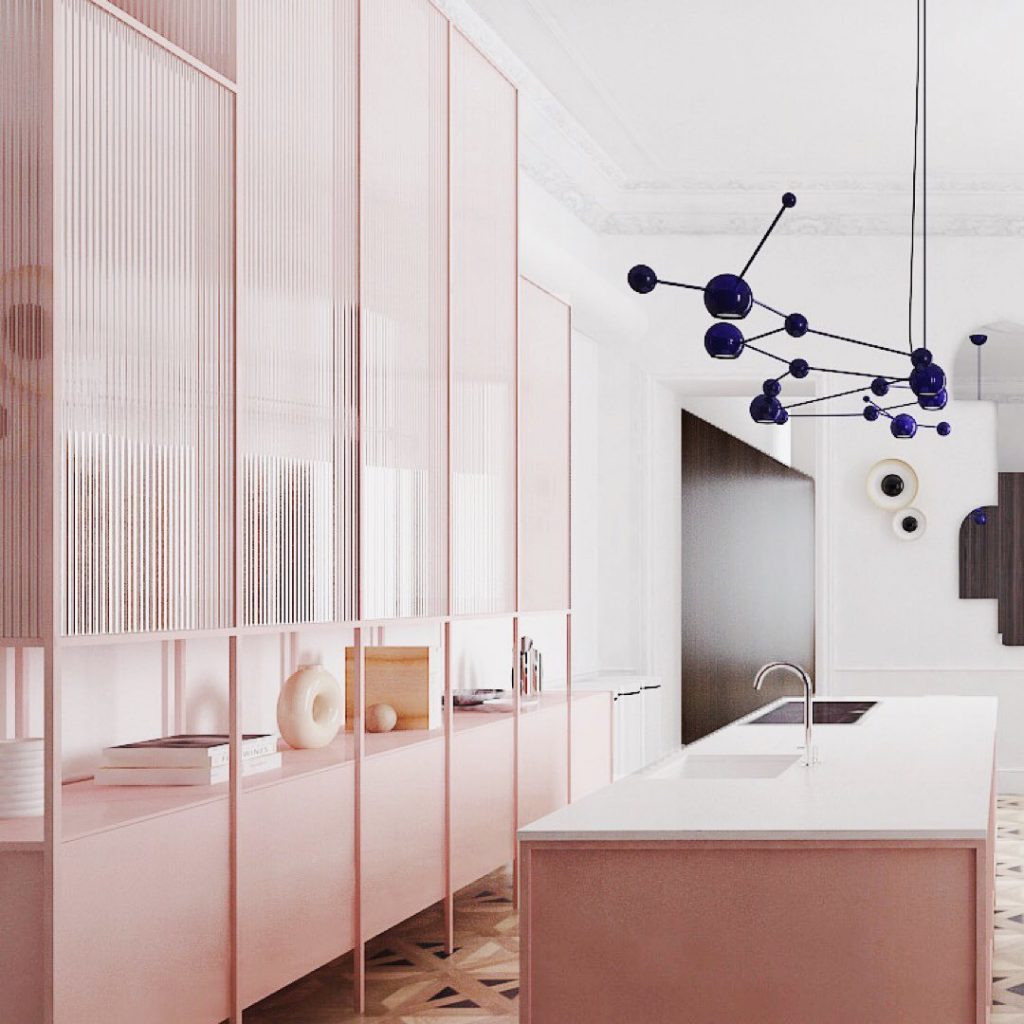 Medium Pink Paint Color for Kitchens
Farrow & Ball Sulking Room Pink not to be seen as overtly pink, but rather a muted rose with enormous warmth, its powdery feel makes it incredibly soft and easy to use with complementary tones. Via @home_at_brookes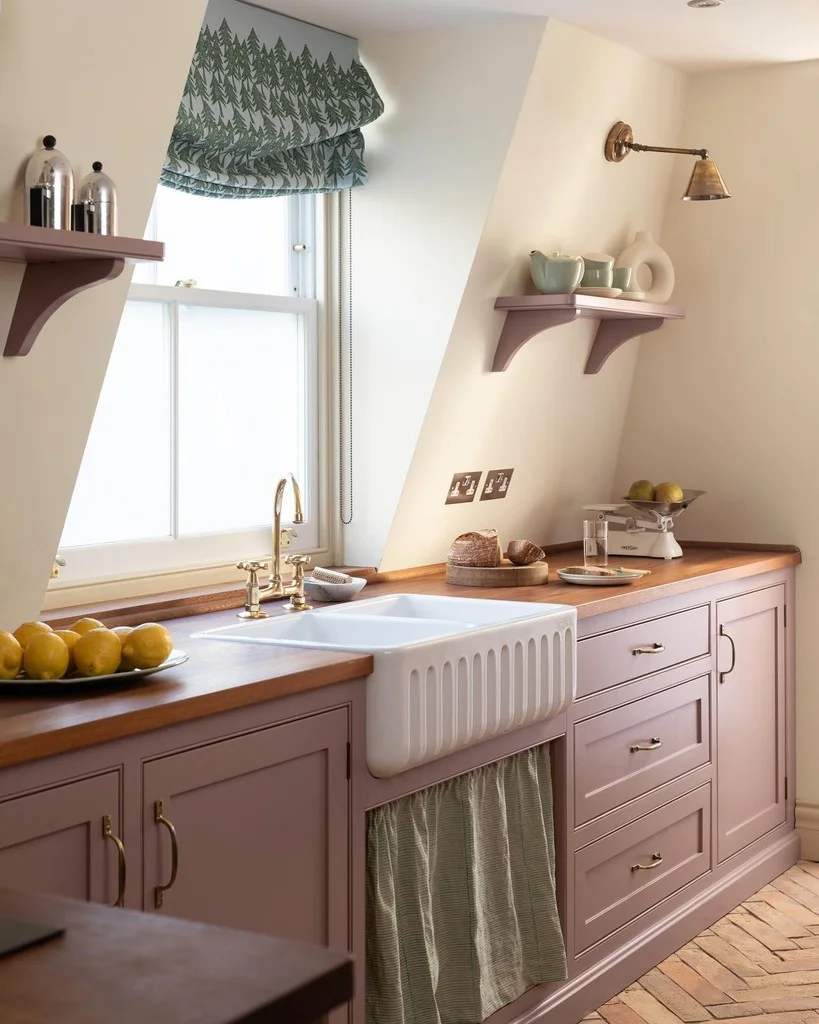 " iroko wood worktop and some of the detail in the cabinetry – including adding a hand made chopping board to make best use of that awkward end space "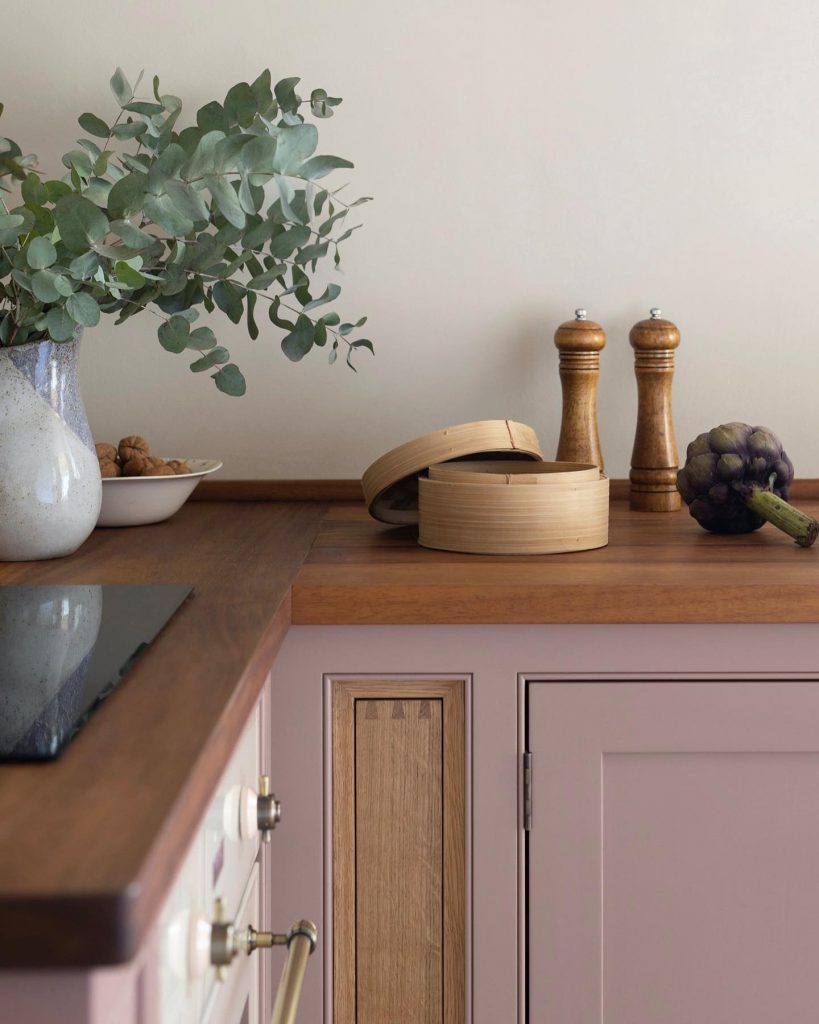 Two toned cupboards in pink and black help to neutralize an otherwise overtly feminine space. Cabinets in this kitchen painted in Farrow & Ball Sulking Room Pink and Farrow & Ball Black Blue. Via @mydarkhome_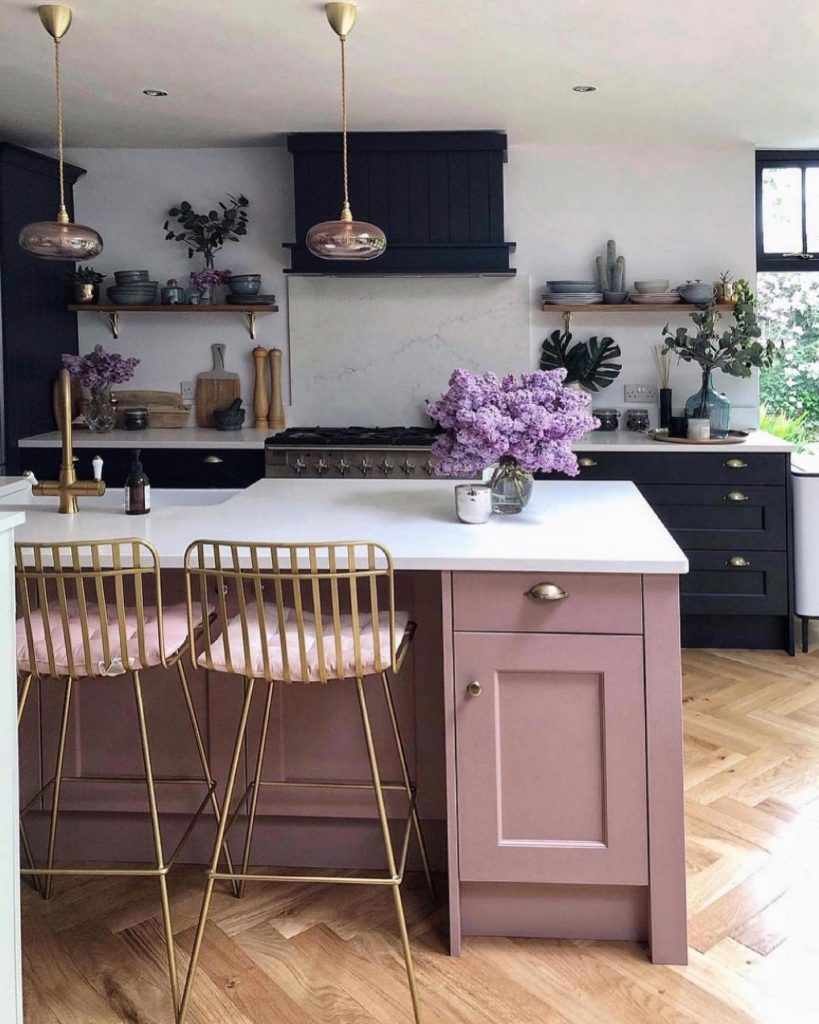 Add a splash of colour to your kitchen with some vintage rose kitchen cabinet colour via Haydown Kitchens.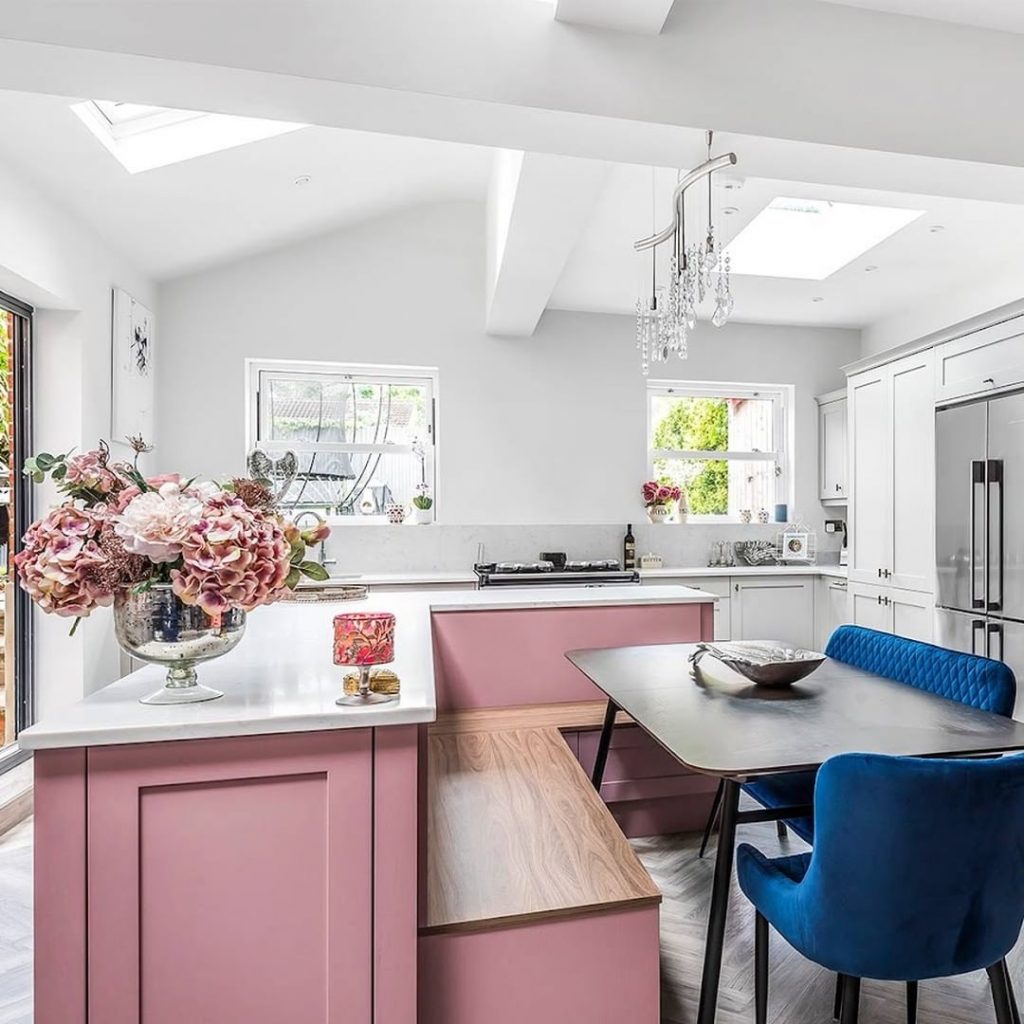 two toned pink and black kitchen cabinets idea.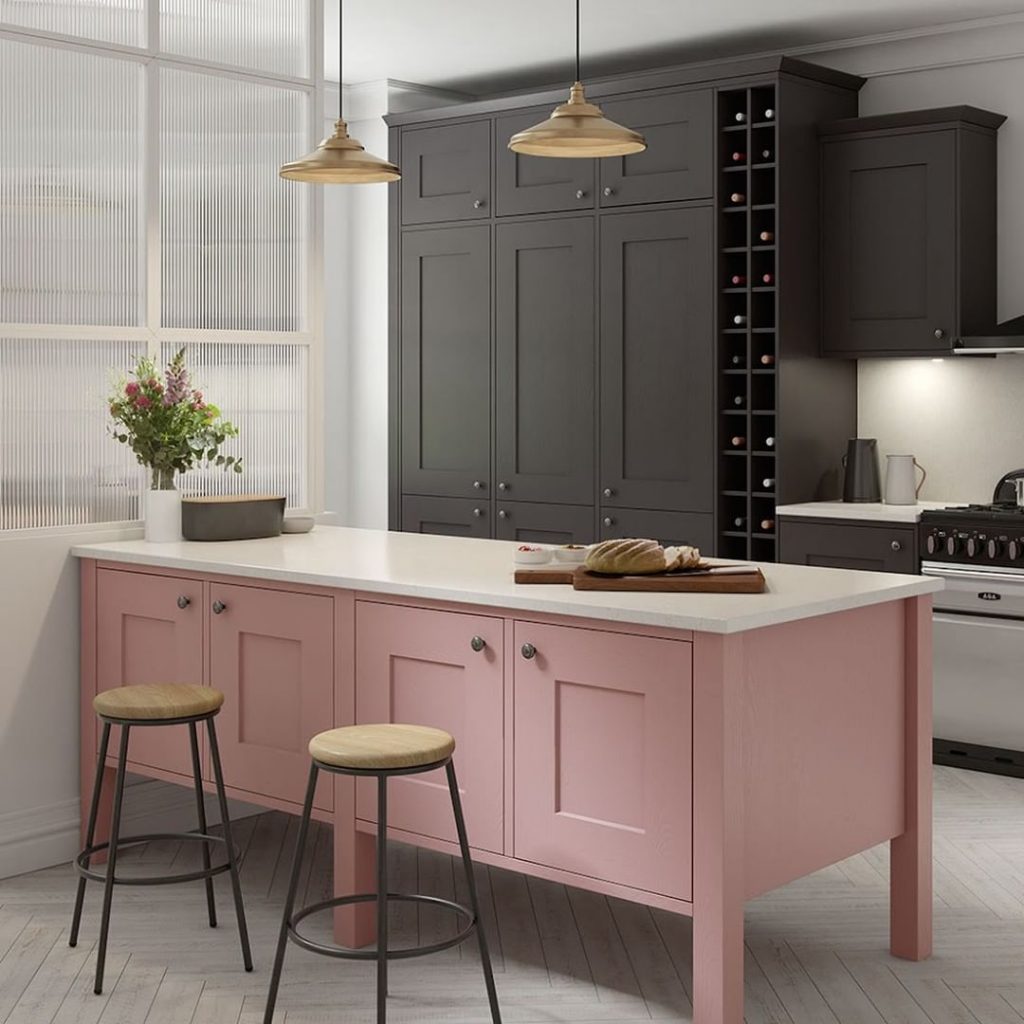 A minimalist kitchen in a Barbie pink with concrete countertops and stainless steel appliances. Kitchen by LEICHT New York.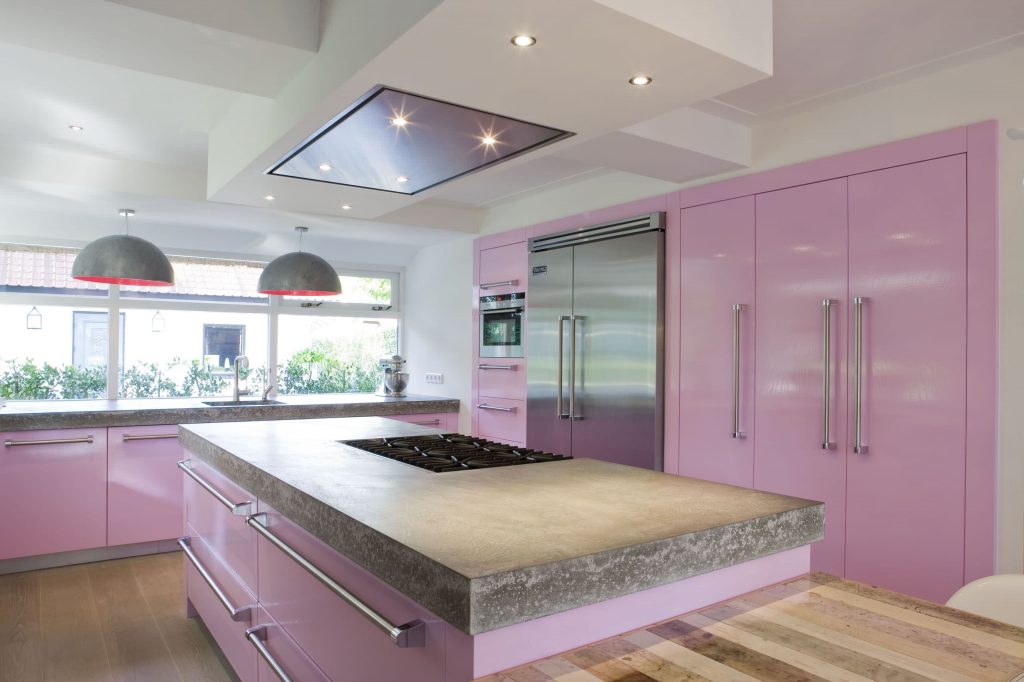 This kitchen has a large contemporary l-shaped medium tone wood floor eat-in kitchen remodel in New York with flat-panel cabinets, stainless steel appliances, an undermount sink, concrete countertops and an island.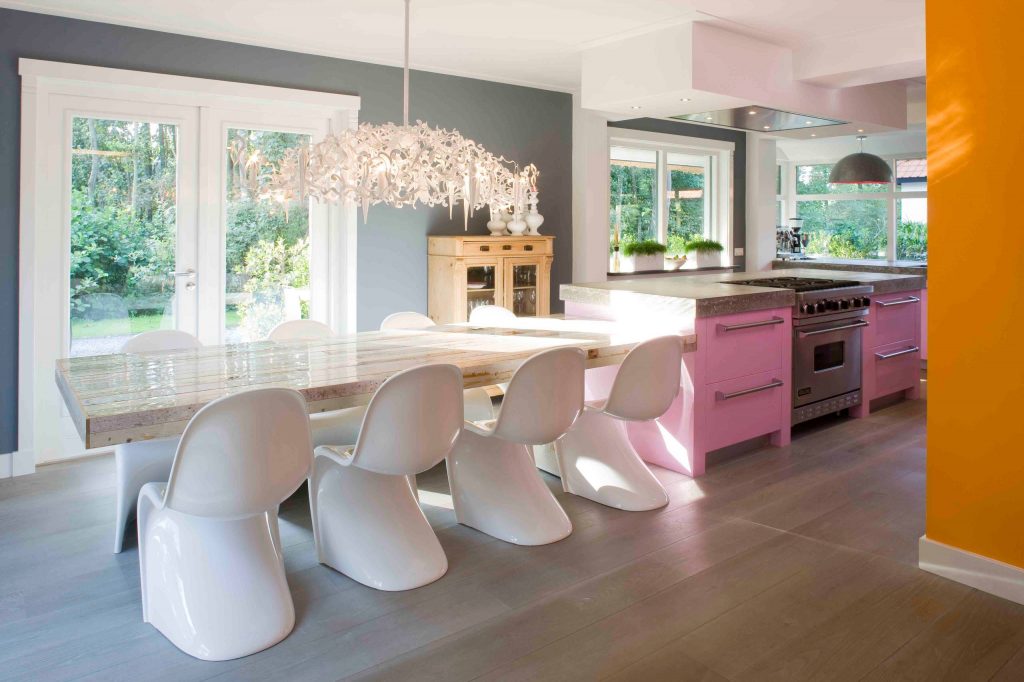 Textured gray walls, pure white Caesar benchtops and pink painted cabinets, modern and feminine kitchen from clarechapmanxx.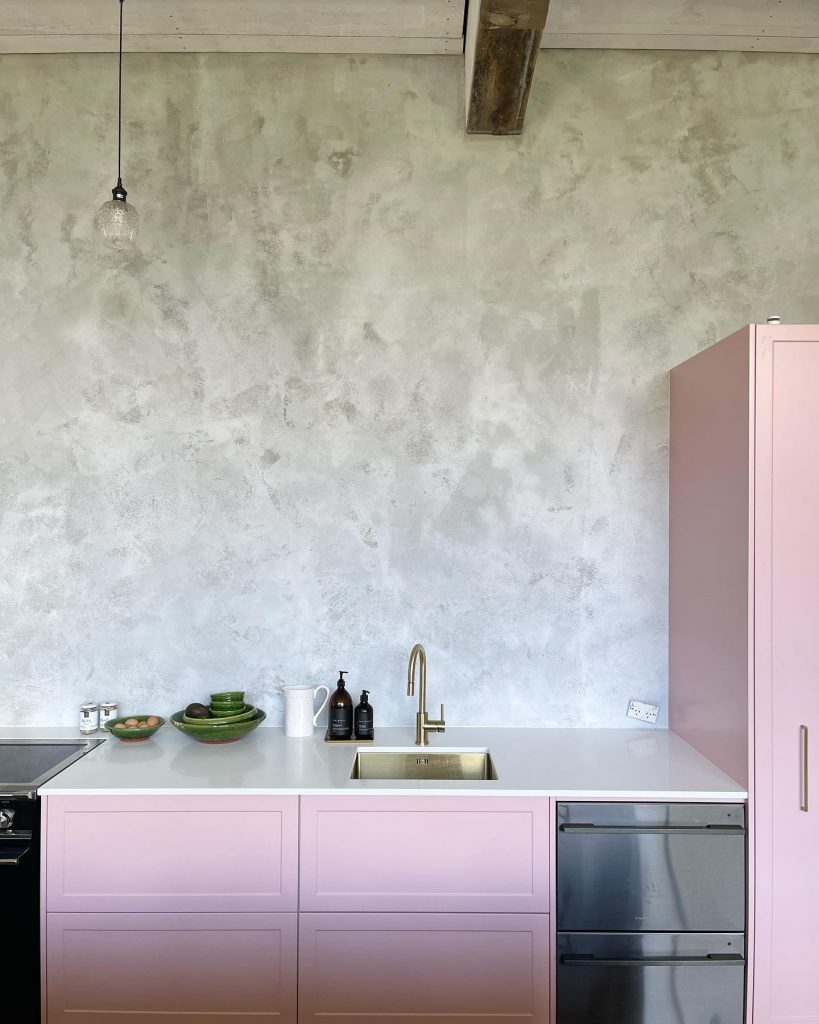 A modern remodel for a home in Palm Springs uses pink in the upper cabinets in a stylish way. Via Studio Gild.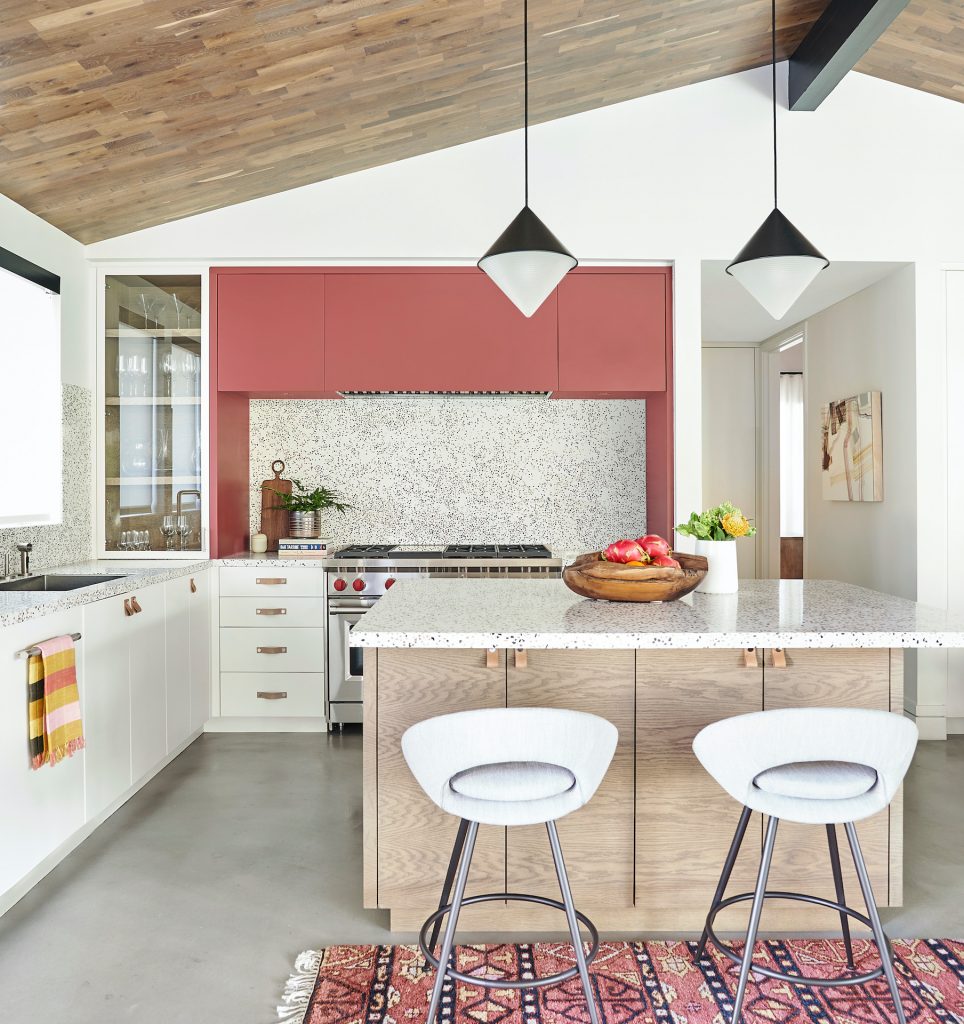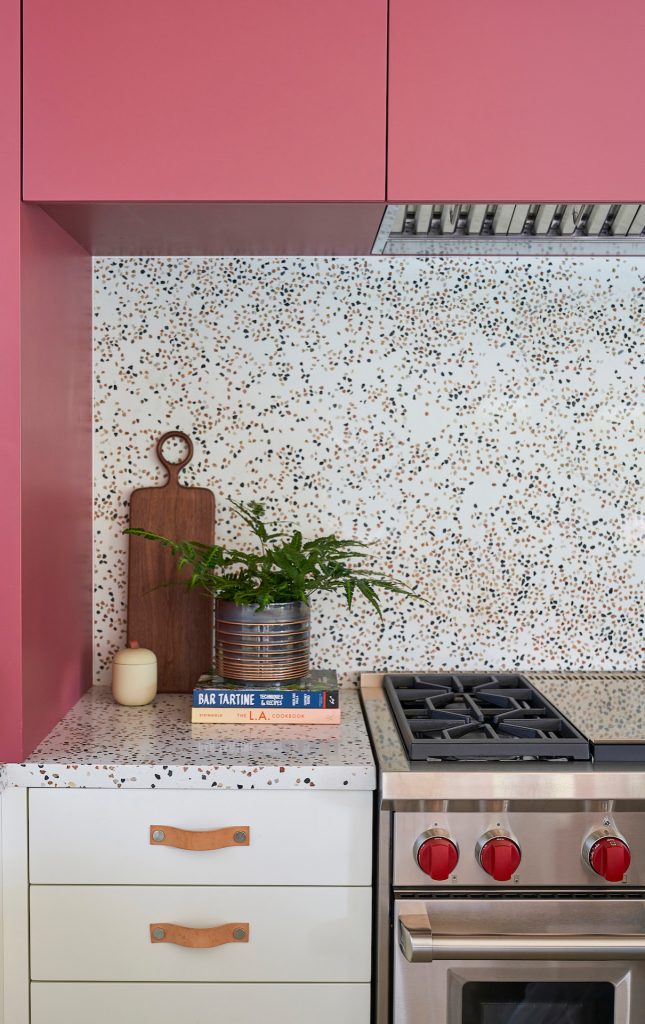 If you love pink but want to create something much more subtle, you can go for some peekaboo pink in a white kitchen.
This project was very interesting to undertake. The client loved pink, but also didn't want too much of it. It was decided to paint the interior of the larder as a wow. Once we were installing the furniture the client was very excited about the design and thought that the little drawers would be a subtle and cheeky addition in pink.

Dual Designs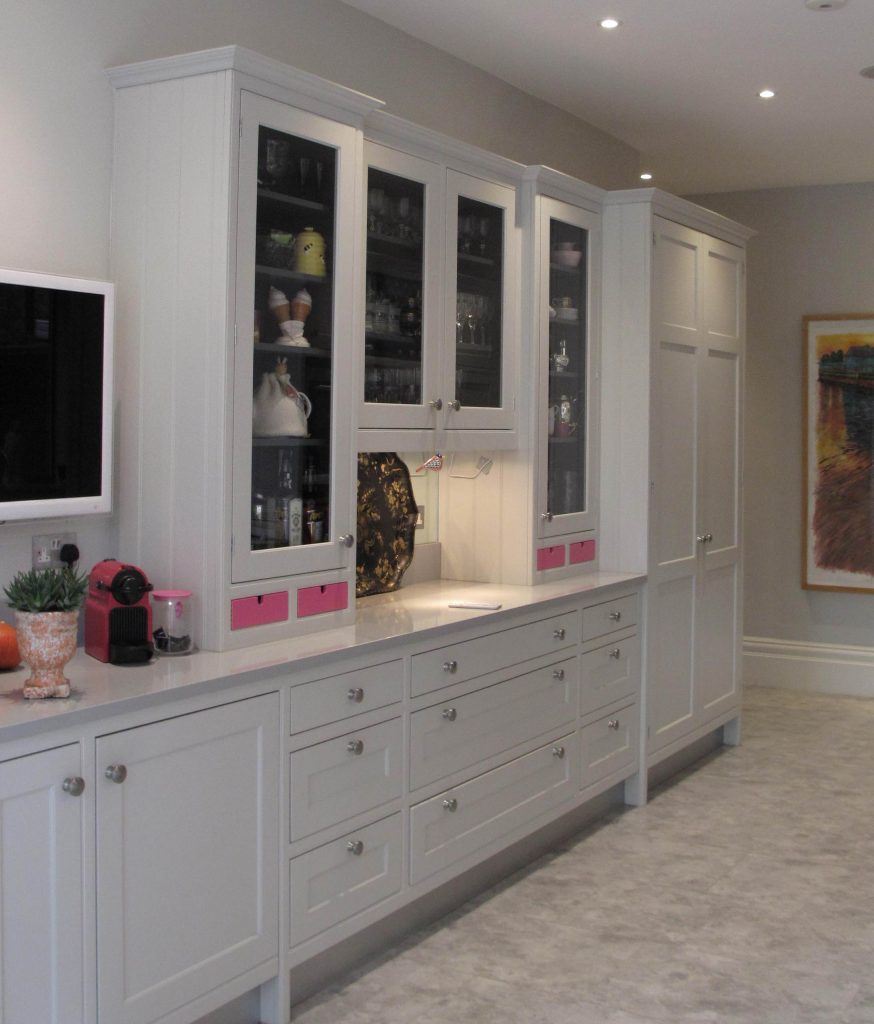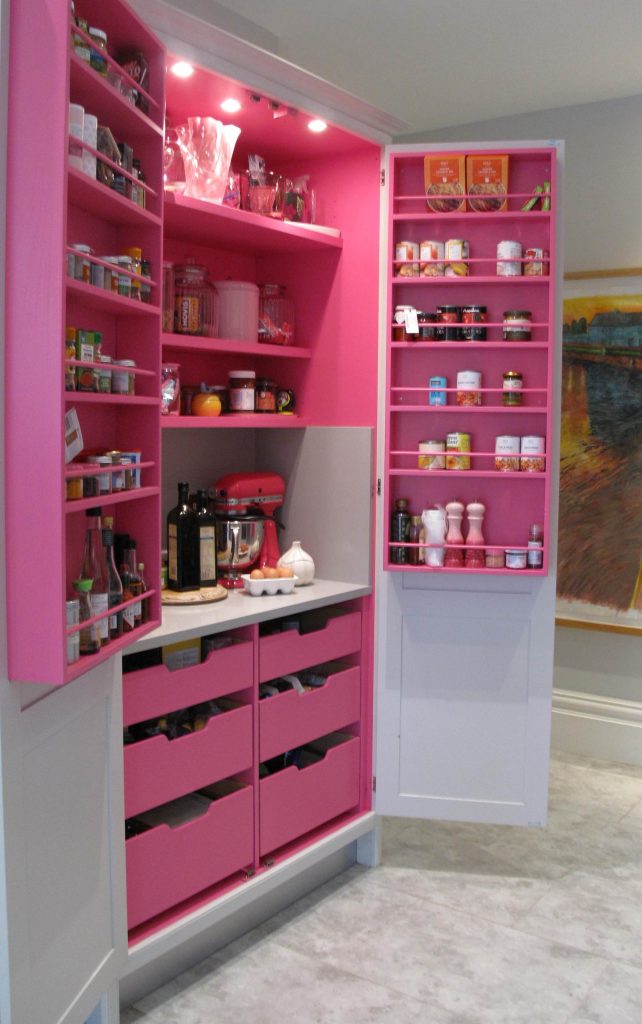 Dark Pink Kitchen Inspiration
A small classic l-shaped light wood floor and brown floor enclosed kitchen design in Seattle with a farmhouse sink, shaker cabinets, pink cabinets, granite countertops, pink backsplash, wood backsplash, paneled appliances, no island and black countertops. Sheila Mayden Interiors.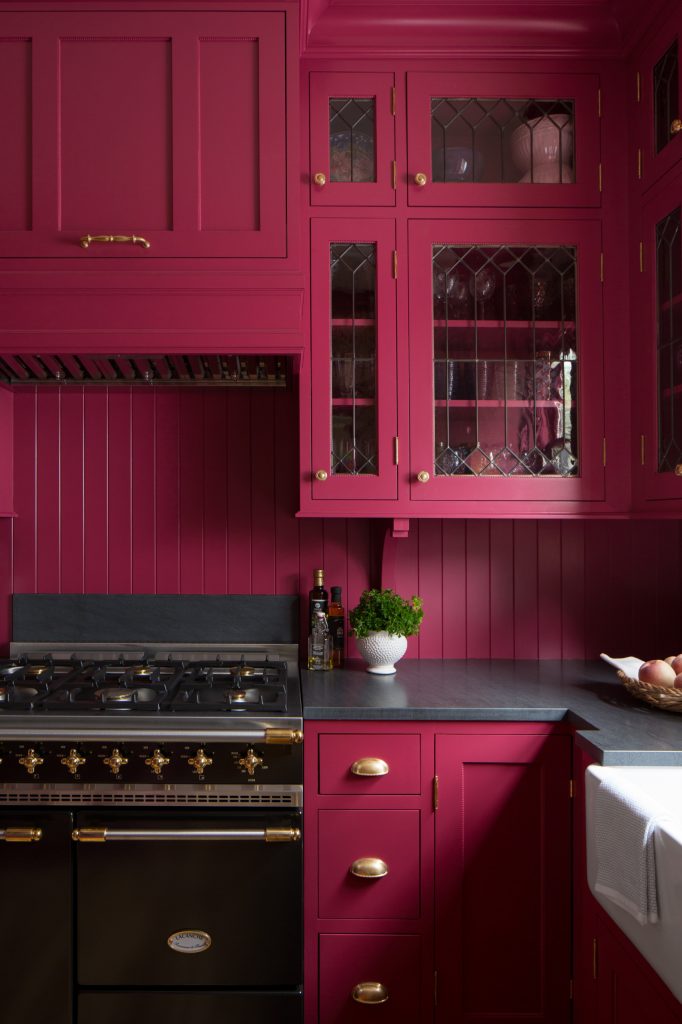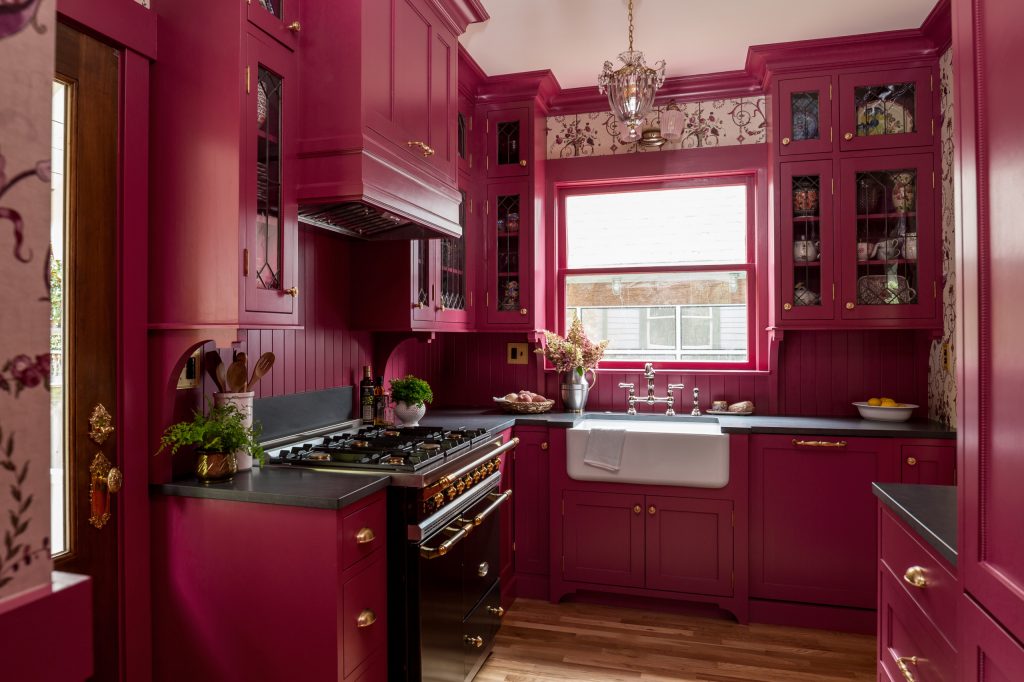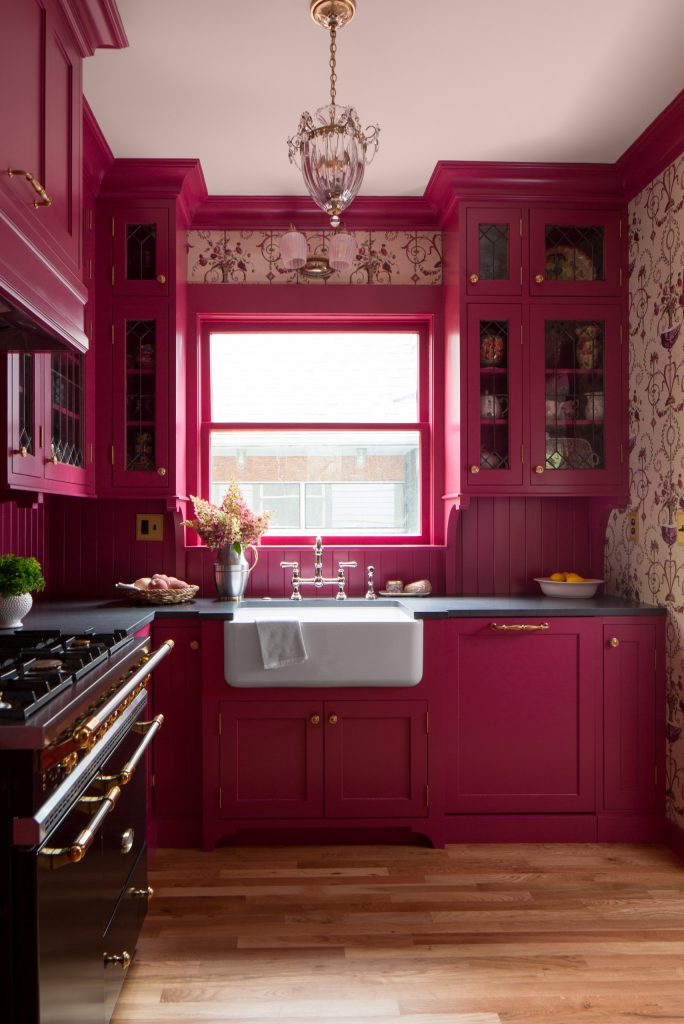 You can opt for a two toned pink so that the look isn't too overwhelming. Kitchen via Naked Kitchens.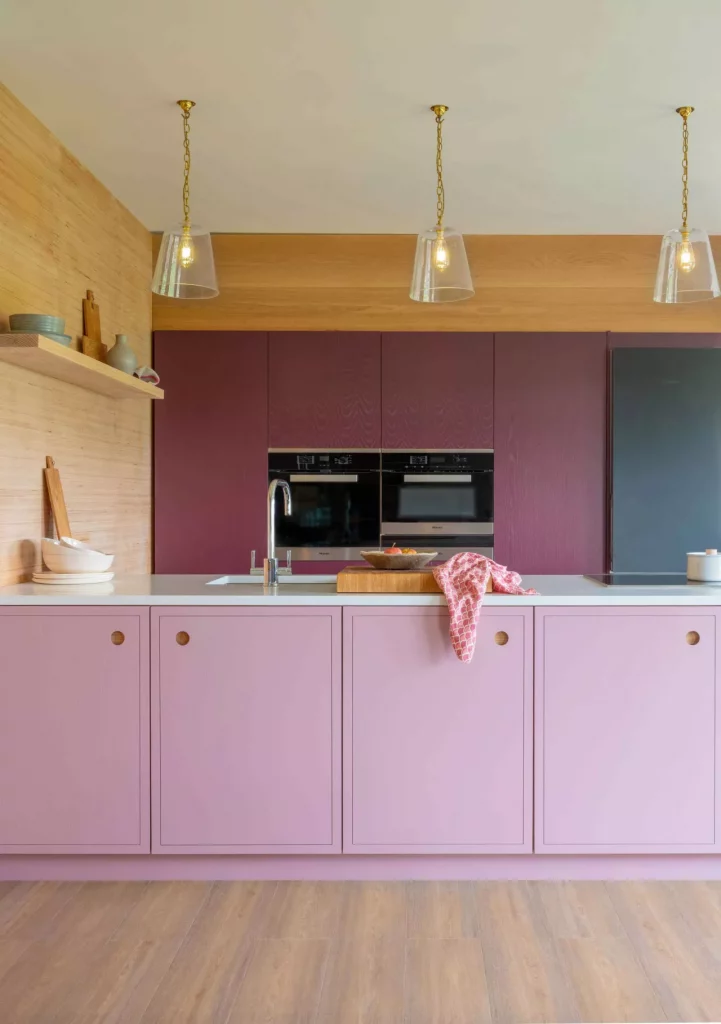 Another example of a pink on pink kitchen, hot pink shaker kitchen cabinets and a light pink splashback. Image via studiocak.