Pink Interior Design Inspiration for 2020
Pink Interior Design Inspiration for 2020. Amazing pink paint colors, tiles and wallpaper. From barley there pinks to rich pinks, to dusty pinks, antique pinks and more.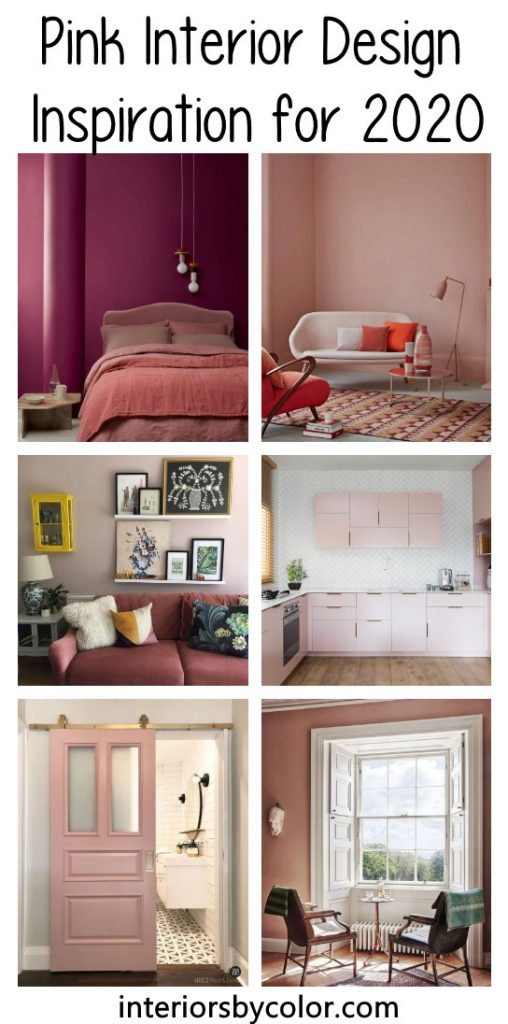 Pink Bedroom Paint Color
Let's begin with bedrooms, pink paint color is great for bedrooms! Pink is warm, loving and welcoming.
Want to turn your bedroom into a restful retreat? Paint your bedroom feature wall in warm, comforting colors. Dulux Dusted Fondant creates a calming effect that helps you unwind unwinds. Via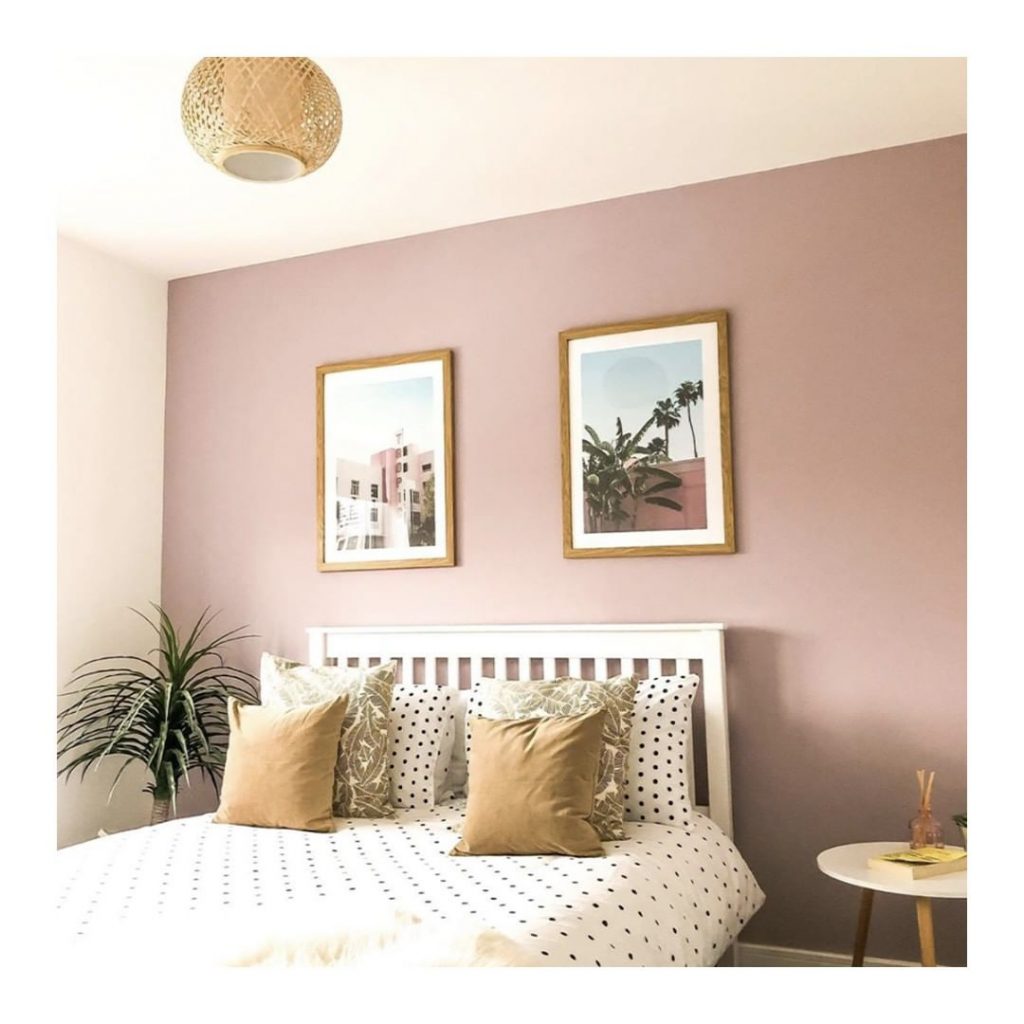 Crown Paints Colourfast challenges traditional perceptions of pink and purple by offering new interpretations. Here, the sumptuous shade Colourfast envelops the space like a luxurious blanket.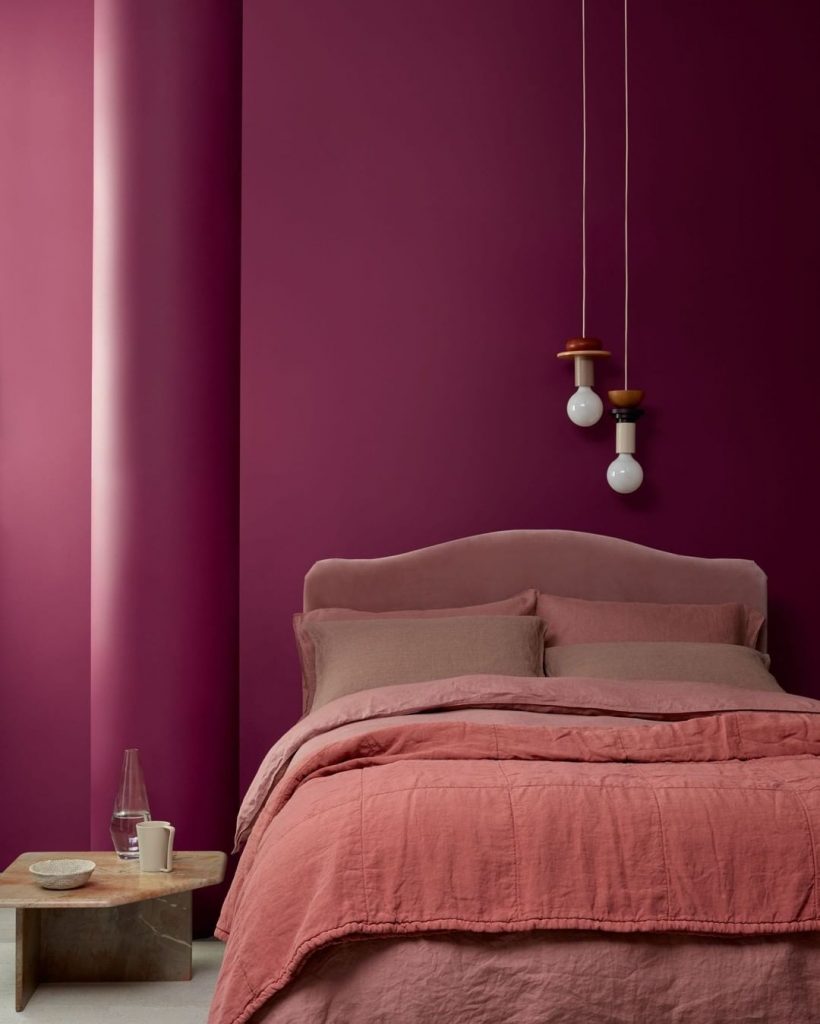 Valspar Burnished Apricot, pink painted feature wall in the bedroom. Via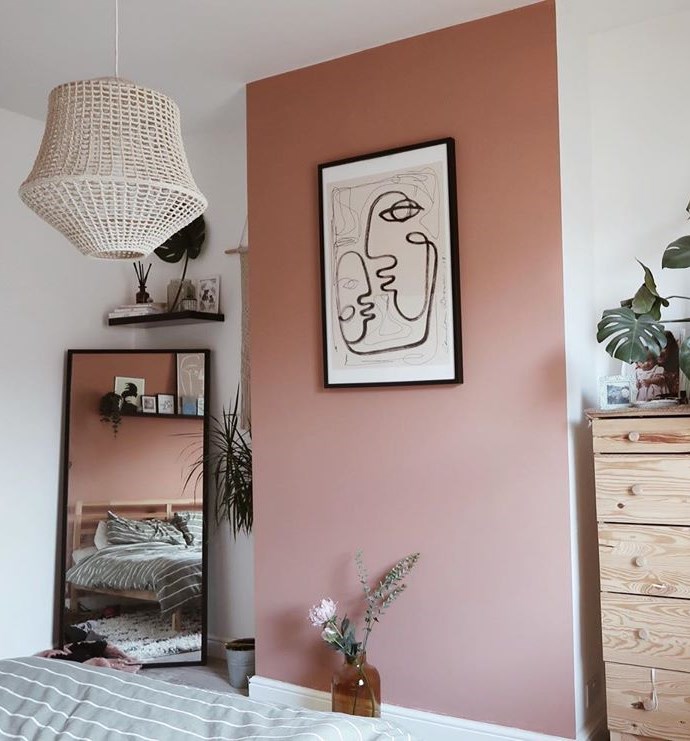 This heavenly bedroom masterminded by the brilliant Katie Glaister and Henry Miller-Robinson of @kandhdesignltd. Painted in a light pink paint: Edward Bulmer Paints Cuisse de Nymphe Emue. "It is a dusty pink with enough umber to avoid being too girly. It is still feminine though, so it is a really useful colour to peel back the masculine cloak that some houses take on. In fact I borrowed it from the family rooms at Petworth where it had been chosen by Lord Egremont's mother and it was she that gave it its risqué name!"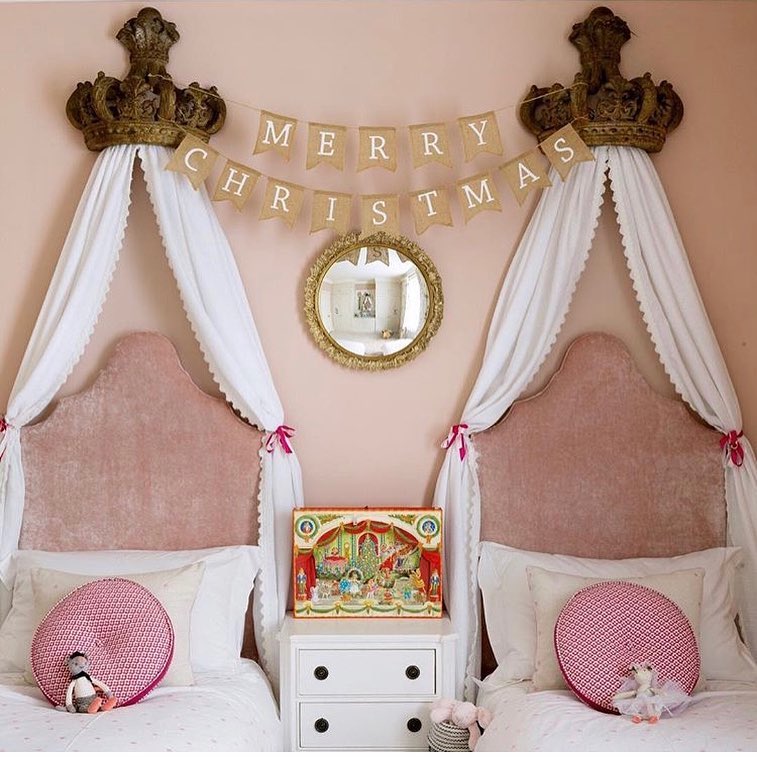 A romantic and muted rose, Farrow & Ball Sulking Room Pink is perfectly paired paired with neutral tones.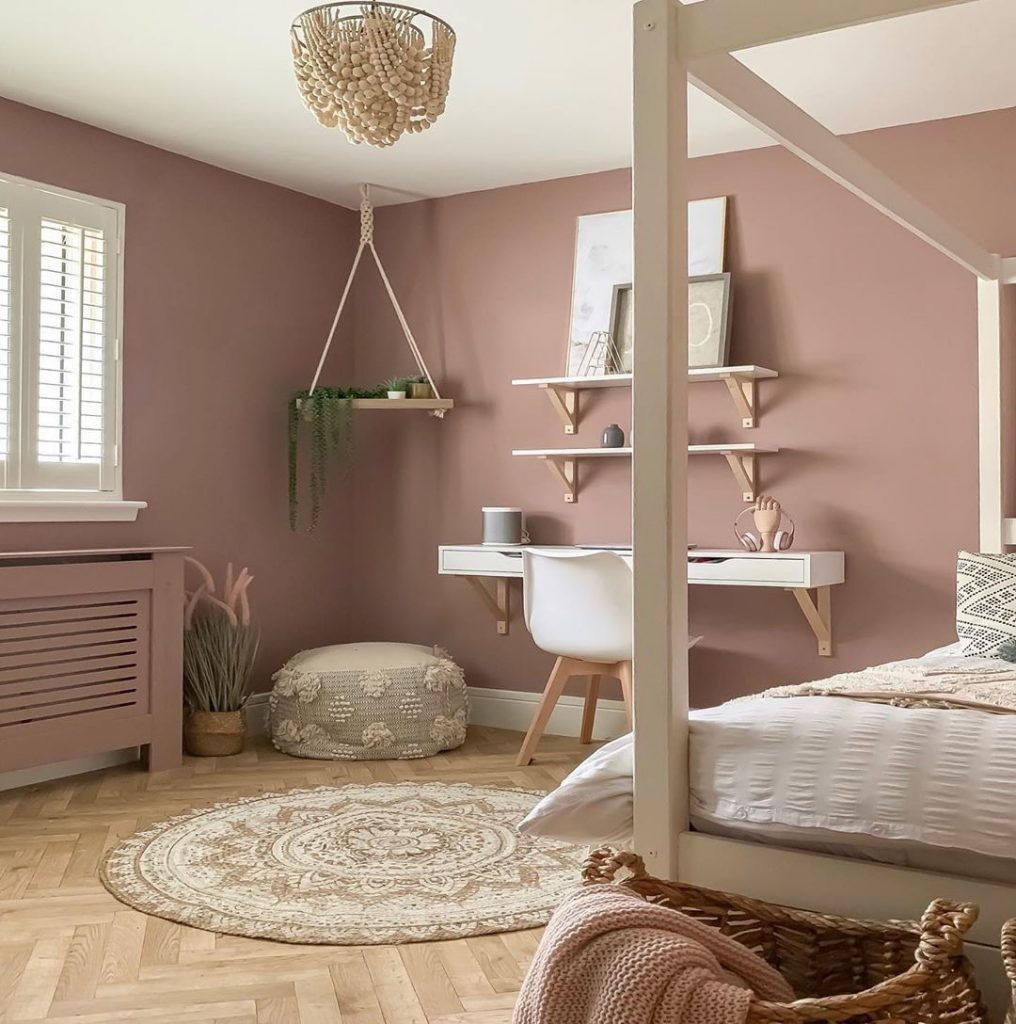 Pink Bathroom Ideas for 2020
Pink herringbone tiles bathroom walls. Via mydarkhome_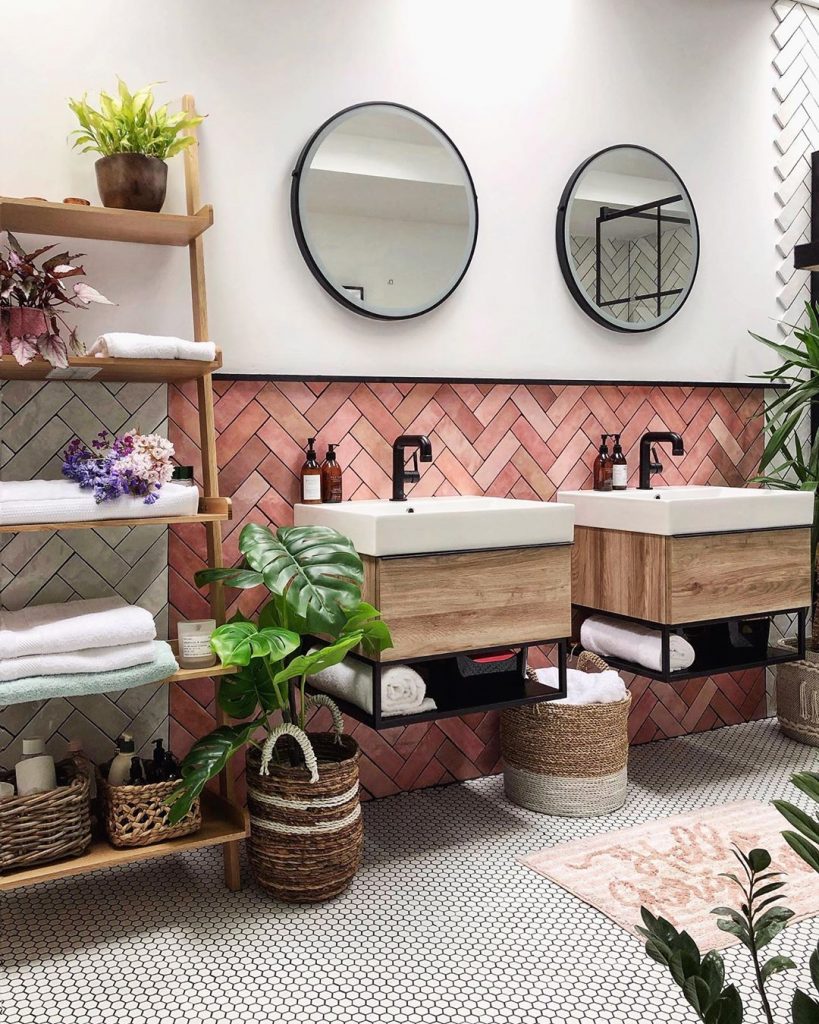 Wallpaper from @thecuriousdepartment launches wallpaper in their Opium Blush design. It's a dreamy Art Nouveau-inspired spectacle of entangled opium poppies, with a subtle pearlescent sheen.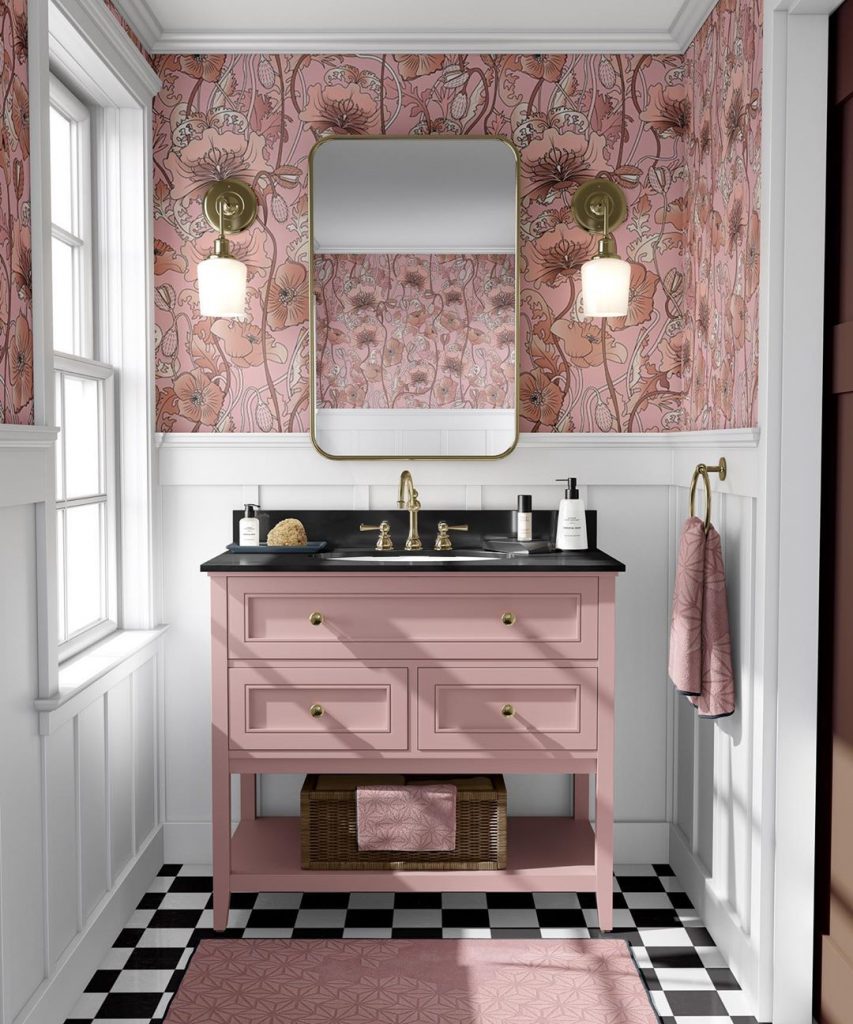 Fabulous pink tub! The plaster-effect wall was created using a base of @chalkpaint in Scandinavian Pink mixed with Honfleur, rubbed with newspaper while wet (from £5.95 for 120ml @anniesloanhome). Old White was then diluted and applied with a cloth, and diluted a little more and dripped to create a dramatic cascade. Wall, bath and floor finished with Matt Chalk Paint Lacquer (£21.95 for 750ml).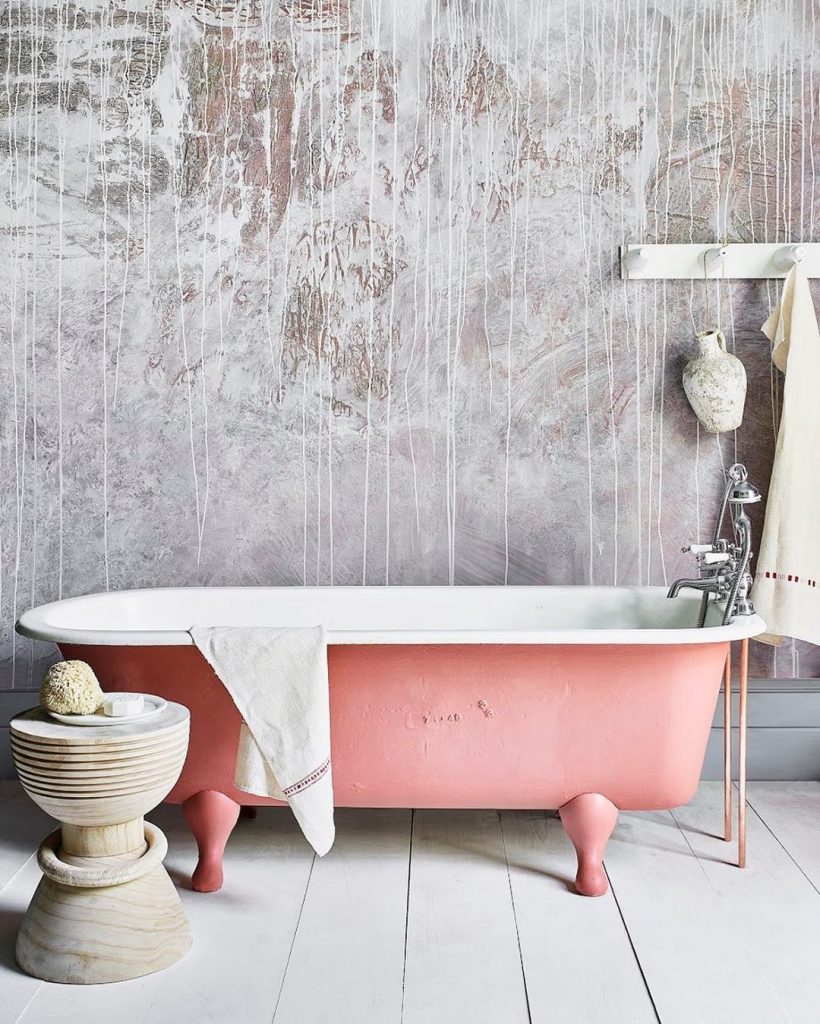 Love a bit of tile drama in a shower room. This striking black and pink combination is from @blueprintceramics' Artisano collection, offset with a copper shower.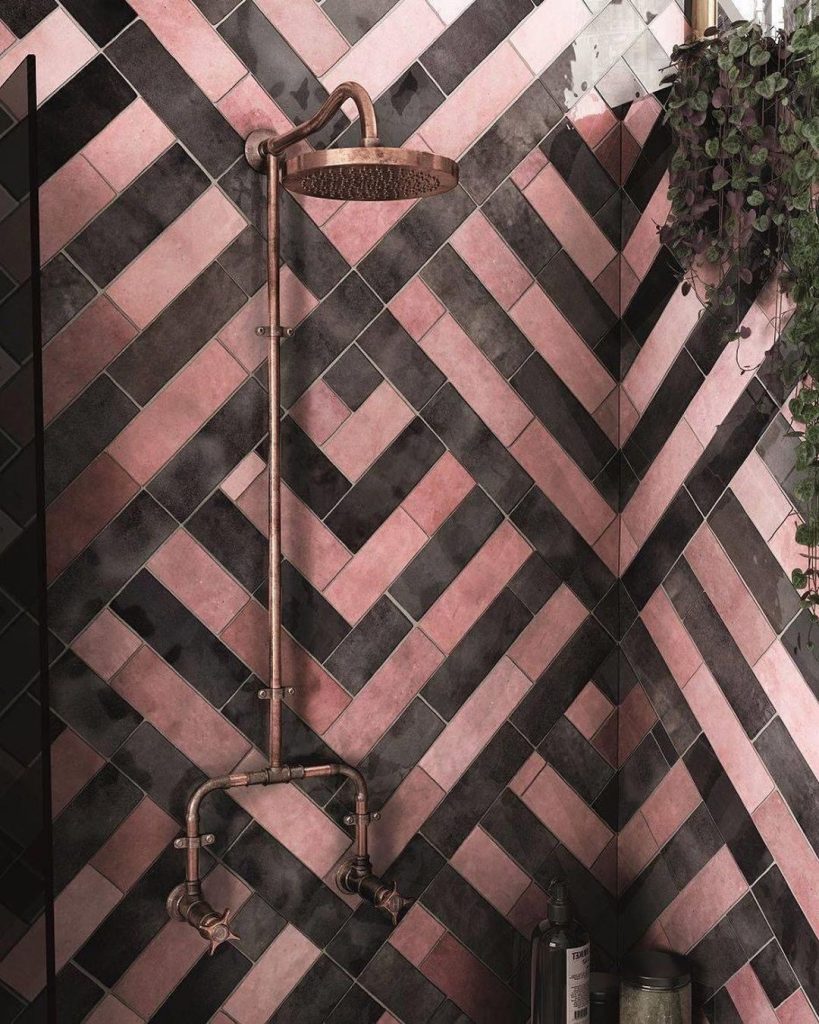 A beautiful old Toronto home was updated by homeowners with the help of @1925workbench (custom sliding door & brass hardware) and our timeless graphic Duomo Black mosaic tile, inspired by the long-admired tile work of the ancient Roman cathedral. Supplied by @cesarioandco, via artistic_tile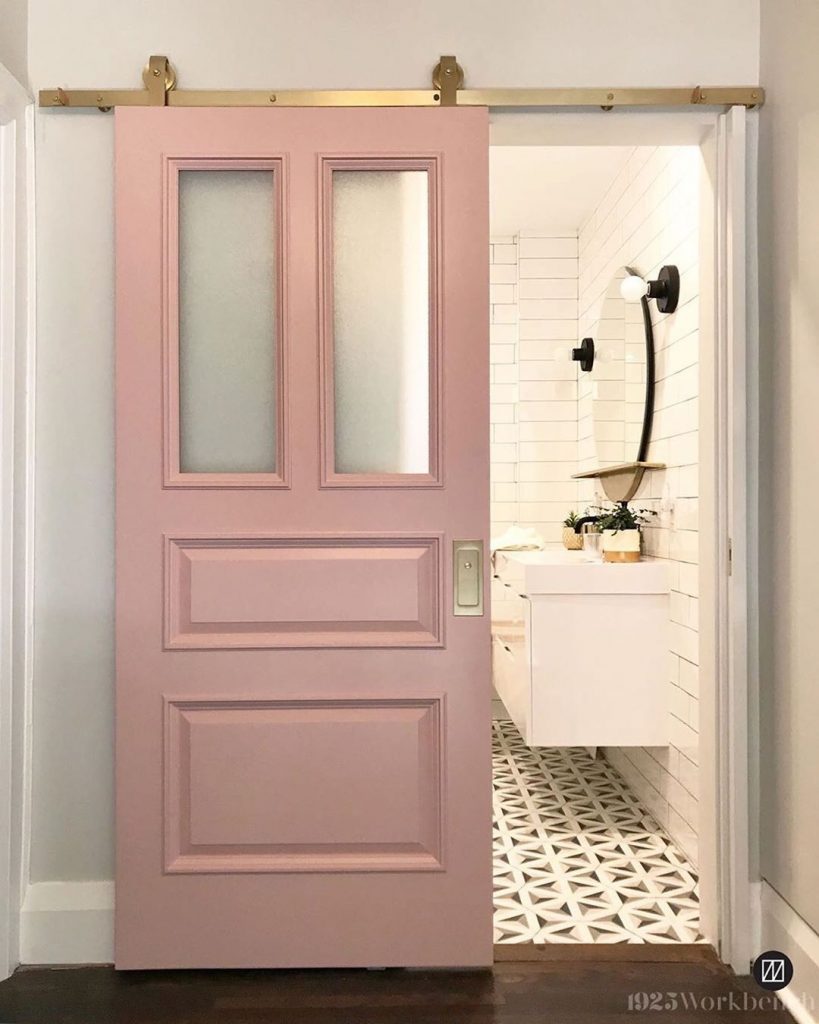 Pink Living Room Design Ideas
Dulux Soft Stone pink paint color creates a stylish yet understated focal point in the home. The warm, pinky neutral shade is the perfect back drop for vintage furniture and eye-catching accessories. Via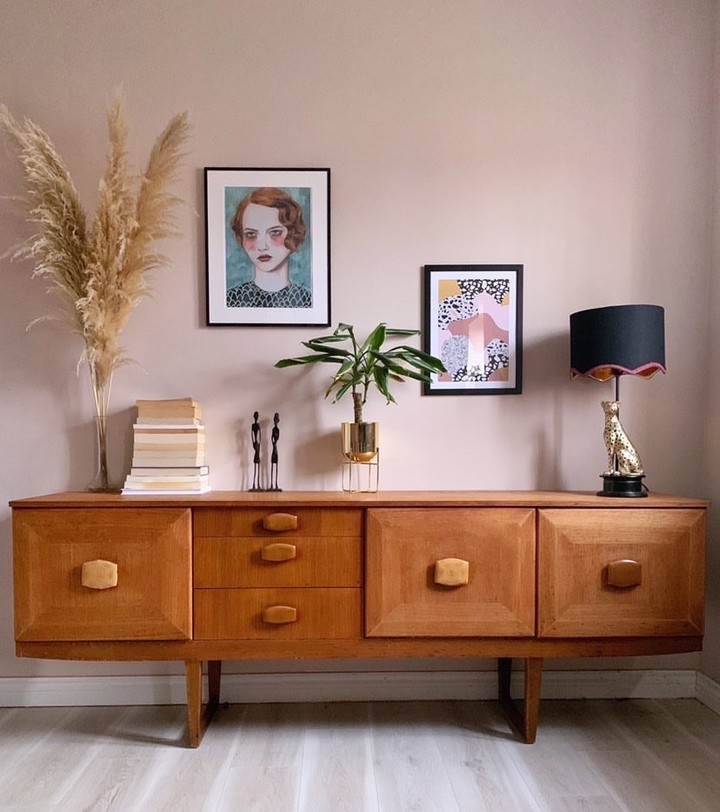 Dulux Crushed Cotton 1 is a versatile paint color to work with, it has earthy tones and creates a cosy feeling. Via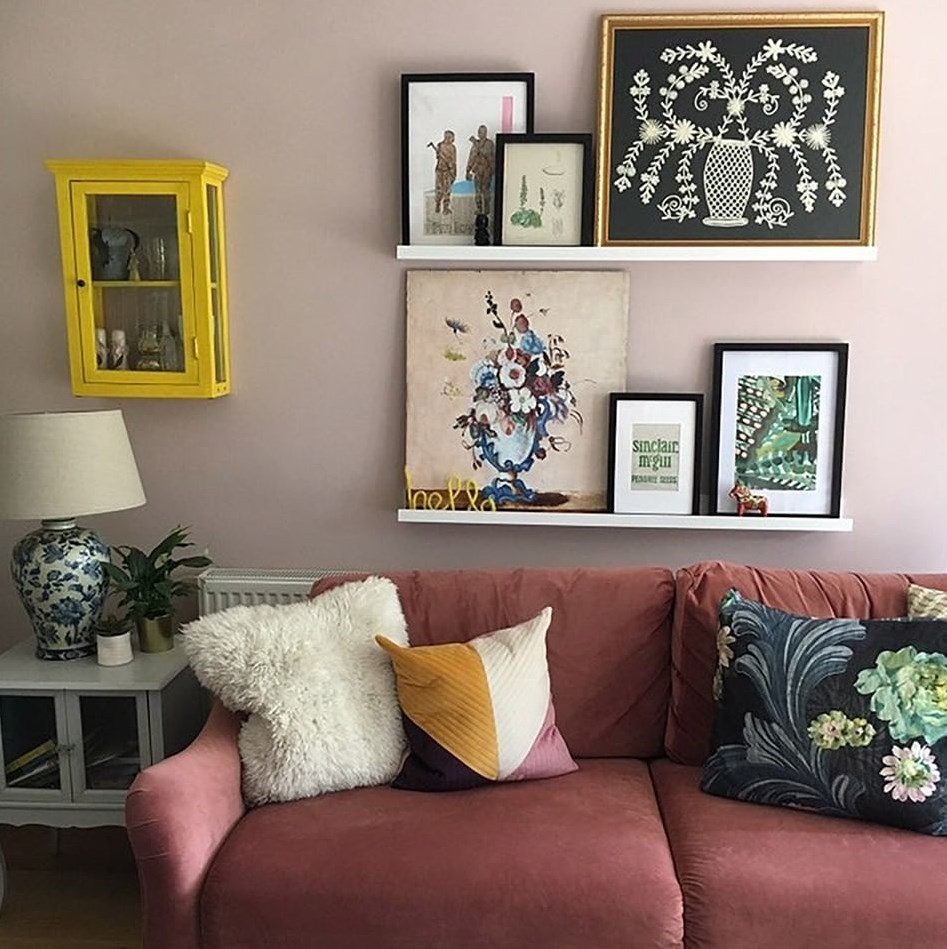 Tom Helme of @fermoie of his Scottish retreat on the Mull of Kintyre has beautiful dusty pink walls.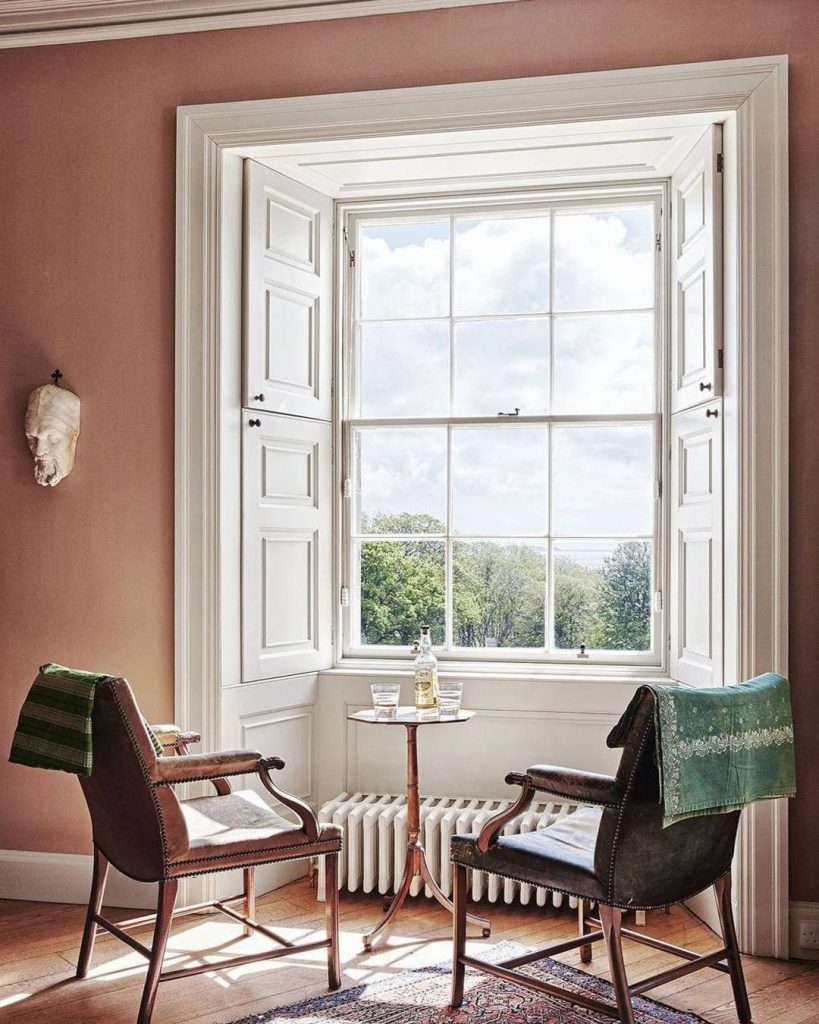 Crown Paints Powdered Clay is a fantastic pink to paint your living room in, it channels the idea of summer by bringing the warm and bright colors of spring and summer indoors.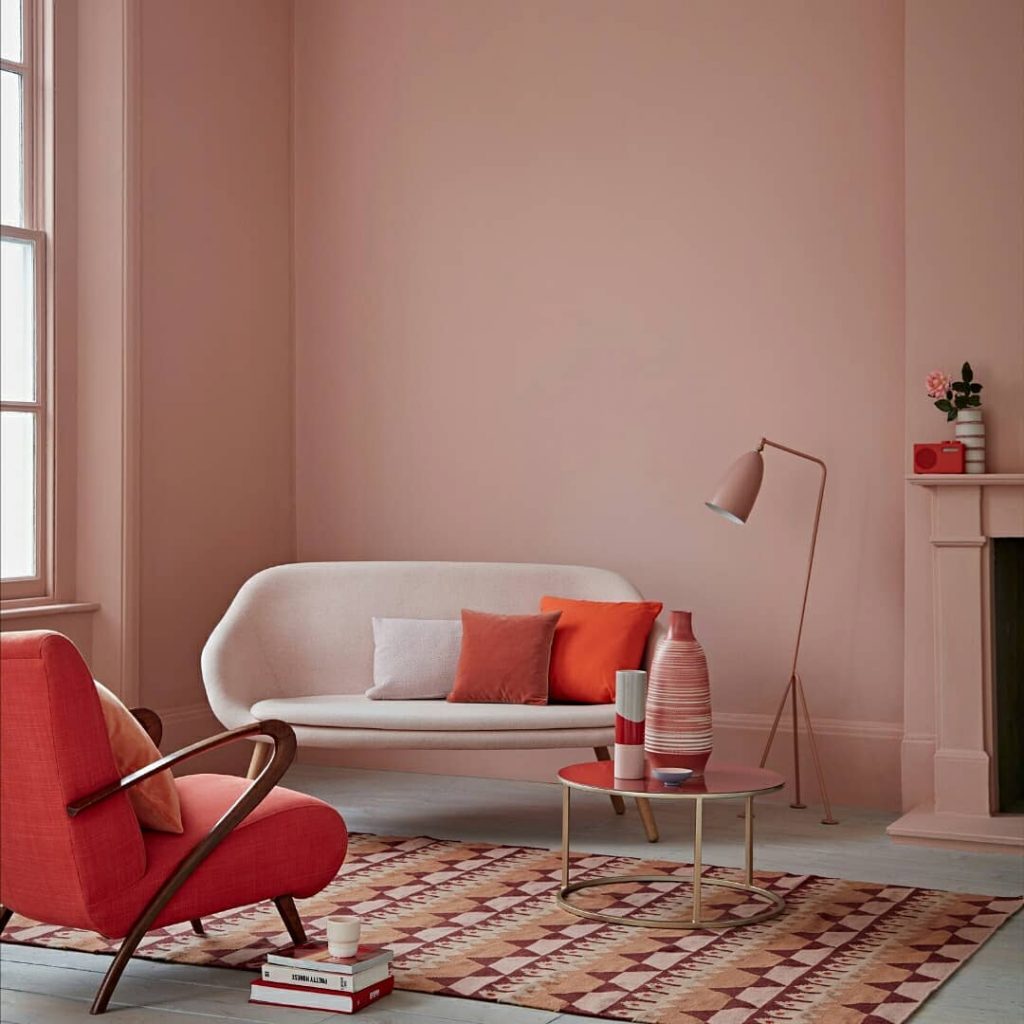 Farrow & Ball Calamine is a delightfully subtle pink that is perfect for cosy living room walls. This paint color has a great vintage vibe and looks great when combined with the navy blue of the velvet sofa. Via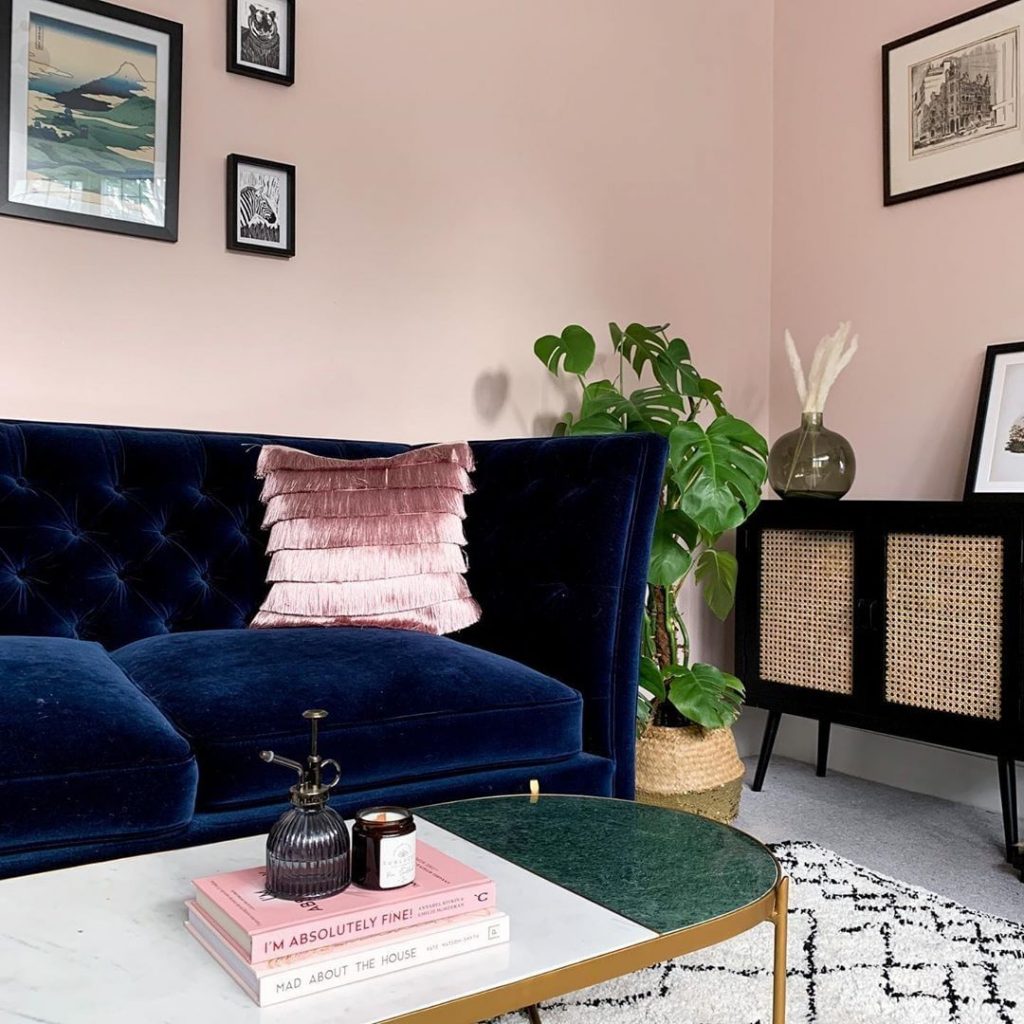 Farrow & Ball Calamine pink wall paint fireplace.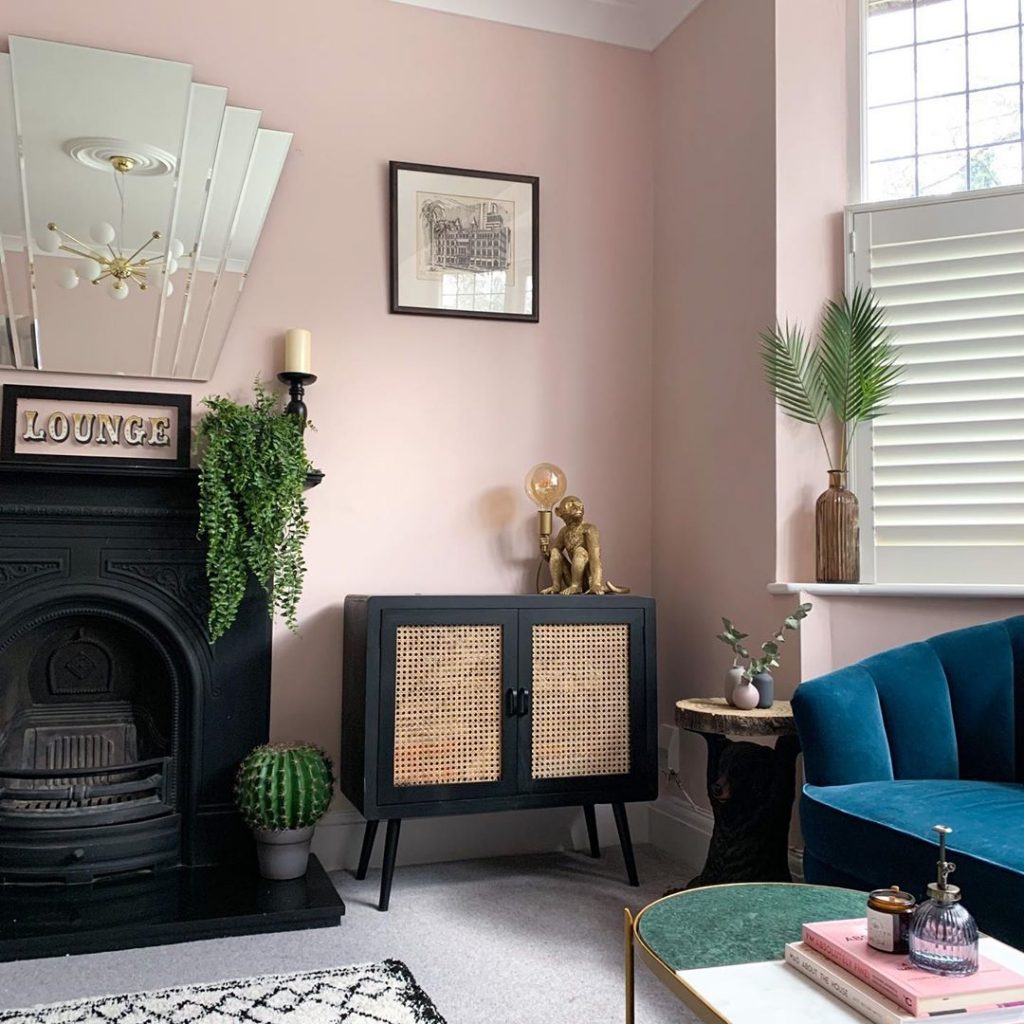 Eadie & Crole Design (@eadieandcrole), stunning pink living room ideas.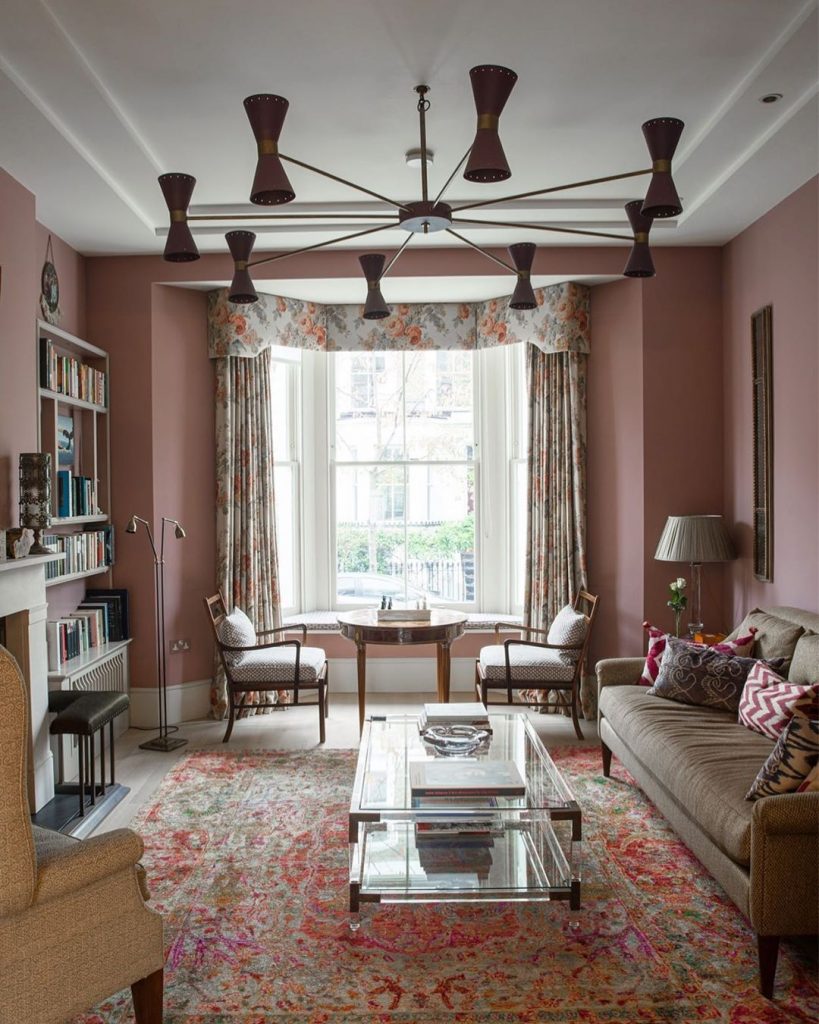 If all those lighter and muted pinks aren't your thing, perhaps you would love this adventurous, playful and exotic pink! It is Farrow & Ball Rangwali. Photo by @bluebellgray.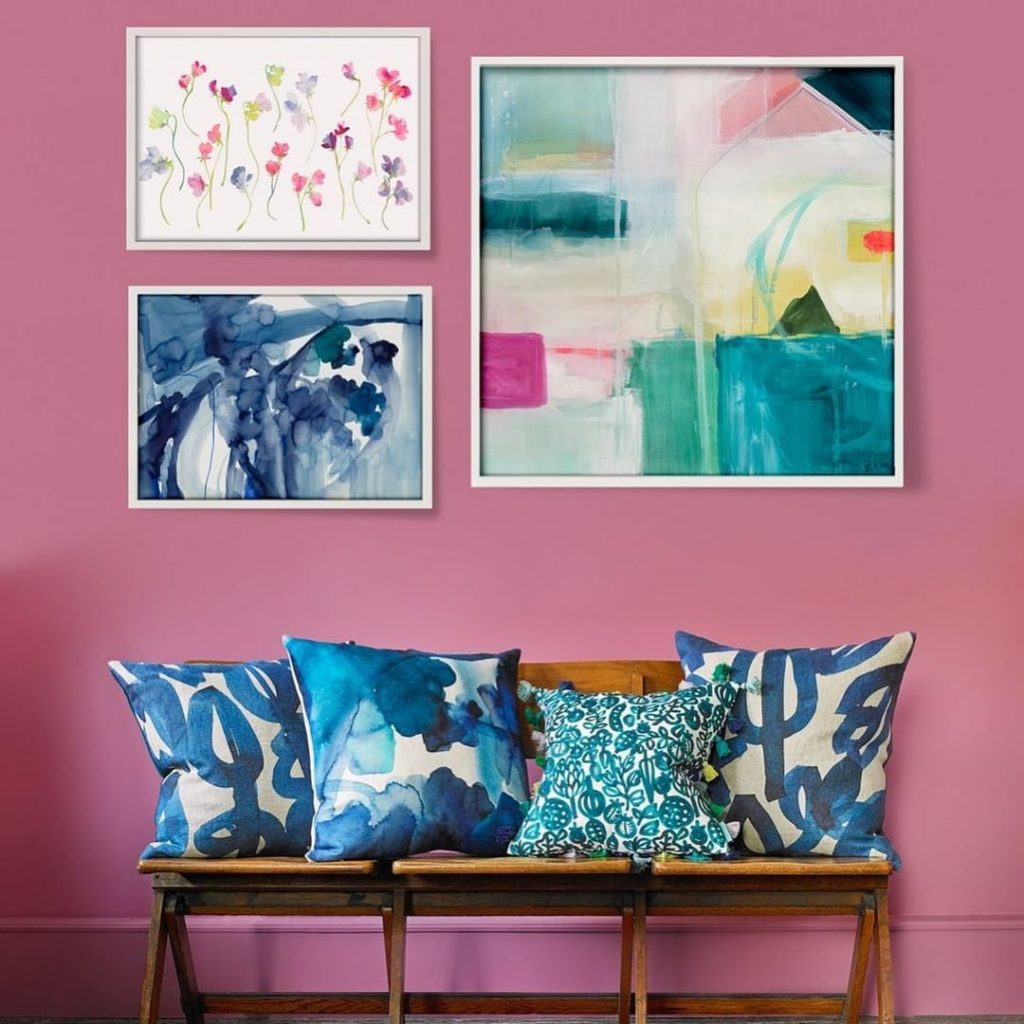 If you were to ask decorator @suzannekasler what was the foundation of the living room at the @kbshowhouse in Palm Beach, she would point you to the white upholstered furniture, the sisal rug (@starkcarpet), and the water lilies chandelier (@paulferrante.inc). And yet, when it came to bringing in touches of lively Palm Beach color to the soaring central living area, a little went a long way. Painting a single bookcase wall flamingo pink (Curtis Salmon by @benjaminmoore) was a way "to help anchor the room a bit," notes the designer, who dropped hints of the shade throughout the space. "It's funny how much color comes across with those few accents, but I think it embraces Palm Beach's very sophisticated sensibility." | Photography by @bwfoto. Via Veranda Magazine.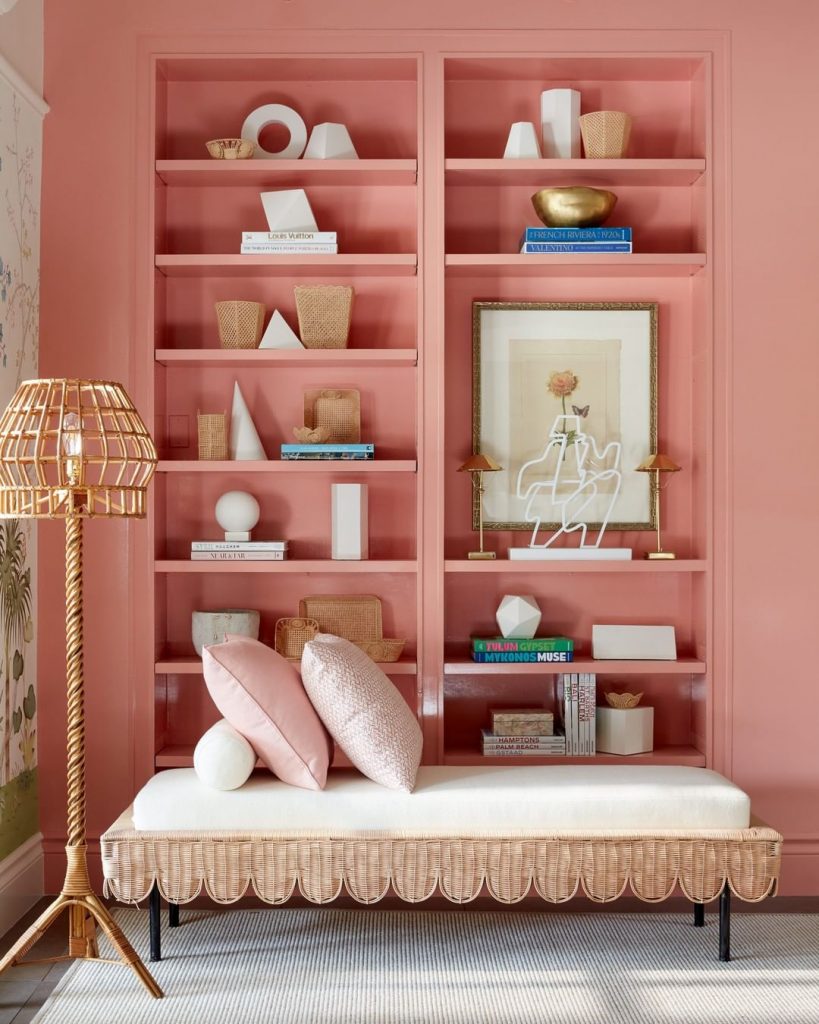 Pink Kitchen Design Ideas 2020
'I wanted a classic look – utilitarian, but not too kitchen-ish,' says @tarcraig of the kitchen she designed for her flat along with Marcus Ayshford Sanford of @archidrumuk. And its distinctive cornice, excellent joinery and generous plate rack fit that bill. The warm apricot gloss paint of the cabinets is a good foil for the greenish blue of the room's walls and woodwork. Tara has picked up these apricot tones in her @ensemblierlondon 'Montgomery' chairs and 'Hanmer' sofa, with its seat cushion in @gsdltd's cotton 'Spencer Velvet' in paprika.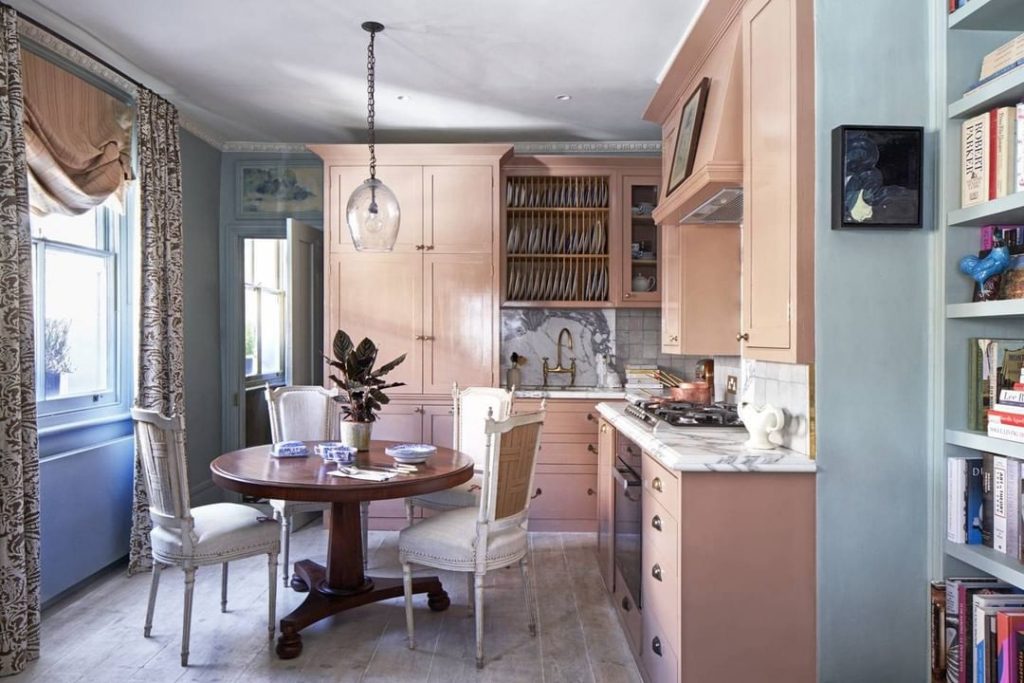 Pink kitchen island painted in Farrow & Ball sulking room pink. Via mydarkhome_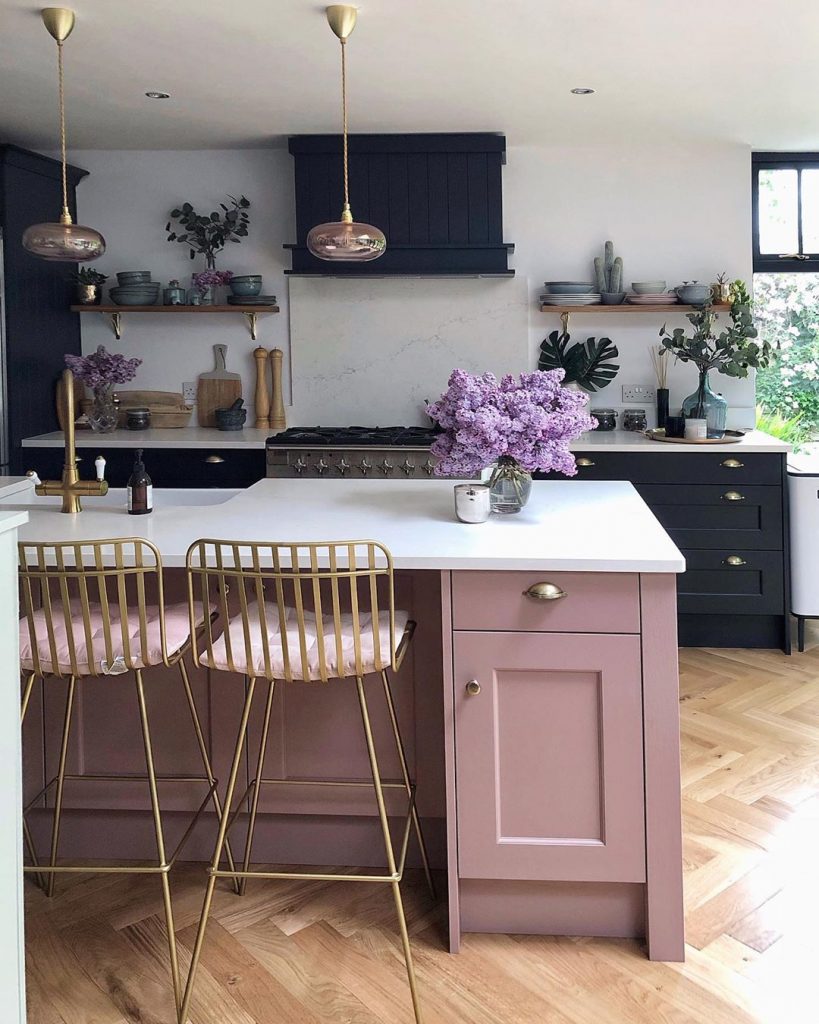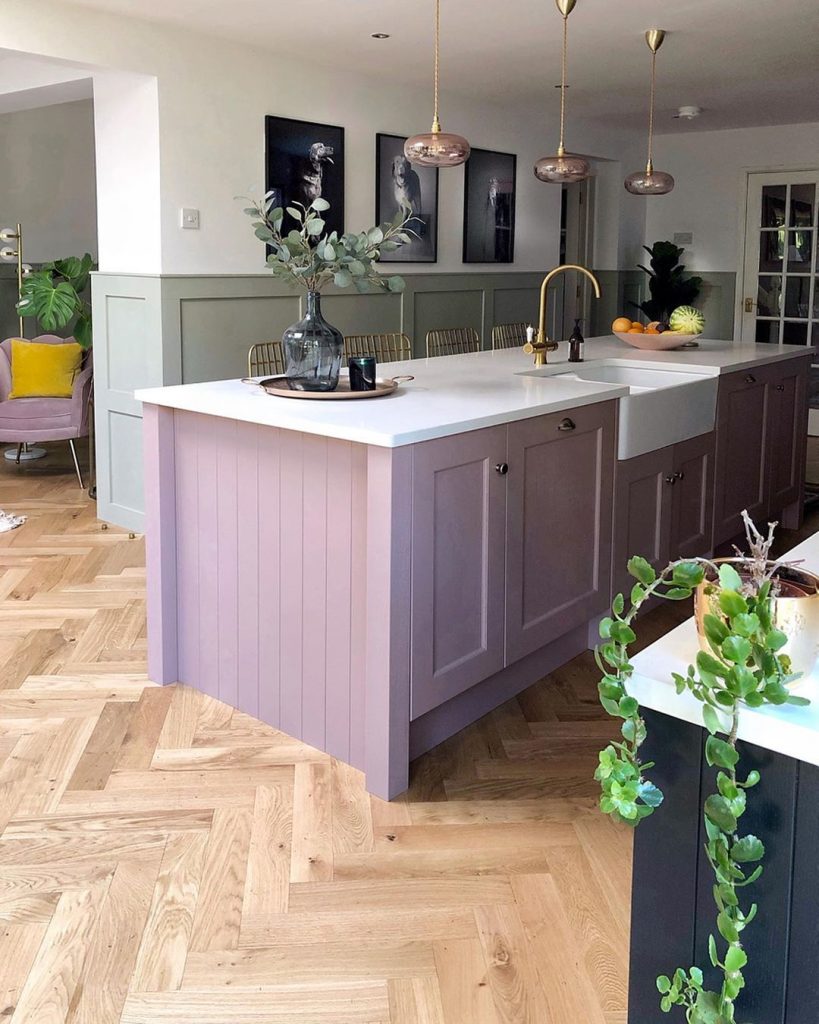 This kitchen is a warm powdery pink that blends perfectly with the marble, brass handles, stonework, wood flooring and decoration around it giving it a pleasing tone and blending gently and harmoniously. The kitchen is open, carefully designed and with lots of thought for functionality and comfort according to the needs of the family, incorporates hidden and open compartments and gives continuity to the design language throughout the home. Via michal_wolfson_home_styling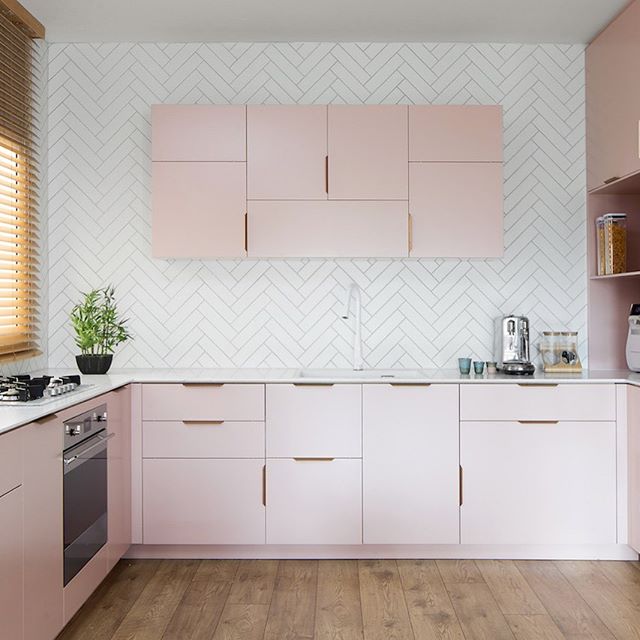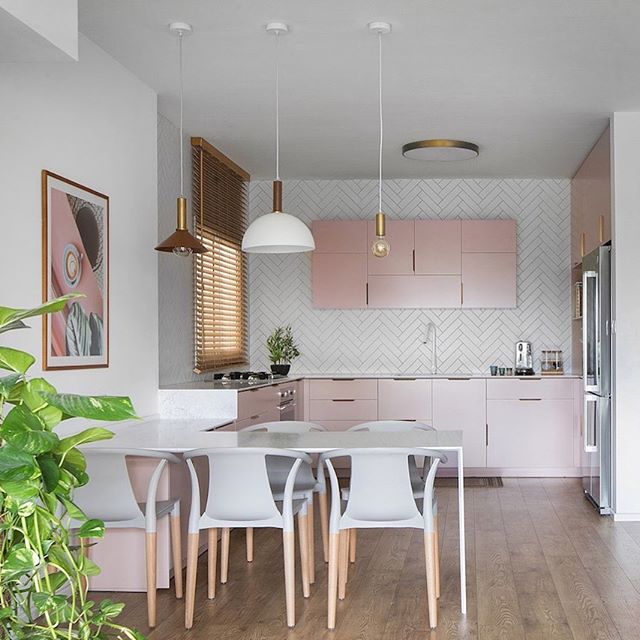 Bedroom barn doors painted in pink 2020.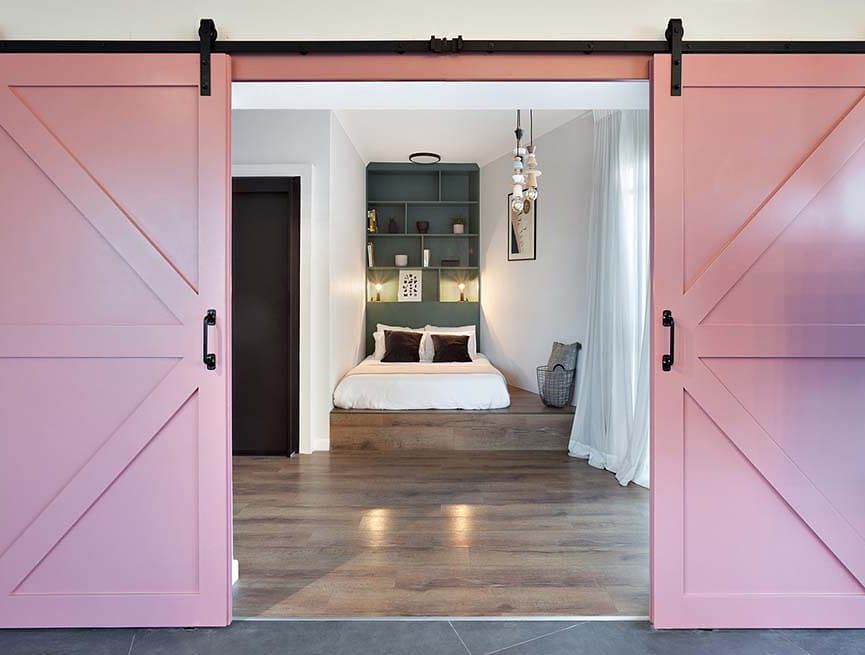 Hot pink kitchen cabinets modern trend 2020. Via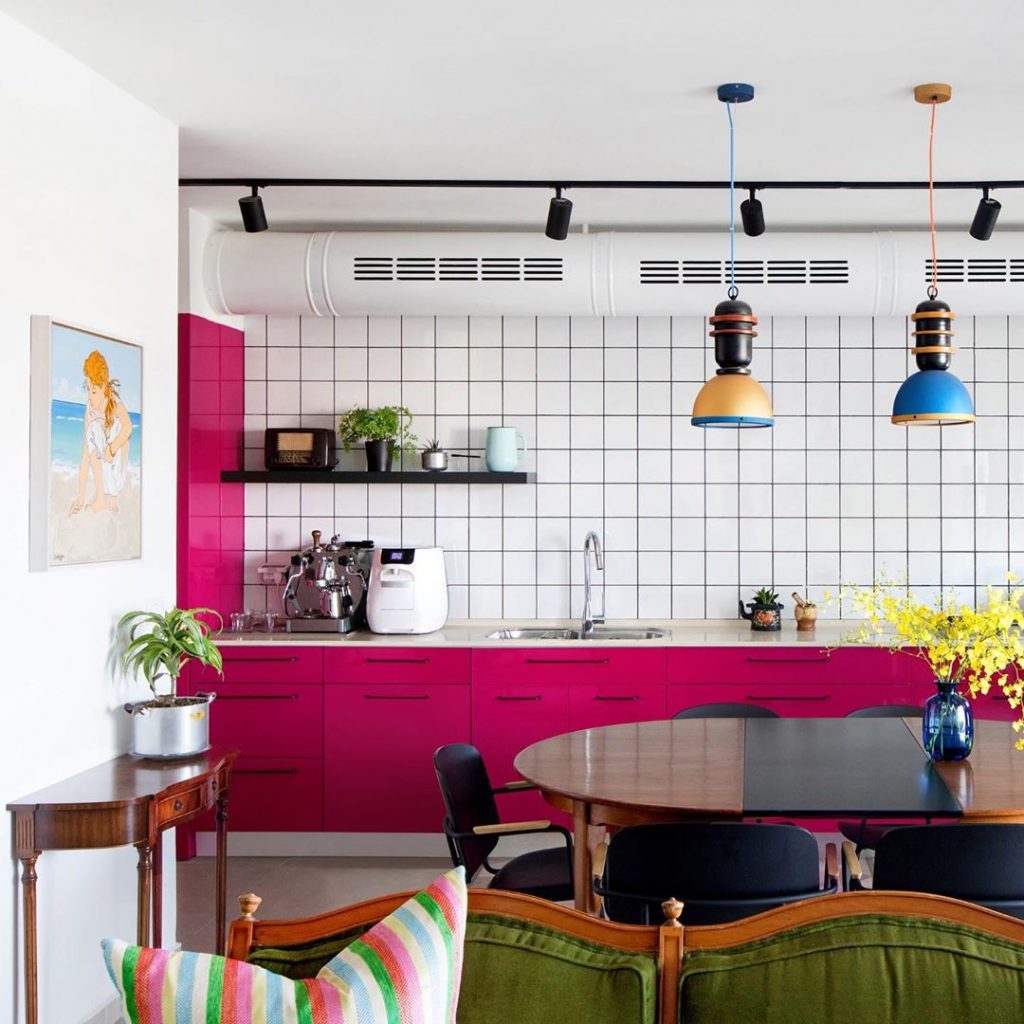 Front Pink Painted Front Doors
The rich and romantic nature of the colour is perfectly balanced by its depth and vibrancy and mirrors the colours of the garden flowers perfectly! Photo by @kensingtonleverne. Paint color is Farrow & Ball Crimson Red.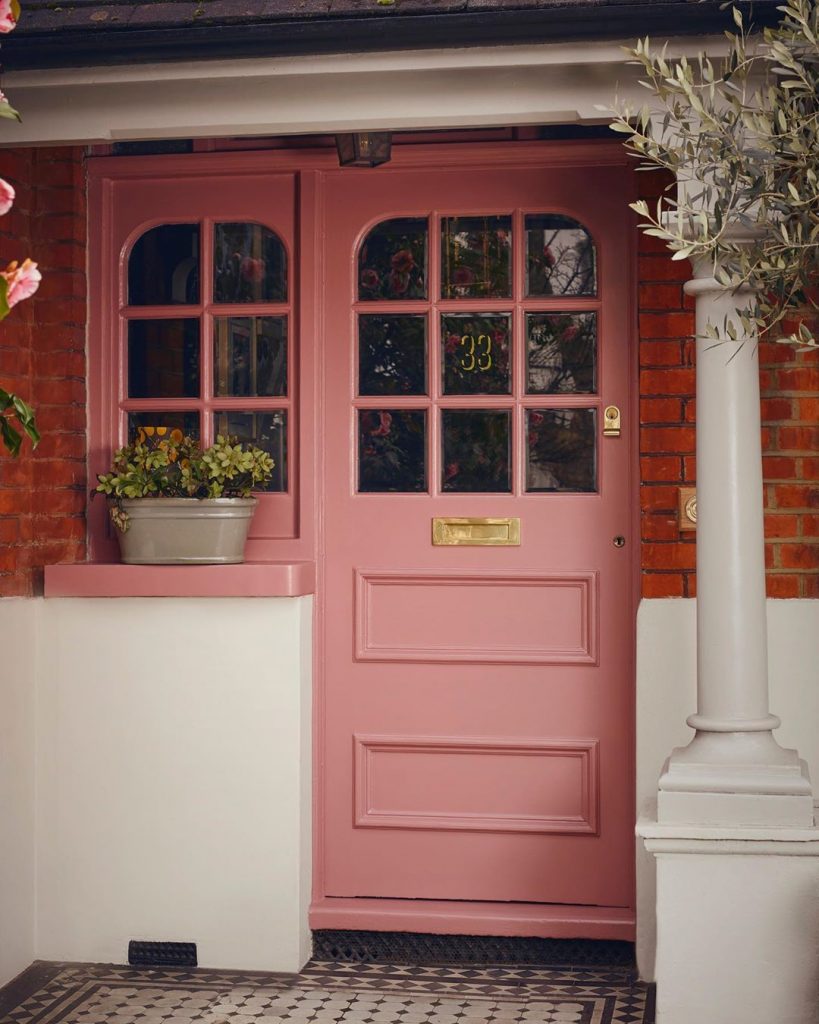 The darling door of @georgiayoungcouture in Carlton, VIC featuring 'Mademoiselle' in Porter's Paints Aqua Gloss Enamel.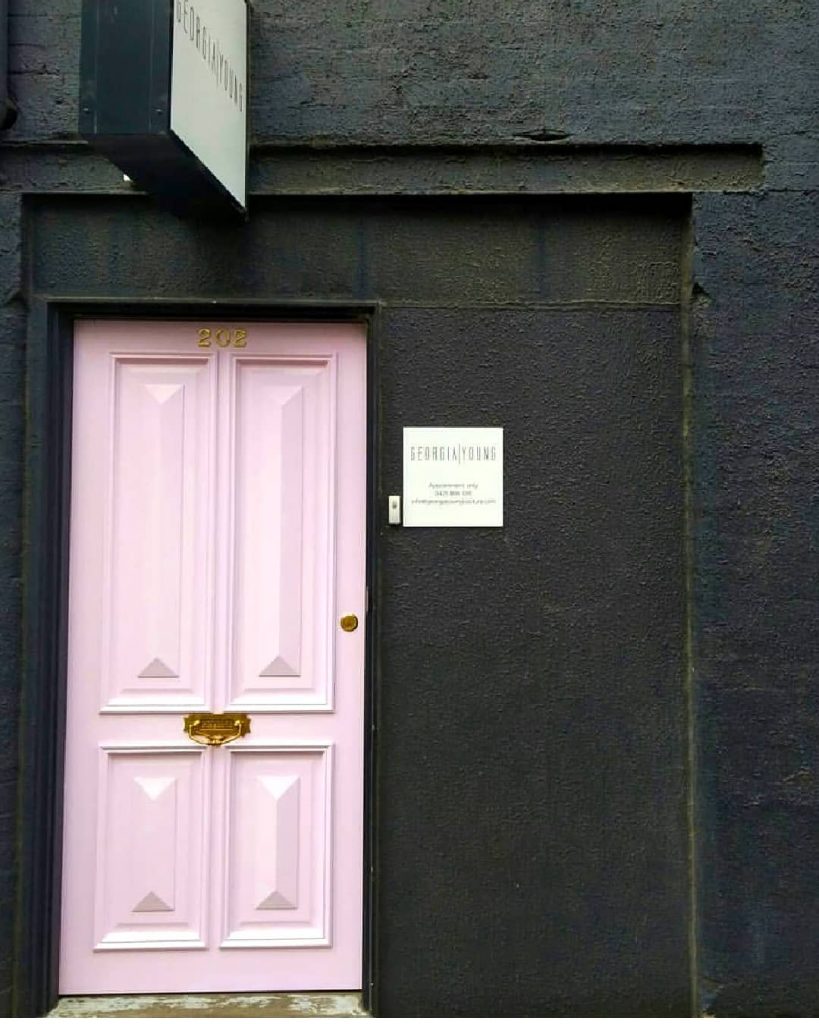 More Pink Paint Colors to Inspire You
Here are some more of our posts on pink paint color!
Farrow & Ball Sulking Room Pink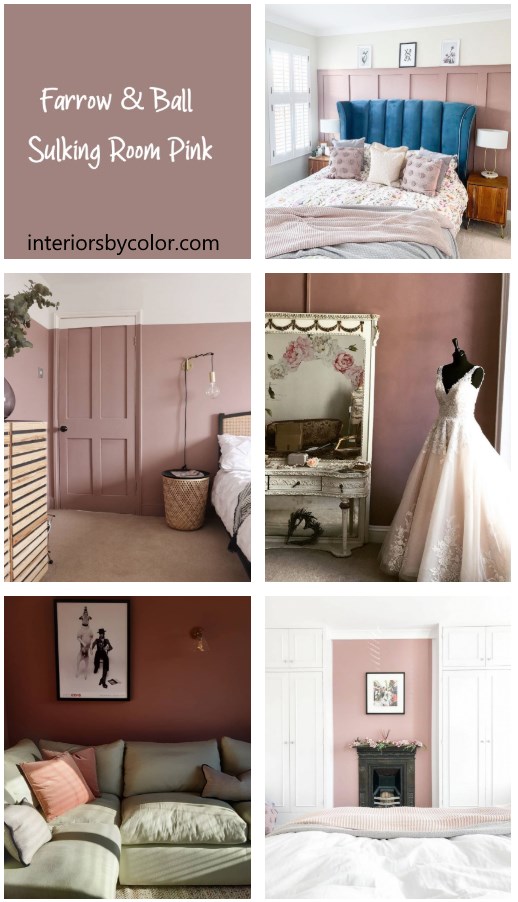 Farrow & Ball Rangwali Pink Paint Color.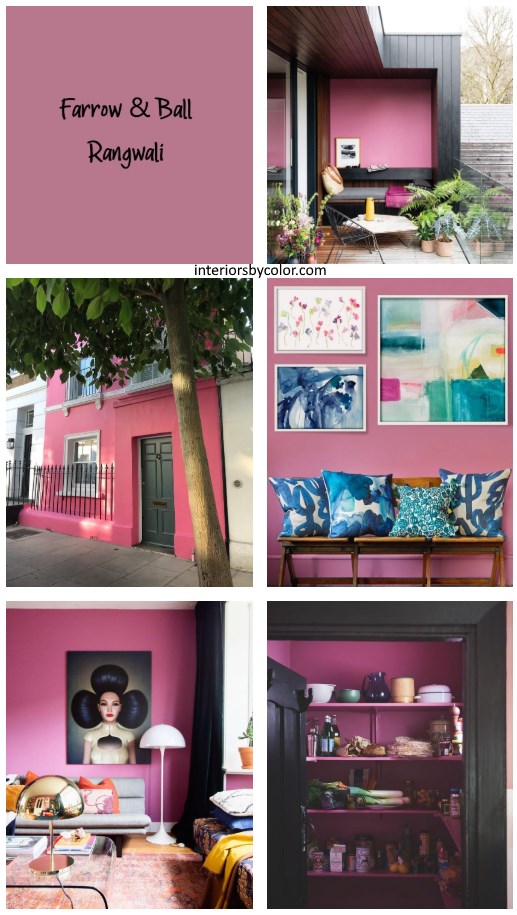 Farrow & Ball Nancy's Blushes Paint Color Scheme.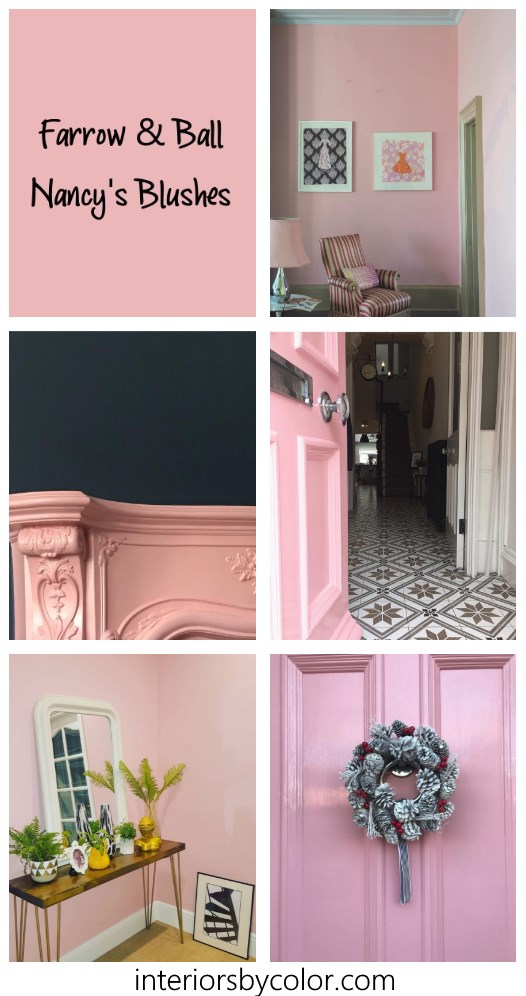 Benjamin Moore Pink Bliss paint color trend.