Marc Newson and Charlotte Stockdale's Greek island escape
Industrial designer Marc Newson and his wife, stylist Charlotte Stockdale, share their personal Greek odyssey. Words by Celia Ellenberg. Photographed by Magnus Marding.
When Australian industrial designer Marc Newson married British stylist Charlotte Stockdale in 2008, they already shared a history in Greece's Ionian Islands. Stockdale spent every Easter and summer as a child at her family's hilltop house on Corfu, while Newson's grandfather emigrated to Australia from Ithaca.
"Early in their marriage, Newson took Stockdale to Ithaca to see a pristine piece of land he'd first spotted 15 years prior. "It was really love at first sight," he says. "I saw the plot from the sea and decided I must have it." A year later, the designer began work on a holiday home that his wife affectionately refers to as "the little house". The three-room stone cottage was supposed to be a temporary fix while Newson constructed a large cliffside villa next door, but it has accommodated the couple and their growing family for six years. "I'm sure we'll have endless nostalgia when we move," Stockdale says, peering out at the nearly finished "big house" from the cottage portico."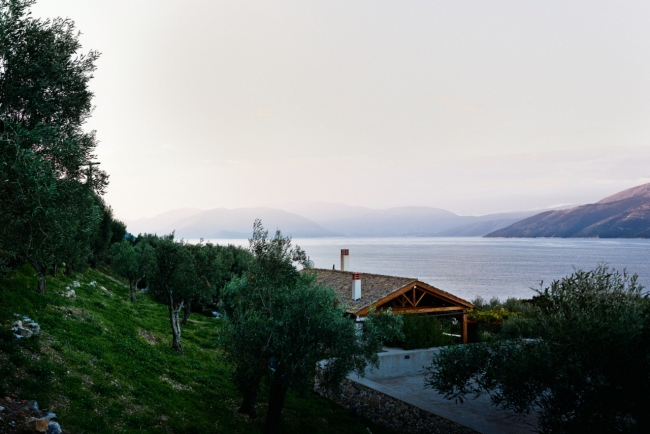 Parents to Imogen, eight, and Lucienne, four, the couple work hard for their vacations. Newson, who settled in the UK in 1997, fields a revolving cast of collaborations from his London studio, such as a backpack for Louis Vuitton, a silver tea service for Georg Jensen, airplane and lounge interiors for Qantas and, of course, the Apple Watch. Between her creative consultancy at Italian fashion house Fendi, appointments as style editor at fragrance brand Jo Malone London and fashion director at the biannual art/fashion magazine Garage, and regular styling gigs, Stockdale is just as busy.
In Ithaca, though, the couple have distinctly different roles: gardener, landscape designer, frozen-pizza-lunch preparer. It's also where their individual tastes collide.
Take, for example, the smooth edges of the Carrara marble kitchen countertop that sits between a sparkling white refrigerator and oven (Newson), part of Newson's home collection for Italian appliance company Smeg. Then there's lived-in appeal courtesy of brightly coloured Coco-Mat lounge cushions and the dark wood details that balance out the bright white plaster walls (Stockdale). The delicate strands of brown beads found on Etsy that dangle from the cottage's entryway are "woven grass pods from Sri Lanka, or Thailand", Stockdale says.
The property is cut through with low stone walls that Newson stacked and mortared himself. But perhaps the most impressive feat lies in the gardens the couple have created. Radicchio, cos, frisée and lamb's lettuce grow alongside chives, spring onions, carrots, potatoes, onions and parsley. There's "every sort of mint you can imagine," says Stockdale, and "peppers of all sorts". One garden contains white and red eggplants, tomatoes and watermelons, while runner beans and okra abound in the "big" vegetable garden at the far end of the property. Then there are the orchards, which yield enough plums, quince, apples, pears and apricots for eating and jam-making. "These trees here we thought were goners," Stockdale says, pointing out the leafy olive branches obstructing her view on the portico. "You used to be able to see the sea! Now you can hardly see it at all."
A peek into their daughters' bedroom reveals Newson's modular 'Bunky' bunk beds for Italian furniture brand Magis, covered with well-loved stuffed toys. The blue of the bed frame is repeated through the house — on shutters, in the old taverna chairs' cushions, in the place mats on the outdoor dining table — unintentionally resulting in a quintessential Greek colour scheme.
Newson's modular 'Bunky' bed for Italian company Magis riffs on the cerulean colour scheme of the cottage.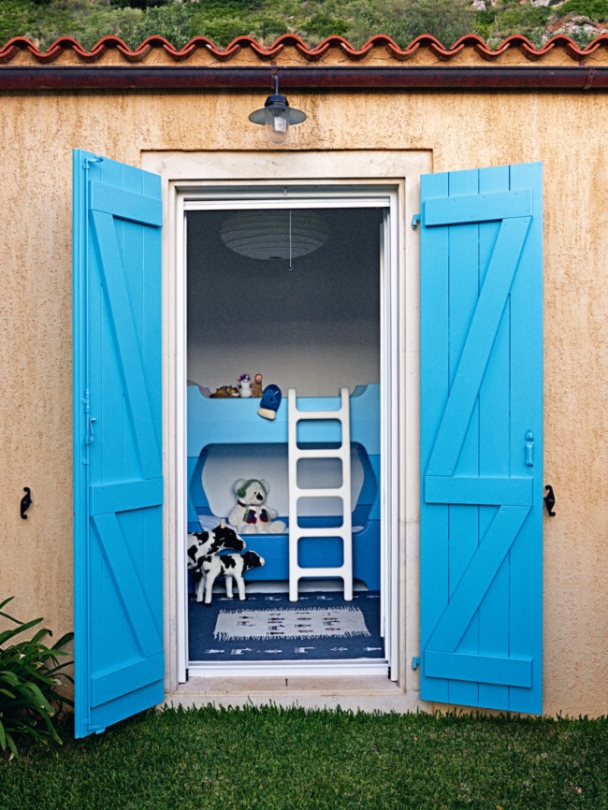 The living room in the Stockdale-Newson's Ithaca cottage features brightly coloured handcrafted 'Taki' lounge cushions by Greek furniture design company Coco-Mat, and pieces gathered from the couple's travels.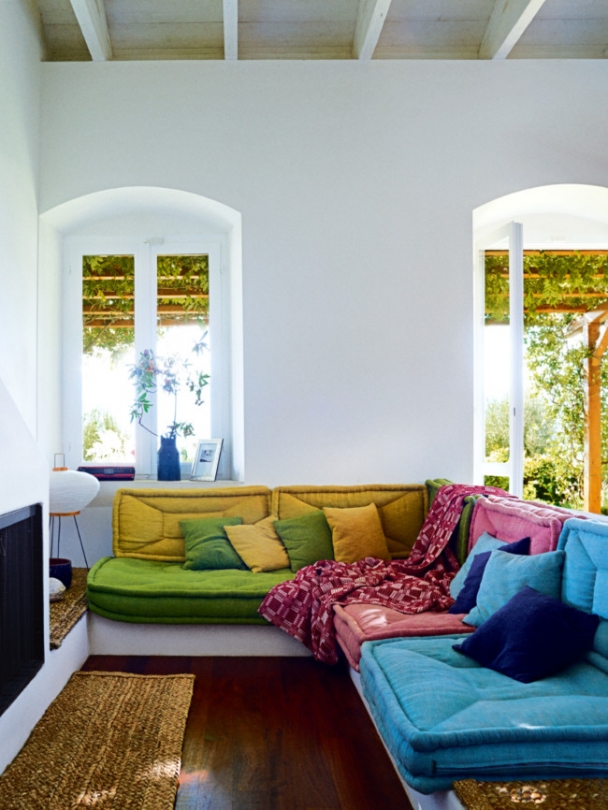 via www.vogue.com.au