Dulux creates an exciting range of white paints that are sure to suit most of your interior decorating needs, below we have examples of white Dulux paints that you are sure to love!
Lack of adornment is the cornerstone of this trendy living room below. All the simple pieces fit together perfectly; there's nothing that pops out.
Ivory and mushroom tones convey a softness and warmth that is the ideal complement to the more solid, worthy hues delivered by vintage timber and recycled boards. Love the walls painted in Dulux Lexicon, a crisp white that sets a great backdrop for the other muted shades in this living room interior. Lexicon is a great white Dulux paint color to use, it reflects the light perfectly.
White living room with inviting bookshelves painted in Dulux Whisper White (A splash of Dulux Wash & Wear low sheen paint, matched with skirtings in Dulux Aquanamel paint). The light blue elements that stand out in the throw pillow and the afgahn on the sofa and the blue books on the shelves add a nice contrast to the white Dulux paint color "Whisper White". White always looks good when paired with blue and you can see why in this room. It creates a fresh nautical feel.
Walls painted in white Dulux paint color "Whisper White" and white fireplace, dashed of blue in the floor rug and throw pillows. Amazing modern glass chandelier. Very bright living room interior.
"A fresh coat of paint – Dulux Wash & Wear in Antique White – lightened and brightened the space. All the appliances, including the Whirlpool side-by-side fridge and dishwasher, were selected in stainless steel for a uniform finish.The Oliveri under-mounted sink and Dorf 'Kytin' tap, both from Hardware & General, help maximise bench space and reduce visual clutter. A chic splashback in glossy 'Bevel' tiles from Beaumont Tiles now epitomises the kitchen's fresh and traditional feel, with Quick-Step 'U1043' laminate flooring in Oiled Walnut chosen for its practicality and warm tone."
"Colourwise, white with a little bit of grey is a good choice; try Dulux's Lexicon Quarter or White on White. For handles, look for polished nickel or chrome. Bar versions or cup handles mixed with knobs are perfect, or you could take inspiration from this room and leave upper cabinetry handle-free for a less-is-more vibe. Natural stone, ceramic or brick-shaped tiles are all a good look on the splashback, while white marble with soft grey veining is an amazing choice for the benchtop, as is recycled timber. If you're on a budget, marble-look reconstituted stone is a good substitute."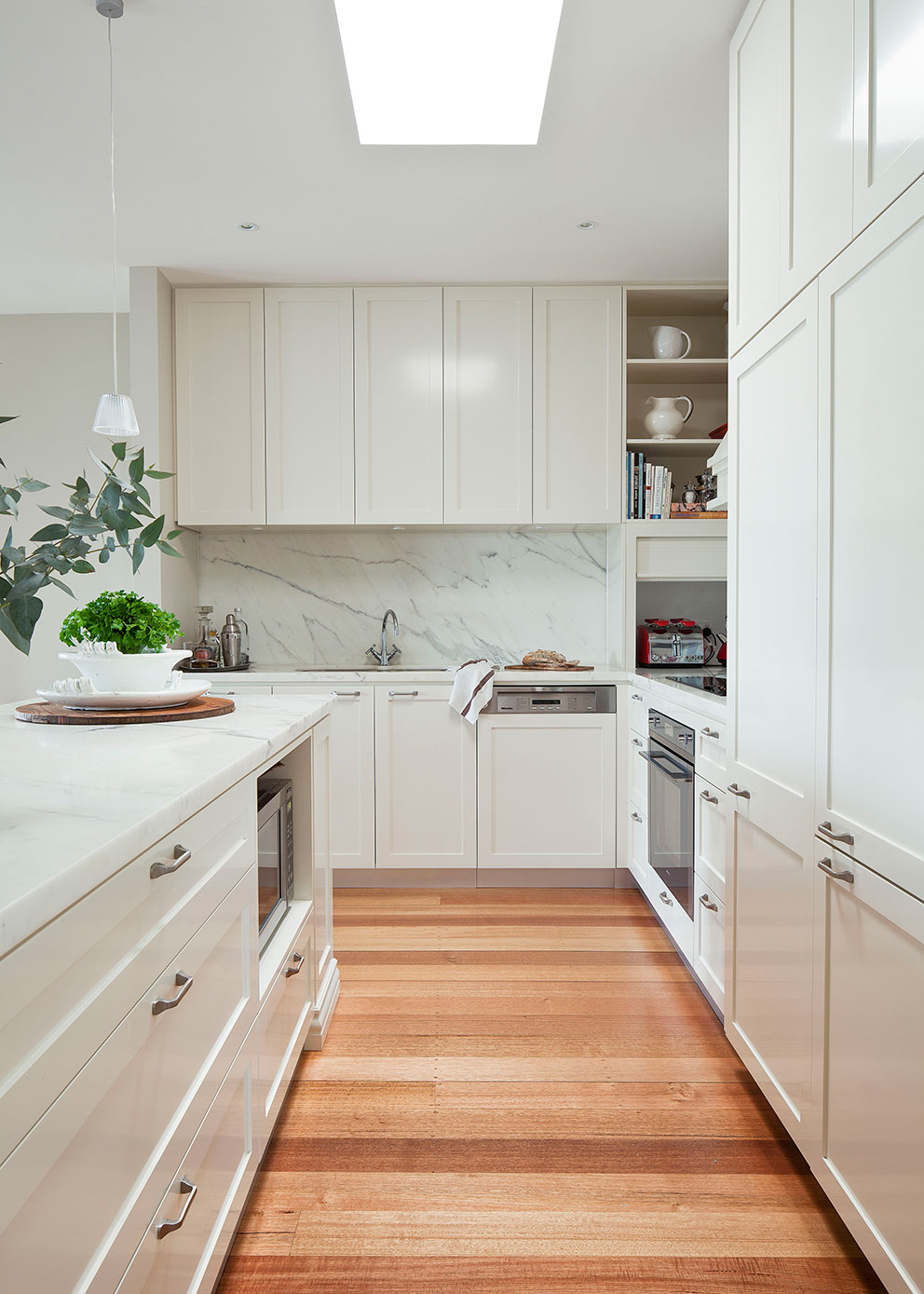 "The golden tones of natural timber flooring are a warm complement to white cabinetry, while white-washed wooden boards give a high-end beach resort vibe. Dark-stained floors add an Art Deco feel, and concrete or stone play up the more contemporary side of the design. For furniture, oak-coloured wooden bar stools are a perfect fit."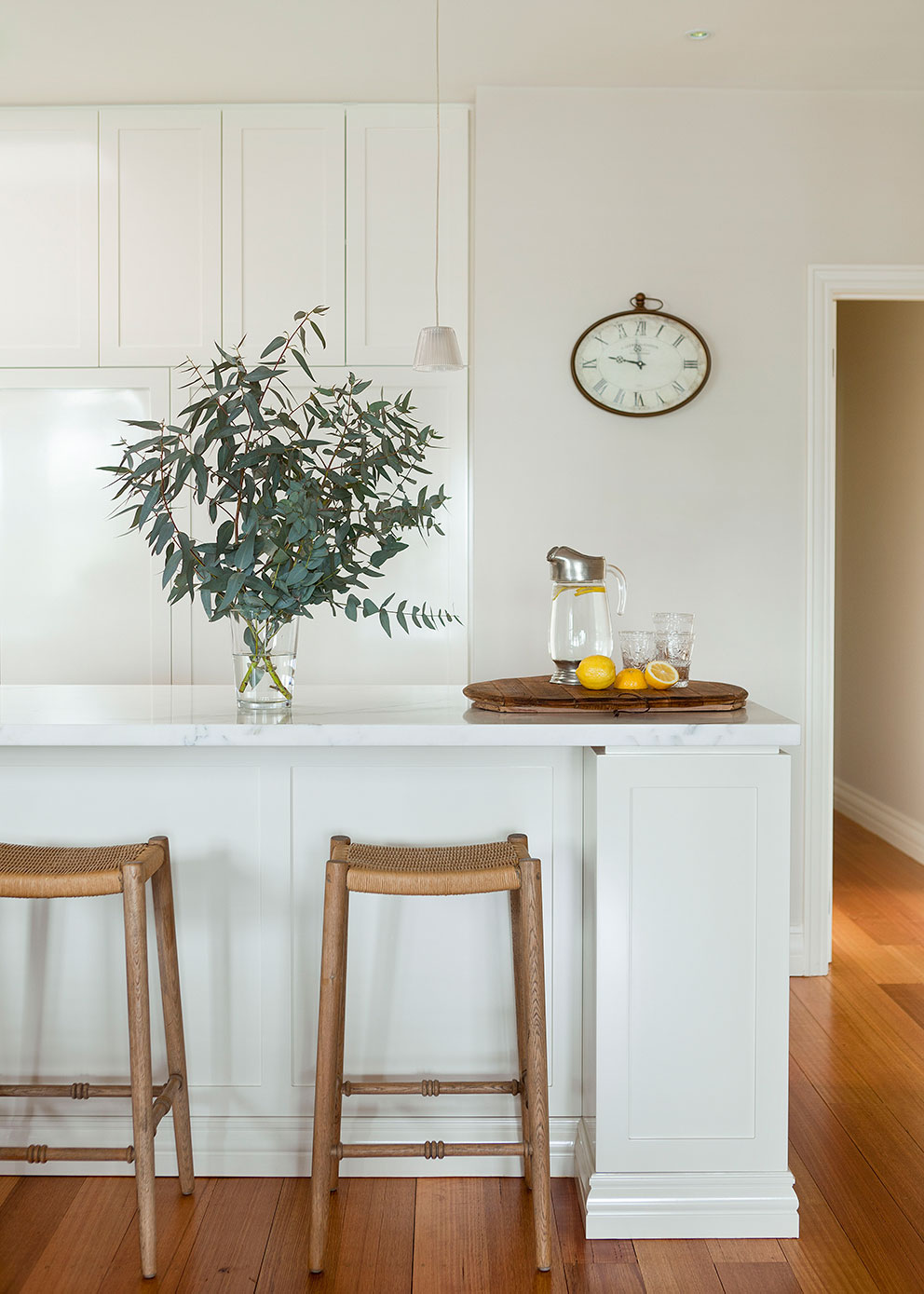 All Images via Home Beautiful AU