Blue Kitchen Cabinets Australia
9+ Blue Kitchen Cabinets Australia – Ideas You'll Fall in Love With
Are you considering using blue in your kitchen design? Thinking of incorporating some blue kitchen cabinets? Whether you are going for a sleek modern kitchen design, a Hamptons style or a traditional styled kitchen, introducing some blue in your cabinetry can add some personality without being overwhelming.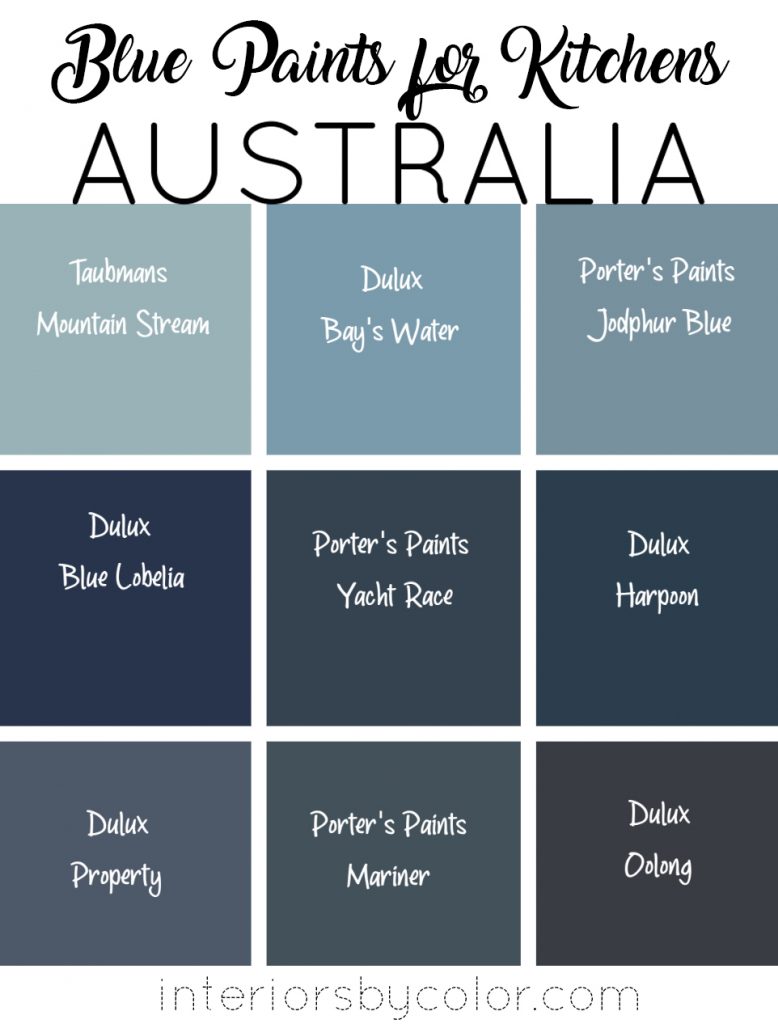 You can use navy blue as a neutral and it can work as an alternative to black or grey. Opt for blue paints that contain dark undertones and grey in them for this to work as a neutral alternative.
The colour blue works well in two-tones kitchens especially when combined with white, or soft neutrals like light grey. Below you will see kitchen paint design ideas using Dulux kitchen cupboard paints as well as Porter's Paints and Taubmans.
Here is a selection of blue paint colors available at Bunnings in Australia used in real kitchens to help you make the right colour choice for your kitchen.
Dulux Oolong – A Dark Blue Paint Color
Oolong is a beautiful deep grey with a subtle blue undertone that is perfect to use for an accent wall inside, or as a trim or feature outside. In kitchens this colour is perfect for kitchen islands and bottom kitchen cabinets.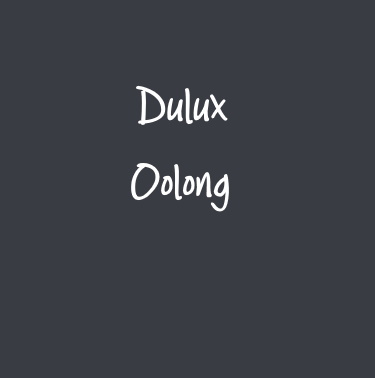 White kitchen cabinets and a subtle dark gray blue kitchen island painted in Dulux Oolong kitchen cabinet paint color.
An oversized island bench topped with honed dolomite stone makes a dark, dramatic statement in Dulux Oolong, with 'Wovenest' bar stools from Modanest tucked underneath. Shaker-style cupboards were custom-made by All Aspects Joinery and painted in Dulux Whisper White. Of her Miele appliances, Nerida is particularly fond of the steam oven. "The steamer is amazing!" she says. "It's on twice a day and we love it." A 'Sovereign' urn from Provincial Home Living housing a beautiful bunch of flowers is among the home's chic styling touches, as is a Katie Wyatt artwork on the rear bench – Nerida found the other artwork about 15 years ago at a market on the Sunshine Coast.

Home Beautiful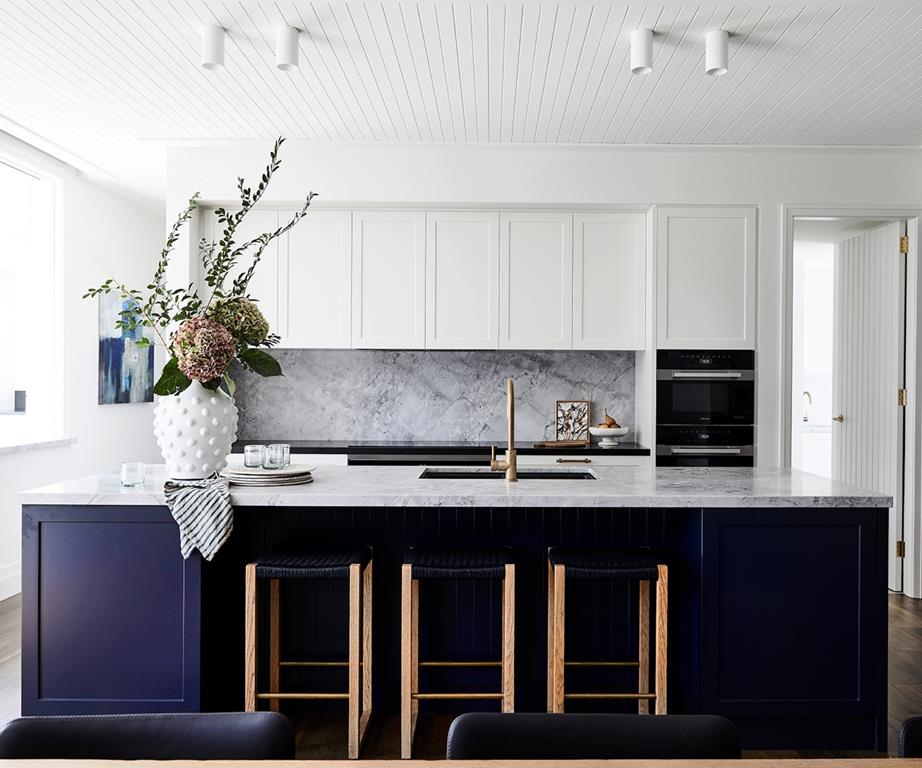 A butler's pantry leads off the kitchen. The grey tones of the benchtop contrast with the organic brass tapware and the indigo joinery.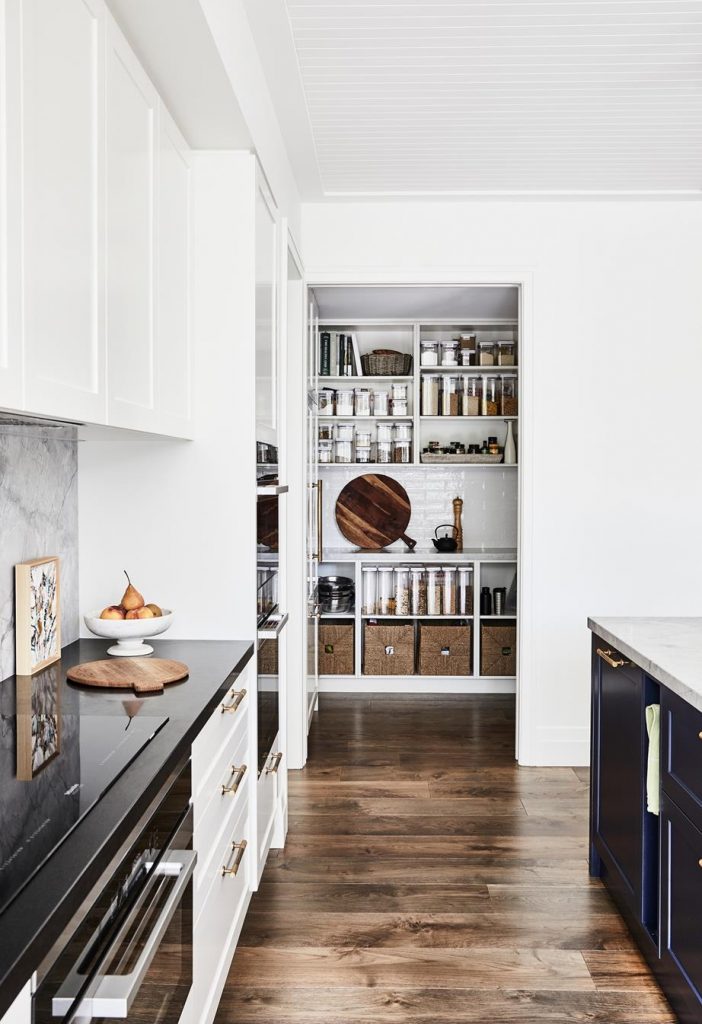 Dulux Oolong is a popular gray blue paint color that is also used in this kitchen renovation of an Edwardian semi.
The first blues we tried were way too vivid, so we kept going darker and finally settled on Oolong by Dulux, which is a bit greyer in flat paint, but in the two-pack is the perfect deep blue

Inside Out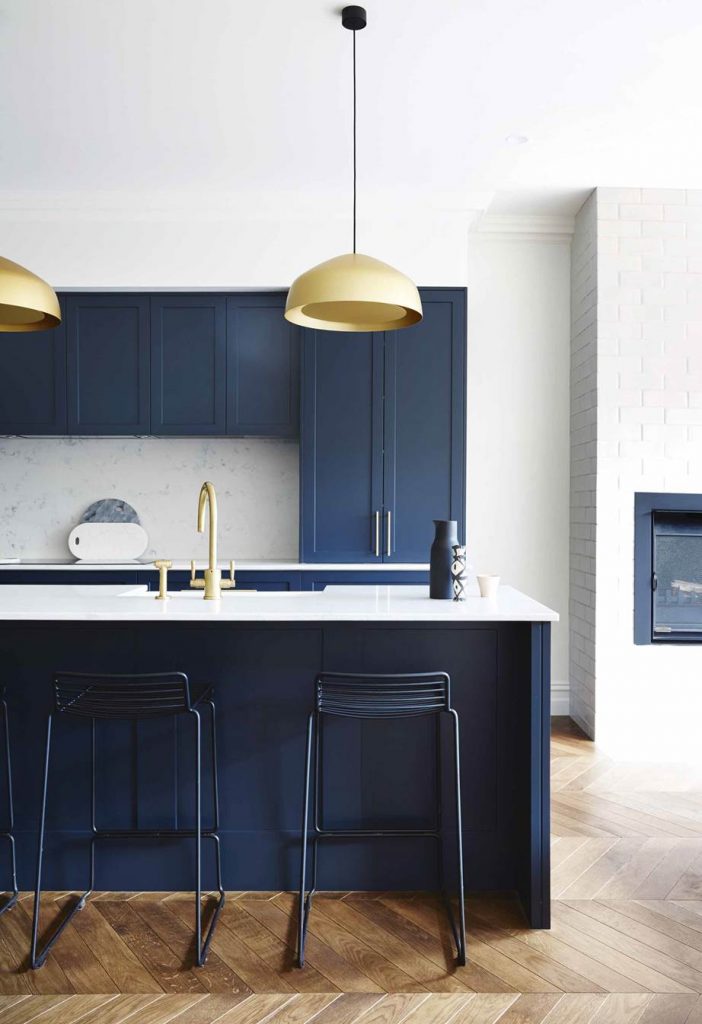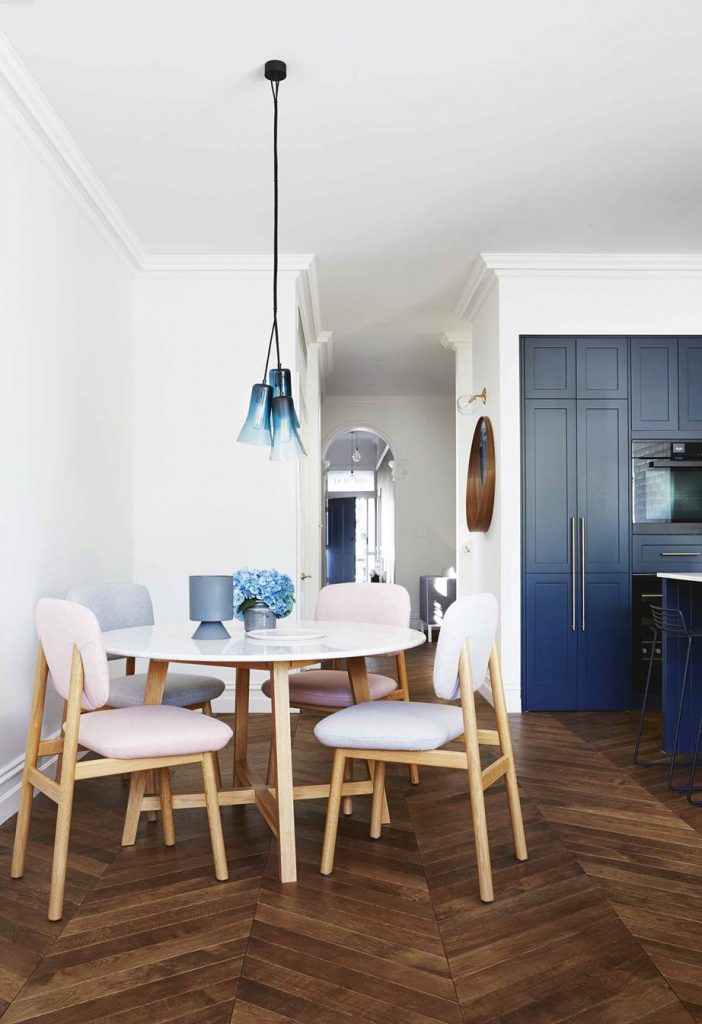 Bench tops/ Splashback : Evo Stone 20mm Moonson. Doors: Nover Eurocoat Dubbo Design (with custom island panels) Dulux Oolong island.

HERD Kitchens & Joinery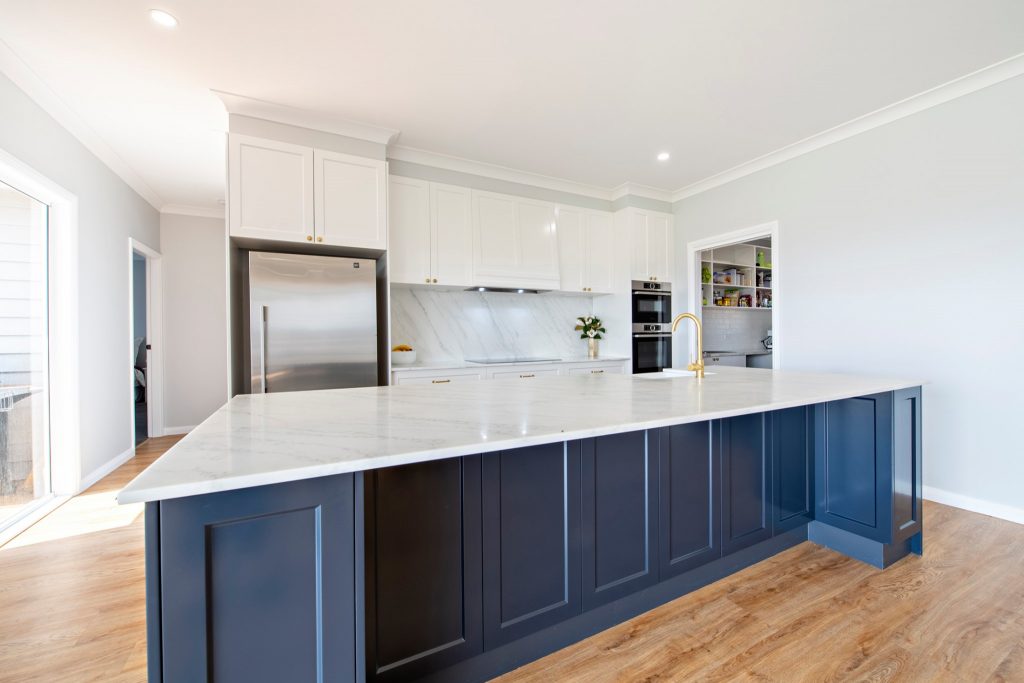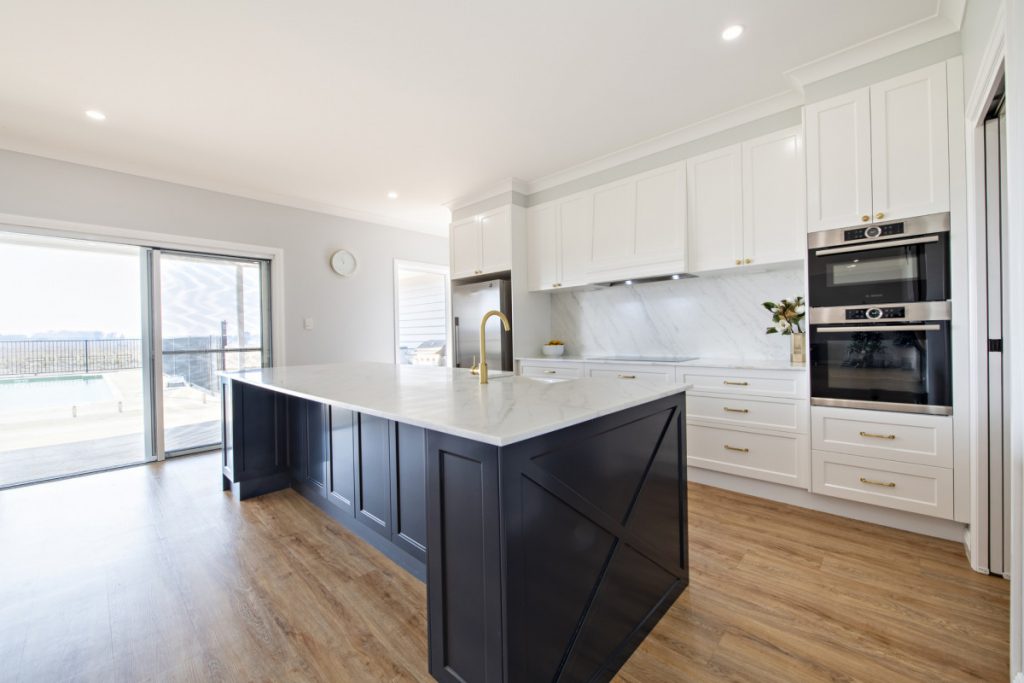 Dulux Property – Blue Kitchen Cabinets Australia Favorite
This wonderful Dulux colour features in the Dulux World of Colour Atlas Series II.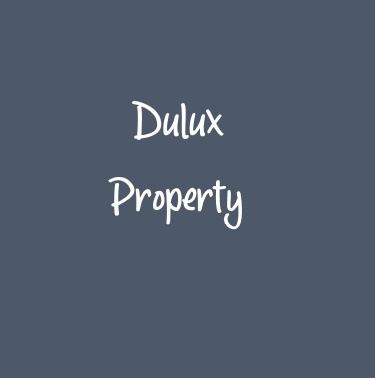 The blue hue in this country kitchen is Dulux Property at 30 per cent strength. The rear benchtop is Super White Dolomite, which wraps up the wall to form the splashback. A beautiful butler's sink with ribbed detail is the perfect touch to reinforce the country feel the owners were looking for. Via Australian House and Garden.
Cabinetry: Solid American oak and veneer painted Dulux Property (30 per cent), with woven stainless steel mesh inserts.
Handles Wrapped leather slimline handles in Black satin and Tan leather, Made Measure.
Island benchtop American oak solid timber finished in 30 per cent satin limewash.
Rear benchtop and splashback Super White Dolomite, CDK Stone.
Sink Turner Hastings 'Novi' double bowl 34L butler sink with ribbed front, The Source.
Tap Astra Walker 'Old English' kitchen tap set in white porcelain, The Source.
Appliances Ilve 90cm freestanding oven. Fisher&Paykel French door fridge. Smeg fully integrated dishwasher, microwave and convection oven.
Flooring Pale oak boards laid in herringbone pattern, Woodcut.
Lighting Karen Cunningham small pendant lights in White, Jam Factory.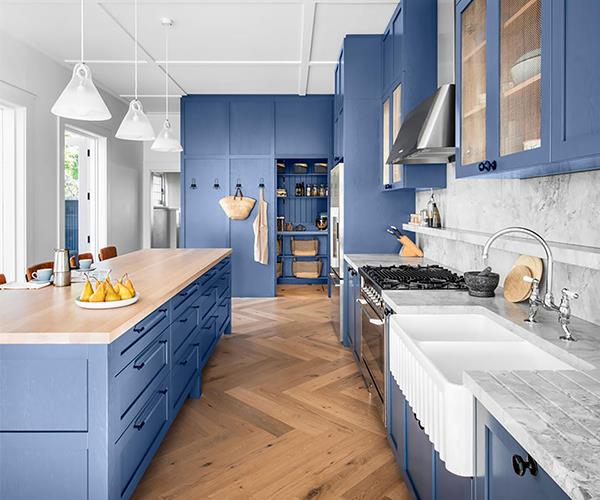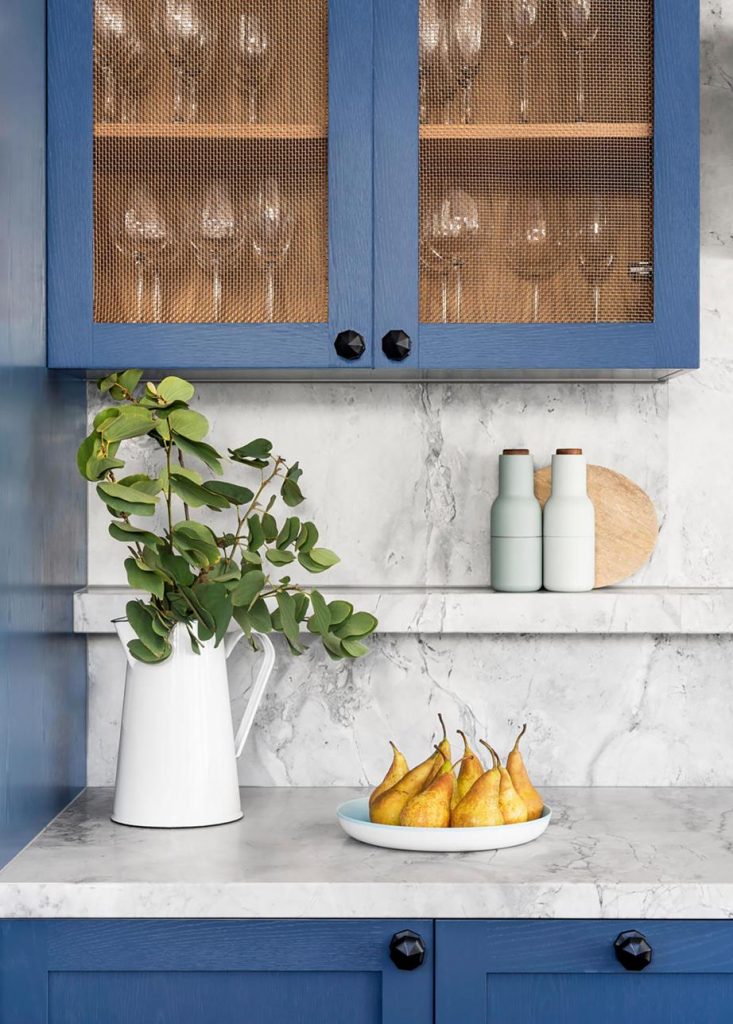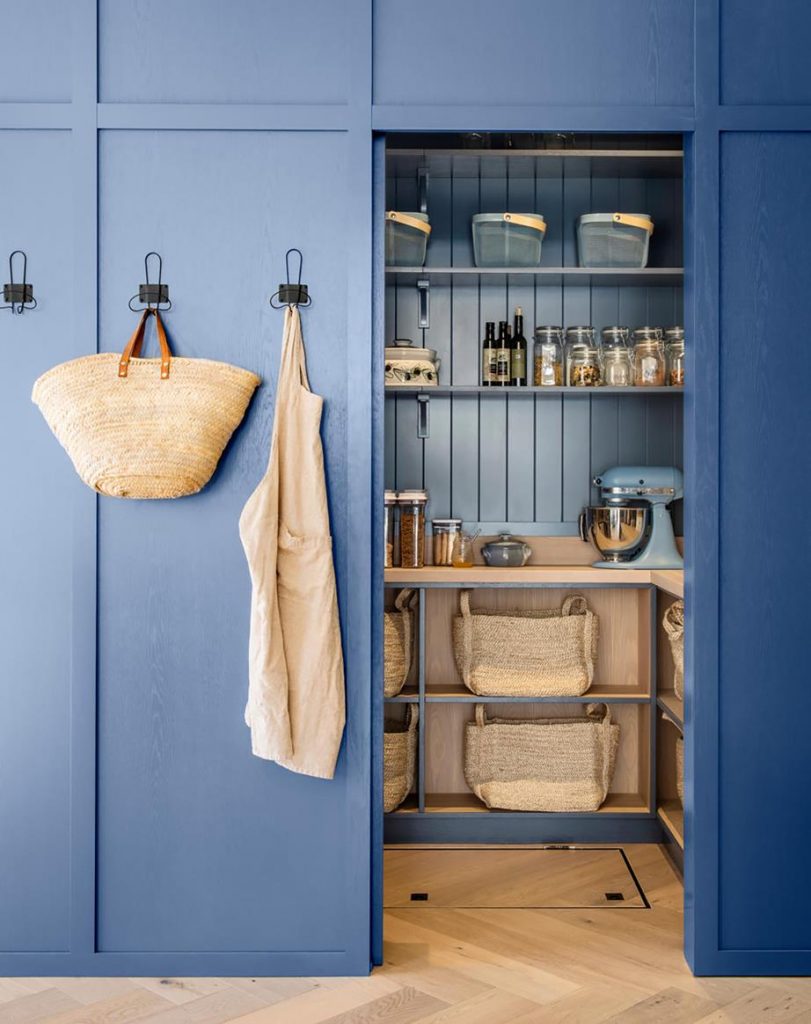 Porter's Paints Mariner
Blue kitchen cabinets Australia – This blue kitchen was painted in Porter's Paints Mariner.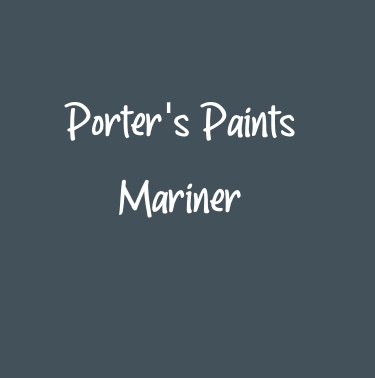 The kitchen cabinetry by Nadin West Joinery reaches up to the ceiling and was finished in Porter's Paints 'Mariner' with brass hardware from Mother of Pearl & Sons. The benchtop and splashback are clad in Carrara marble from Granite & Marble Works. Tap from The English Tapware Company, oven from Smeg and antique French cast-iron urn from Parterre. Chevron timber floors from Tongue n Groove.

Belle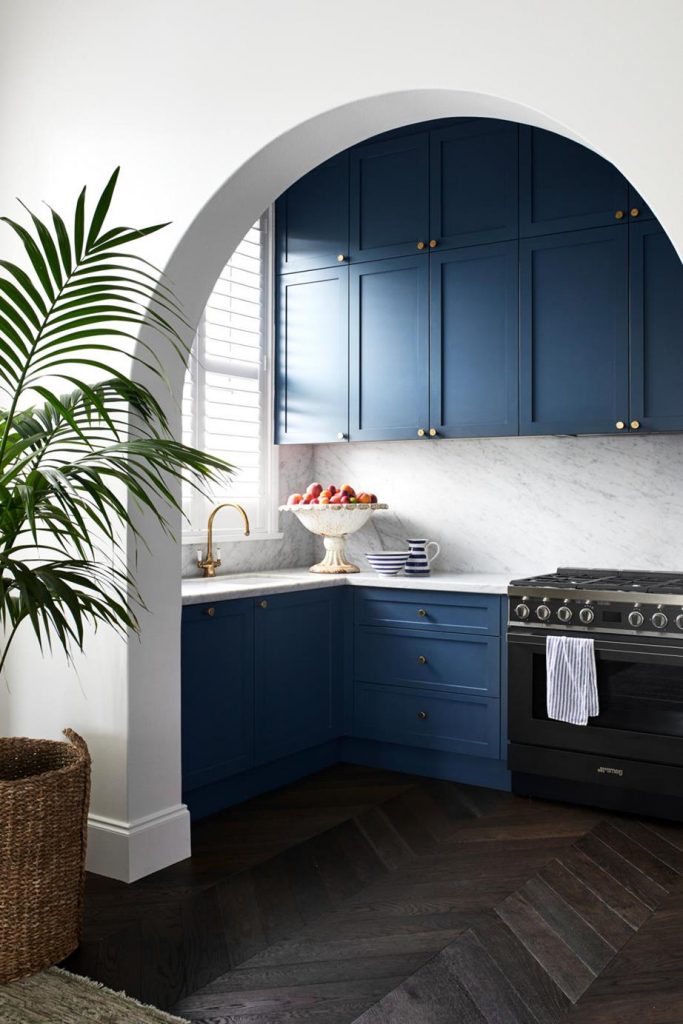 Dulux Bay's Water – A Light Pastel Blue for Your Kitchen Cabinets
A midtone greyed-off cool blue, Bay's Water can be used as feature colour inside or out. This stunning calming blue pairs perfectly with crisp whites.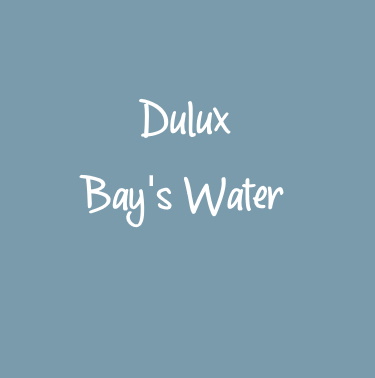 Pastel blue works just as well as a navy blue for a tranquil yet stylish look.
A perfect example of a modern, Hamptons style, this project fuses traditional and contemporary elements to create a timeless design and hard-working, functional family kitchen. While white is often the go-to colour for the Hamptons aesthetic, Smith & Smith Kitchens opted for a soft, pale blue for this design – a welcome break from the conventional and traditional colour scheme associated with this style.

Designed by Beth Paron on behalf of Smith & Smith Kitchens, this ingenious and innovative kitchen replaced an existing layout, elevating the space into a simplified area for the modern family. Transforming the original U-shape blueprint into an L-shape arrangement that features an island bench and shaker style cabinetry, this formation boosts functionality and accessibility within the kitchen, while improving storage access and convenience.

The inclusion of natural elements was a conscious choice to maintain the stylistic cohesion between the kitchen and the abode. A cost-effective alternative to its natural counterparts, engineered stone benchtops were installed to complement the timber flooring and pastel blue cabinetry.

Smith & Smith Kitchens in Victoria Australia.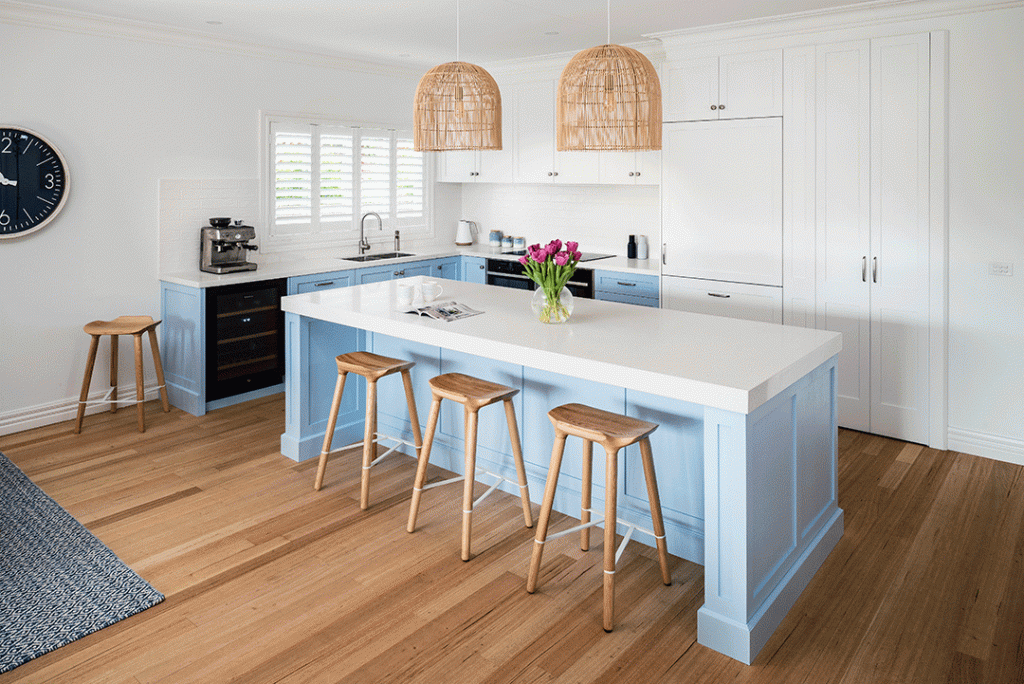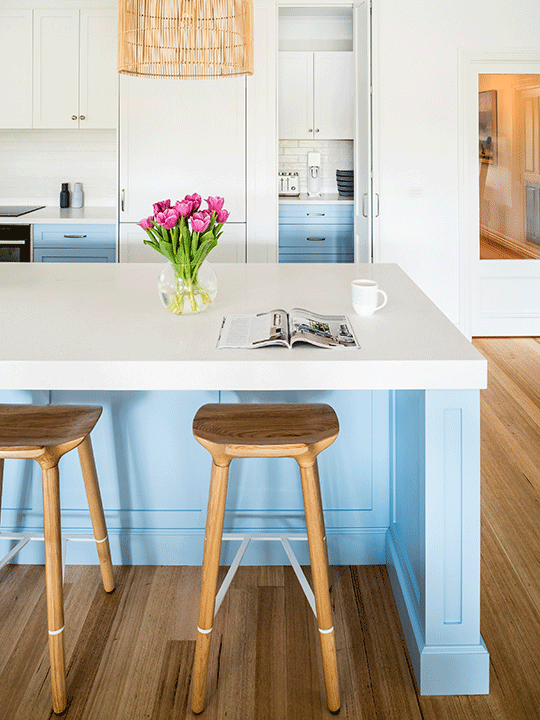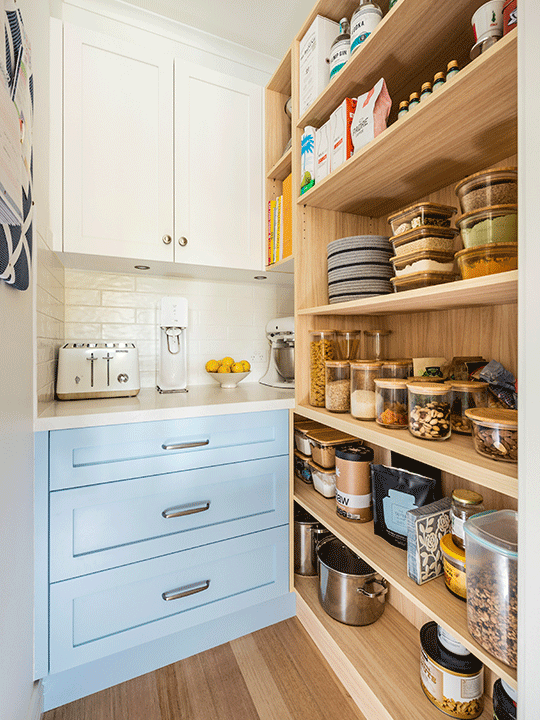 Another beautiful light blue painted kitchen in Dulux Bay's Water.
Dulux paint in 'Bay's Water' gives this kitchen a wondrous flair. The blue kickboards perfectly match the cabinetry, creating a serene, cohesive appearance. For added warmth, the floor was constructed from engineered timber by the client, blending seamlessly with the blackwood dining table and timber shelves. The low iron glass splashback introduces a smart, modern element to the design, while the crisp white Dulux 'Lexicon' paint freshens the space.

Smith & Smith Kitchens in Victoria Australia.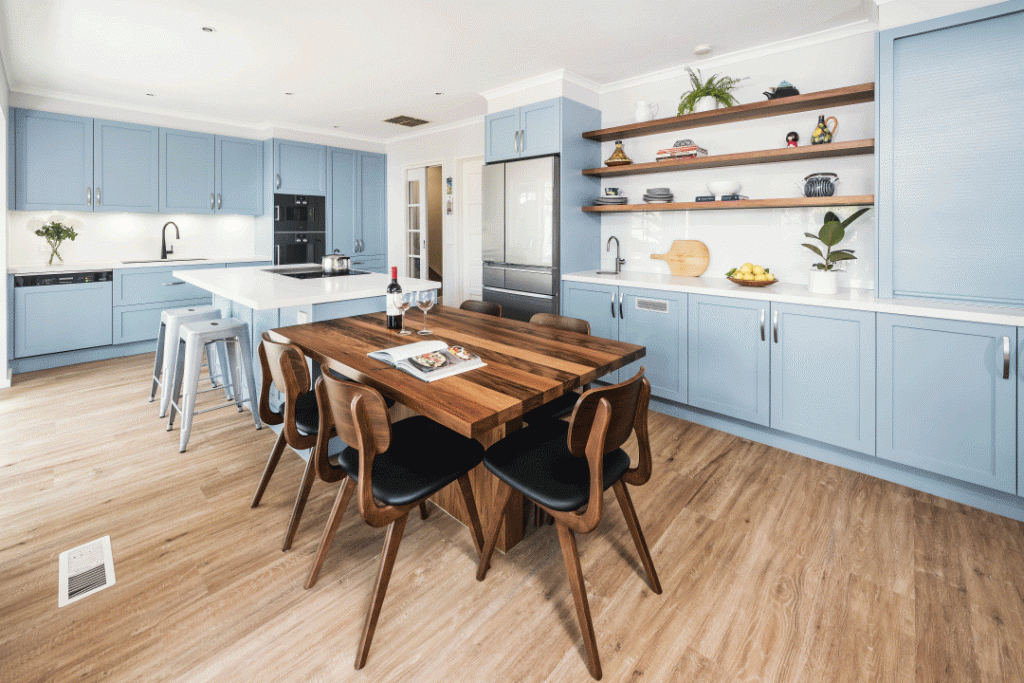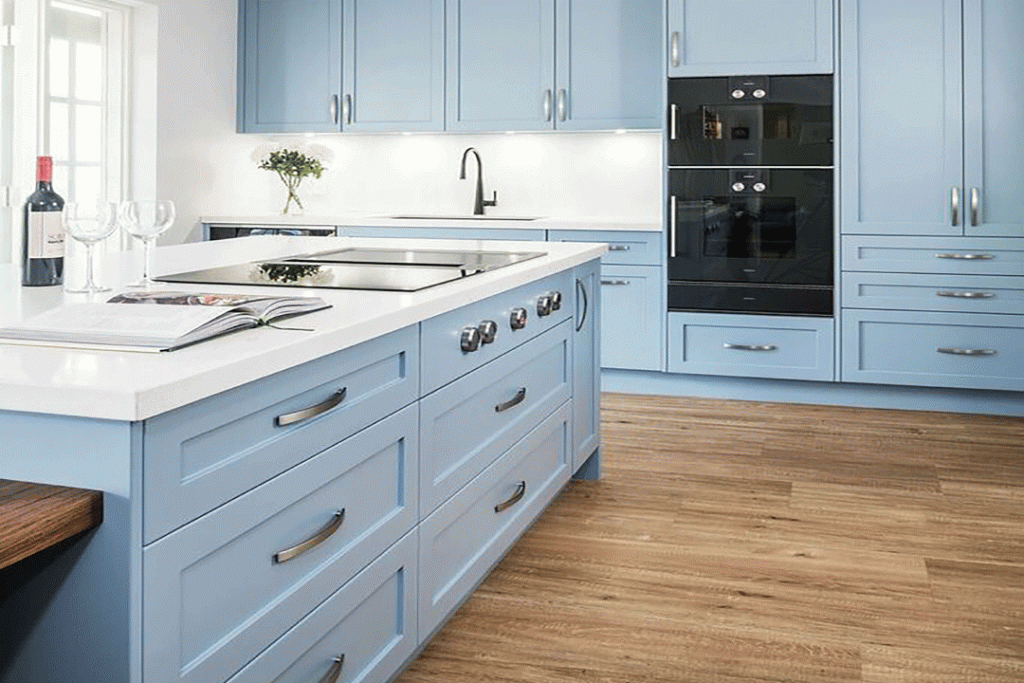 Dulux Harpoon
Blues can create a tranquil and calming atmosphere in your home. Dark blues can add a sophistication and moodiness to the space whilst lighter blues can add a sense of calm. Blue is a versatile colour and can be easily schemed with many other colours for the interior or exterior.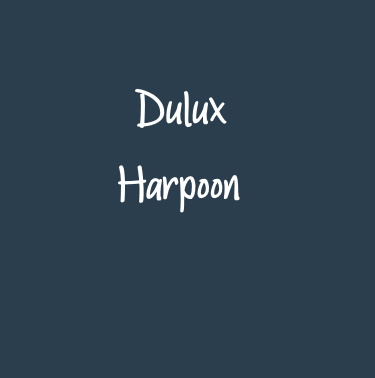 A Brisbane kitchen renovation with blue cabinets painted in Dulux Harpoon to the blue kitchen cabinetry. This contemporary Hamptons kitchen is by Kitchens by Kathie.
Materials used:
Polytec two-pack polyurethane cabinetry.
Caesarstone White Attica to the island benchtop.
Reconstituted quartz benchtops to the periphery of the kitchen.
Brushed brass handles.
Glass inserts in display cabinet doors.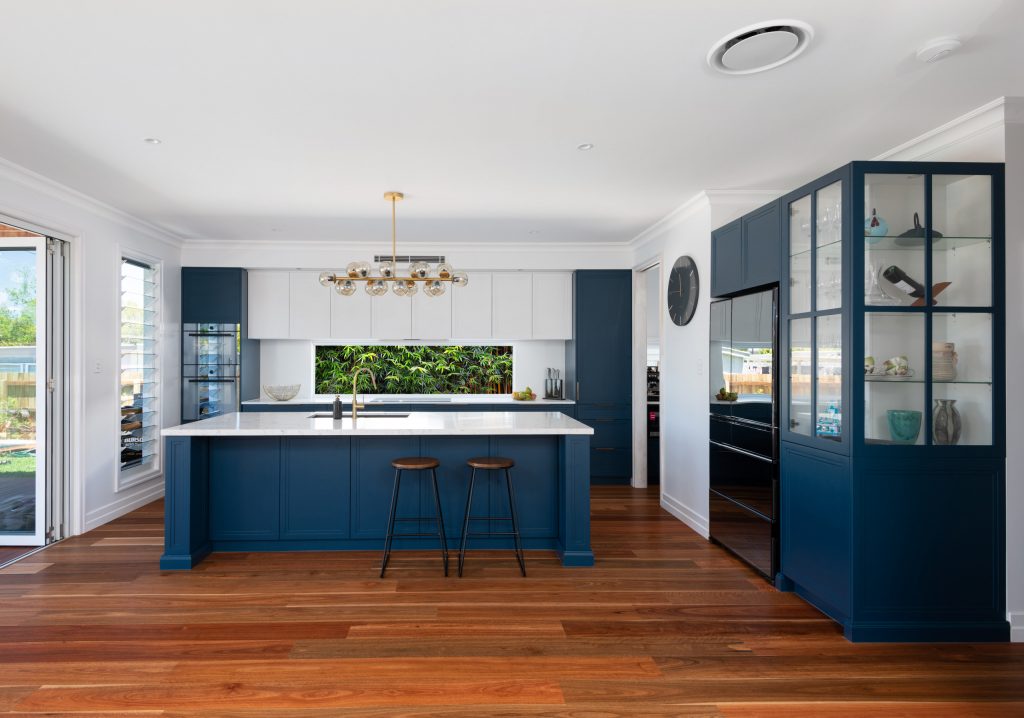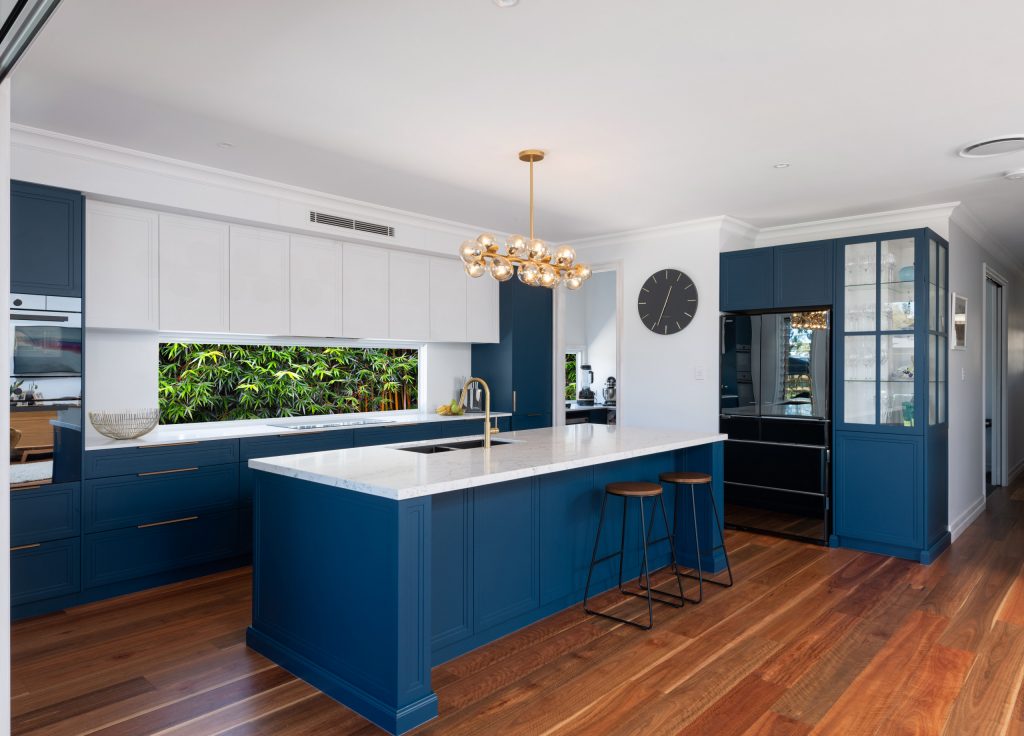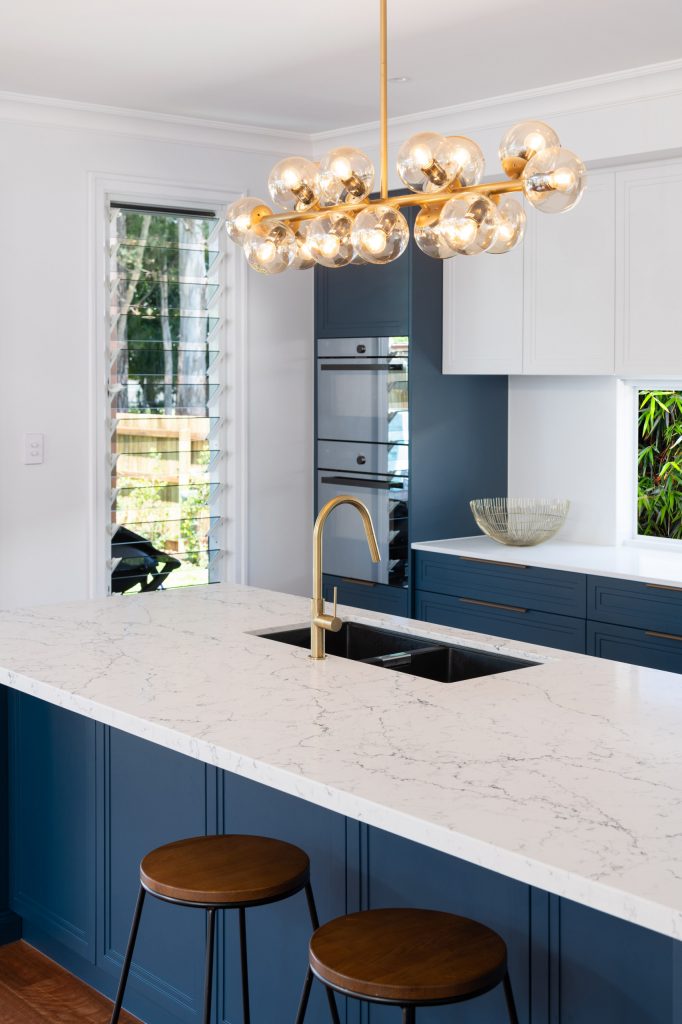 Dulux Submarine Painted Lower Cabinets and Dulux Alabaster Top Cabinets
Submarine is a dark teal paint color, almost like a navy with green undertones.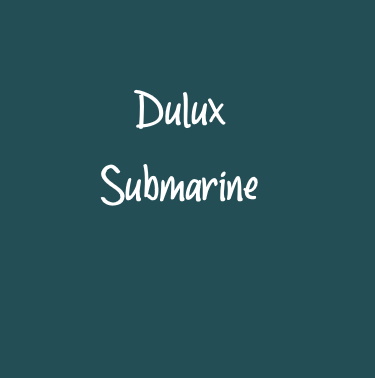 Beautiful blue and white kitchen with lower kitchen cabinets painted in Dulux Submarine and the upper cabinets in the popular go to white Dulux Alabaster. Via Hobbs Building.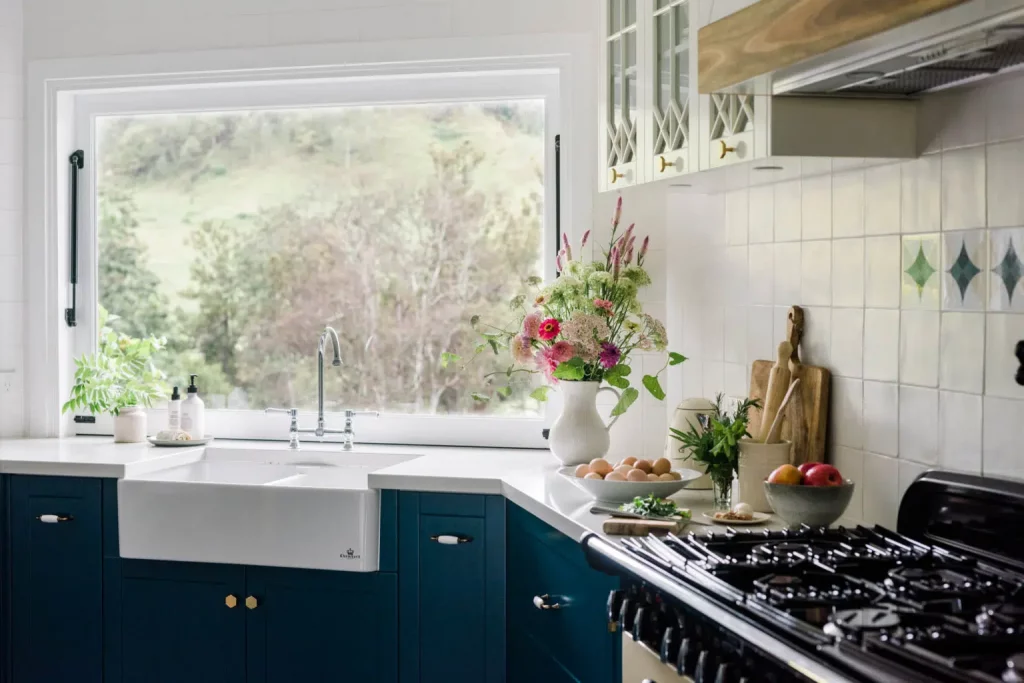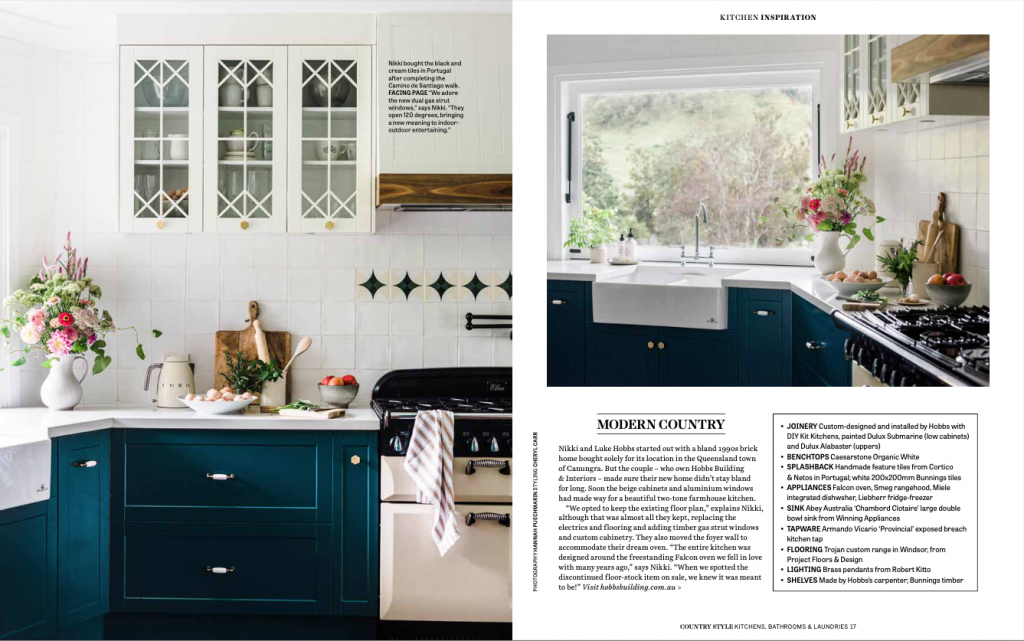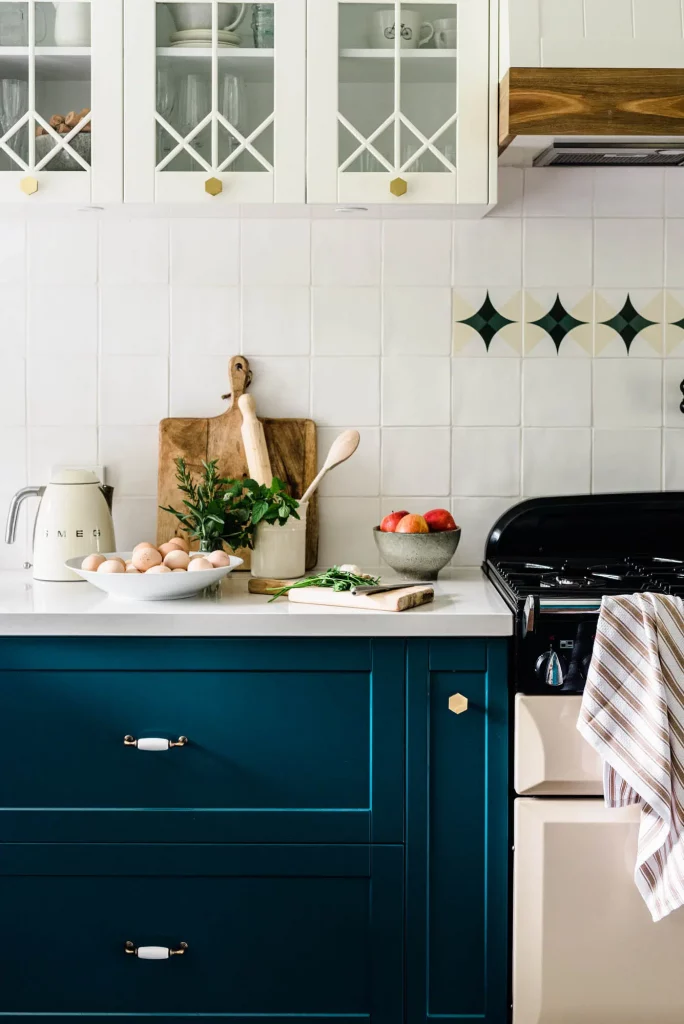 Nanotech Laminate
A hard-wearing stainless-steel bench top was installed alongside a large Ilve chef's oven and sink, with a stainless splashback against the wall. The rest of the U-shaped kitchen is made of a Fenix, a matt, soft touch, anti-fingerprint, nanotech laminate material in a deep blue colour.

Perversi Brooks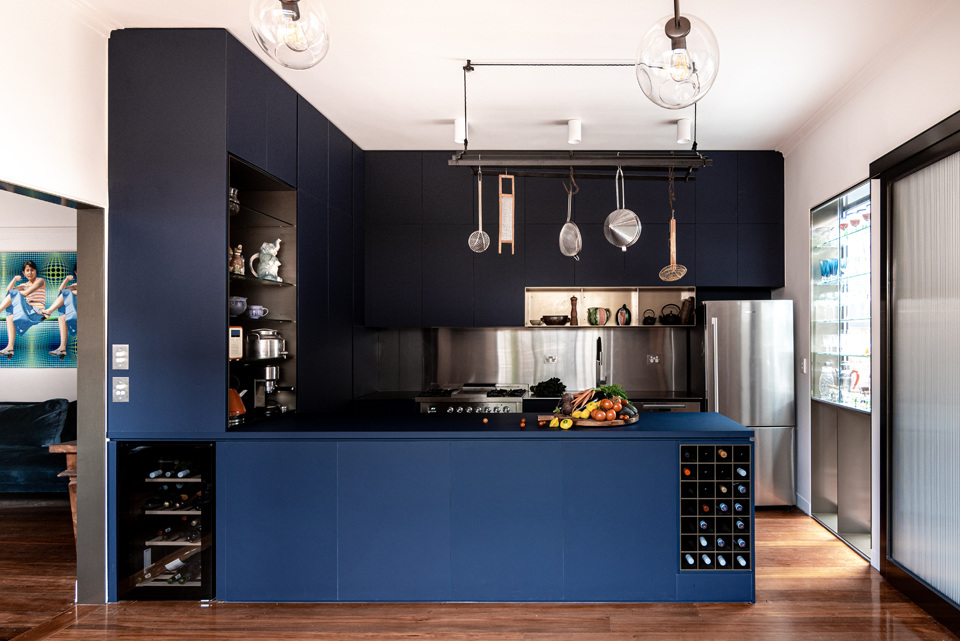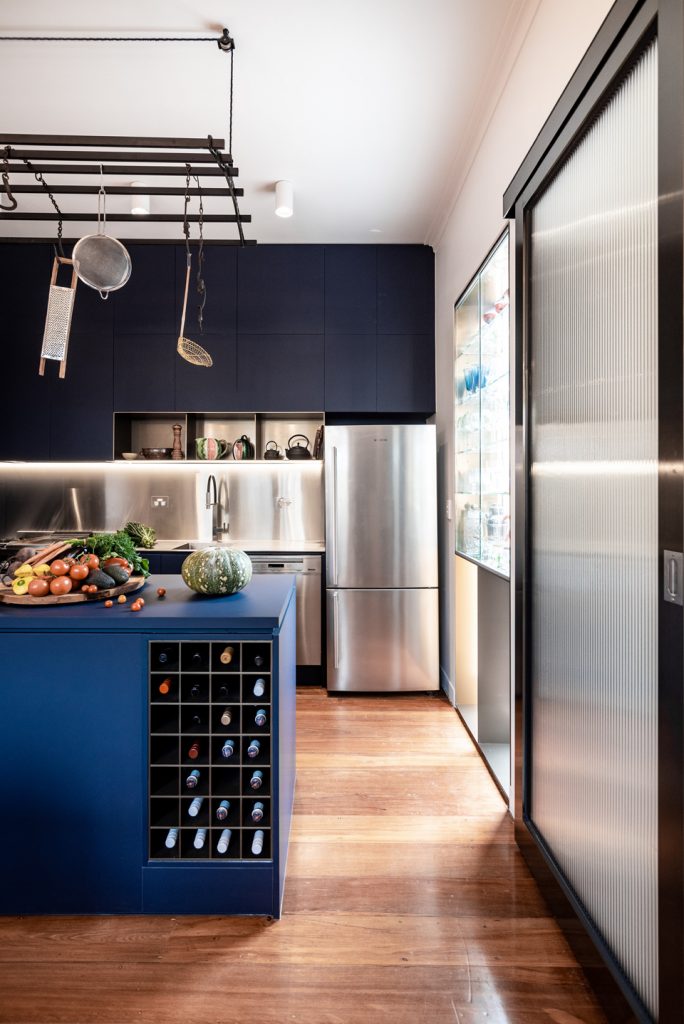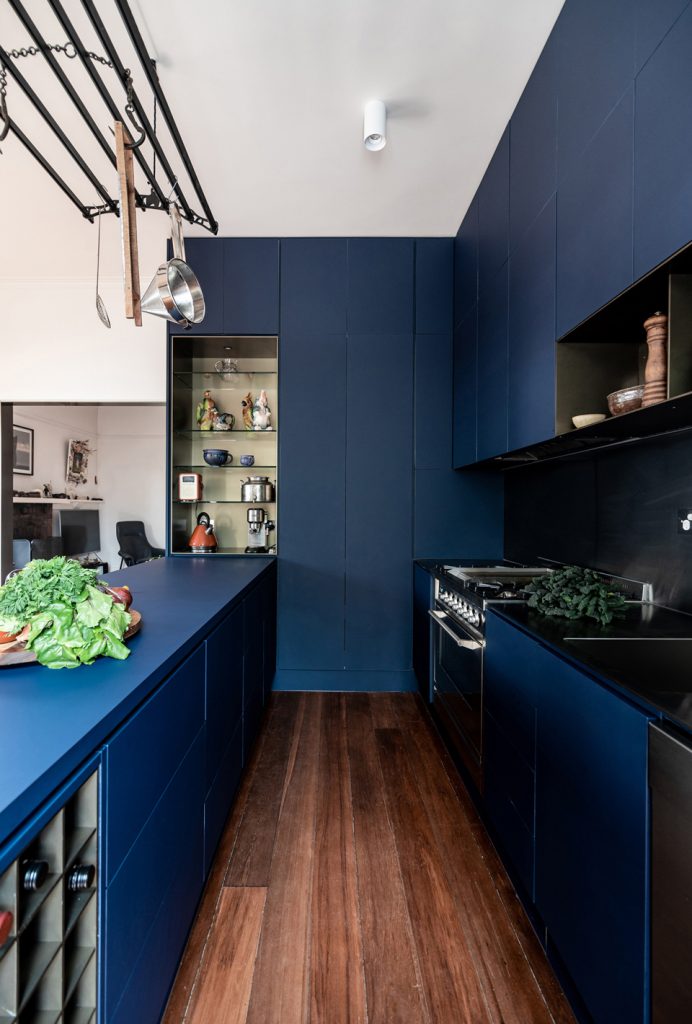 Porter's Paints Jodphur Blue (half-strength) for the kitchen cabinetry
Porter's Paints Jodphur Blue is a mid blue with grey undertones.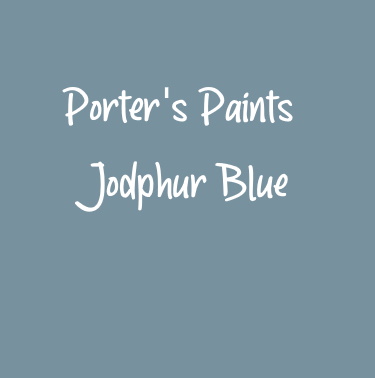 A stunning country kitchen painted in Jodphur Blue from Porter's Paints at a half strength.
Replacing the roof allowed Penny to add a skylight to usher light into the kitchen. She also sourced a large table for shared meals.

Country Style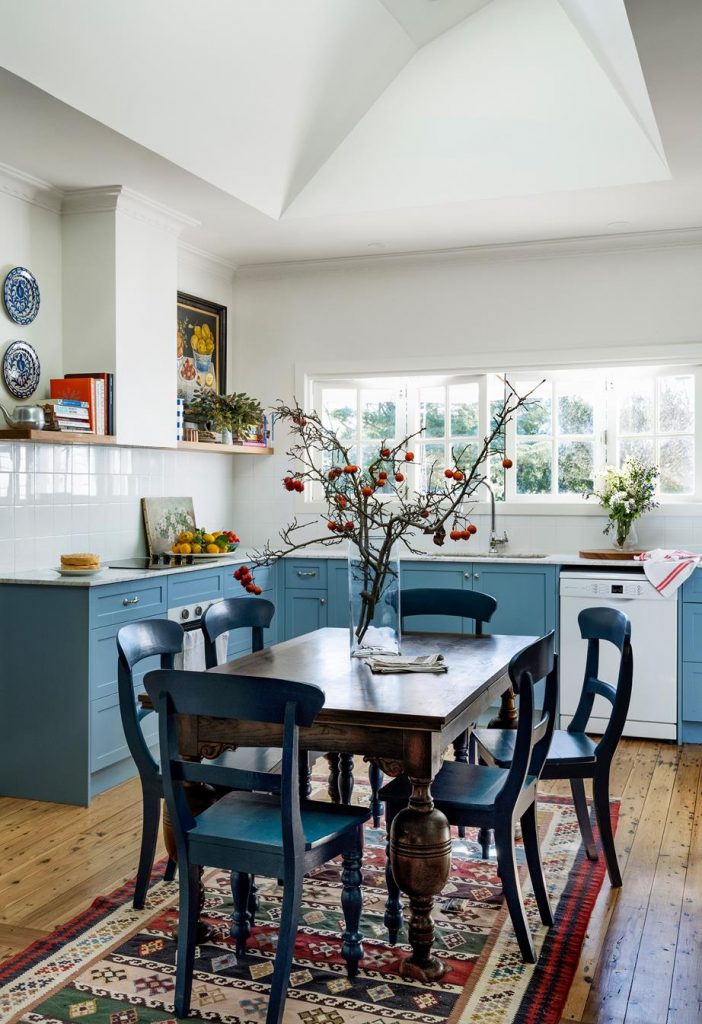 Taubmans Mountain Stream Kitchen Cupboard Paint
Steeped in nature, blue is an inherently calming and restful colour, bringing coolness and a sense of peacefulness to any space. Lighter tones evoke purity, while darker blues create depth and promote quiet reflection and relaxation. Blue is highly versatile and readily accessorised, making colours in this family easy to incorporate in both interior and exterior spaces.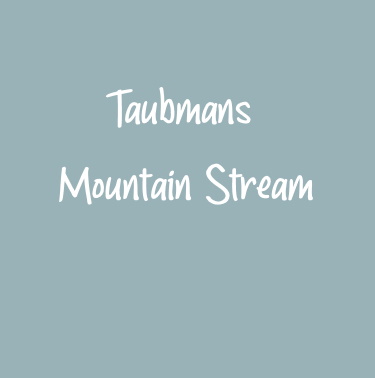 Stunning mid blue paint color for this coastal styled kitchen renovation. The back wall is painted in Taubmans Sandy Sails. Via Kyal and Kara.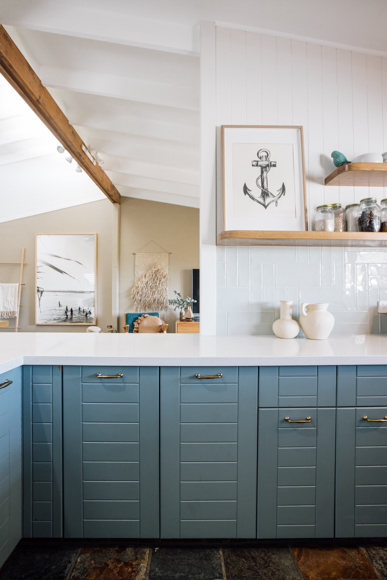 Porter's Paints Yacht Race Kitchen Island
A true blue paint color that is great when used as a feature.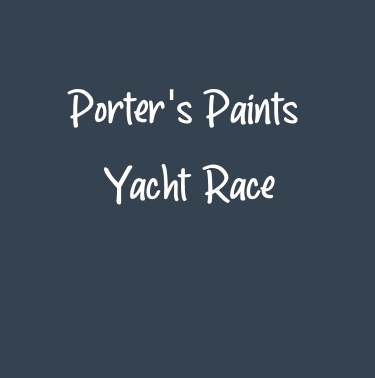 A traditional door profile in the cabinetry using Dulux Quarter strength Lexicon on the cooking run, with decorative capping creates a grand statement in this inspiring two toned kitchen.

Our client wanted a "true blue" island and chose this beautiful tone based upon Porters Paint "Yacht Race" which certainly allows the kitchen to star in this whole house renovation in the Southern Highlands (Bowral).

Harrington Kitchens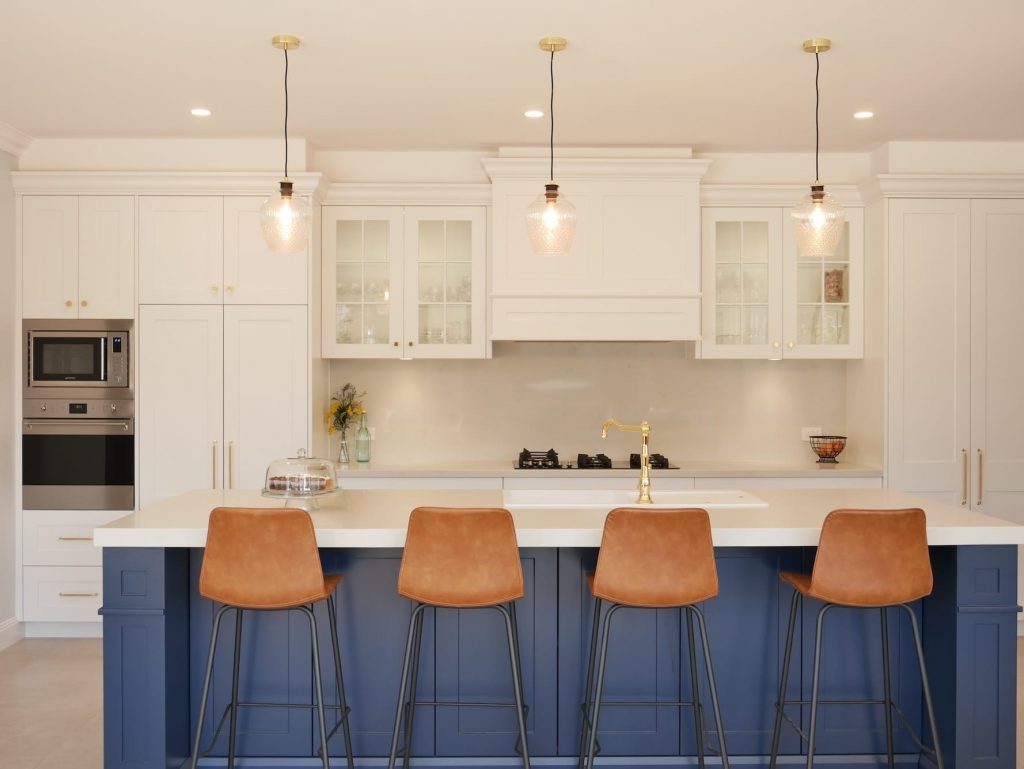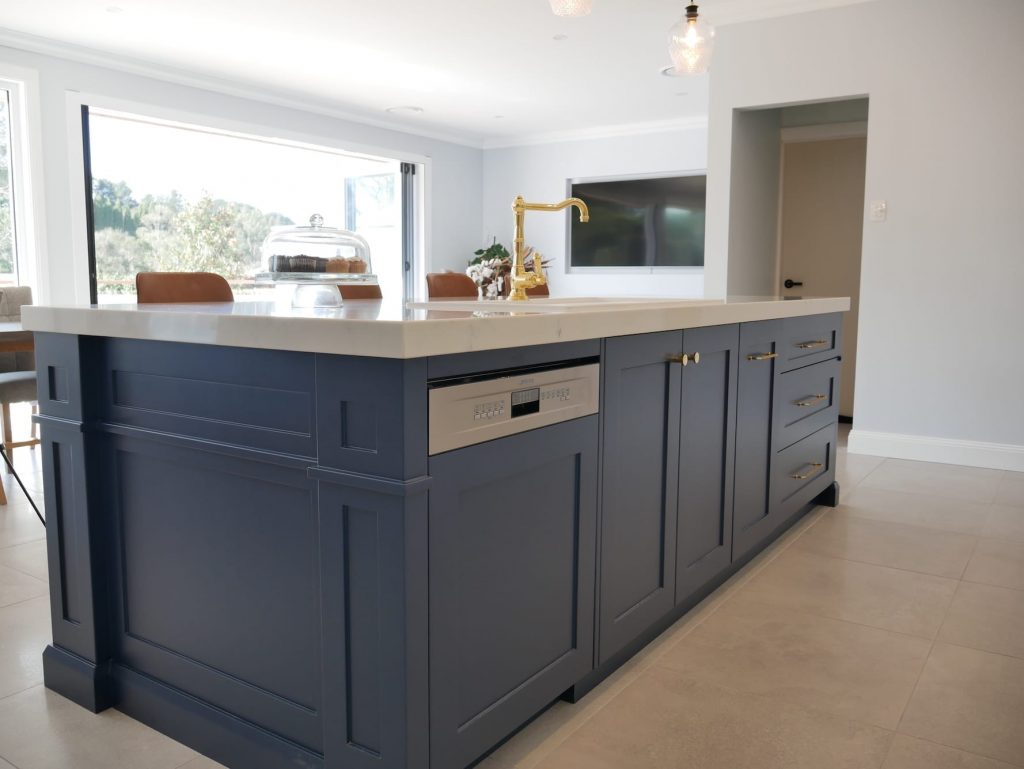 Dulux Deep Ocean Hamptons Kitchen in the Southern Highlands
A subtle mid tone blue paint color, a blue that can be used like a neutral due to it's grey undertones.
Two-toned cabinetry using Dulux Lexicon ¼ and the divine Deep Ocean creates a stunning kitchen and eat in area which sits atop polished parquet flooring. Our client chose satin ceramic tiles for her splashback, which mimic pressed tin and is the perfect backdrop for the elegant Smartstone Borghini Naturale benchtops – 60mm on the island and 40mm on the benchtops.

Harrington Kitchens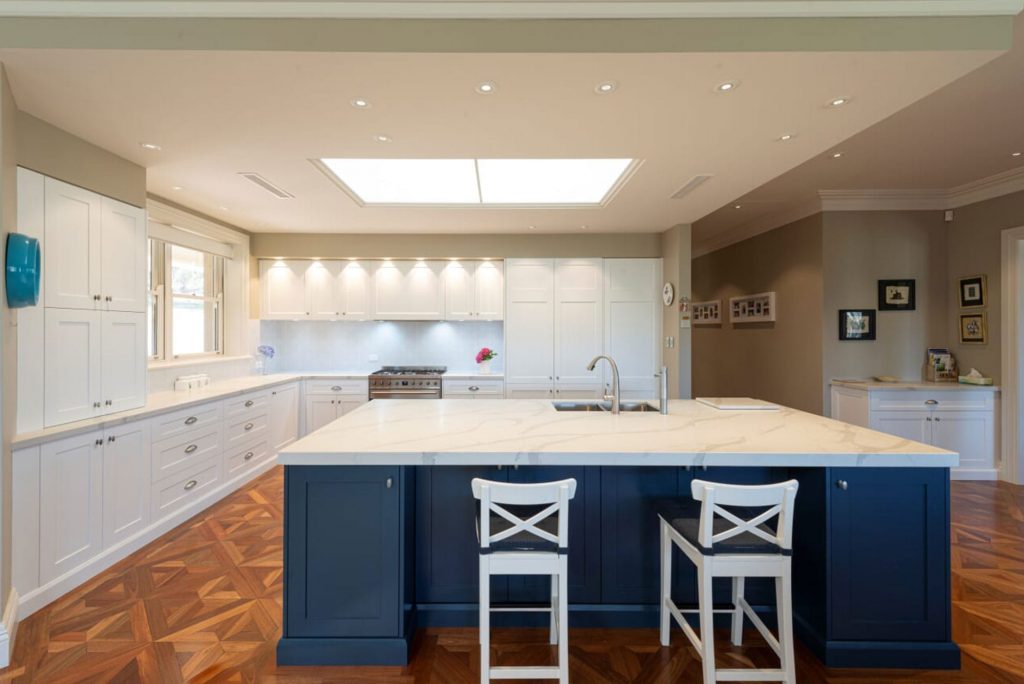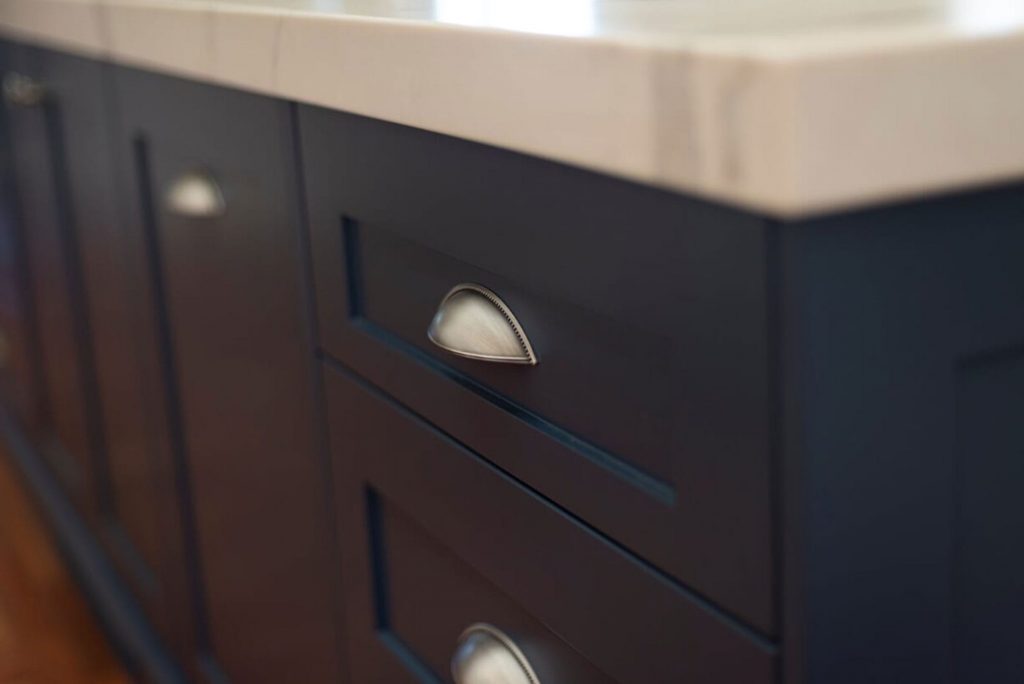 Dulux Blue Lobelia
An inky blue paint color that is a bit of a chameleon, it can range from a bold saturated blue to a dark navy blue depending on the light.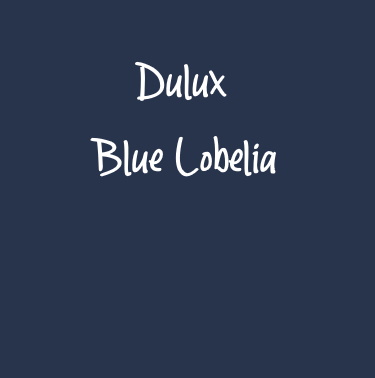 We think you will agree that this two-tone, traditional Hamptons kitchen in Dulux Lexicon ¼ strength and Blue Lobelia is beyond stunning!

Sitting on striking solid timber parquetry flooring this two-tone kitchen perfectly complements the traditional aspect of our client's home with its high ceilings and new kitchen cabinetry finishing just below the decorative cornices.

X-Frame glass cabinet doors adorn the top of the wall cabinetry which adds another traditional element to the new kitchen, and which is further enhanced by the dramatic blue and black handcrafted tiles on the splashback.

Harrington Kitchens