9 Calm Interior Color Palette and Paint Color Ideas
At Interiors by Color (http://www.interiorsbycolor.com) we have made finding the right color for your interiors a little bit easier, inspired by many magazines, interior decorator websites and great paint color boards we see on pinterest we have compiled several interior color palette ideas that will certainly inspire you!
Keep in mind that even if the particular decor style is not exactly to your taste, you may however love all the paint colors used, the combination of wall paint color, ceiling paint color and trim.
We suggest you pin the paint color ideas you like best and you may save this post for your future reference too.
Collect more Interior Design Ideas: Come follow me on Pinterest/interiorscolor
Calm and Tranquil Paint Color Ideas and Palettes:
Today we are focusing on calm and tranquil paint color ideas. Colors to create a soothing and soft atmosphere in your space.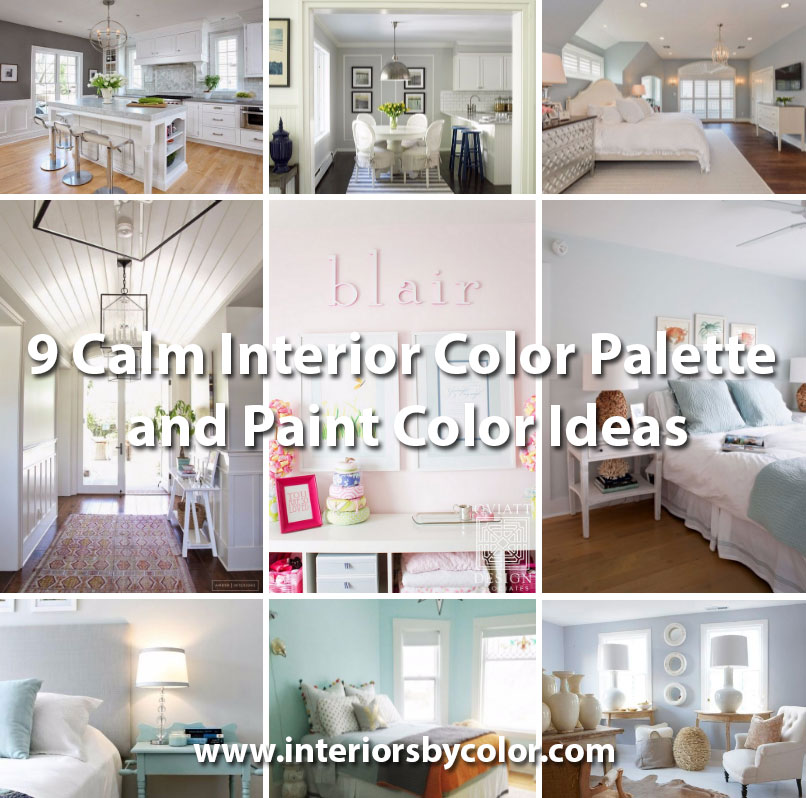 Benjamin Moore Chelsea Gray: a favorite gray paint color for many designers. Use it as a feature wall like in the image below for a pop of boldness. The kitchen is a great space for this because there is often little wall space and this color provides the right about of drama!
Use Benjamin Moore Smoke in the bedroom. Very relaxing, a soft and tranquil blue that looks amazing with a crisp white trim.
Benjamin Moore Stonington Gray – is a true gray that works really well in a beach/coastal style kitchen. This is a great gray that stays right in the middle, not falling into gray or blue.
Benjamin Moore Sebring White: perfect white paint color to use for entrances and hallways. This paint color has a lovely touch of creaminess.
Benjamin Moore Wispy Pink – Like a mist of delicate perfume, this demure and unassuming pink whispers femininity. Its airy feel makes it work well as a warm neutral, creating a pillow-soft backdrop. Great for a girls bedroom.
Benjamin Moore Horizon OC-53 – A pale, effortless gray, this winsome shade is a blank slate on which to set forth rooms ranging from minimalist chic to richly extravagant. Provides a fantastic calm backdrop to a master bedroom.
Benjamin Moore Fanfare – A timeless and elegant soft gray paint color, a soothing backdrop for your bedroom interior.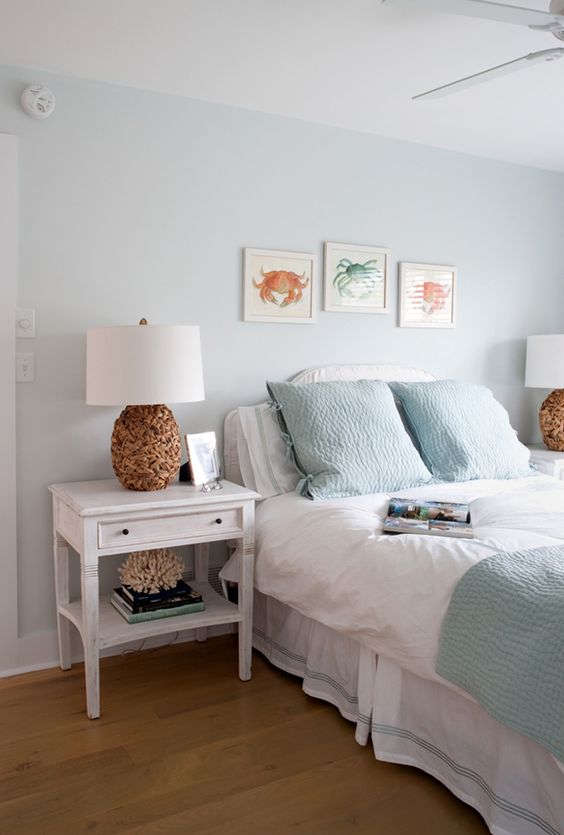 Benjamin Moore Barely Teal – when you want some paint color with a bit of a pop but still calm and soothing.
Benjamin Moore Sweet Innocence 2125-50. A grayish tinged with blue paint color. Used in a many a psychologists office for calming effects.