Dusty blue grey paint colours are a great way of using a light blue that has some sophistication to it without seeming too babyish. The following paint colours beautiful muted blues that are right on trend!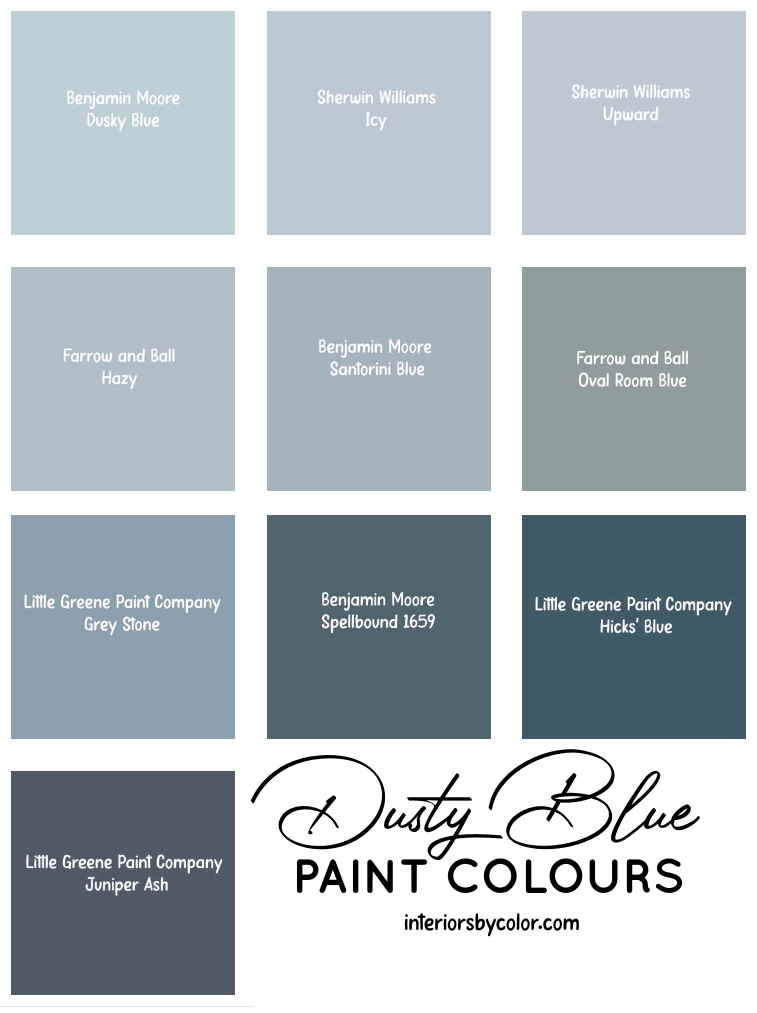 Dusty Blue Wall Paint from Little Greene Paint Company
Little Greene Paint Company Hicks' Blue, this is a great choice for those looking for a dark dusty blue paint.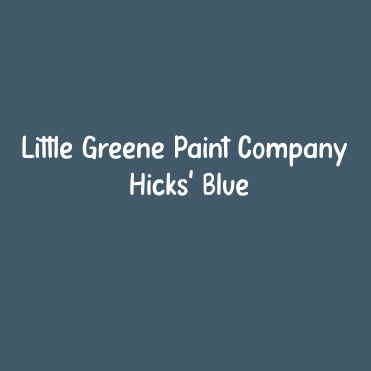 "David Hicks, one of the most important designers of the 60s and 70s, used powerful colours in combination to dramatic effect. Besides domestic projects for English aristocracy, Hicks also worked on many commercial projects and used this blue in the restaurant at the top of the London Telecom Tower in 1962."
@artdecojewel uses Etruria and Hicks' Blue to complement our Brooke House – Parchment wallpaper for a maximalist hallway with instant impact.⁠
⁠
Walls: Brooke House – Parchment & Etruria ⁠
Stairs: Hicks' Blue

Little Greene Paint Company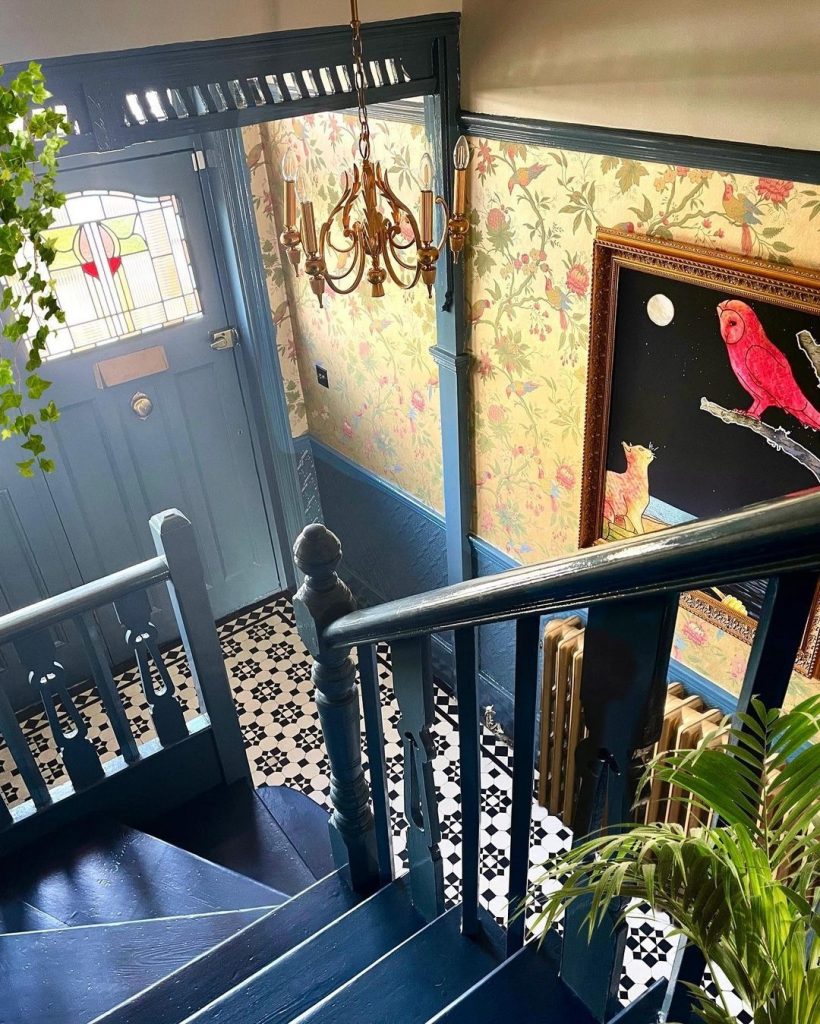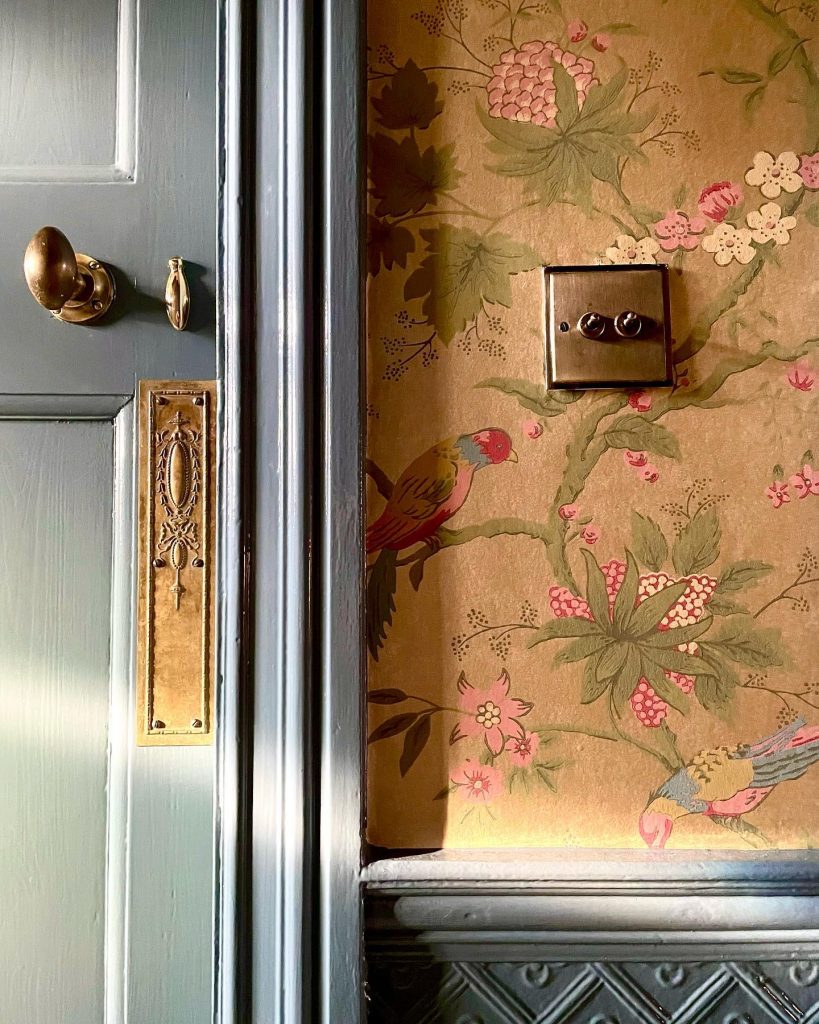 @edwardian_vignette uses Hicks' Blue to create a scheme that exudes cosiness. ⁠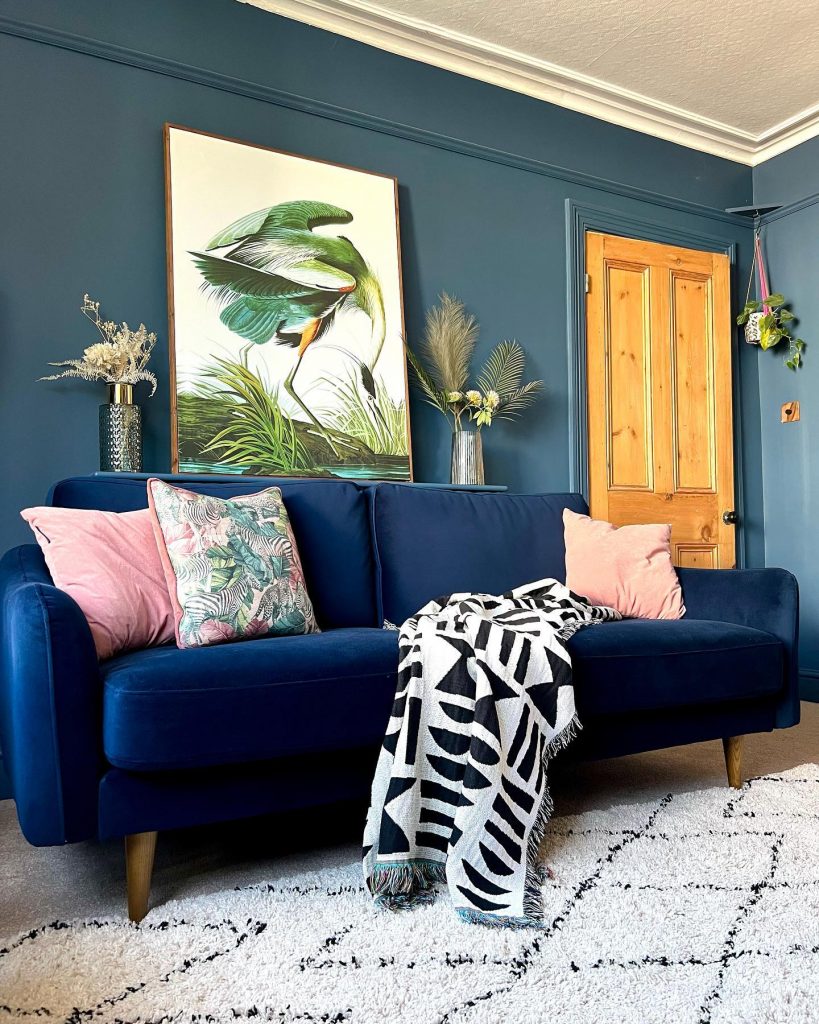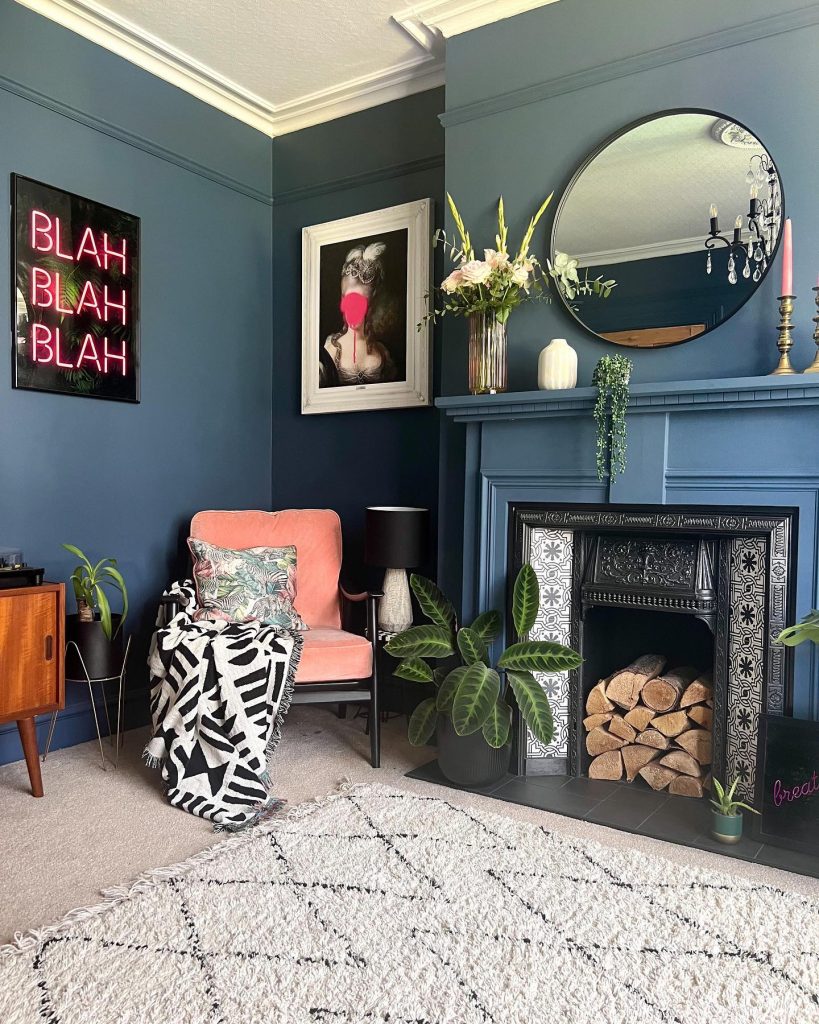 Little Greene Paint Company Juniper Ash:
"This deep blue paint creates a warm colour scheme for an intimate atmosphere, indoors or on exterior woodwork."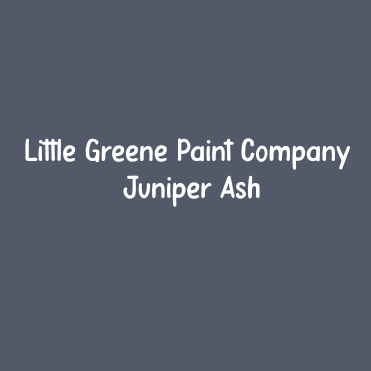 In this beautiful period bedroom @21_holmfield has created a cosy and inviting bedroom using Little Greene Paint Company Juniper Ash on paneling feature wall. This dusty blue paint color is teamed with pink soft furnishings – the perfect romantic colour scheme.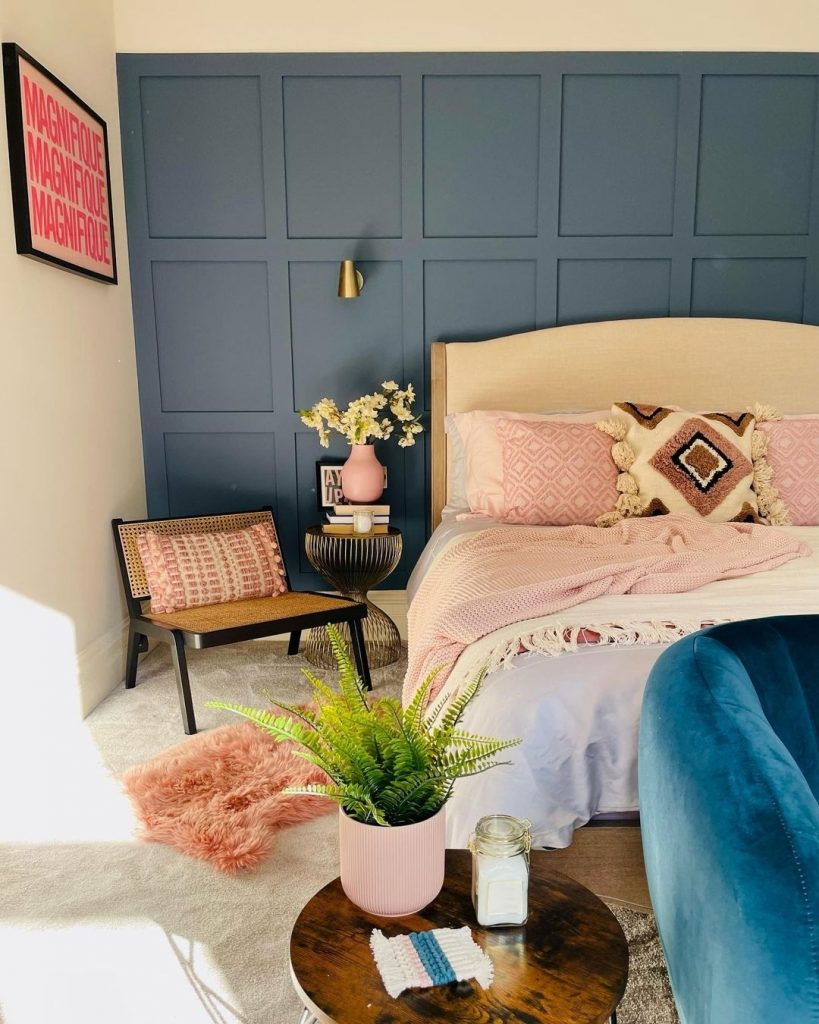 Little Greene Paint Company Grey Stone: Don't be fooled by the name, this shade is undoubtedly blue. Celestial in spirit yet completely down-to-earth. A lighter shade of dusty blue.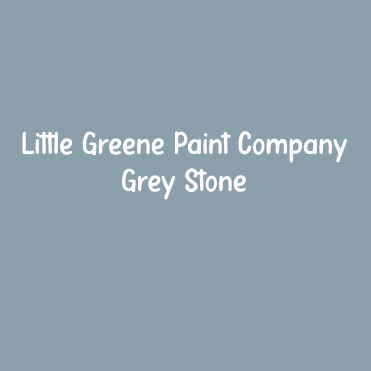 Dusty blue is a favorite for a bedroom design, in this bedroom the wainscoting and door are painted in Little Greene Paint Company Grey Stone⁠. This works well with the colorway of the wallpaper Hencroft – Blue Primula. Via @mo.and.the.jungle.shelf.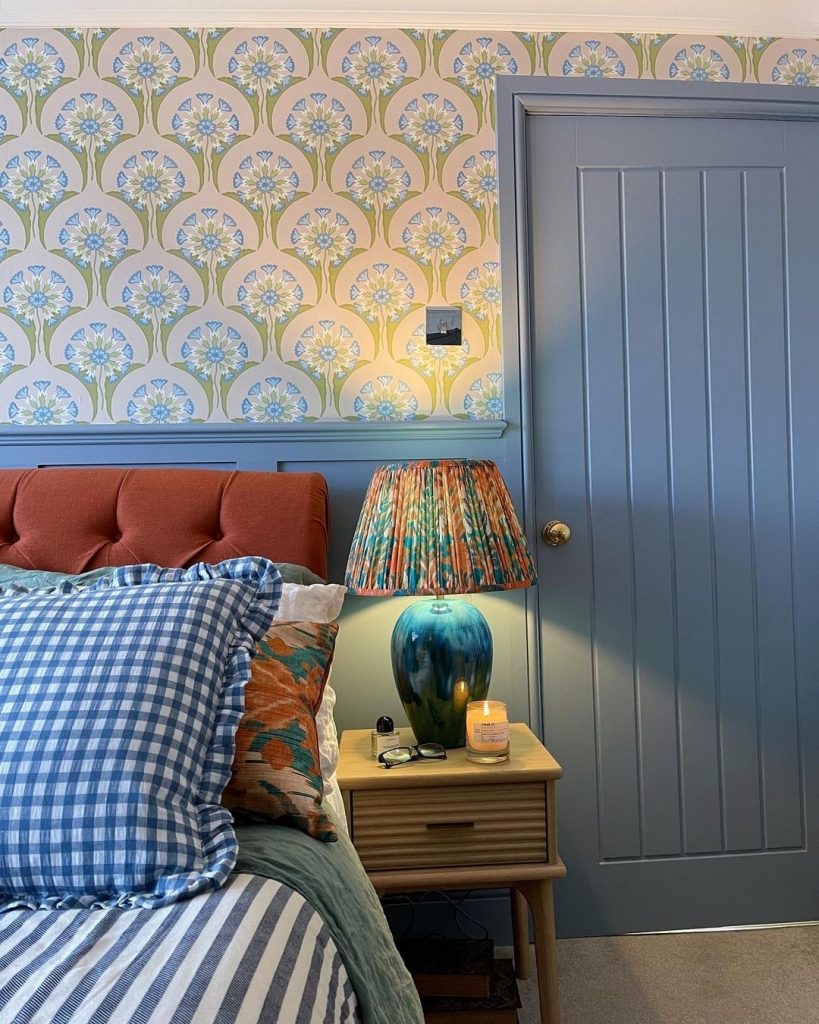 Farrow & Ball Dusty Blues
Farrow and Ball Oval Room Blue: "Oval Room Blue is the most blackened of our blues, giving it a subtly aged feel. Named after the attractively shaped rooms of the late 18th century, it sits perfectly with our popular greys to create depth and balance in either a hall or a darker, cosier family room."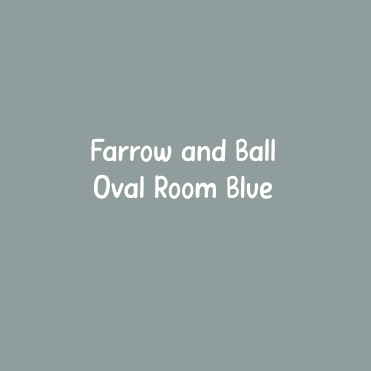 Farrow & Ball Oval Room Blue is the perfect serene dusty blue paint colour for a living room. Room by carringtonleigh_designandbuild. The walls are F&B Oval Room Blue' and the woodwork / ceiling is F&B 'School House White'. They really do compliment each other."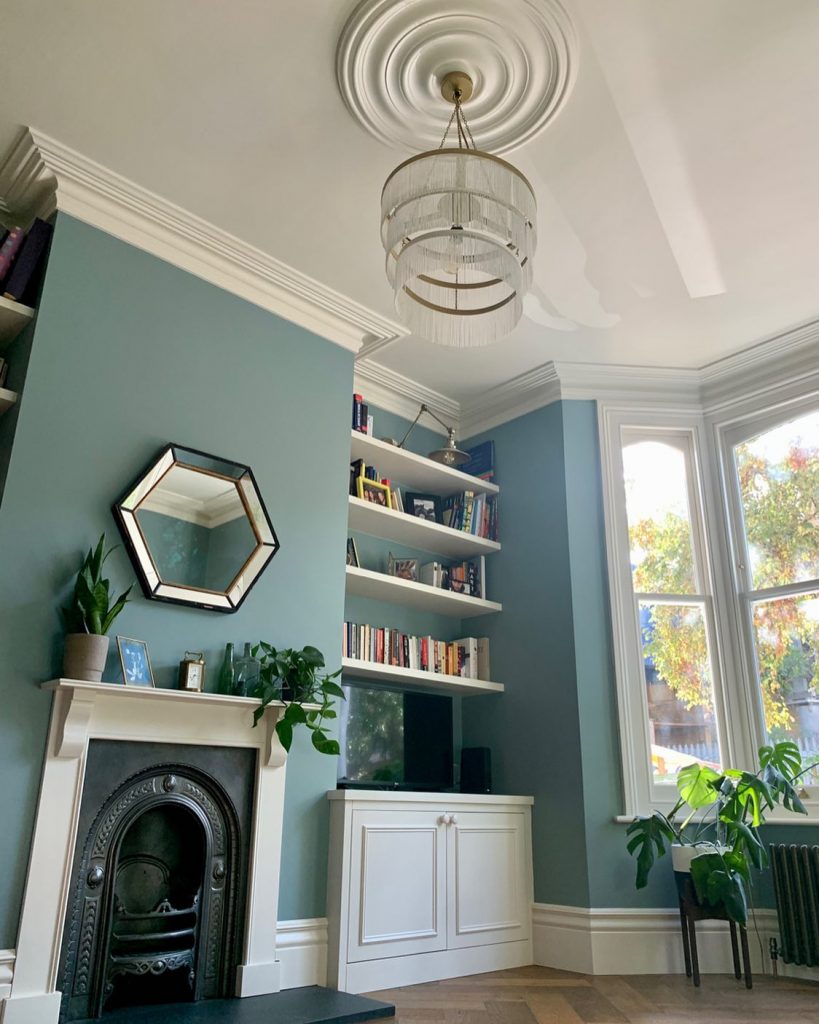 Here is another English living room painted in the very popular Oval Room Blue! Via victoriaemes_home.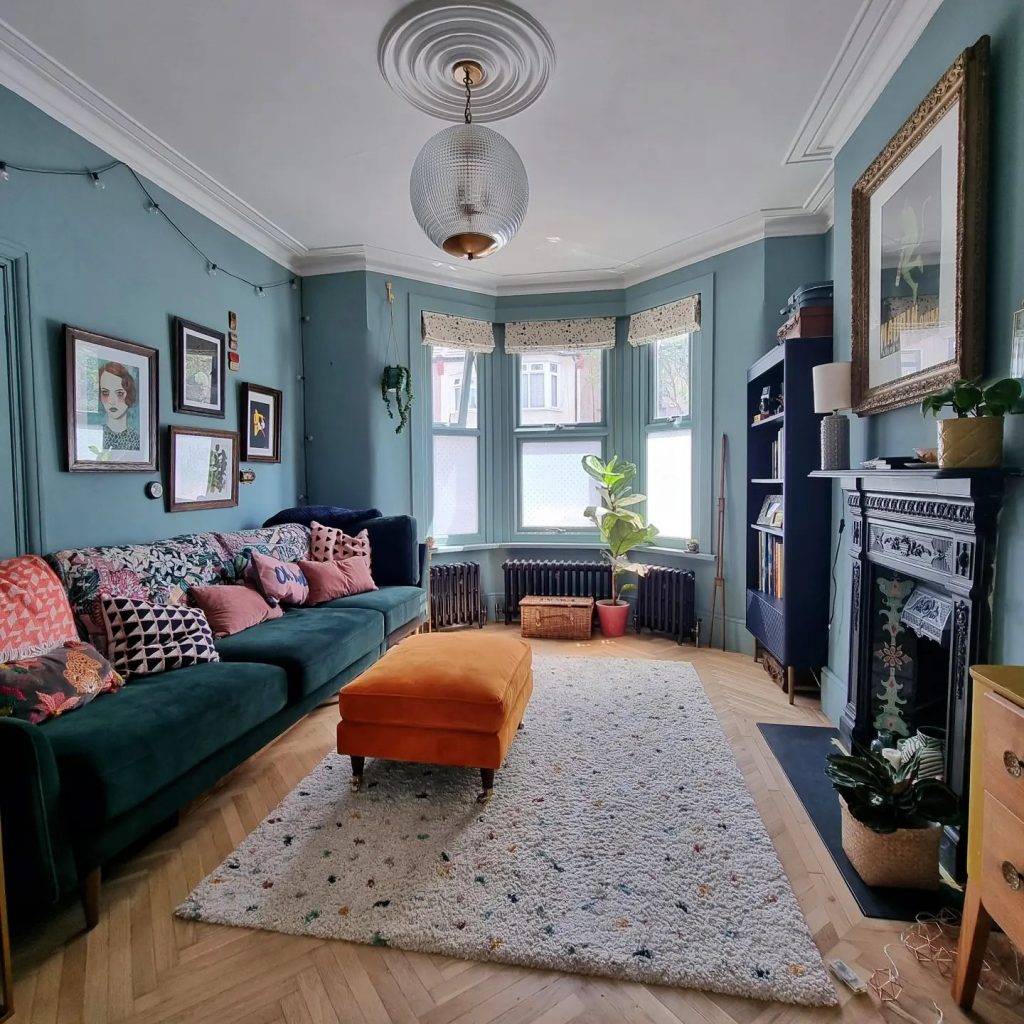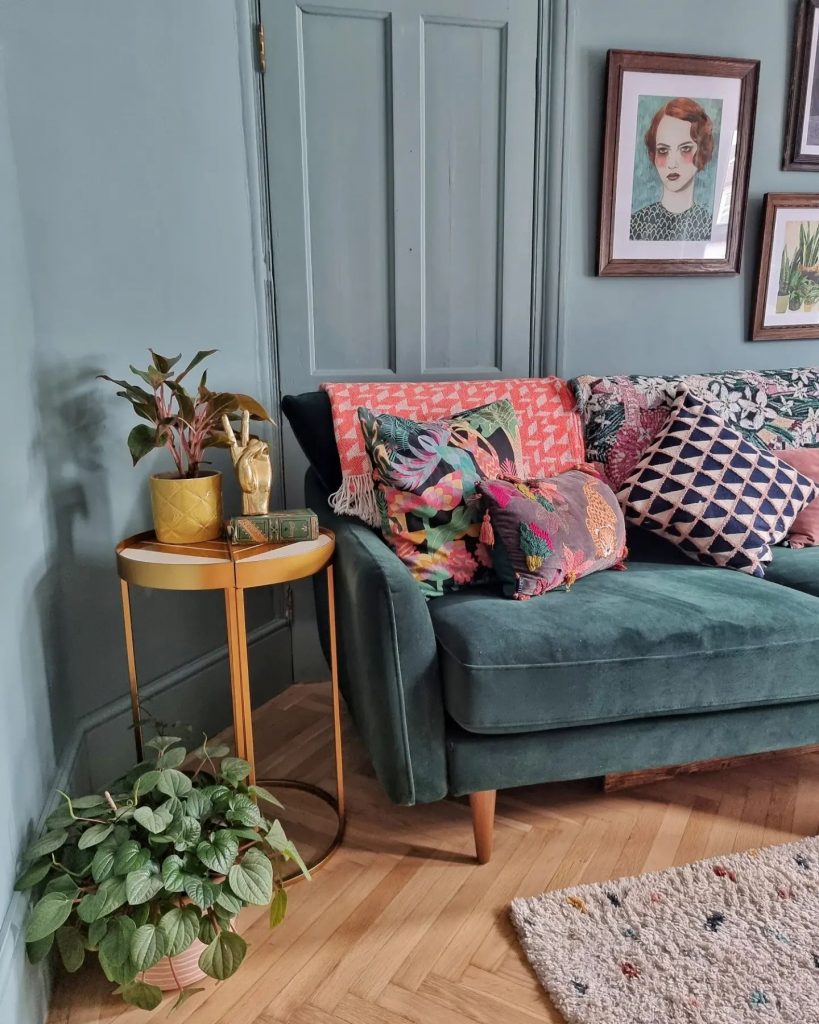 Farrow & Ball Hazy: from the California collection is a perfect lighter muted dusty blue that is perfect for living areas.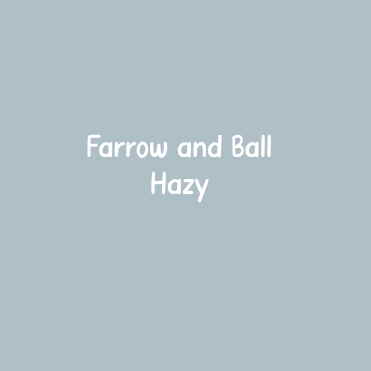 A muted blue-grey paint colour. This muted blue-grey is inspired by the marine layer that brings drifts of dreamy fog inland, capturing the fresh feeling of early mornings on the coast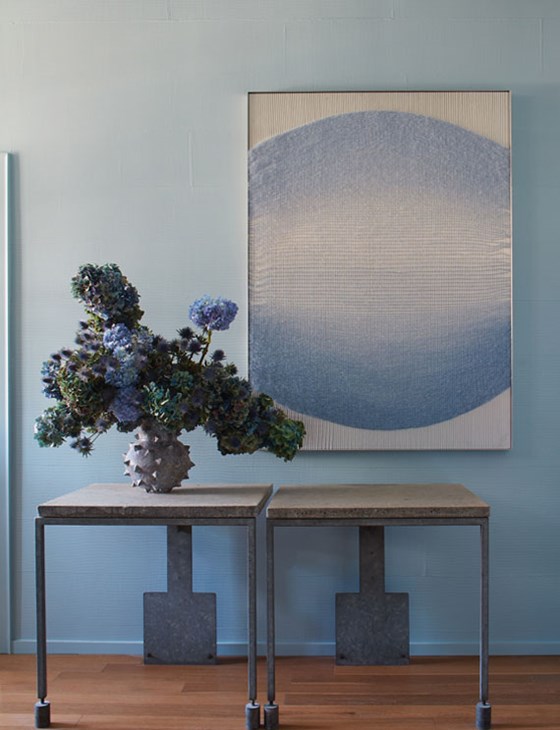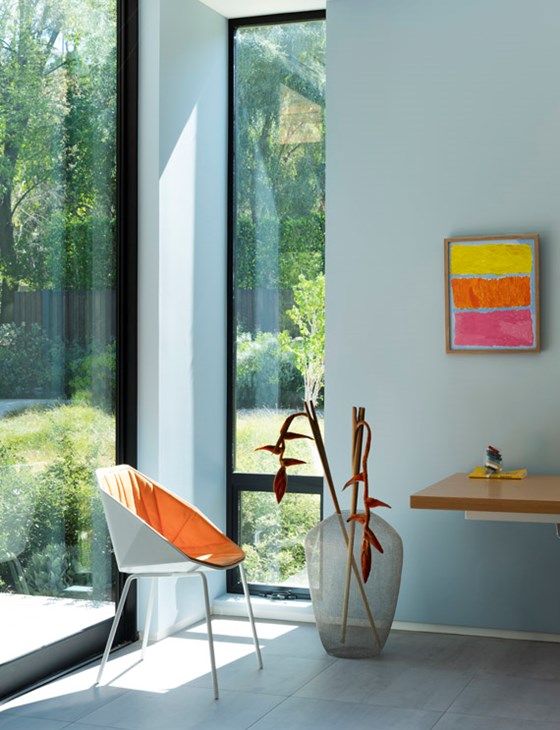 In this living room Hazy is painted on the ceiling and the walls are painted in Salt from the same collection.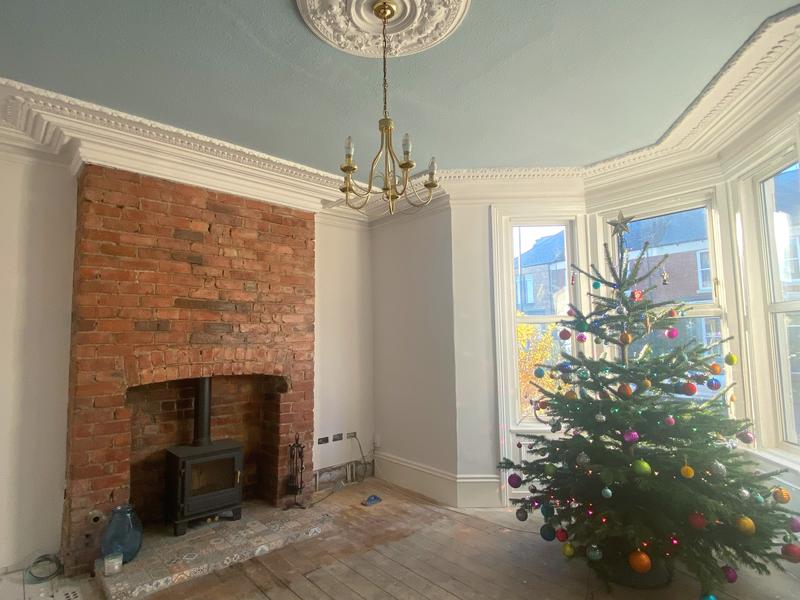 Dusty Blue Paint Color Benjamin Moore
Benjamin Moore Spellbound 1659 is a pretty muted blue that is easy on the eyes and perfect for painting your walls and shelves.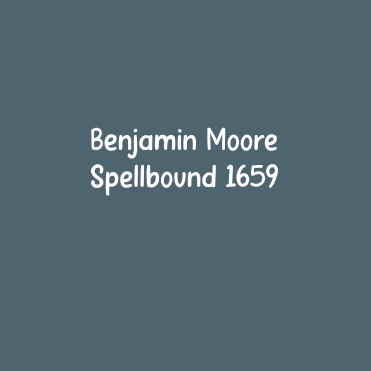 A touch of black brings mystery to this enchanting blue.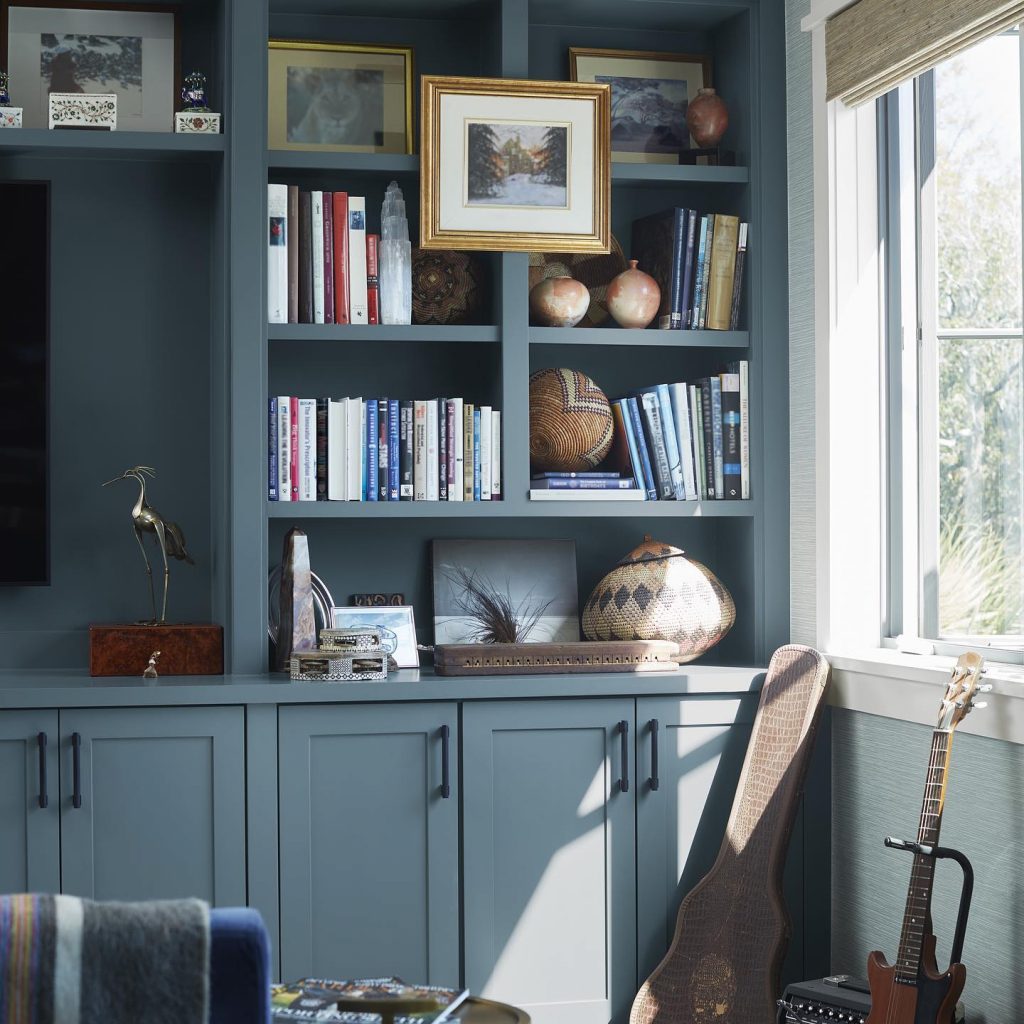 Benjamin Moore make a stunning dusty blue called Dusky Blue 1640.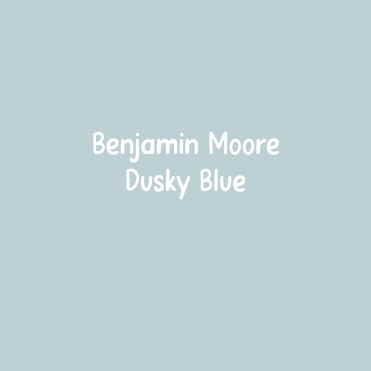 A soft blue, this color evokes a sense of effortless calm.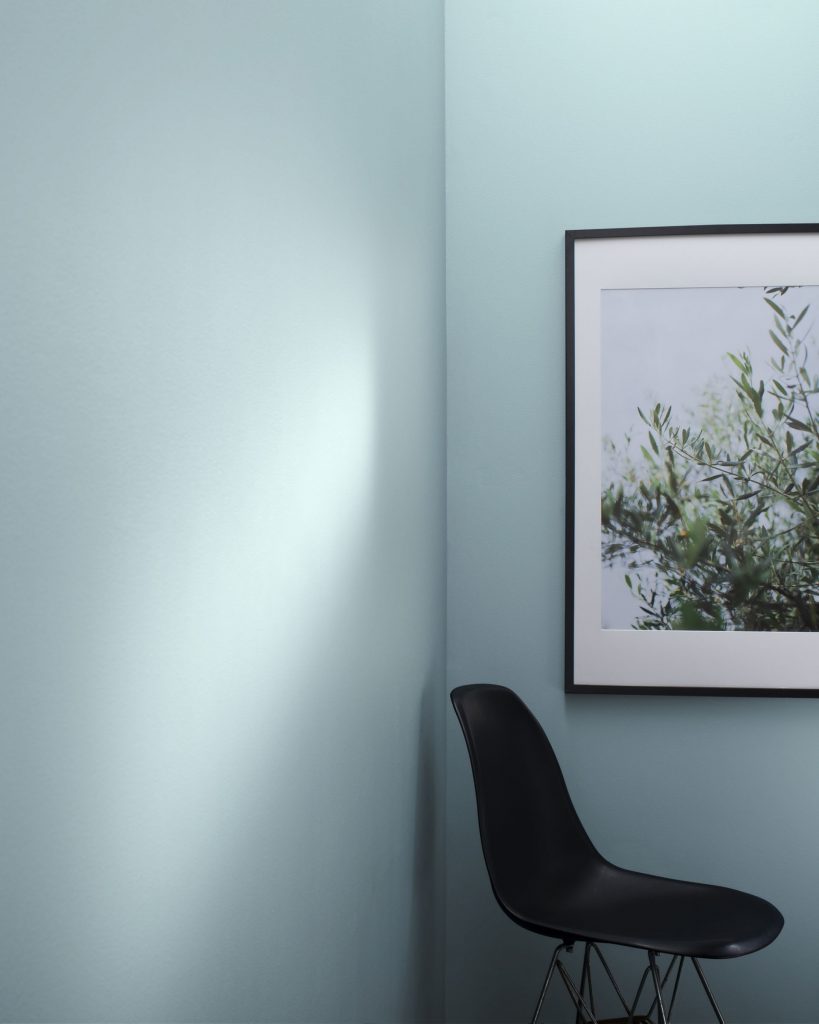 Benjamin Moore Santorini Blue: As refreshing as it is cool, this sophisticated blue features a touch of gray.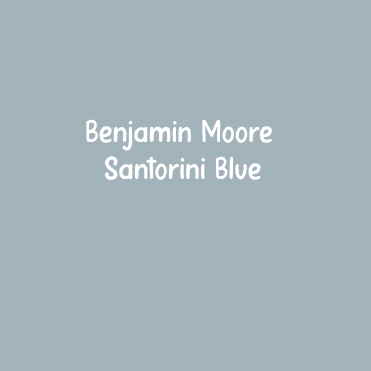 A light and subtle blue that is great all over and combines perfectly with white and wood trim.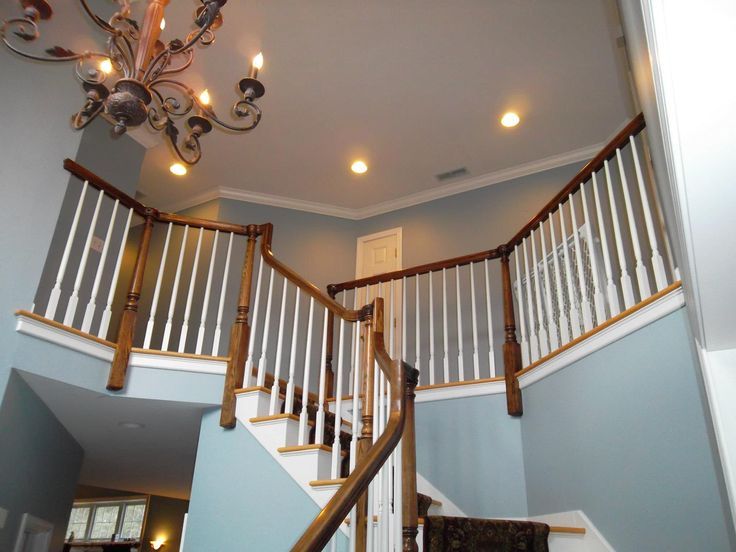 Dusty Blue Paint Color Sherwin Williams
Sherwin Williams Icy: is a light blue paint colour with a dash of grey.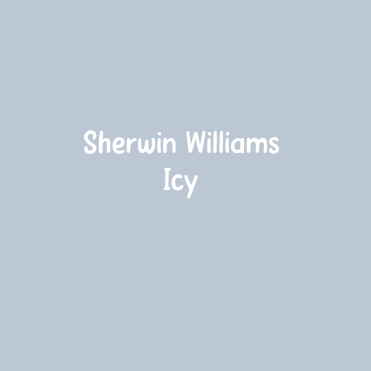 This sophisticated light blue shade is very soothing. Via sherwin-williams.com.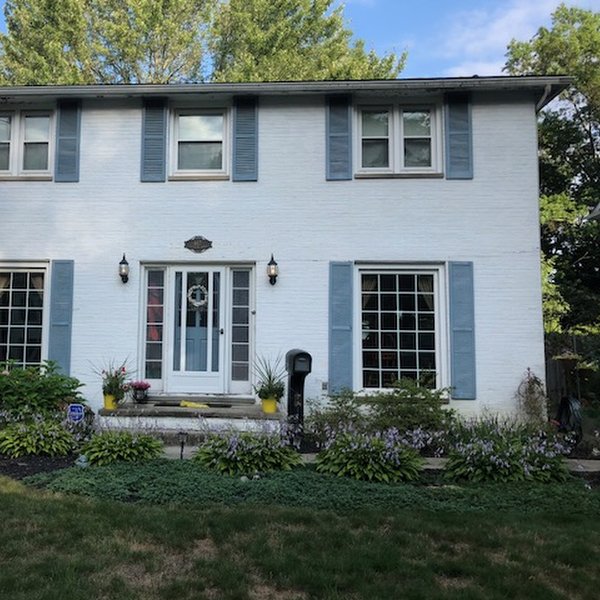 Sherwin Williams Upward: This paint colour is also perfect for the bedroom or living area.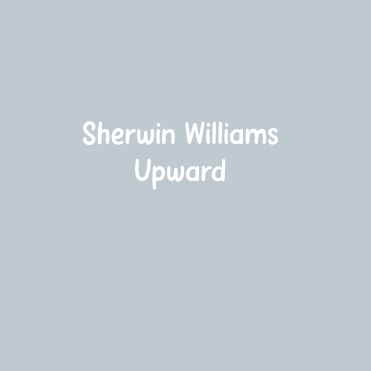 This tranquil blue that looks fantastic in this bathroom by Woodrow.