Exterior Painting Homes 2020 Ideas
Exterior Painting Homes. Stunning exterior paint colors to choose for your home.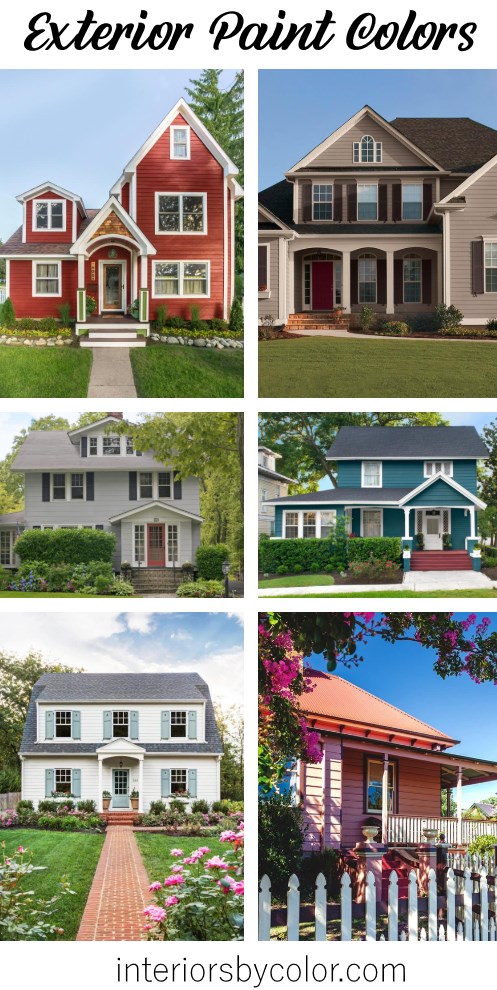 Front Exterior Beautifully crafted and reminiscent of coastal New England, this home's classic exterior, painted in Benjamin Moore Hale Navy, seamlessly integrates with neighboring houses on its tree-lined Denver street. Via Colorado Homes Mag.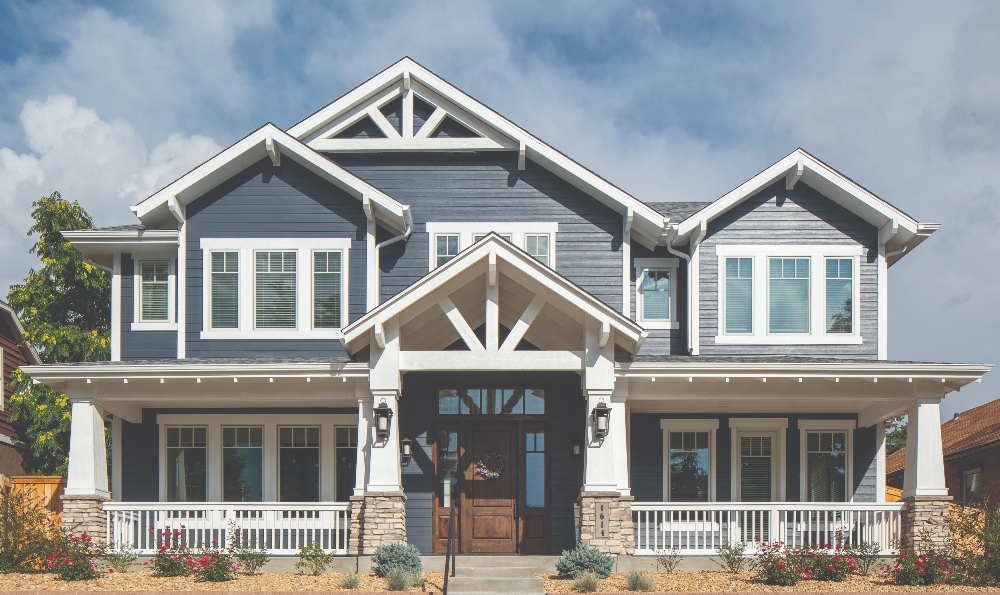 Built in 1911, this historic house gives a new twist on the classic pairing of red, white and blue. The deep teal siding mixed with the dark red staircase is striking and eye-catching without being too bold and overpowering. via
Paint colors: Sherwin-Williams Deep Sea Dive + Sherwin-Williams Pure White + Sherwin-Williams Red Theatre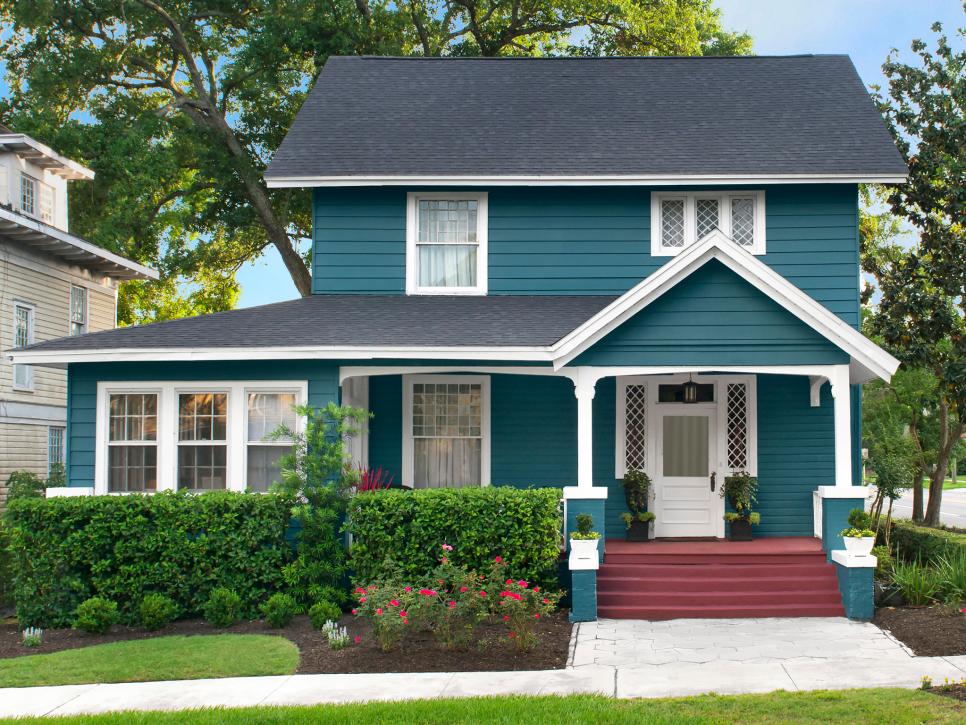 This adorable house was built in 2011, it's in a historic neighborhood, so the homeowners wanted it to have a classic look. Cottage-y touches, like the window boxes, a brick path and cutouts on the shutters help give the homethat classic Cape Cod vibe. via
Paint colors: Glidden Pebble White (shutters and front door) + Benjamin Moore Wedgewood Gray (trim) + Benjamin Moore White Dove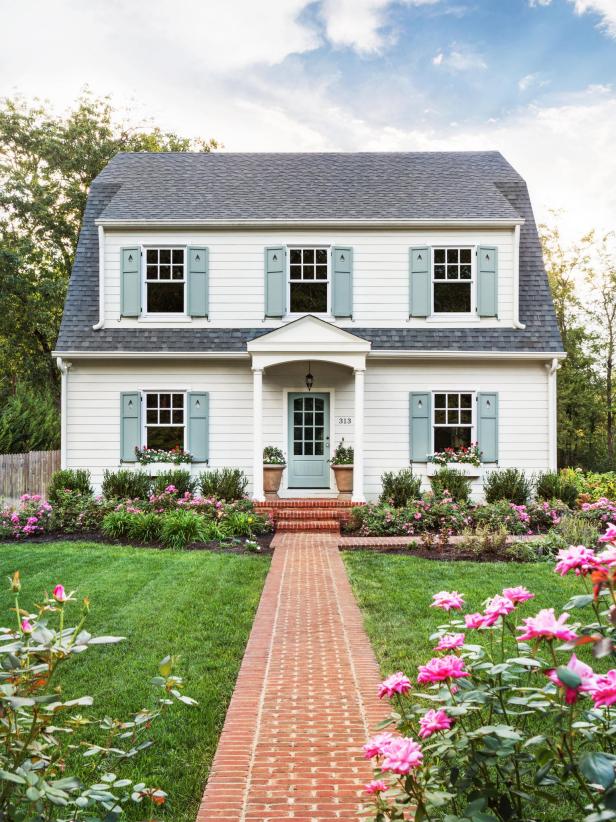 A blue and white striped awning gives a hint of nautical flair to this charming 1927 Florida home.
Paint colors: Behr Soft Pink + Behr Ultra Pure White + Behr Deep Azure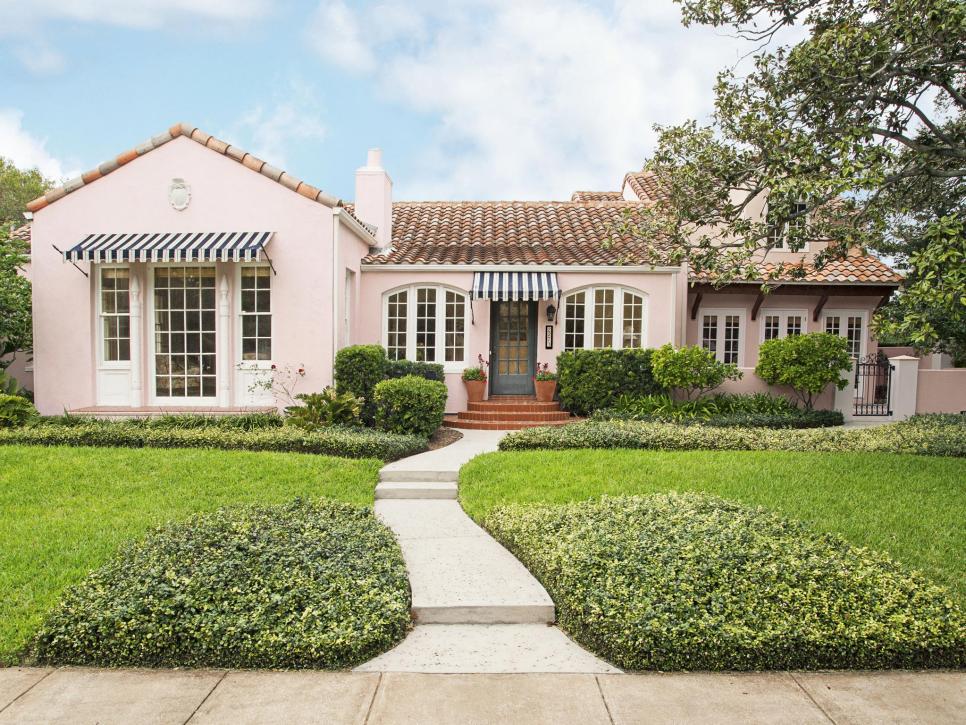 The red door provides a touch of sophisticated sass to this traditional-style home.
Paint colors: Behr Pewter Mug + Behr Swan Wing + Behr Beluga + Behr Awning Red
This eye-catching traditional exterior is rooted in its landscape with an earthy palette. Choose muted hues for a warm, sun-baked look.
Paint colors: Sherwin-Williams Tavern Taupe + Sherwin-Williams Pavillion Beige + Sherwin-Williams Homestead Brown + Sherwin-Williams Rustic Red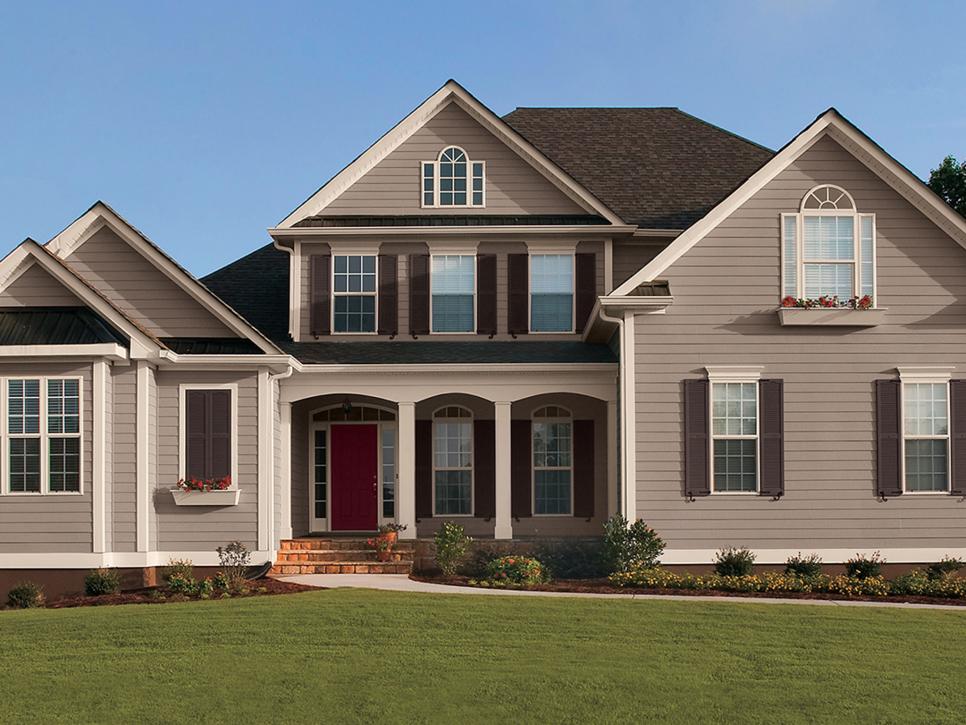 Deep red complements the cedar shakes on the portico while the emerald green columns provide a welcoming entryway to the porch.
Paint Colors: Behr Awning Red + Behr Ultra Pure White + Behr Scotland Isle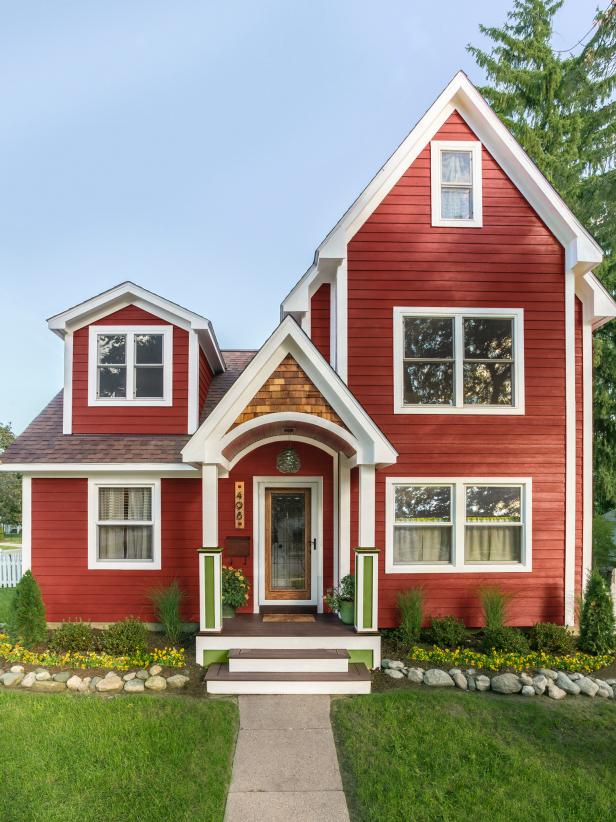 This unassuming exterior gives little hint of what lies within. Door in Dulux 'Symphony Red', steel lintel in Dulux 'Monument' and walls in Dulux 'Flooded Gum'.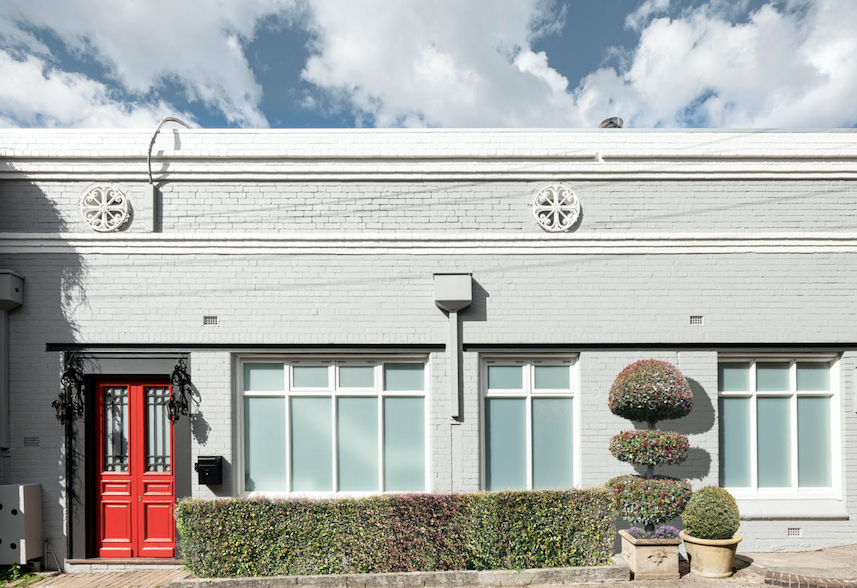 Country home exterior painted in gray and white.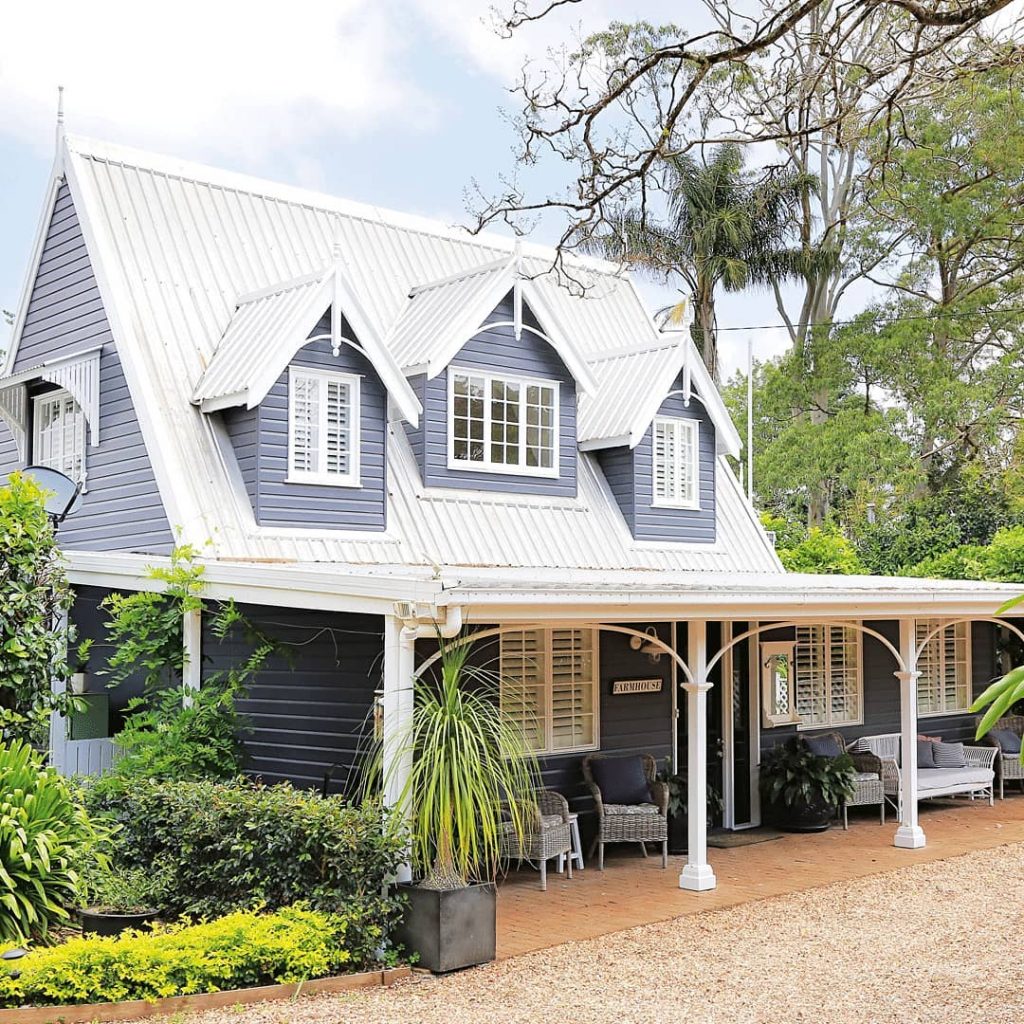 June and David Hodgson have devoted decades to the restoration of their Victorian-Era home in the cathedral city of Armidale. As was the custom during the late-Victorian era, the front of the house is more ornate than the rear, with pricier timbers and a higher level of detailing." via australiancountrymag