Kelly Green Interior Decor and Paints
Amazing Kelly Green interiors, paints and decorating inspiration hand picked by Interiors by Color http://www.interiorsbycolor.com/ Kelly green describes a pure intense shade of green reminiscent of lush green landscapes. Kelly green workd well as a dramatic pop of color, use it in sofas, curtains, armchairs and throw pillows. It also stands well on it's as a wall paints. Combine it with white or navy blue.
Be sure to pin these images as references and you can also Collect more Interior Design Ideas by following me on Pinterest/interiorscolor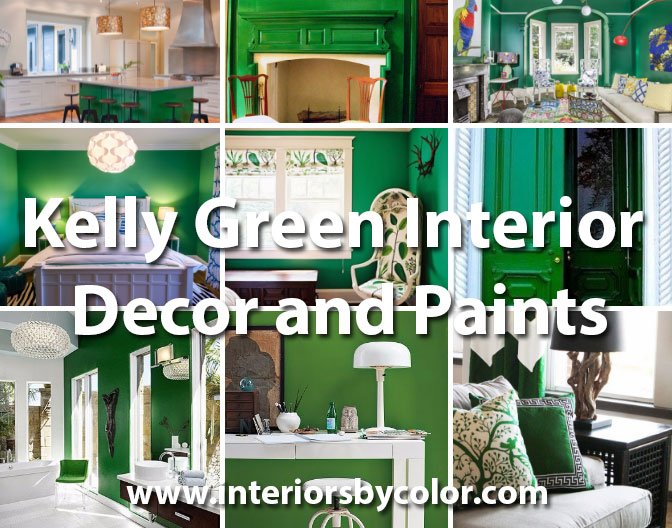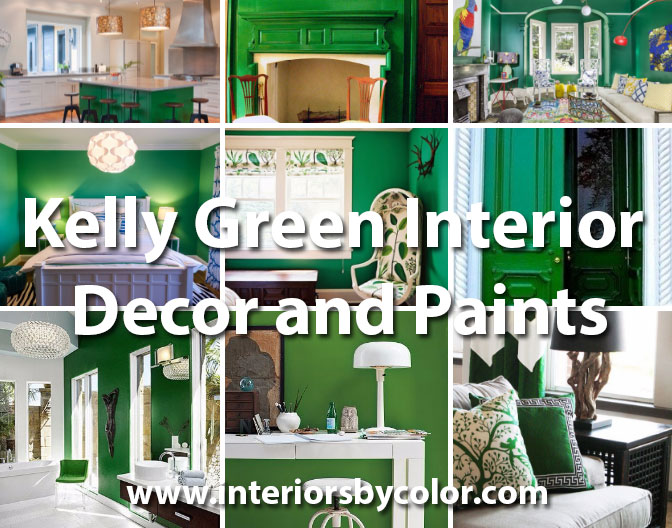 A nightstand picks up the Kelly green in the bedding.
If green walls are a little much for you, consider emerald green curtains. Even if your view isn't of a lush lawn, the sunlight hitting the green will remind you of the outdoors. Tip: If you accent your windows with emerald green, pull the color into your space by accessorizing with green throw pillows or knickknacks to create a visual connection.
Courtyard by Sherwin William painted green walls in this lovely dining space.
Go bold: A strong kelly green paint color sets a strong tone for this large bathroom. All of the other elements in the room play off this accent wall.
Playing with stripes to create a unique illusion and contrast that draws the eyes to the wall. For a monochromatic look, try painting stripes of the same color but varying finishes, such as semi-gloss and matte. Although the colors are the same, says Chuber, the two different finishes will make it appear as if they're two different shades. For a more dramatic look, she encourages varying the finish and the color. "Try glossy white stripes against a matte black for a fun and bold 'sleek vs suede' look. The black and white stripes look great with the tufted green velvet settee.
"Hits of dark brown and black help cool the color of green down and ground it in its environment," says Gambrel. "Amber and gold finishes also react really well to a bottle-green background. A lacquered version is the most effective, as there seems to be a transparency to green that is not the case for other colors."
HISTORIC HOMES AND COLORS: VERDIGRIS AT GUNSTON HALL
Among the grand rooms of Gunston Hall, a plantation house in Mason Neck, Virginia, built by founding father George Mason in 1755, is a bedroom painted with verdigris. The striking shade of green was one of the era's costliest and most fashionable shades. A near match is Jolly Green 6931 by Sherwin-Williams.
While I probably wouldn't recommend installing a kelly-green countertop, I'm all for a kelly-green painted island. This is a terrific way to inject some personality into an all-white kitchen. I also prefer a deeper hue like this one on a kitchen island, because it can help mask the inevitable scuff marks along the base of the island from the shoes of those seated at the stools.
Sherwin Williams Derbyshire creates the perfect backdrop for these mid-century inspired pieces from West Elm.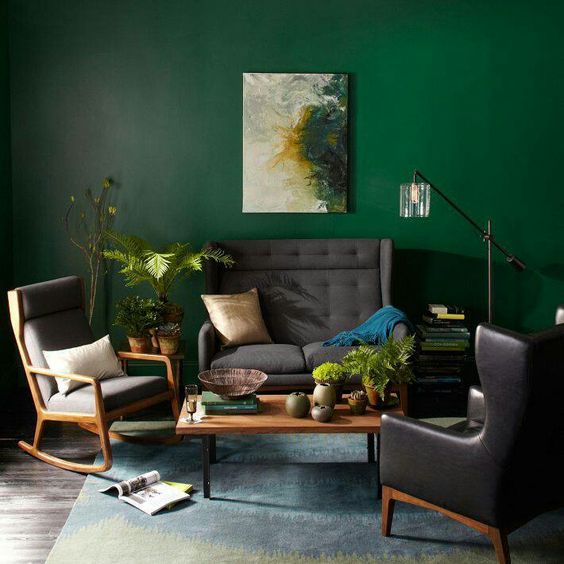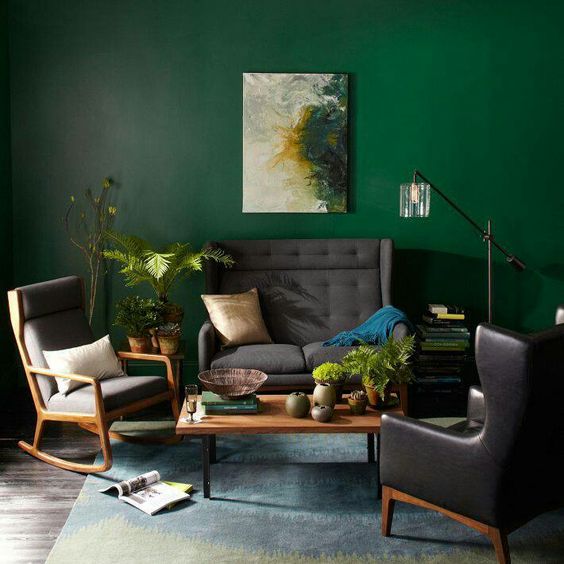 Kelly Green adds a refreshing splash to the living room.
Kelly Green walls in the bedroom, love the feature pattern on the ceiling.
Emerald Green, Pantone 2013 color of the year. Tamed by black & white furniture.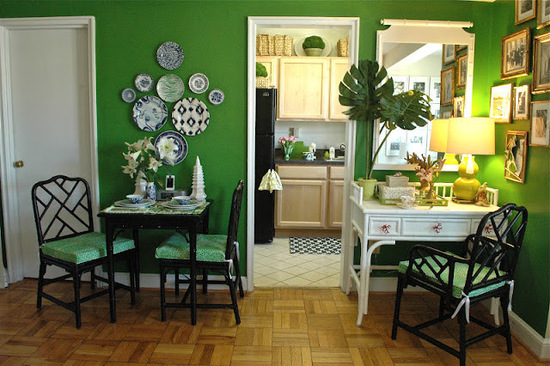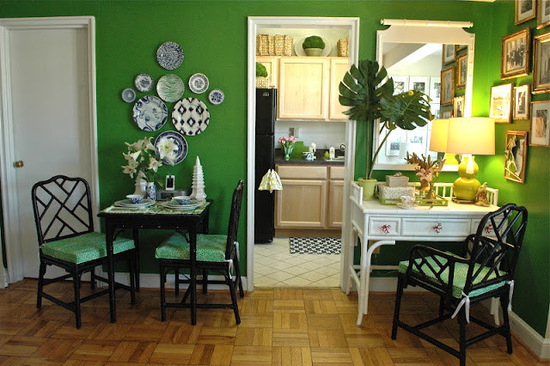 Traditional bedroom with a bright pop of green on the walls, painted a similar color to wall color is Ralph Lauren Lime green.
Green walls with gold sunburst mirror.
Inspiration for a contemporary enclosed family room in Columbus with white walls and light hardwood floors. Great Kelly Green armchairs.
Paint colors


Decorate your home with these Kelly Green soft furnishings and bedding!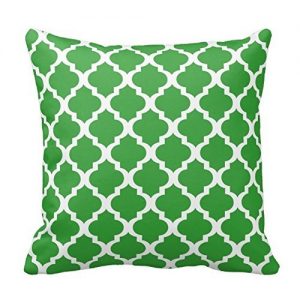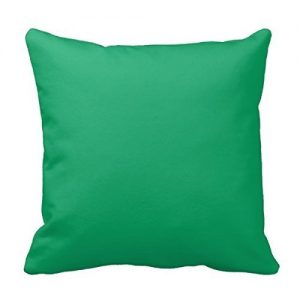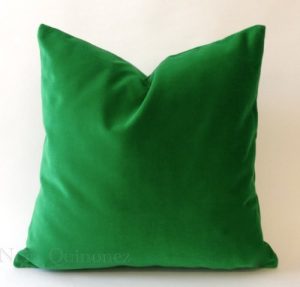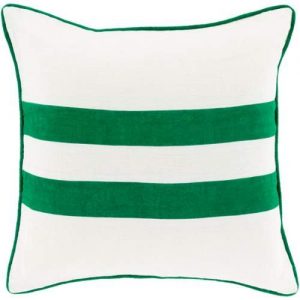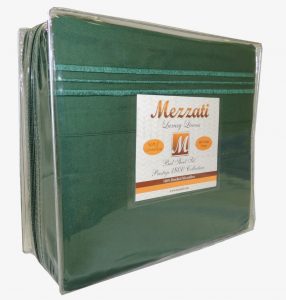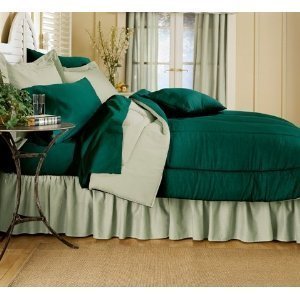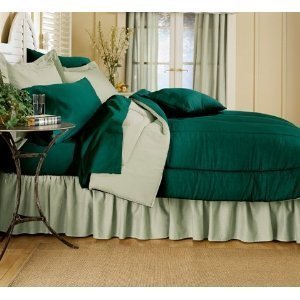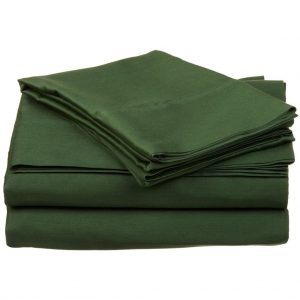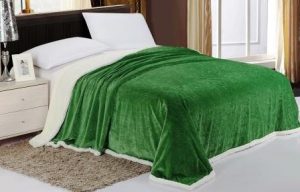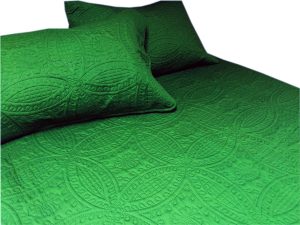 More Great Looks Like This