Kitchen Trends for 2022. We are seeing monochromatic palettes, white walls, Hamptons styles, minimalist styles, marble, wooden and tile chevron floorings and more.
Monochrome and Palette Kitchen Trend 2022
The kitchen is the heart of the home, and when it comes to creating a timeless space, opting to forgo colour for a classically monochrome palette is always a good choice. In this kitchen by @katewalker_design, a sweeping stone-clad rangehood makes a timeless statement. ⁠
⁠
"While it is a very classic way to design a rangehood we made it look ultra-modern through the scale of it, taking it from head to ceiling height," says the designer.⁠
⁠⁠
Photography: @armellehabib⁠
Styling: @greenhouseinteriors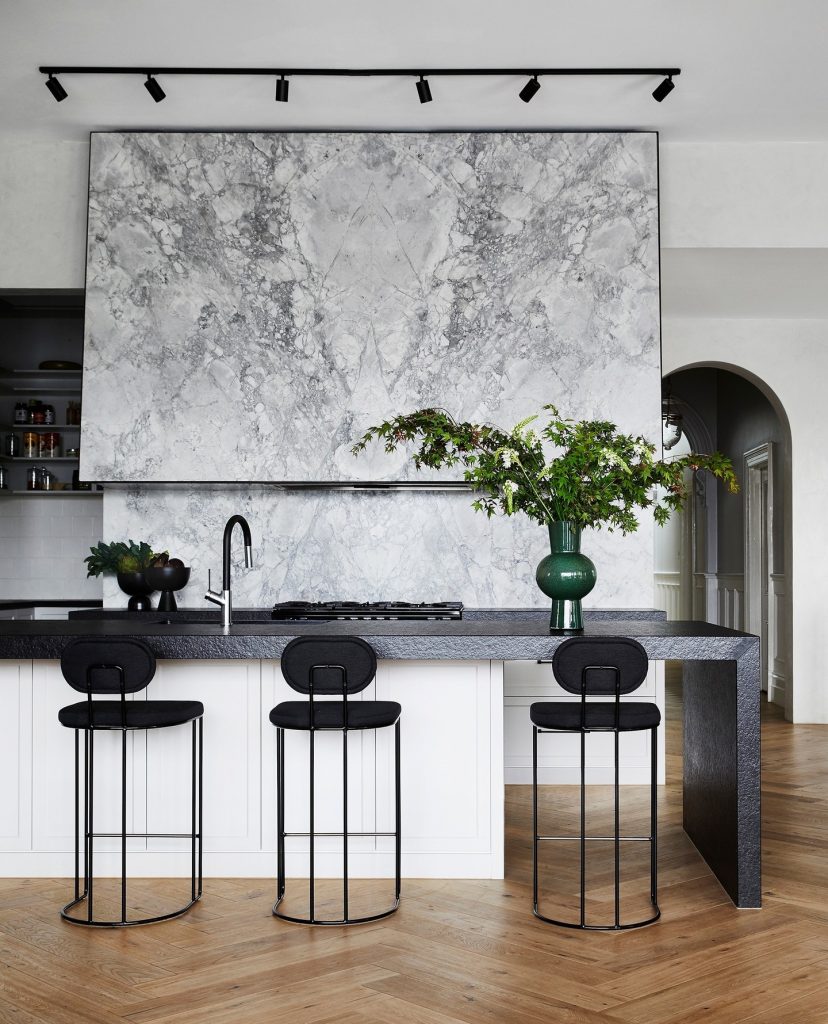 You can opt for a monochrome look that is awash in whites and greys like this refreshing modern open plan kitchen.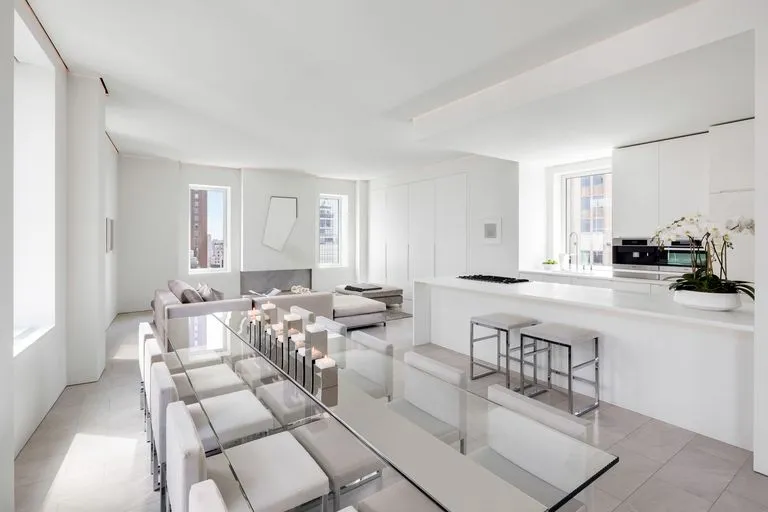 Hamptons Style Kitchens
Symmetry is a hallmark of the KWD design philosophy, and the "Newport" kitchen is no exception. Incredible joinery by @dma_kitchens brings a traditional Hamptons flavour to the kitchen space. We separated the lower storage drawers from the overhead cabinets to provide a beautiful display solution for white stacked plates, bowls and jugs, all styled en masse yet clutter-free.

The beautiful island bench was designed to feel like a piece of furniture, highlighting the perfect shade of navy, classic panelling detail, and a Carrara marble bench top.

With the addition of a vase of flowers, a bowl of zesty lemons, and divine Vincent Sheppard Oak Lily Counter Stools (pictured) from our friends at @classicwithatwist, this space is set to become the perfect haven for entertaining and family connection.

Build @montiqueconstruction
Development @bennettwilliamsau
Hard finishes @kwdandco
Photography @davekulesza

Kate Walker Design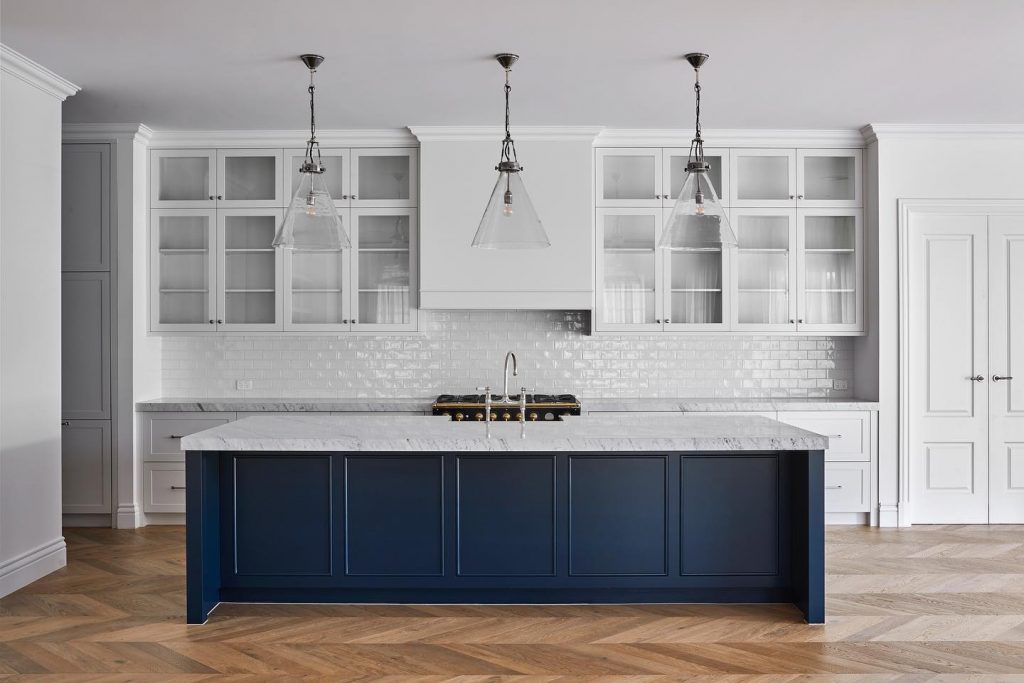 Clean, crisp, and classic. The "Newport" kitchen exudes a Hamptons ambience that both cocoons and transports. ​​​​​​​​
​​​​​​​​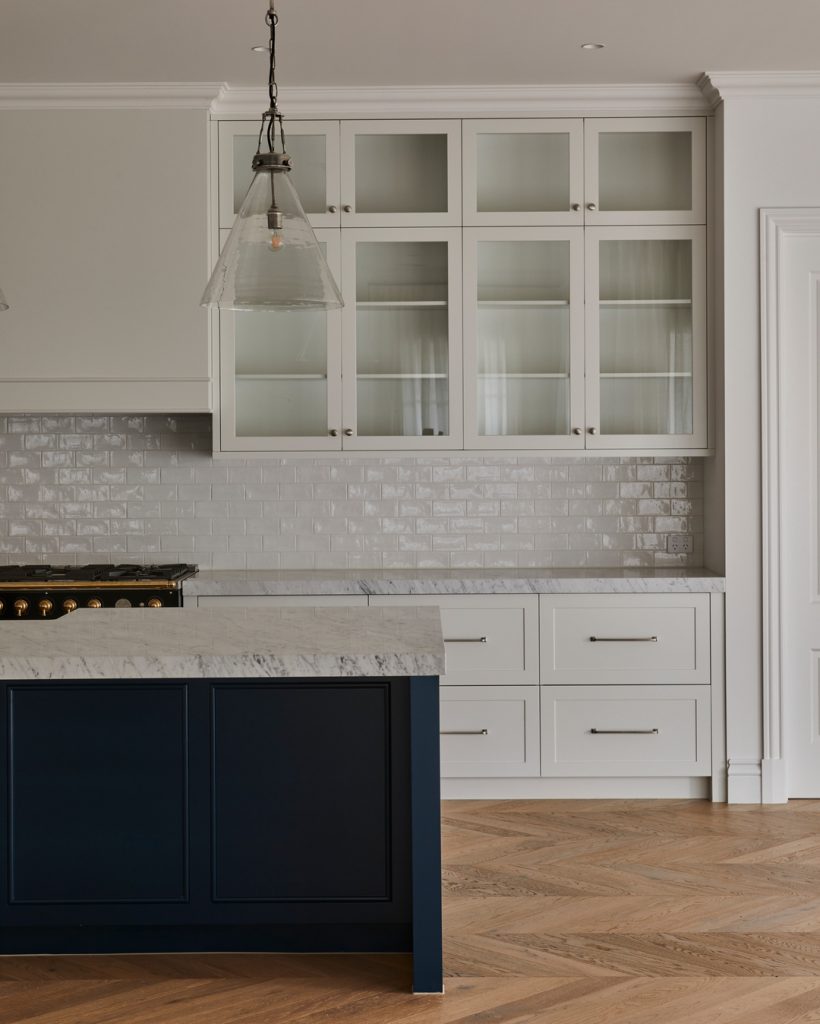 "he grounding piece of the kitchen zone at "Newport" is the KWD & Co. Chevron Oak timber flooring. Heavenly texture and tone meet tactility and practicality to provide the perfect specification for this Hamptons-inspired project home. Beautifully contrasted by navy and white joinery and elevated by ethereal white linen sheers, I absolutely love the way they command attention in this space.​​​​​​​​"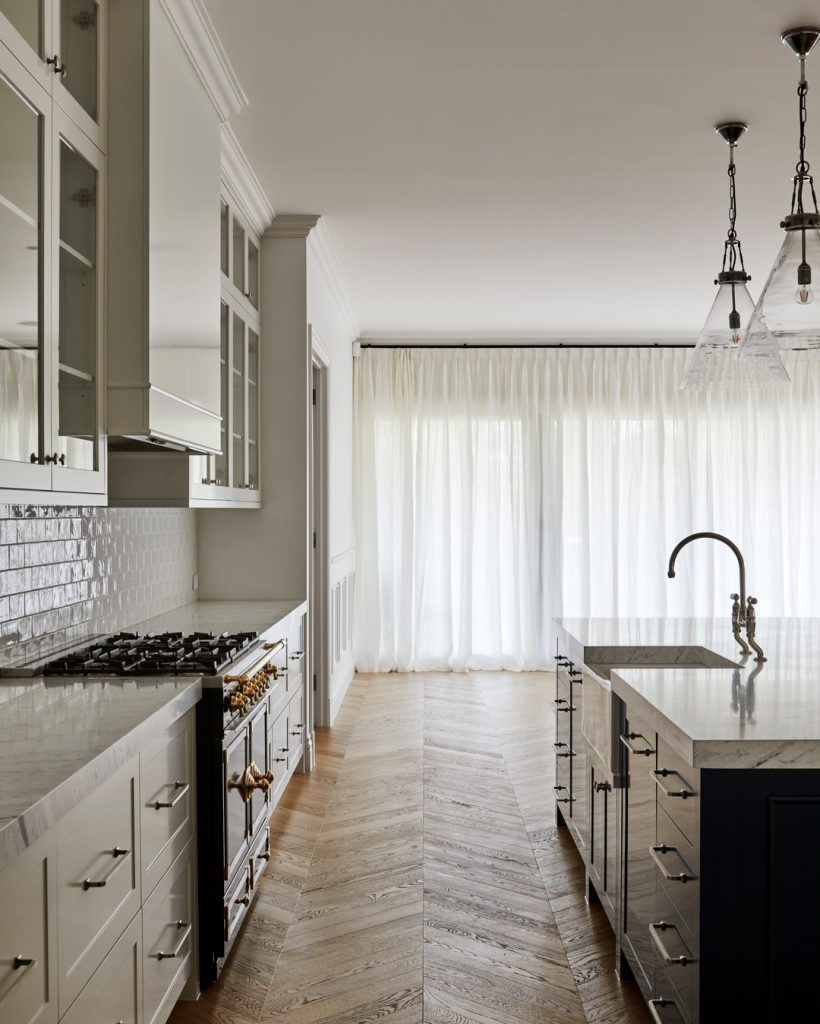 Blue Painted Kitchen Cabinets
This popular trend is still going strong, painting your kitchen cabinets and or kitchen island anywhere from a cobalt blue to navy.
"The clients adore navy and white, so it was only natural that this would be the palette we worked with," says interior designer Kate Walker of this delicious 6.7x3m kitchen. In renovating their circa-1910 home on Victoria's Mornington Peninsula, the homeowners were keen to pay homage to the era. As avid foodies, they were seeking a serious cook's kitchen. "And as parents of three young children, they wanted it to be a place where the family could congregate while meals are prepared."

Homes to Love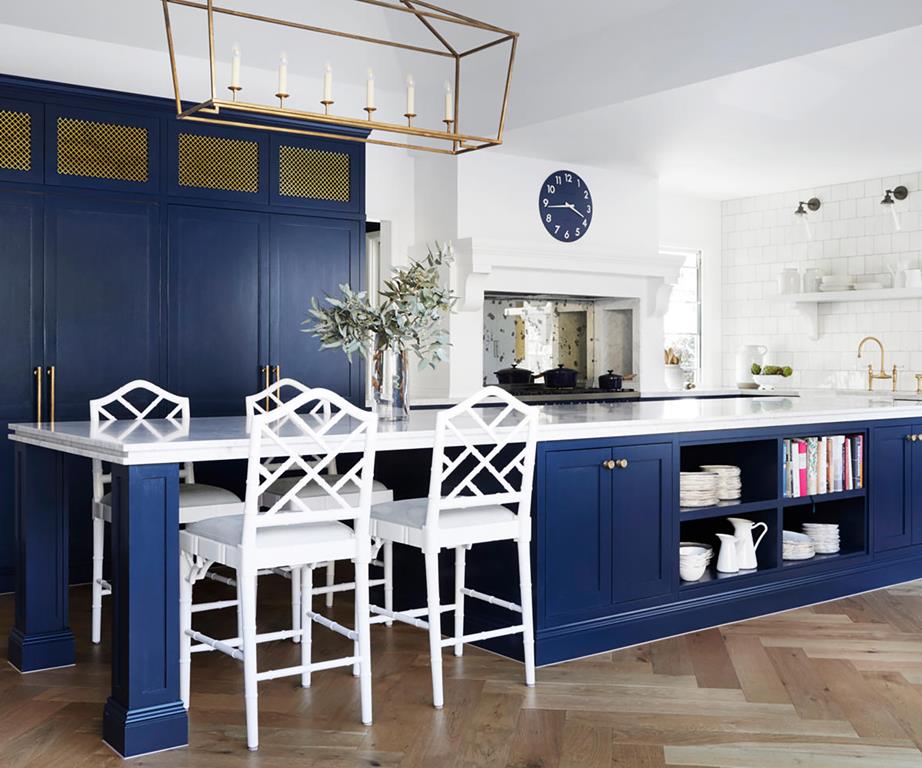 Solid brass T-bar handles and knobs and a kitchen mixer in satin brass add warmth and work tonally with the European oak herringbone flooring.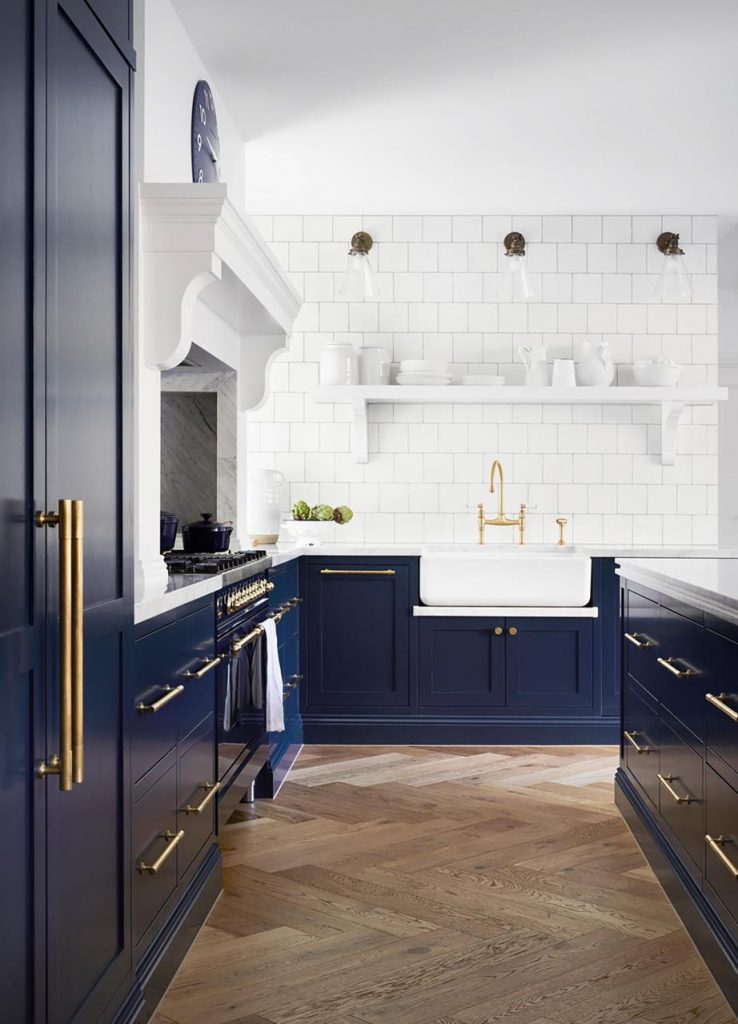 "It's not true navy," says Kate of the colour, Dulux Pacific Line. "It's a chameleon and changes with the light. It's iridescent blue in the morning light and turns dark navy/charcoal at night. Pairing it with white was the obvious choice – it allows the blue to shine."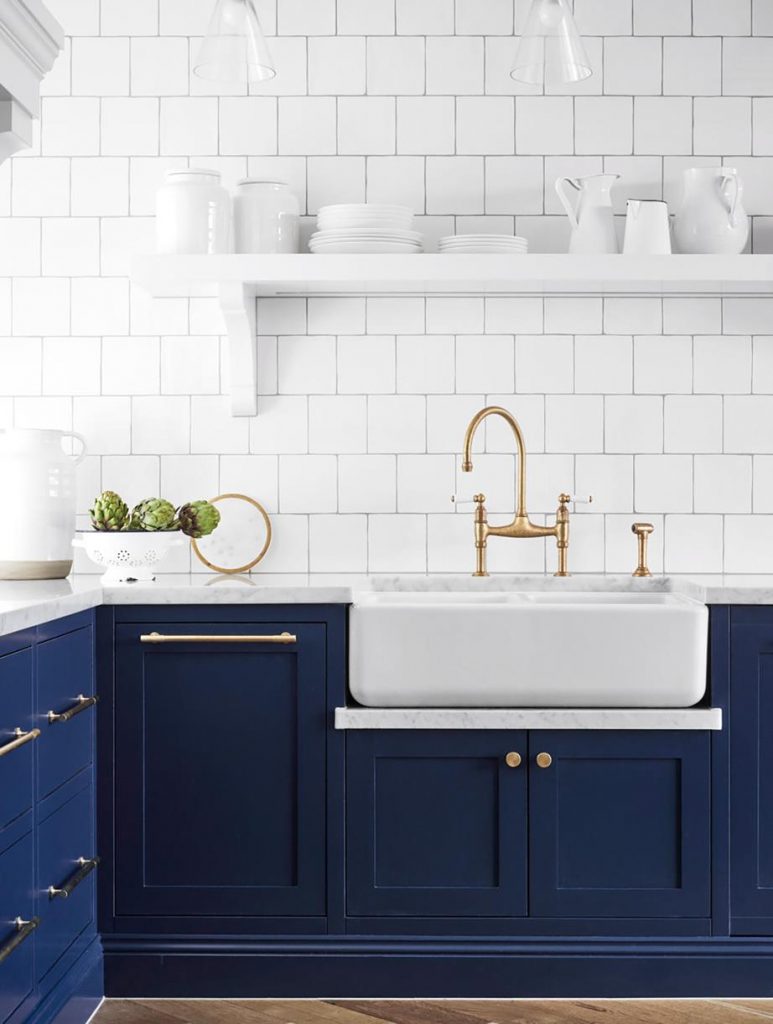 Marble Kitchen Trend
Whether it's real marble or marble look stone, the veiny marble look is in!
Carved from a striking hunk of gray Bianco Gioia stone, the audacious design features a gravity-defying counter perched on plinths of marble stacked in a jagged-edge arrangement. The result may look like minimalist sculpture, but it's not just for show. The island is fully kitted out with everything from drawers to power outlets.

Elle Decor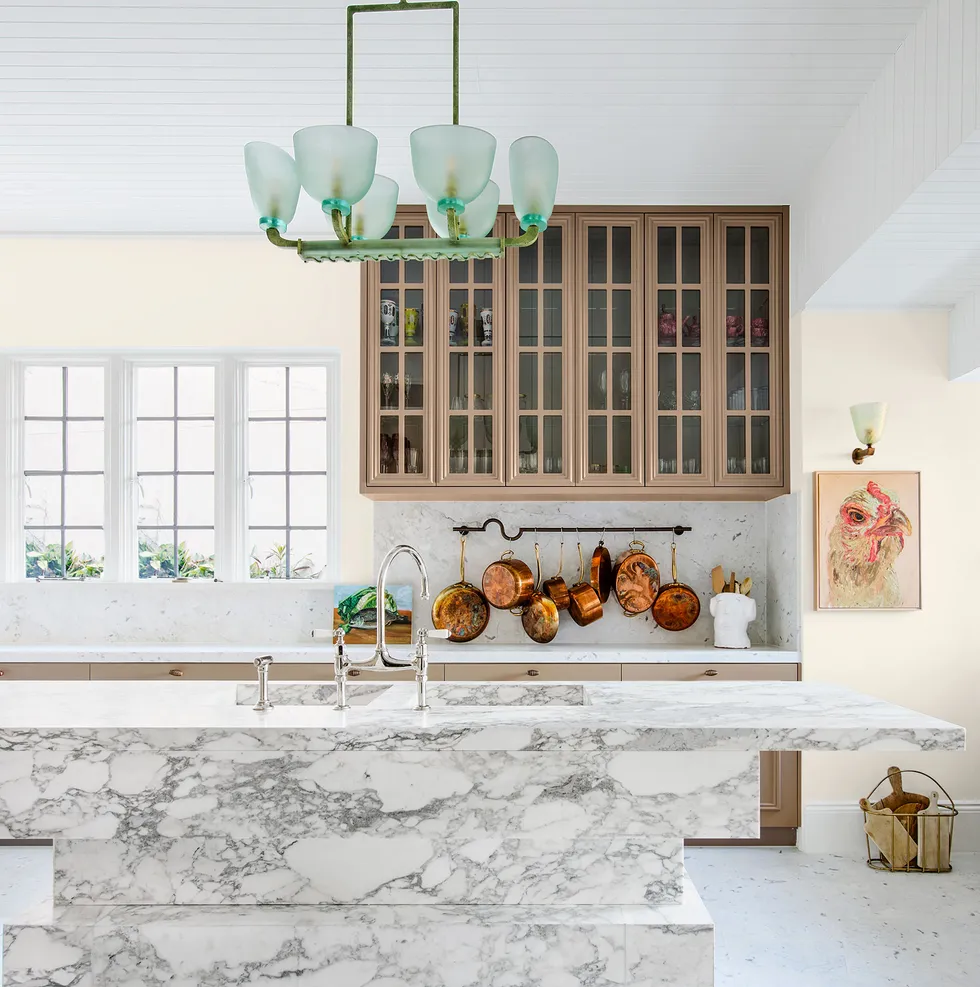 An all white kitchen with with marble waterfall island and marble splash back. This is the look of the modern kitchen in 2022.