Red Cabinets Vintage Country Styled Kitchen
Get inspiration for capturing the past in a vintage-style kitchen makeover.
Ree and Ralph Edwards transformed the tiny, dated kitchen in their 1950s Georgia lake cottage into a bright, functional space filled with light, splashes of color and retro details. Here's how they did it:

• Mix and Match: Pair authentically old pieces, such as the soda fountain counter in this kitchen, with new cabinetry. Painted finishes and old-fashioned drawer pulls on the newer pieces complement the timeworn appeal of the antiques and add a bit of color.

• Aged Appearance: Sometimes you can't find the appropriate antique with modern functionality, so look for newer items with a vintage look. That's what Ree and Ralph did for much of the kitchen lighting, including the pendants above the island and the sconces in the sink area. The couple also installed a new farmhouse sink with distinctive legs.

• Wide-Open Spaces: If you can, open up a small area by removing walls or doing a bump-out addition. Changes like these can enable you to completely transform the flow of the room and improve the workspace. Using minimal window treatments can also make a space seem bigger and brighter.

• In the Zone: If more than one cook will be using the kitchen, create separate work zones. The Edwardses added a bar sink to the soda fountain counter, making it into another food prep zone as well as the perfect serving spot. The sink area and the island offer more options for preparing and cooking food.

• Savvy Storage: Seek out unique ways to contain kitchen clutter. With no upper cabinets, Ree and Ralph needed more storage. They inset shelves and nooks into the walls, incorporated storage into the island base and utilized drawers in antique furnishings. To supplement those options, they created a pantry room built around cabinets and shelving from an old country store.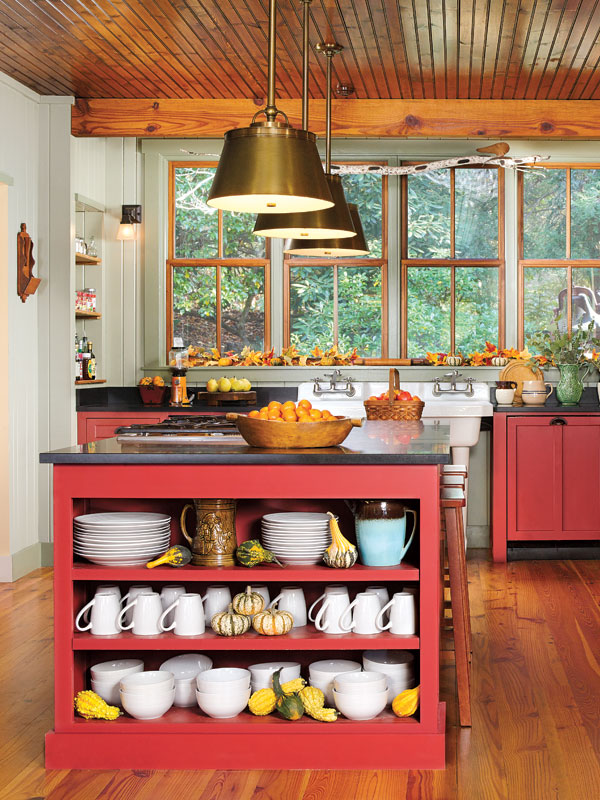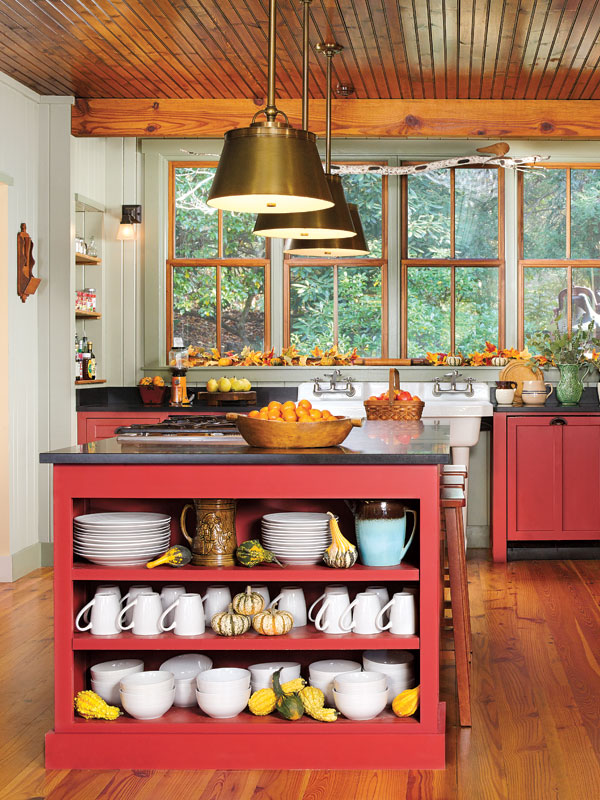 Written by Lisa Sloan
Photographed and styled by Gridley + Graves
This home was featured in the article "Getting Away from It All" in Country Sampler's September 2015 issue.
Red painted kitchen cabinets, wood paneled ceiling, timer floors, country kitchen.