Red Kitchen Design ideas and various ways of using ted in your kitchen. Red is the color of passion, love and fire. Red may bring up ideas for you of fire engines and red lipstick, but you probably might shy away from it when it comes to kitchen remodeling ideas, options and solutions. But, with the right planning and styling, red can offer a solution that makes a statement in a tasteful way.
Red is a good choice for the kitchen as it stimulates the appetite and passion for food, meaning that a red kitchen will surely turn into a families favorite gathering place.
An open kitchen, which flows effortlessly into the living and dining room, features stainless-steel appliances, quartz countertops, and striking red lacquered cabinetry.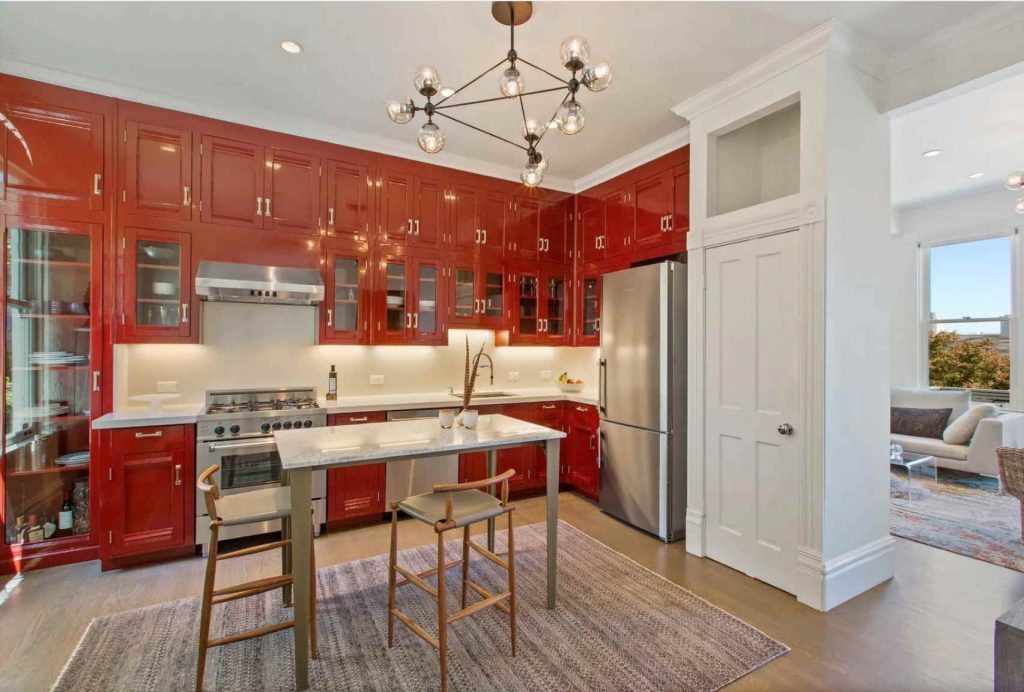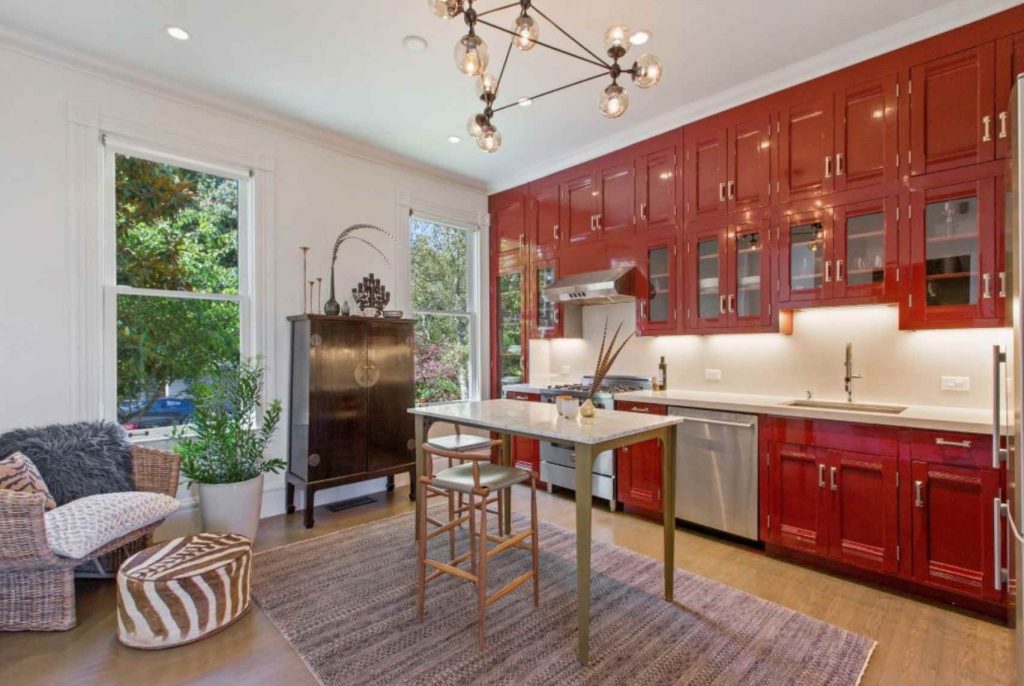 You can use bigger swathes of red like the kitchen above by painting the kitchen cabinets in red, balance the red with white and neutral tones for the backsplash and countertops. Alternatively, you can just add small doses of red through the backsplash, light fixtures, curtains, dishes, chair, rugs, etc.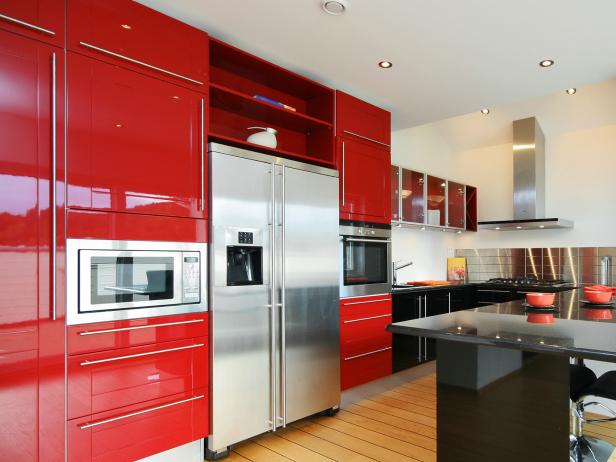 Red Kitchen Walls
Red paint can be an affordable way to add a fresh feel to your kitchen. If you have a kitchen in neutral colors like the one below, by painting the kitchen walls in red you have instantly transformed the feel of the room.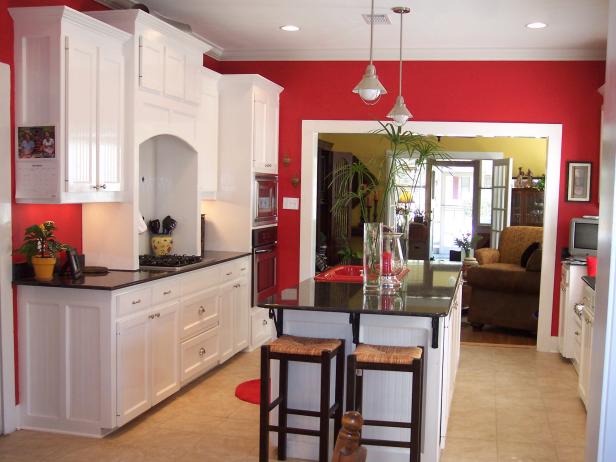 There are many red shades that would work well, from warm cayenne to bright scarlet—and many other options in between. Benjamin Moore Rosy Peach is a great subdued cayenne red that would look great on kitchen walls.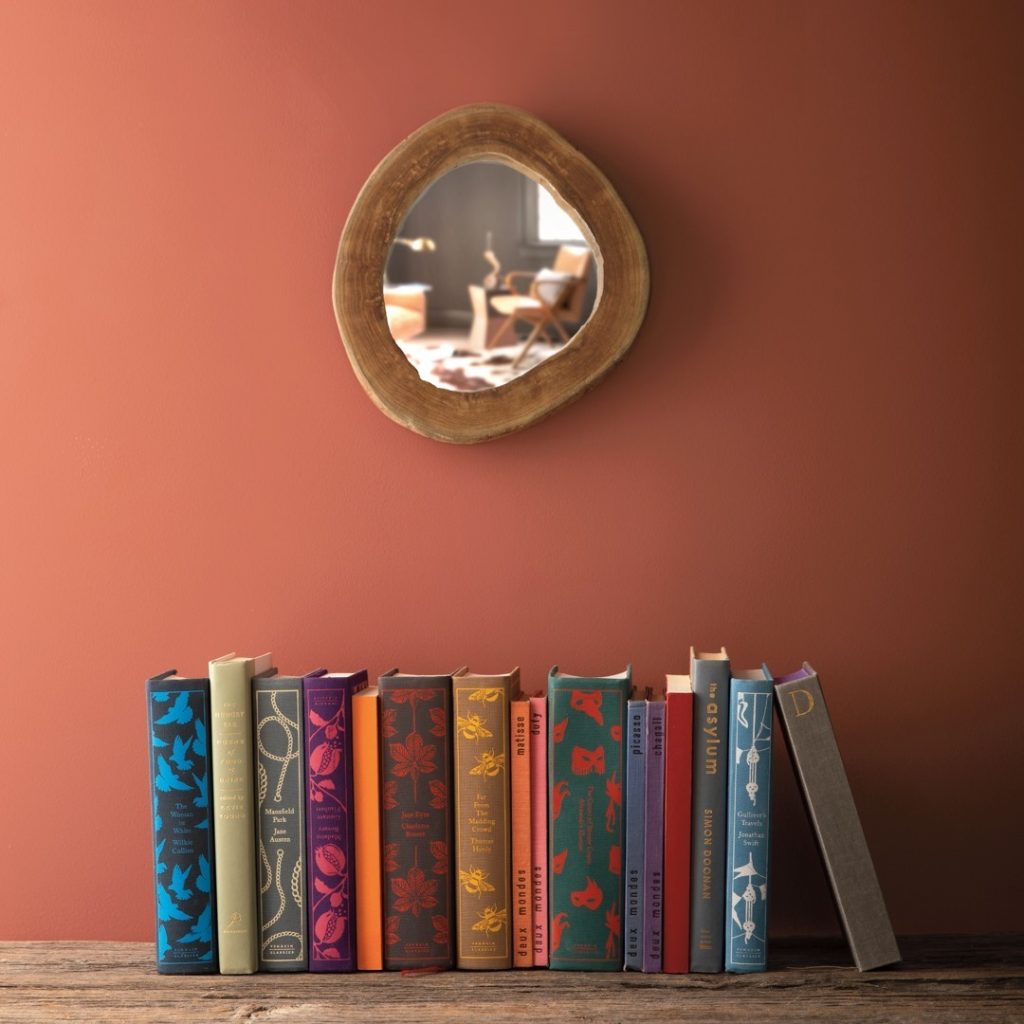 Add sun-kissed warmth to your home with Rosy Peach 2089-20, an accessible blend of red, orange and pink, and a favorite from the Color Trends 2021 palette.
Images via Sothebys, hgtv.com, Benjamin Moore
Red Kitchen Cabinets
Modern contemporary kitchen cabinets in opaque red.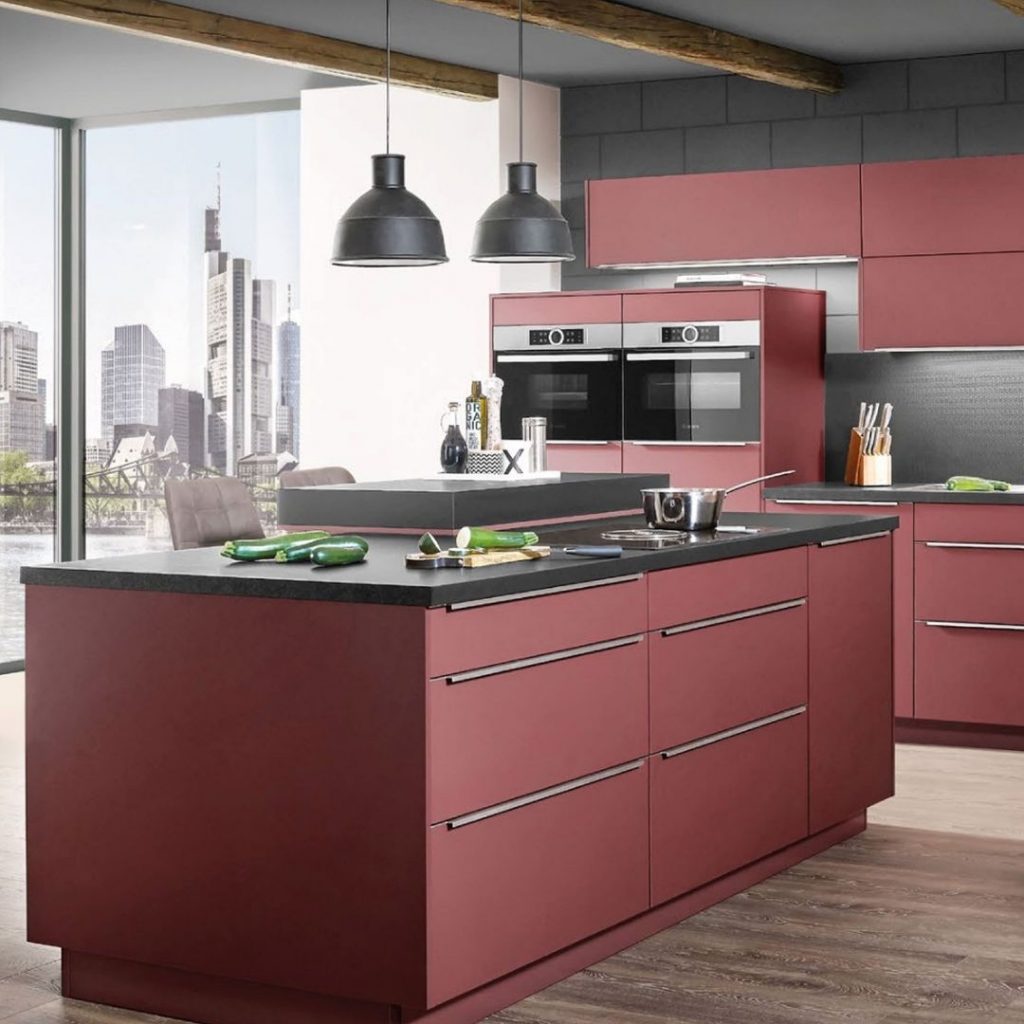 Red Kitchen Tiles
Red tiles used as a backsplash for your kitchen is great for anyone planning a kitchen with red accents.
This stunning kitchen features burgundy red tiles red marble countertops, gold rangehood. This is a great example of a modern red kitchen design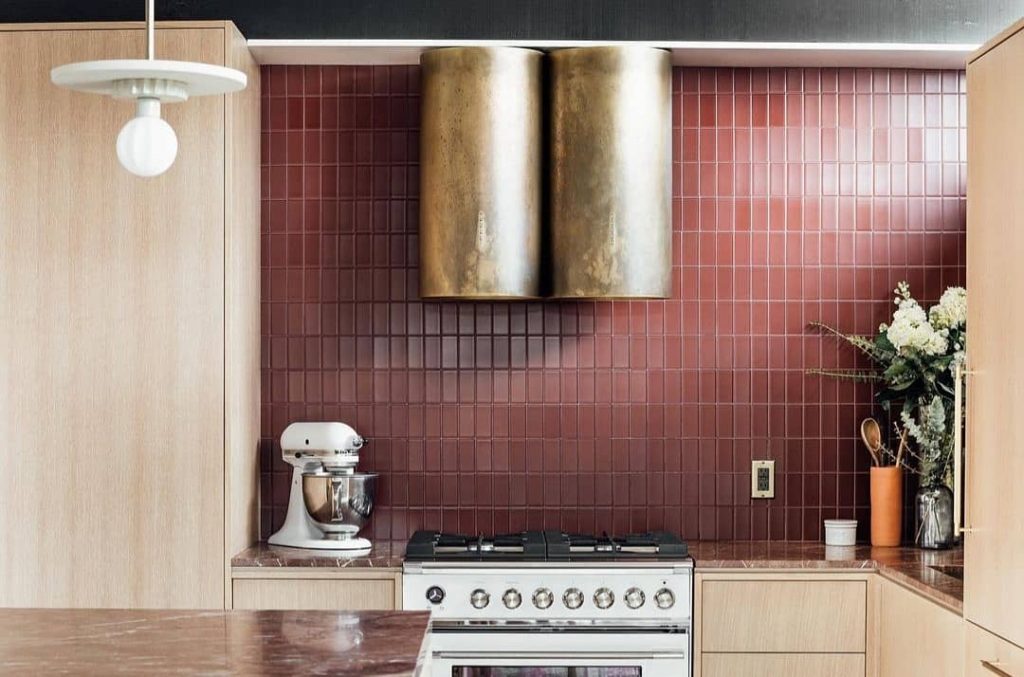 While the classic, high-contrast print that comes in black-and-white isn't exactly for everyone, there are more recent adaptions that you can try in your home like this kitchen backsplash in dark red and white set up against a neutral white kitchen scheme.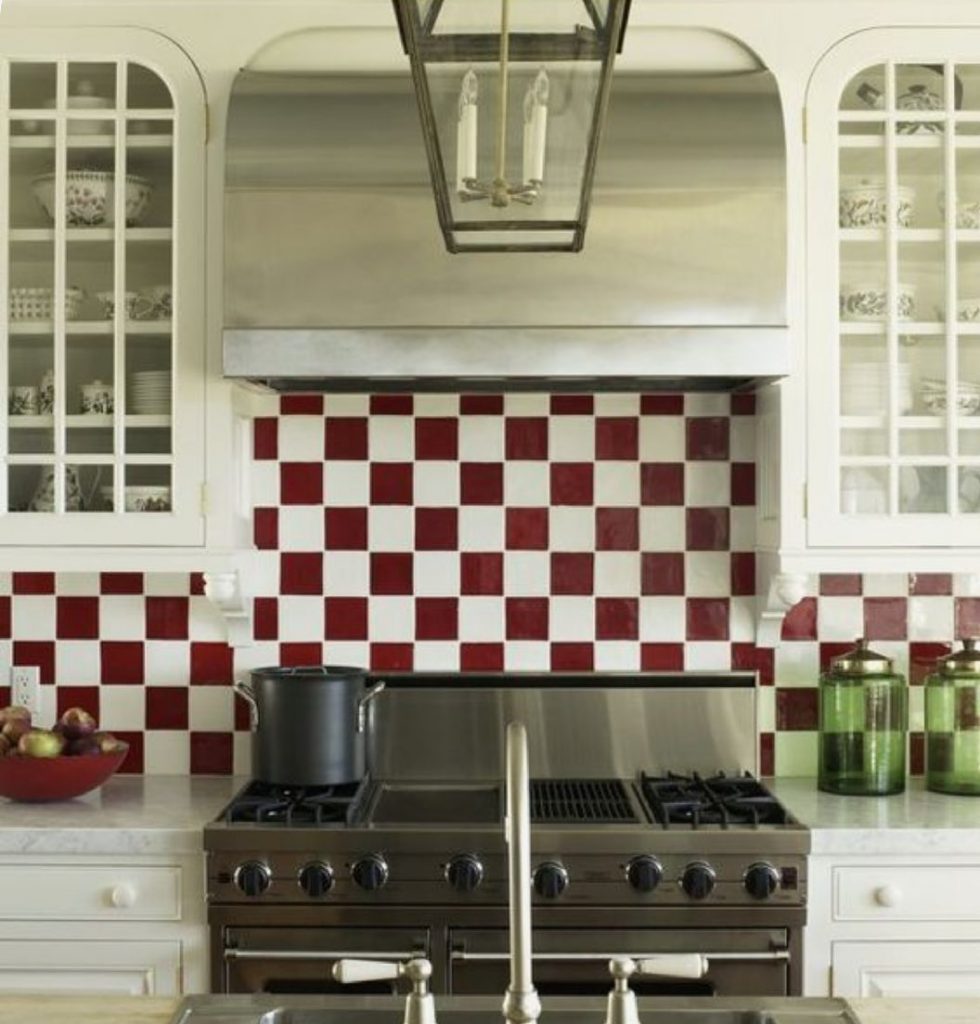 Red Paint Colors for Kitchens
Here are some great red paint color choices for your kitchen from Benjamin Moore. Benjamin Moore Merlot Red, Moroccan Red, Deep Rose, Hodley Red,  Benjamin Moore Red 2000-10 and Benjamin Moore Million Dollar Red.