Retro Vintage Bathroom in Blue & Green
A retro vintage bathroom with a basis in white from the circular mosaic tiles on the floor to the white subway tiles and white cabinets and wainscoting.
What gives this bathroom a retro vibe is the color combination of lime green as seen on the walls and rug and turquoise blue in adornments and towels. The combination  of both the lime green and turquoise in the retro floral shower curtain comes in to tie the entire room together.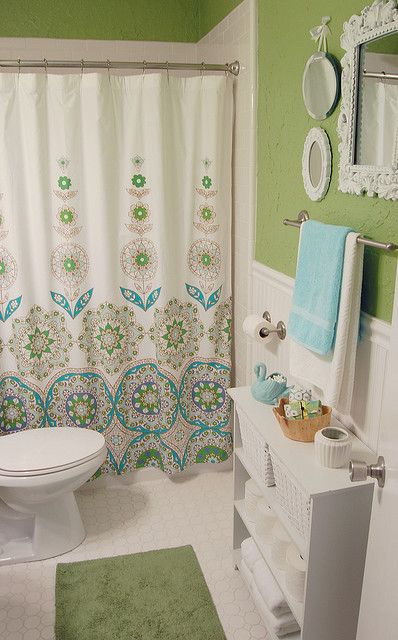 White tiled bathroom with circle motif mosaic tiles on the floor and white subway tiles in the shower, white painted panel wainscoting, textured walls painted in a lime green, retro shower curtain in white, lime green and turquoise with flower and mandala motifs, white framed mirrors, towels in white and turquoise.