Pink Tiles Bathroom Ideas
Pink Tiles Bathroom Ideas you will love, featuring porcelain tiles, subway tiles and marble. Contemporary pink designs that are not overly sweet. Instantly dress up pink tiles with brass or gold hardware.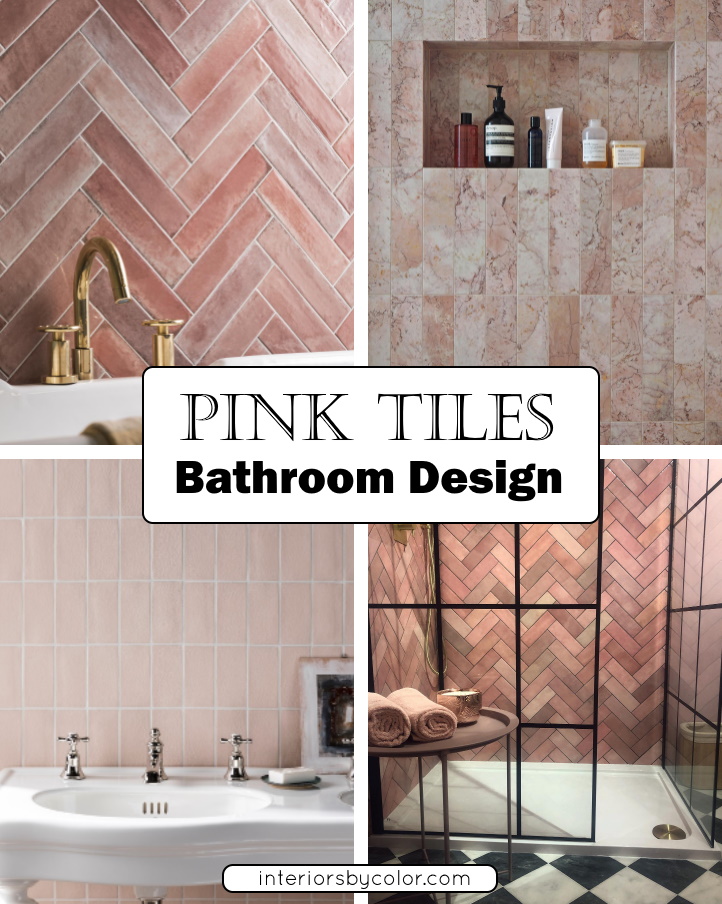 Pink Subway Tiles
Subway tiles are on trend right now. These tiles provide a huge range of possibilities and can be utilized in various different patterns giving you a completely different look.
Stacked: Either vertically or horizontally, this is trendy right now and creates uniformity and a minimalist look.
Herringbone: This draws the eye up, great for bathrooms with high ceilings.
Brick: Comfortable and easy on the eye, a traditional look.
From drummonds_bathrooms this stunning light pink bathroom is reminiscent of Deco era New York, infused with a bold, feminine twist.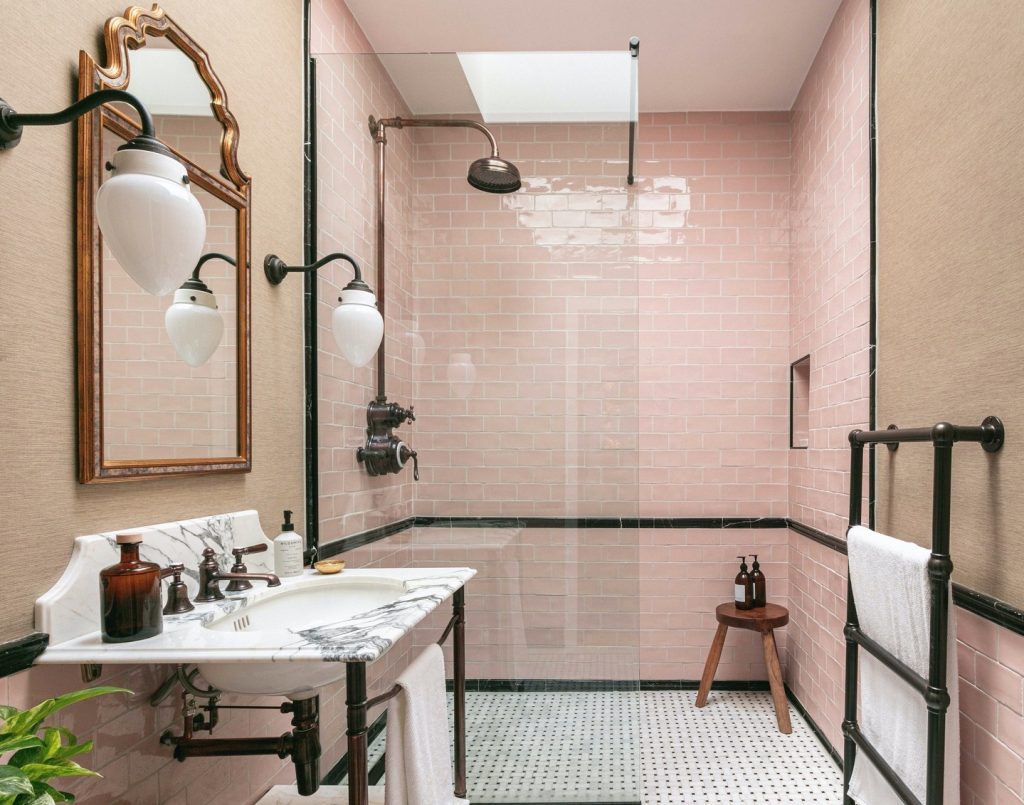 @stokey_abode created this pink bathroom with @bertandmay tiles. These pink subway tiles are laid in the classic brick pattern and are wall to ceiling for added impact.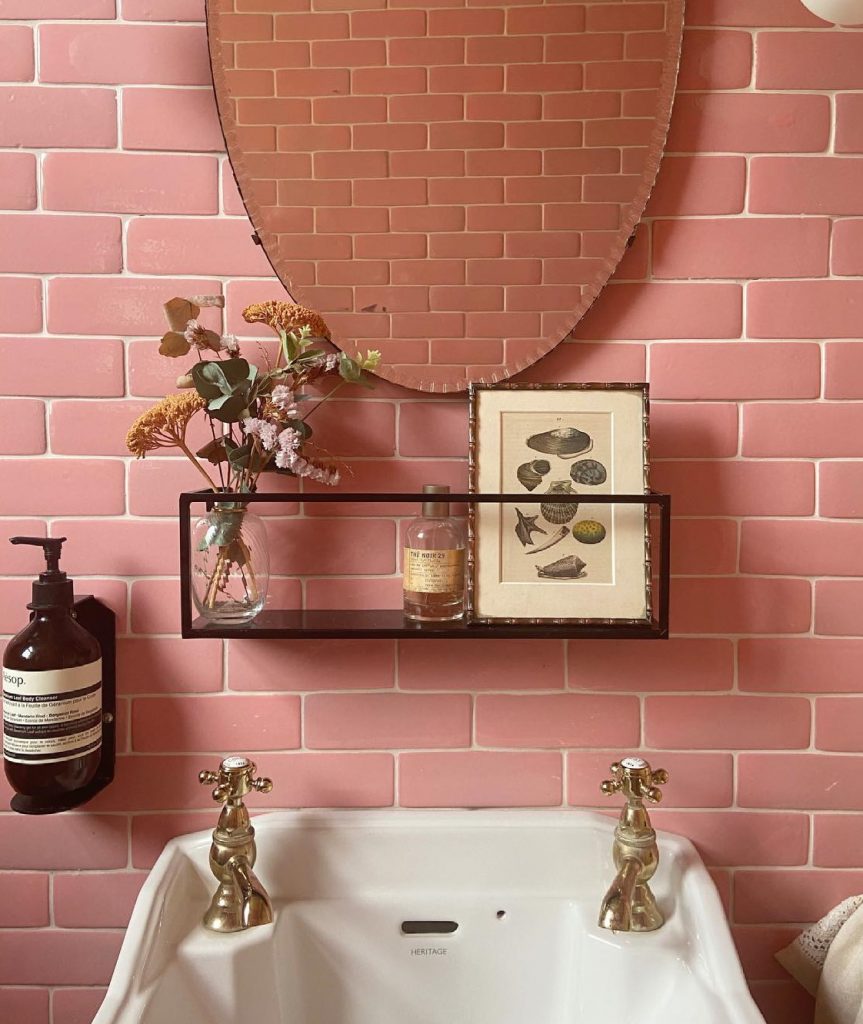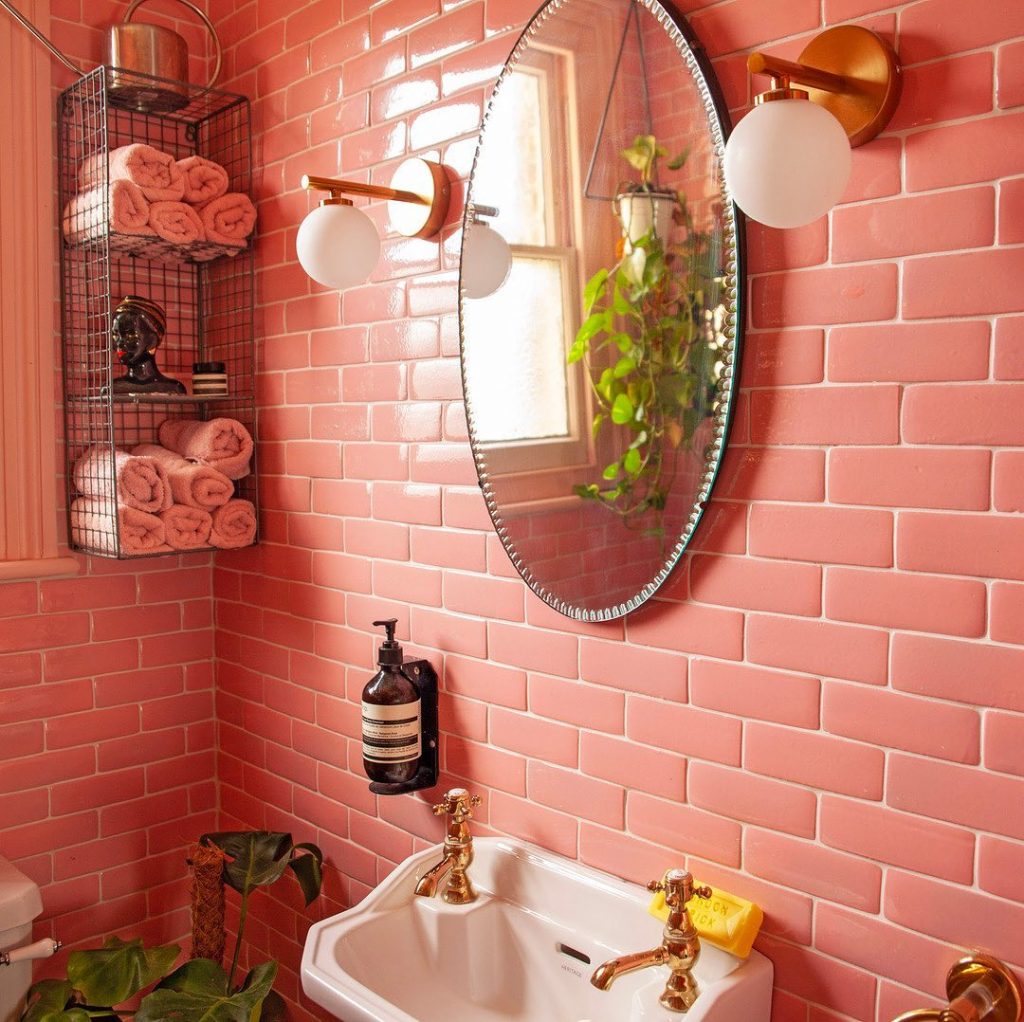 Try stacking pastel pink tiles vertically for a modern look. Pastel tiles by @mandarinstoneofficial.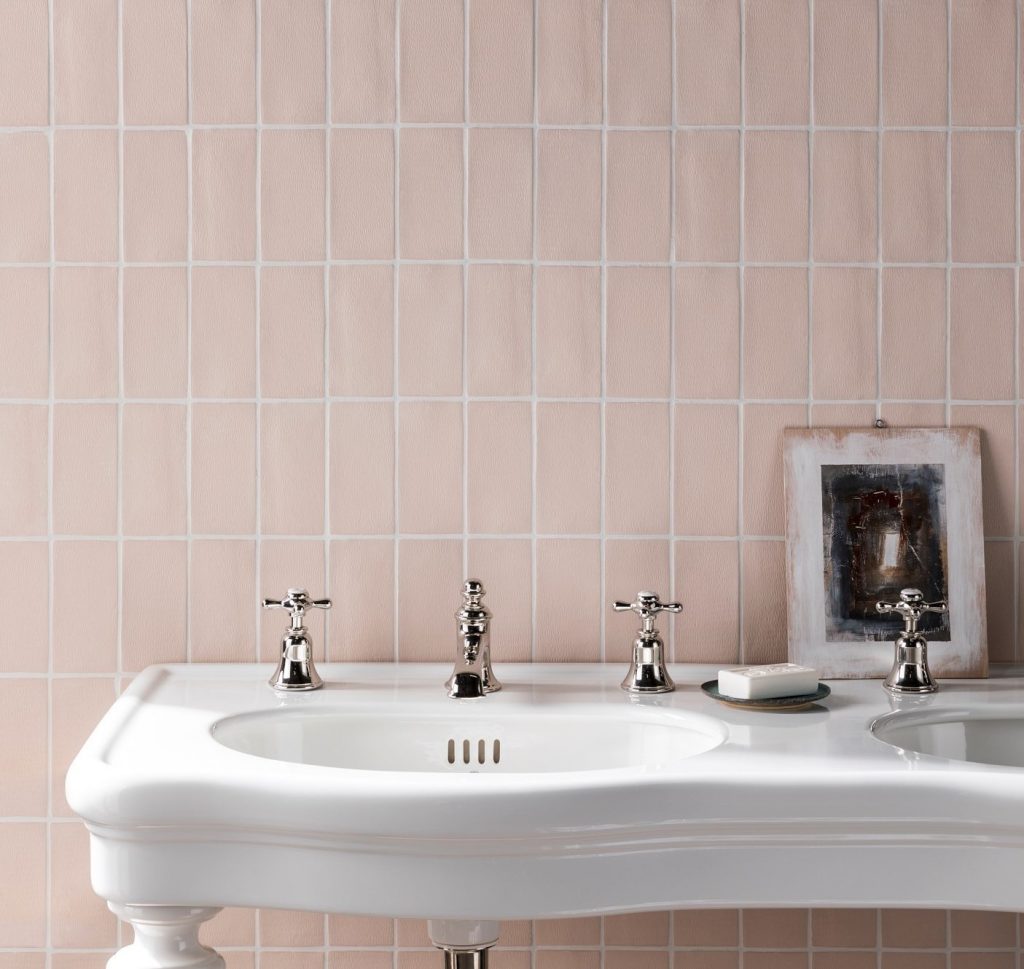 hall__haus places the pink subway tiles in a herringbone manner, creating a stunning modern effect. Floor to ceiling tiles in the shower draws the eye up adding height to the space.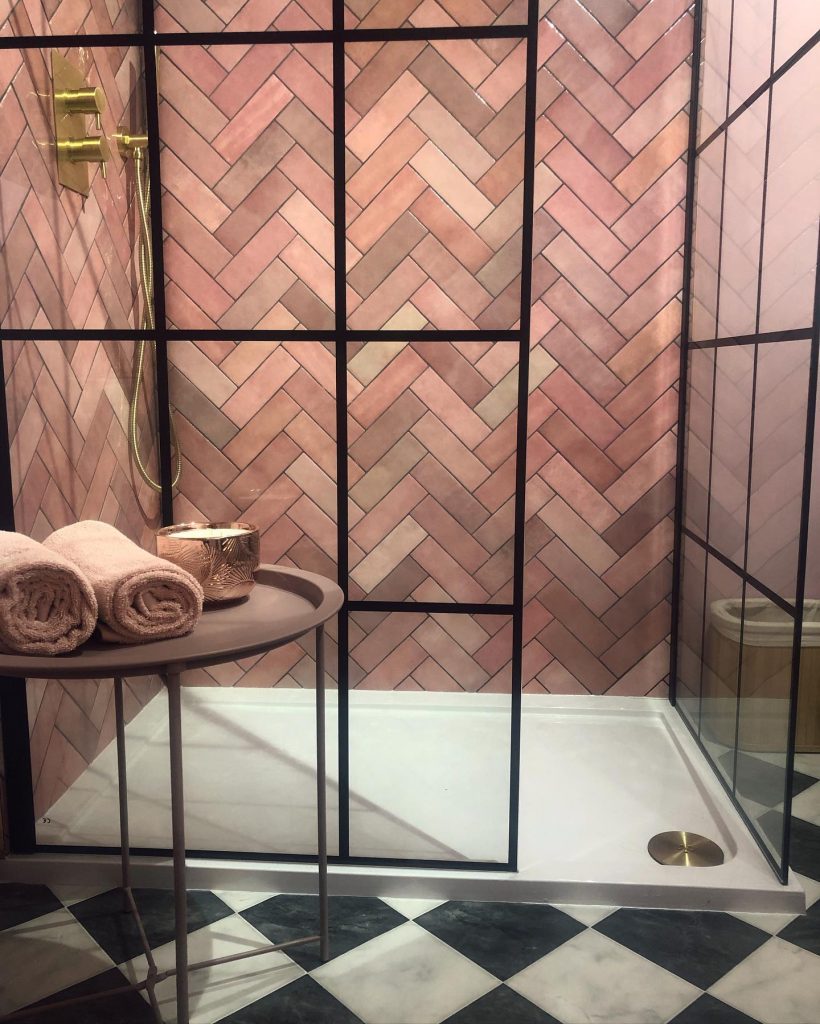 Gorgeous pink decor inspo for the bathroom that is done in a tasteful way with black and white diamond pattern floors and brass hardware.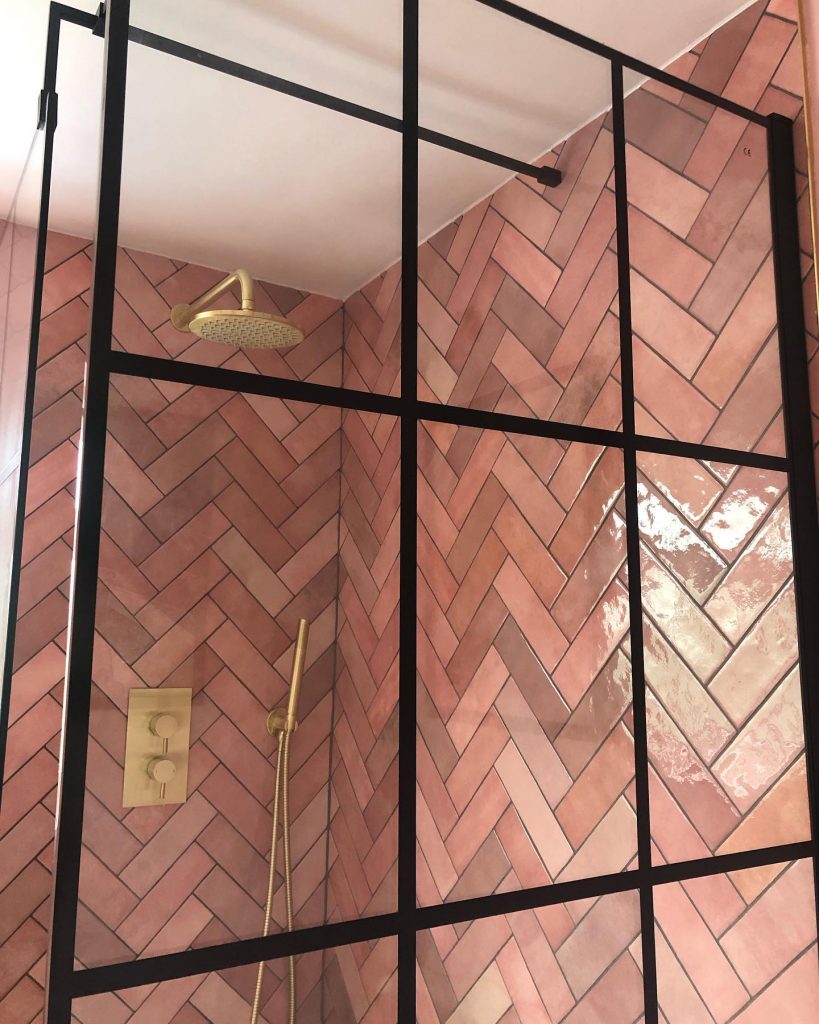 Pink porcelain tiles arranged in a herringbone pattern combined with gold hardware creates a gorgeous warm and inviting bathroom atmosphere.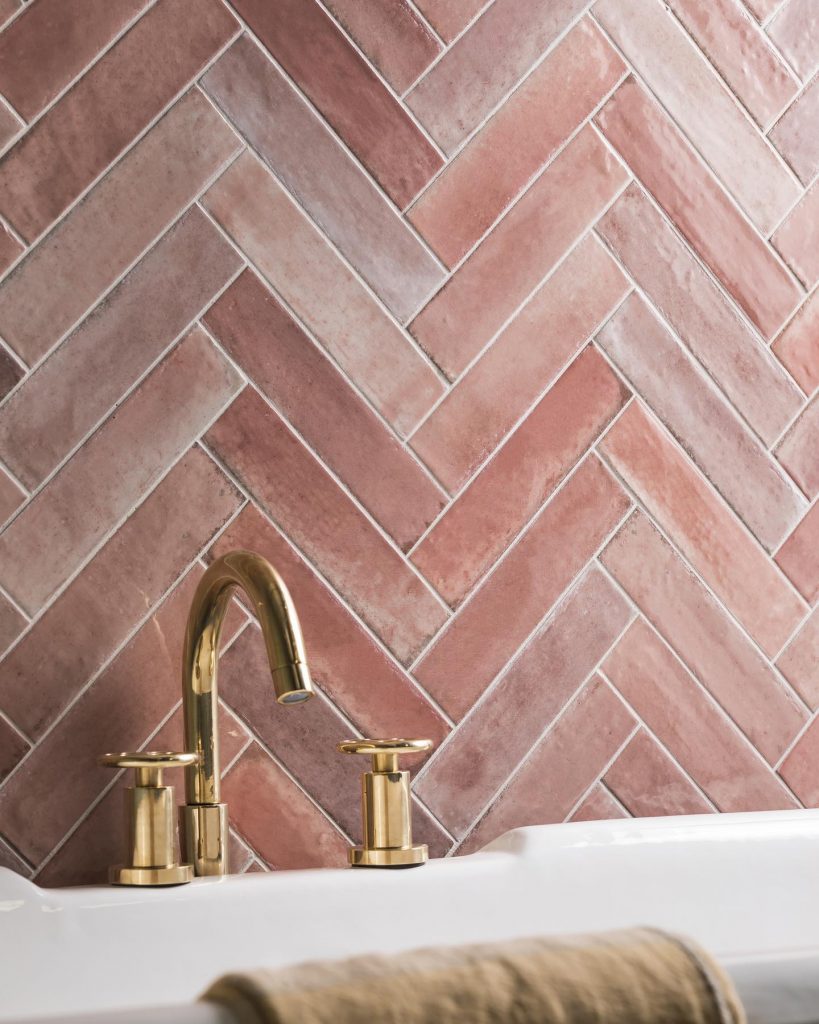 Niche in your bathroom vanity and highlight with FAB tiles. A relatively easy way to add glam and a unique focal point in your bathroom renovation.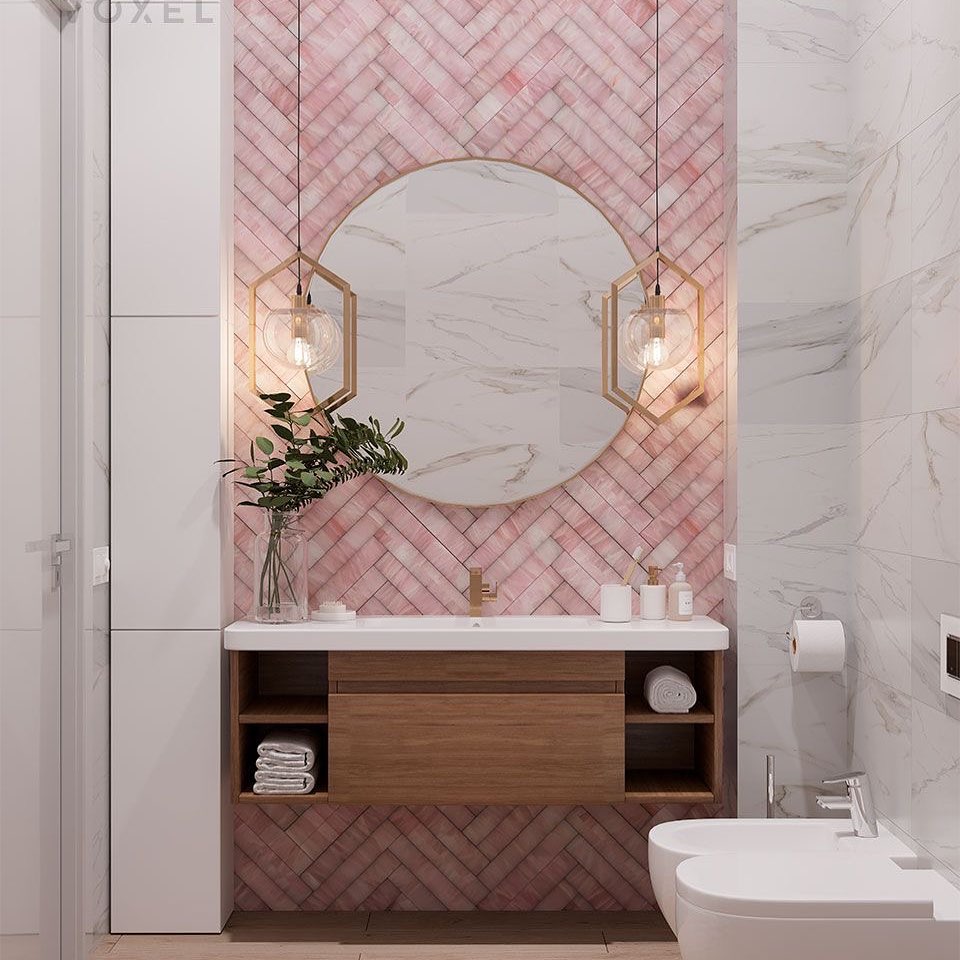 Pink Marble Tiles
If there's a time for some fun bathroom tiling, it's got to be now! Rose pink marble showcase the glamour and natural beauty of real marble. The perfect fit for those that like a natural look.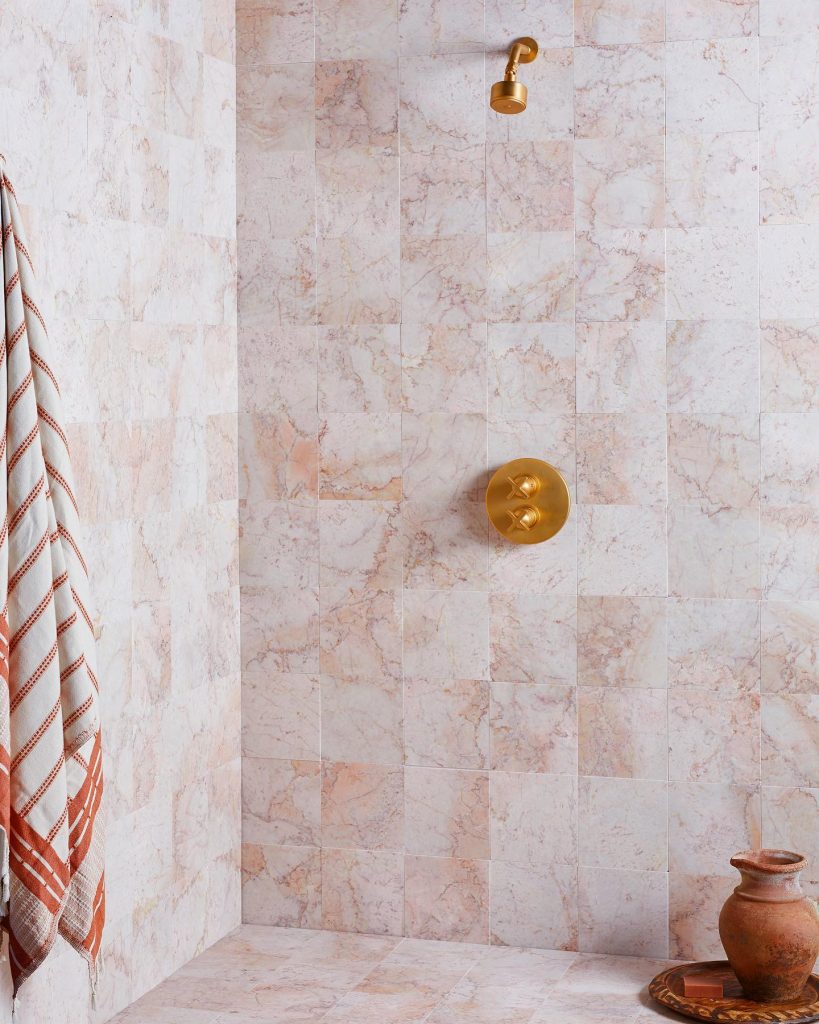 Beautiful pink marble bathroom using Mandarin Stone tiles: "So excited to share this gorgeous bathroom from Bianca Hall @frenchforpineapple
Our Rosalina Honed Marble is the star of the show, with the gorgeous brick format being used for the shower area, together with the fabricated Rosalina top for the beautiful vanity. Our subtle Breton Blanc Terrazzo Effect Porcelain has been used for the floor. We love every aspect of this carefully considered space, each element selected to create a bathroom oozing timeless style & character".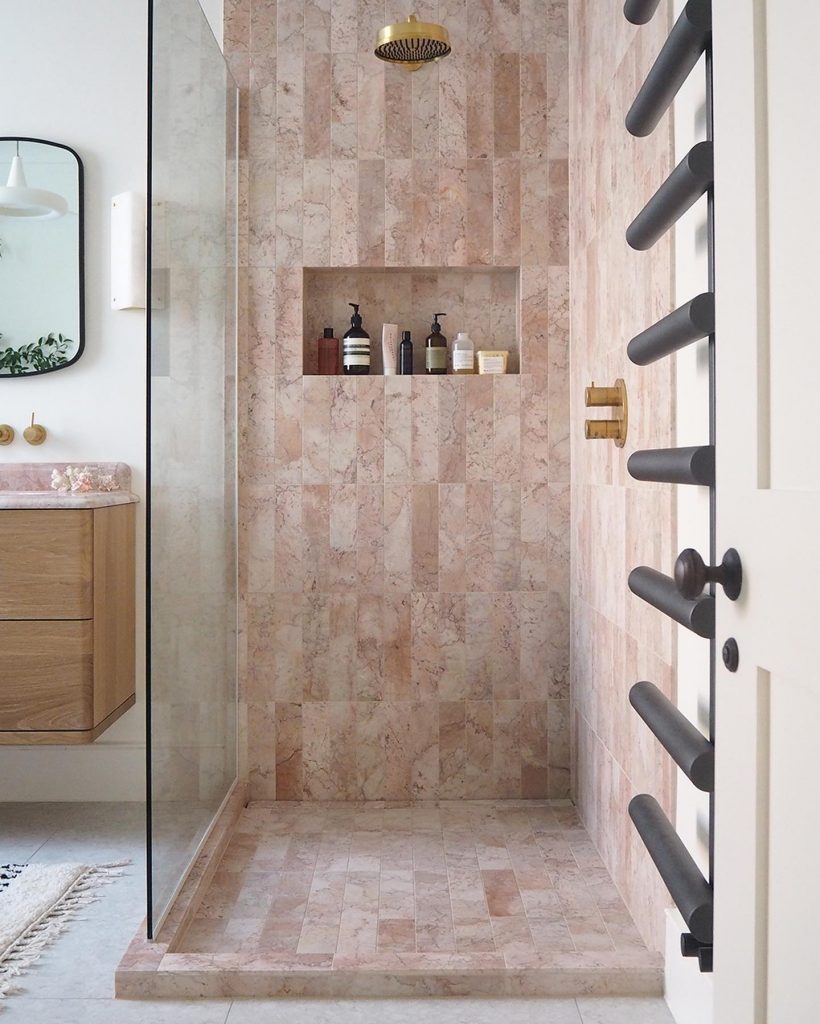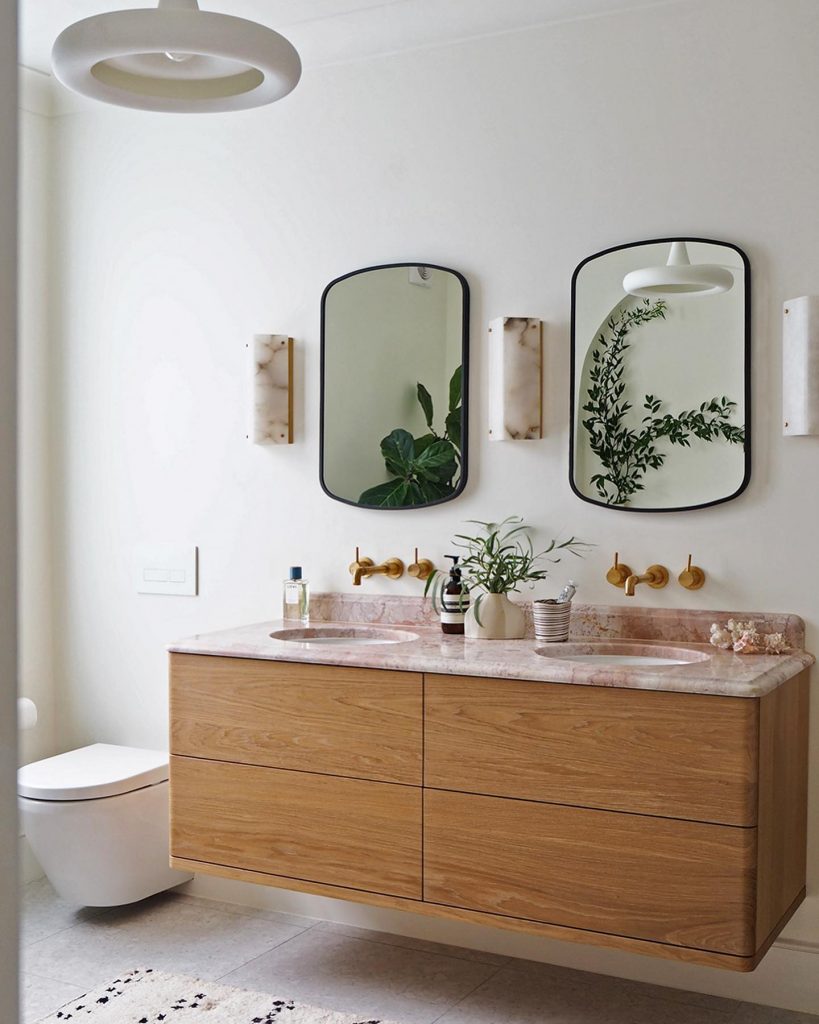 Pink Tiles Moodboards and Color Palettes
An unmatched combination: Blush mixed with a purple undertones brown. The perfect blend for a warm and earthy look. (via Bert & may)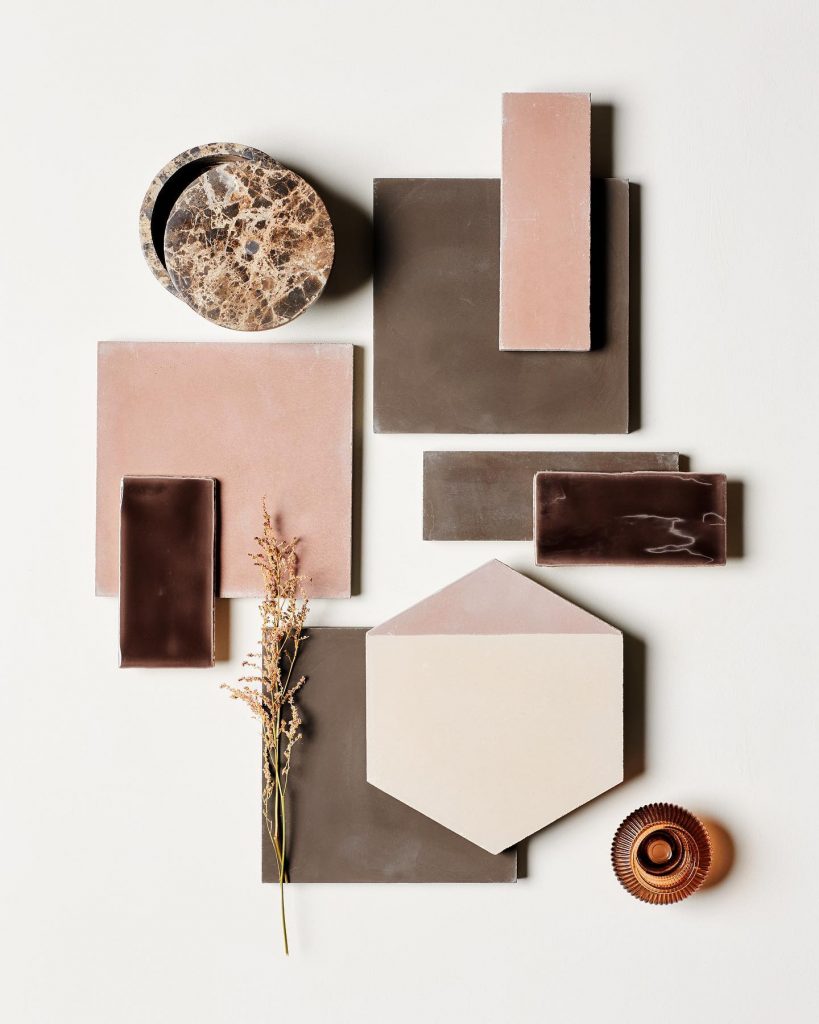 Elegant and delicate, Little Greene's Chemise brings warmth and intimacy to a room, appearing muted and chalky on Bert & Mays signature cement squares, or glamorous and sumptuous with a glazed finish.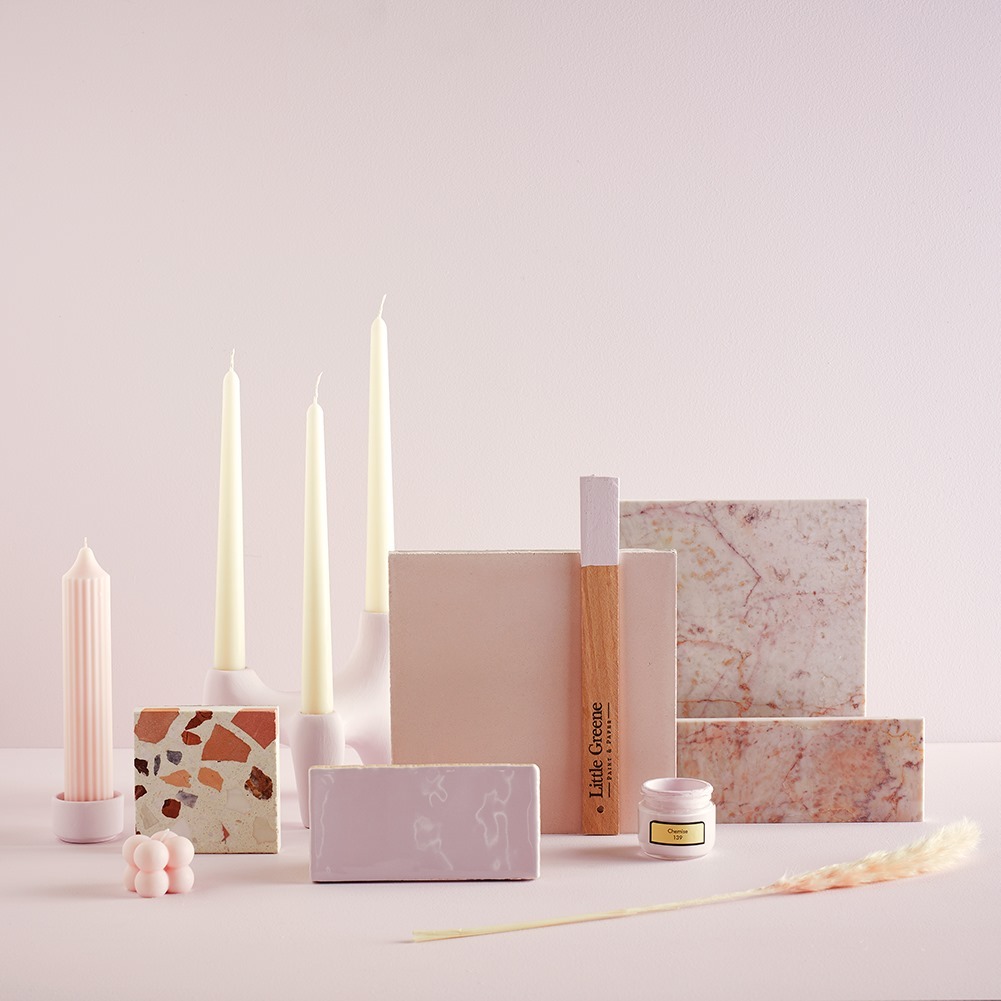 A pink color palette from Bert & May that is simply devine with reclaimed terracotta that gives a natural, rustic charm that will soften any interior. Pick up the pink hues in this for accents.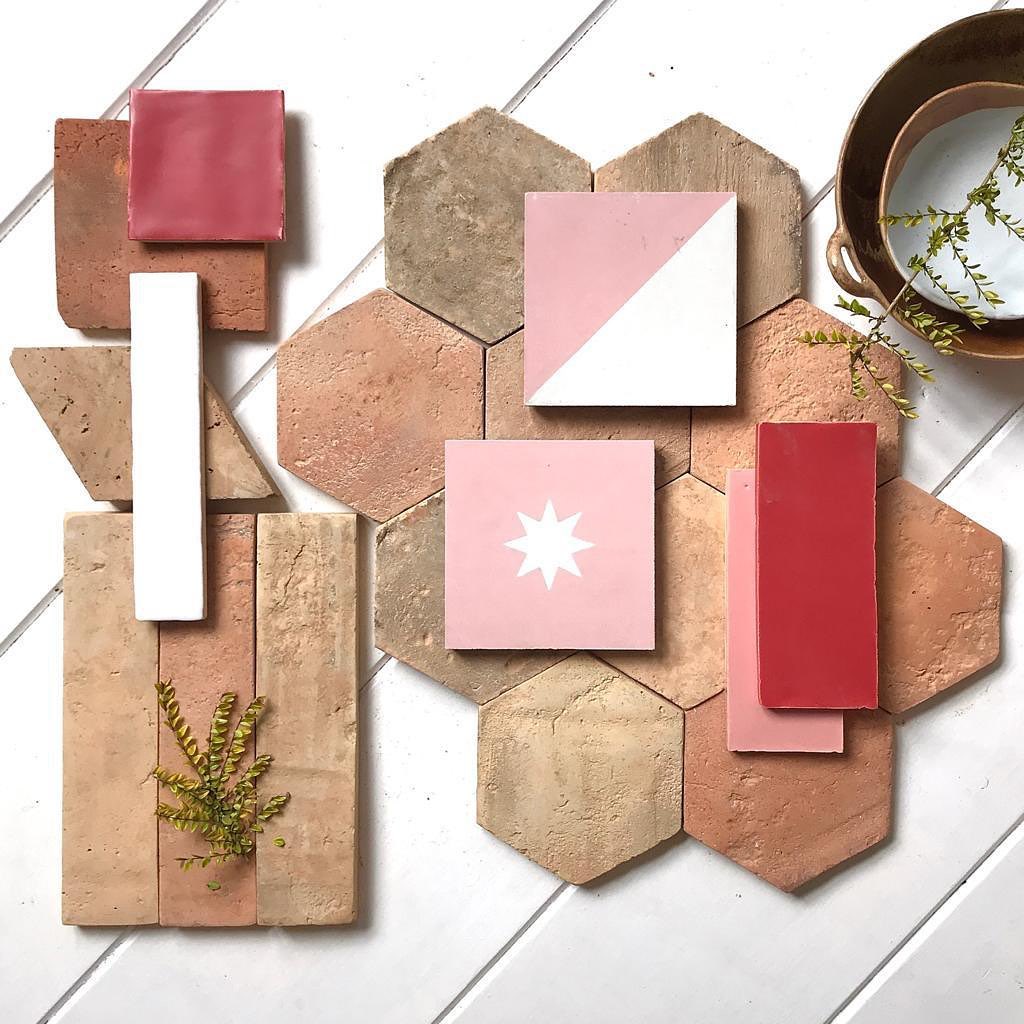 Calming neutrals in pinks and greys via mandarinstoneofficial. "This natural, organic palette is just right for creating calm, cohesive interiors. Far from being dull, character & warmth is established through their beautiful textures and interesting shapes".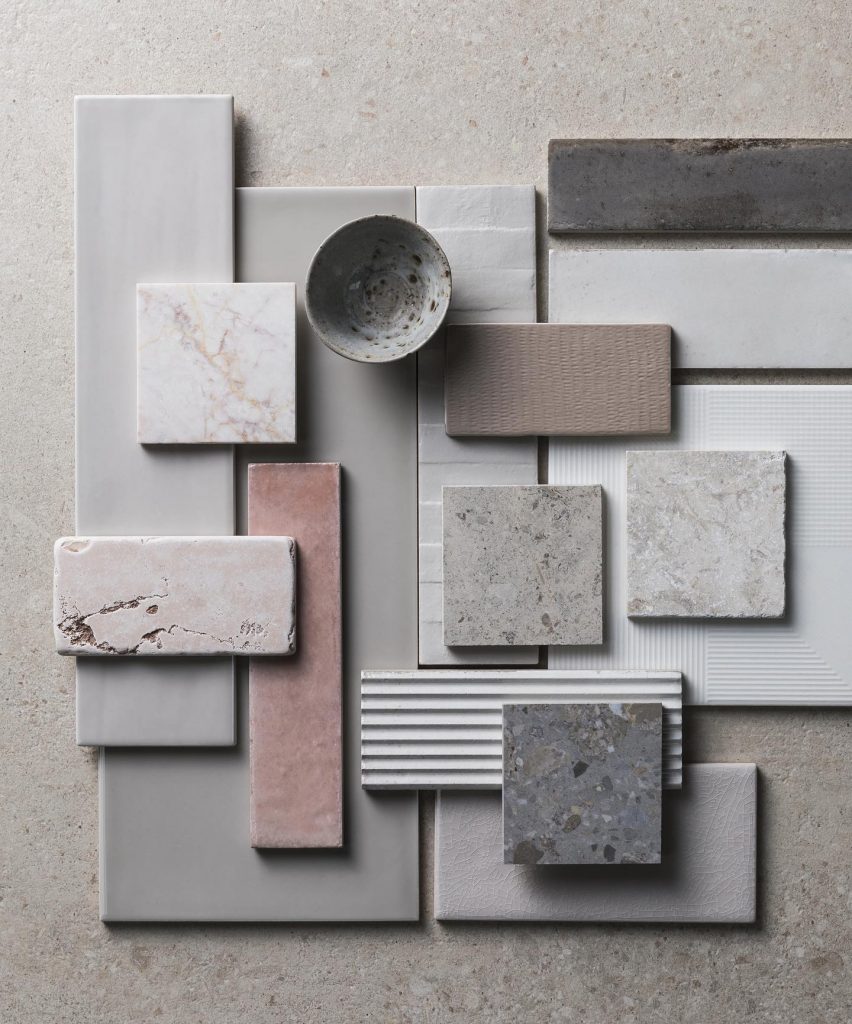 Muted dusky pinks & terracotta tones tile color and materials palette by Mandarin Stone. Including marble, porcelain and terrazzo tiles.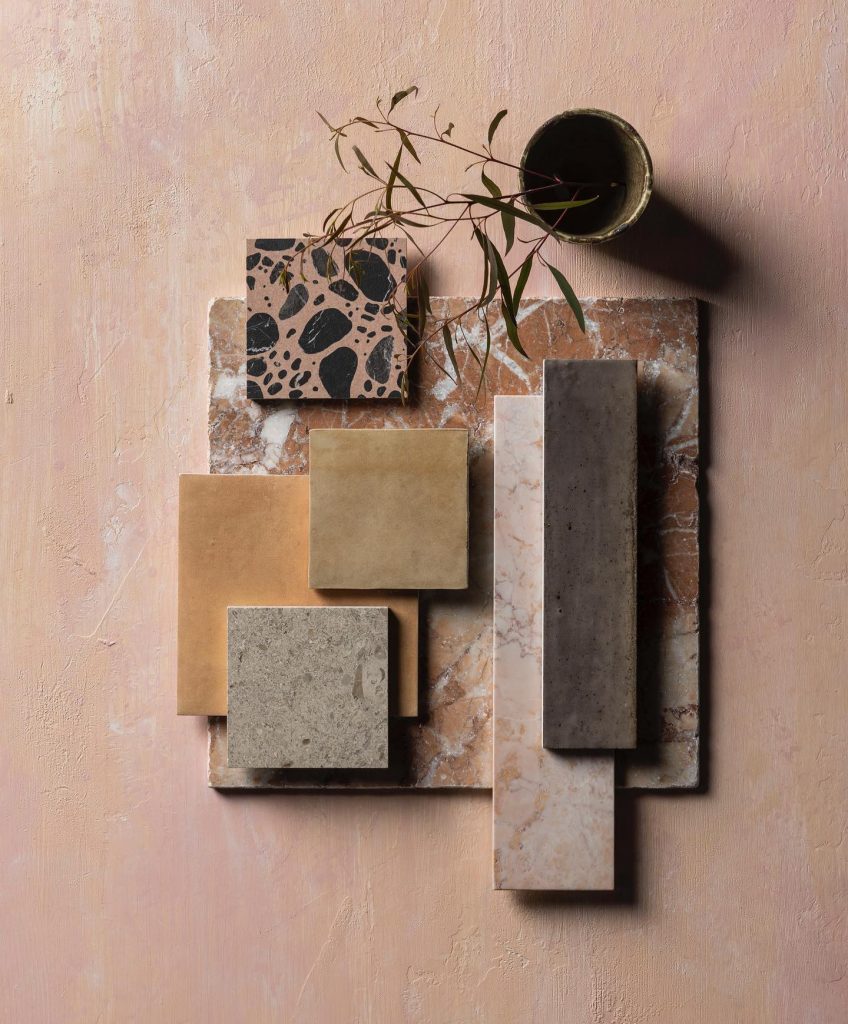 Perfect Pinks & Peaches via Mandarin Stone: Background Hoxton Pink, from top left Oska Shell, Iggy Pink, Valentina Honed Marble, Zappa Pink, Norse Terra Gloss, Pebble Green, Oska Powder Pink Square, Pebble Pink.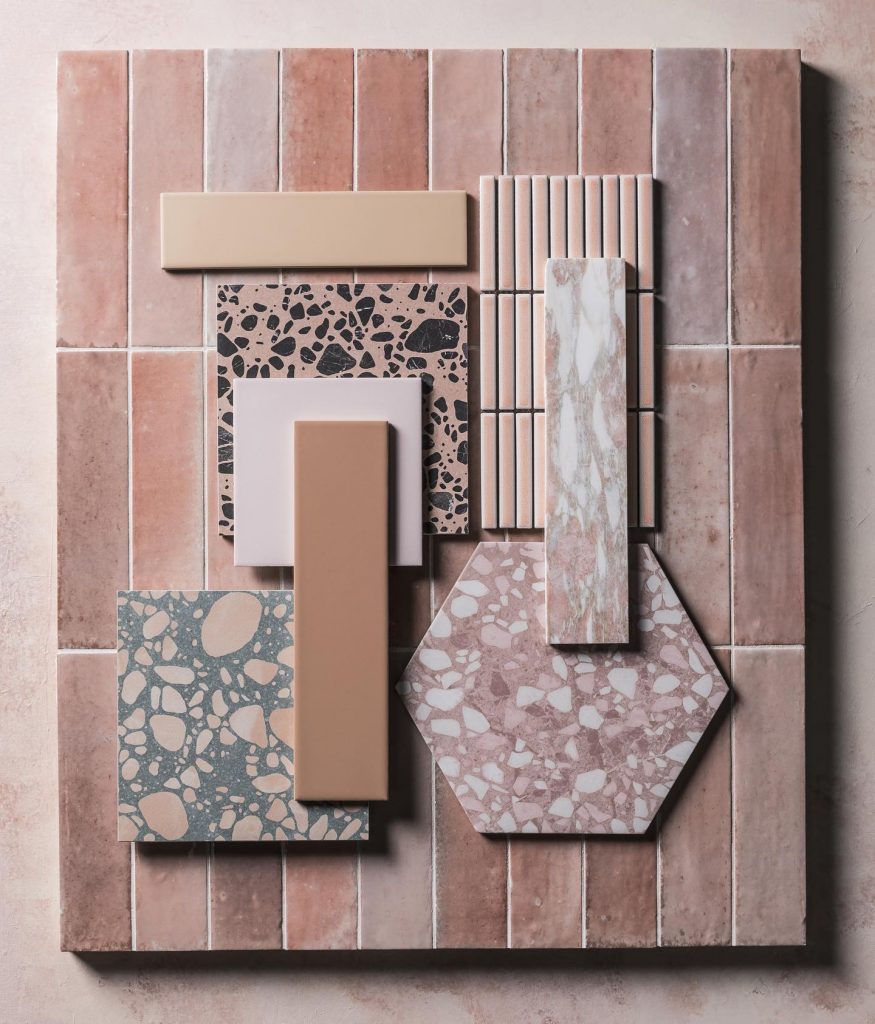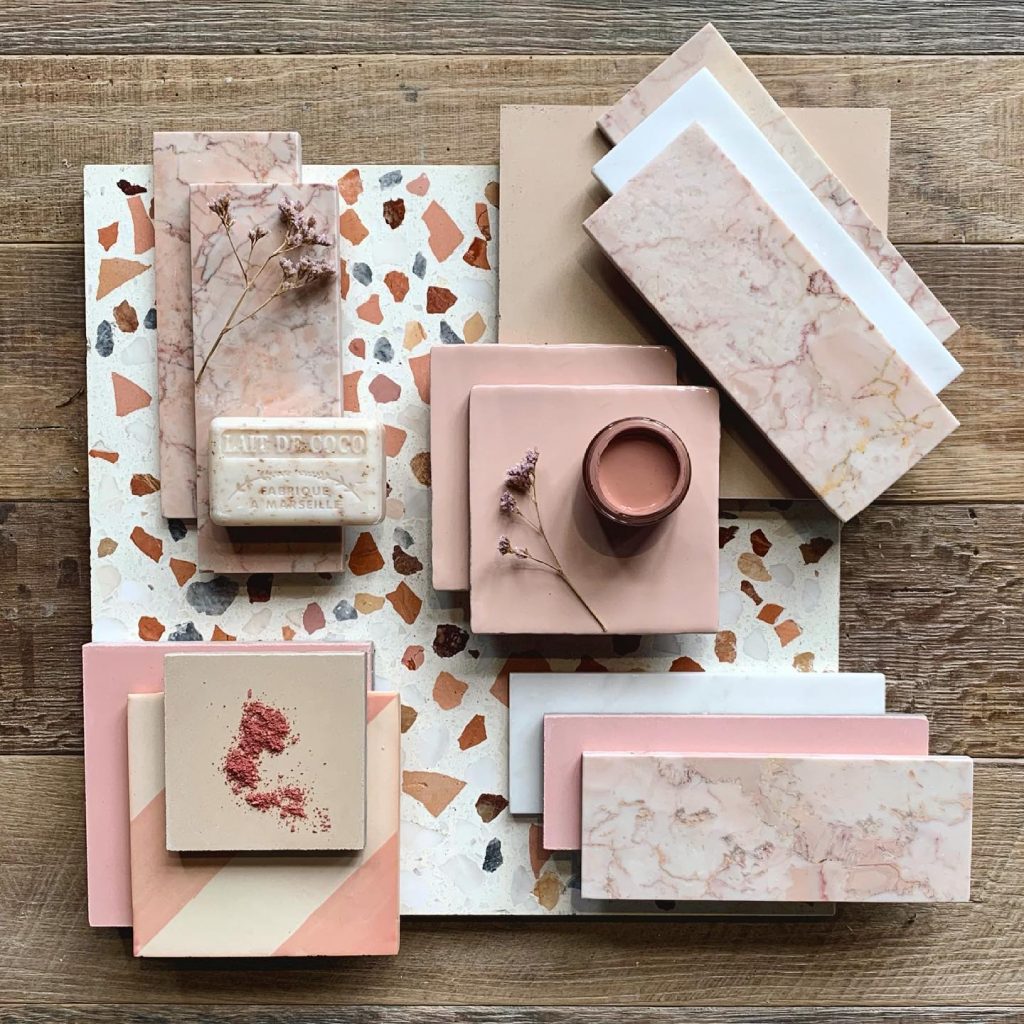 Flat lay of tiles, hardware and paint that create a perfect pink color scheme for a bathroom.