Sage Green Kitchen Trends
Embrace Serenity: Revamp Your Kitchen with Sage Green Elegance
Sage Green Kitchen Trends Designers Love. From rustic sage green kitchen cabinets, farmhouse sage green style, light sage green as well as richer and darker sage green hues, you will certainly find a kitchen that appeals.
Choosing the Perfect Shade of Sage Green:
Before diving into the painting process, it's important to select the right shade of sage green that suits your aesthetic preferences and complements your existing kitchen elements. Sage green encompasses a range of hues, from light and delicate to deeper, earthier tones. Consider the natural lighting in your kitchen, the color scheme you wish to achieve, and the ambiance you desire. Test out a few samples on your cabinets to see how they appear in various lighting conditions before finalizing your choice.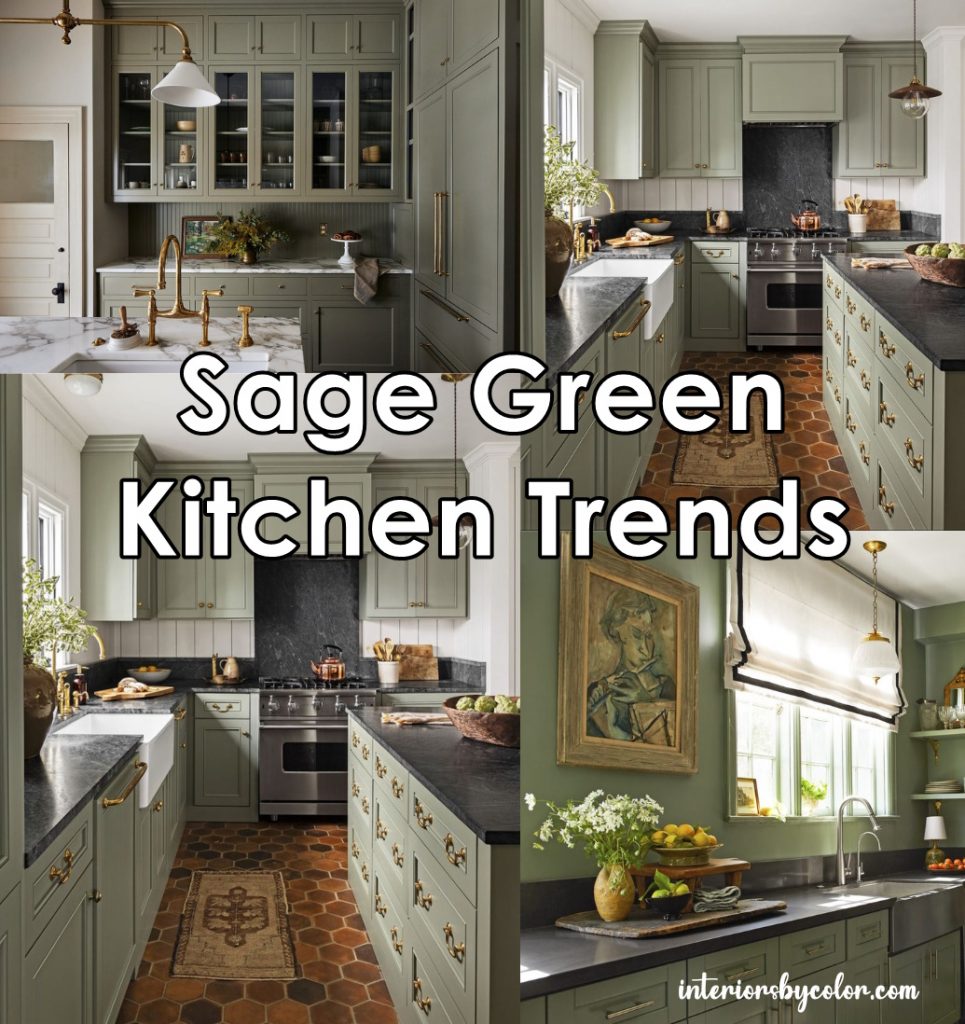 Earthy sage—in the kitchen, while the custom hood by Atlanta artisan Andrew Crawford references the warm tones of the copper roofing. In the conservatory, a carved-wood panel made to mimic lattice forms an elegant backdrop. "We painted it a 'happy, garden green,' " says Palmer. Following the angles of this octagonal room is a statement-making veranda above, complete with a Chippendale railing.

The home's most glamorous touch is on the ground floor, where a hand-painted de Gournay mural adds a metallic counterpoint to exposed brick walls. Customized with a palmetto tree, crescent moon, and star, the marsh scene offers the clients a little nod to Kiawah, should they ever find their hearts wanting—which, serendipitously, has yet to happen.

Via Southern Home Mag, photo by Gordon Beall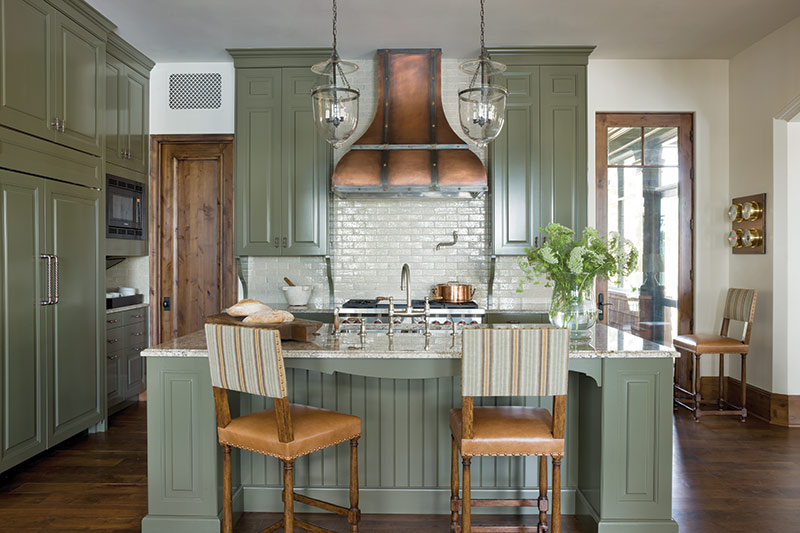 Most people opt for white in the kitchen, but this rustic space is bathed in moodier hues. The paneled cabinets are painted in an earthy forest green, while the beadboard backsplash lets the golden tones of the natural wood shine through—giving the 75-square-foot small kitchen a jewel box feel. A white apron-front sink offers a burst of brightness.

Cabinetry Paint Color, Mohegan Sage by Benjamin Moore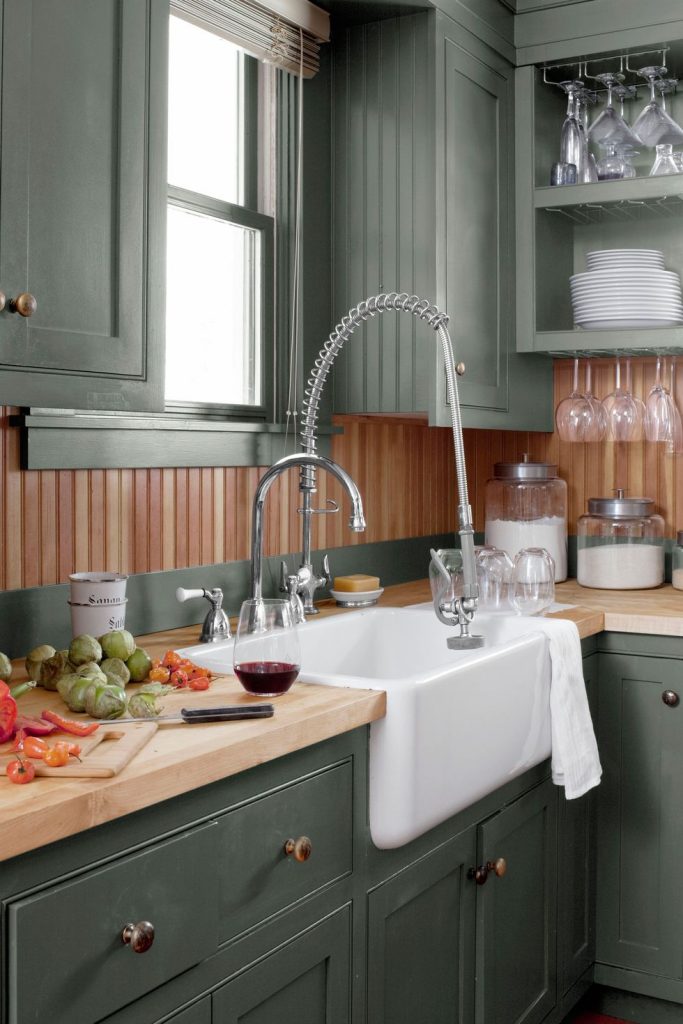 In the kitchen, a custom-designed galvanized counter-height table offers a flexible work surface and a spot for morning coffee or casual meals.

Southern Home Mag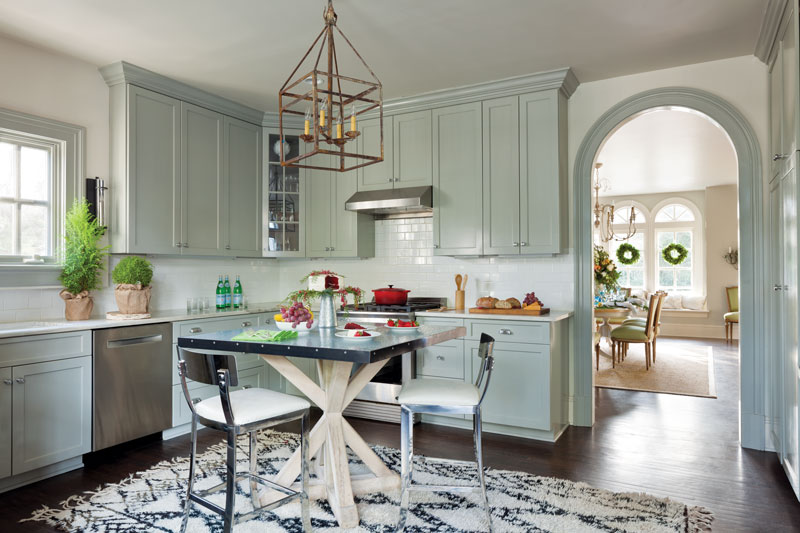 A darker shade of sage in the painted cabinets of this gorgeous country kitchen. Photo by Emily Followill via Southern Home Mag.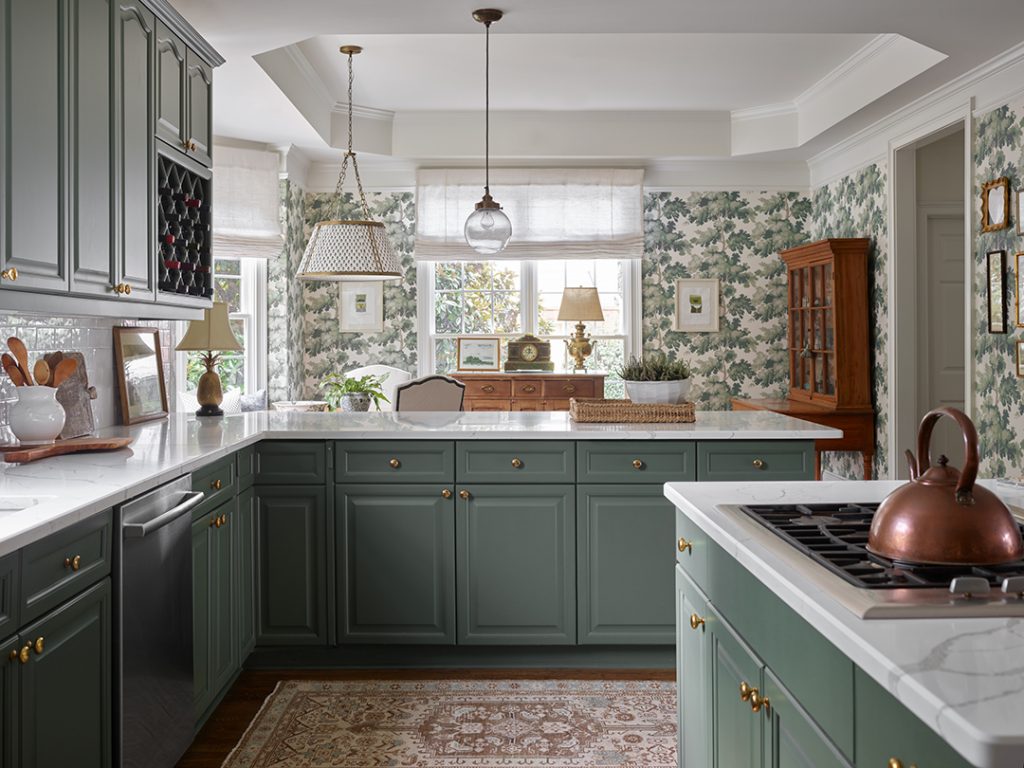 Farrow & Ball's Castle Gray—a grayish-green—is used throughout the kitchen, including on the cabinetry. The countertops are by Caesarstone. Overall, the home is grounded in faded persimmon, citrine, and dusky blue-green and mixes in touches of vibrant gold and grounding neutrals.

Via Veranda Mag, Designer Fran Keenan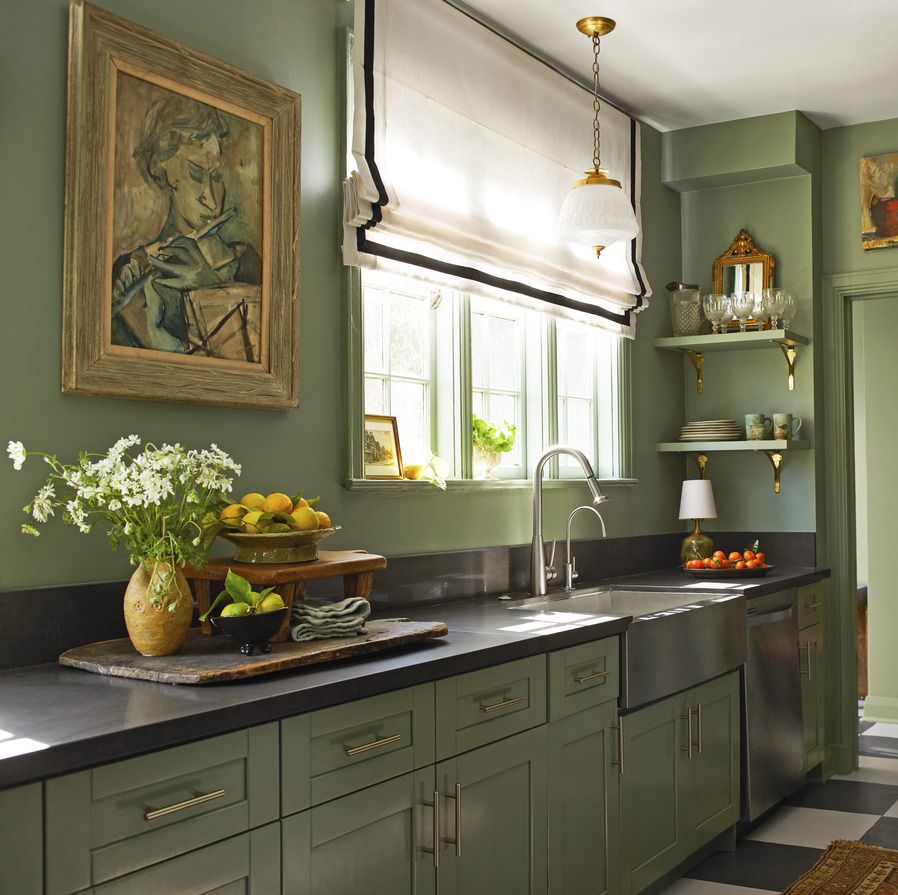 Cabinetry Paint Color, Louisburg Green by Benjamin Moore in this green and white country kitchen.
The white walls of this Georgia kitchen designed by James Farmer feel fresh and bright off of the rich green cabinets and pair perfectly with the natural wood shelves and oven hood.

Via Country Living Mag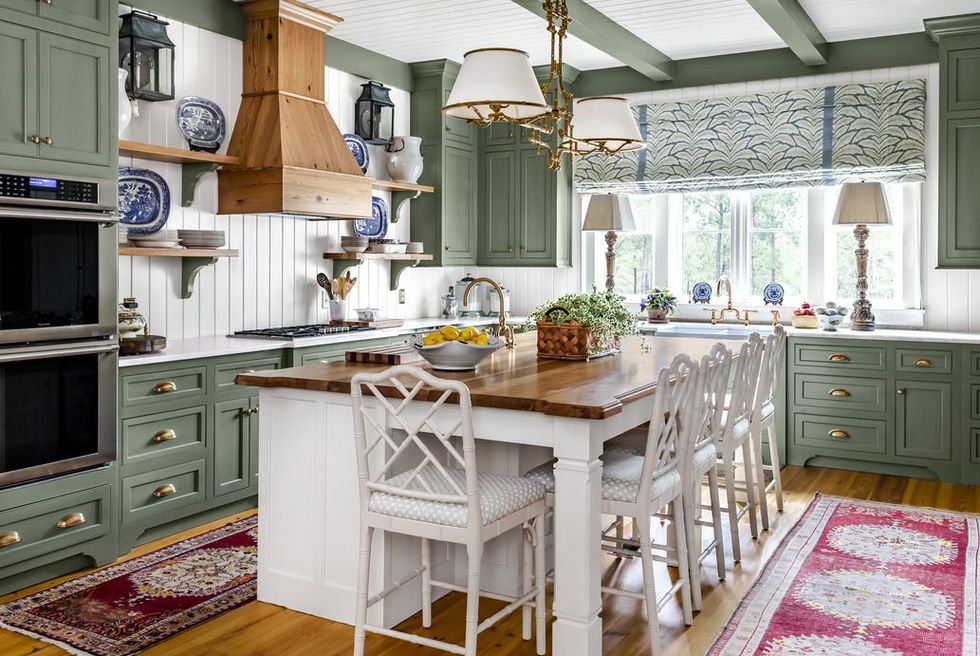 Designer Heidi Caillier chose a soothing green that is a little bit gray and a little blue for the Shaker-style cabinets. "It changes with the light," Heidi says. "It also feels traditional to me, which is what I really wanted." The color pairs particularly well with soapstone countertops and unlacquered brass bail pulls and knobs. Six-inch terra cotta hex tiles add distinct richness to the artfully layered kitchen.

Via Country Living Mag – Cabinetry Paint Color, Oil Cloth by Benjamin Moore; Hardware, unlacquered brass bail pulls and knobs from Classic Brass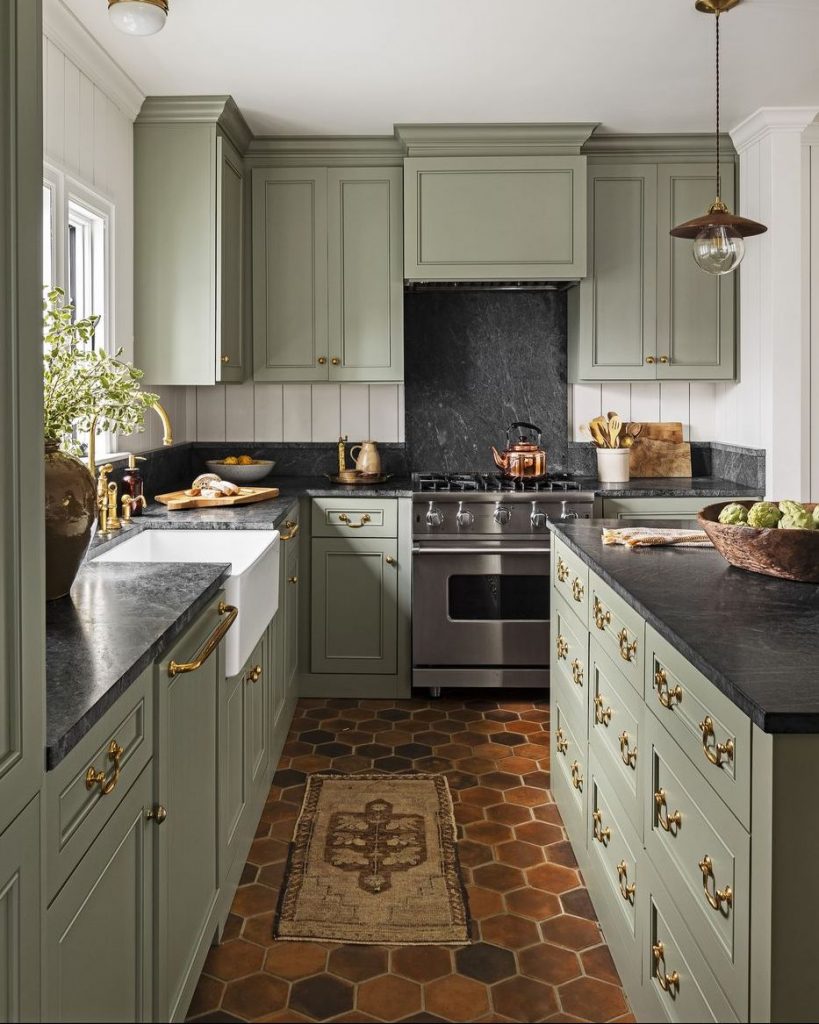 Modern sage green kitchen cabinets look great too, this earthy green isn't good for just rustic styles.
Pair a dark sage green with vibrant golds, sleek blacks, and every shade of wood imaginable—it can handle it.

Via My Domaine Mag, image via Ashley Montgomery Design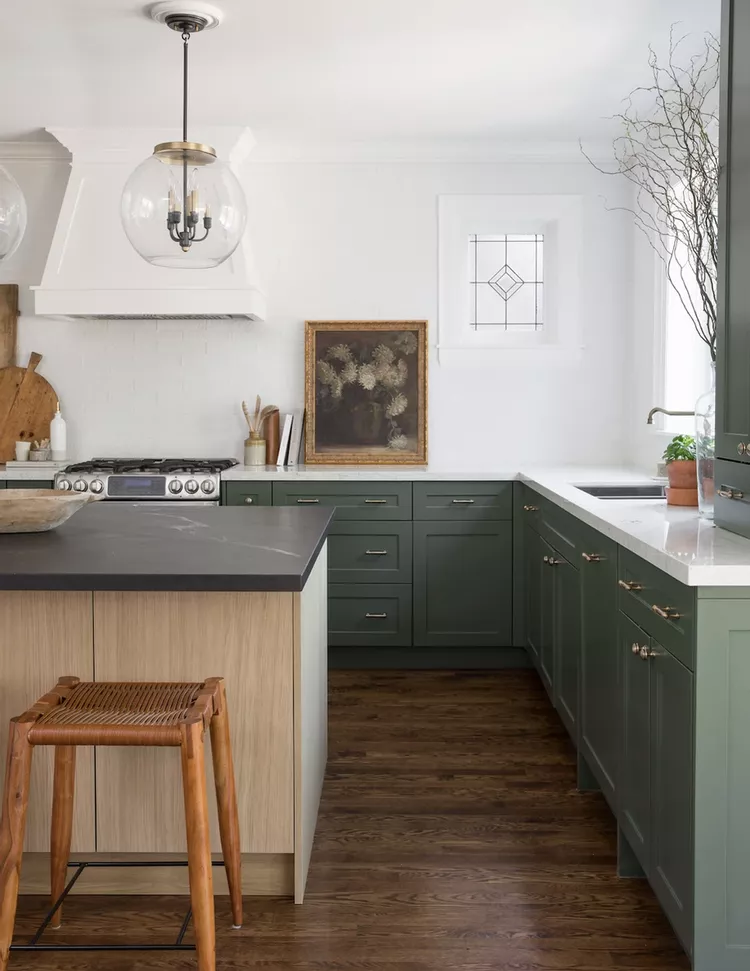 An elegant and modern sage green kitchen with shaker cabinets, brass hardware and Calcutta marble benchtops. Via Anne McDonald Design.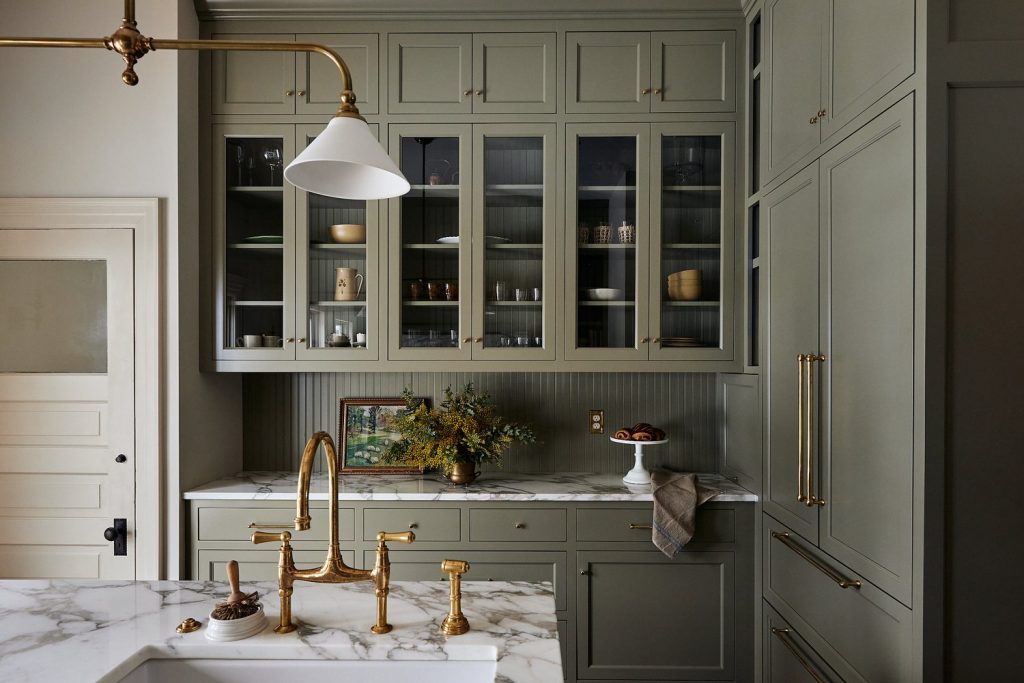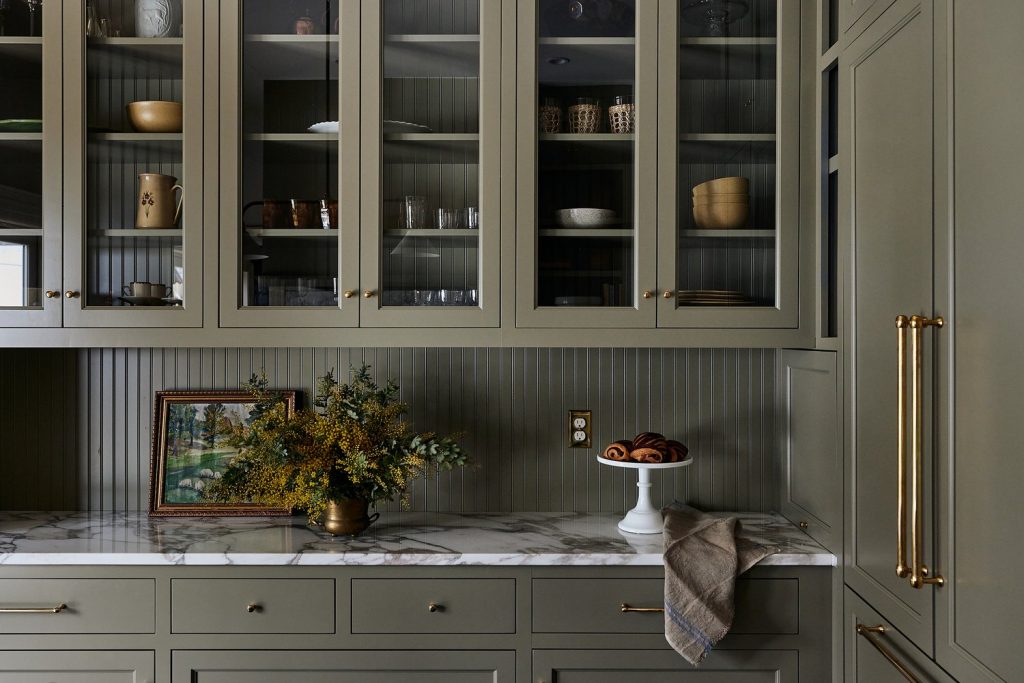 Sage Green Color Meaning and Symbolism
Sage green, as a color, carries various meanings and symbolism depending on cultural, historical, and personal contexts. Here are some common interpretations associated with sage green:
Tranquility and Serenity: Sage green is often associated with a sense of calmness and tranquility. It emanates a soothing and peaceful aura, making it an ideal color choice for spaces where relaxation and harmony are desired, such as bedrooms, spas, and, of course, kitchens.
Natural and Organic: The color sage green is reminiscent of the natural world, particularly the foliage of sage plants. It symbolizes growth, renewal, and the connection to nature. It evokes a sense of freshness and vitality, bringing elements of the outdoors into interior spaces.
Balance and Harmony: Sage green is a harmonious blend of green and gray, combining the rejuvenating qualities of green with the stability and neutrality of gray. This balance represents a harmonious coexistence between different elements, creating a sense of equilibrium and stability.
Healing and Wellness: Green, in general, is associated with health and well-being. Sage green, with its gentle and nurturing qualities, further enhances this association. It can evoke feelings of rejuvenation, restoration, and healing, making it a popular choice in spaces dedicated to wellness, such as meditation rooms or healthcare facilities.
Timelessness and Versatility: Sage green is a versatile color that can adapt to various design styles and aesthetics. Its muted and understated nature allows it to serve as a neutral backdrop or a complementary accent color, depending on how it is used. This versatility makes it a timeless choice that can withstand changing trends and remain relevant for years to come.
Sage Green Paint Colors
Check out these amazing sage greens to consider for your kitchen reno.
Benjamin Moore Sage Green Paint Colors: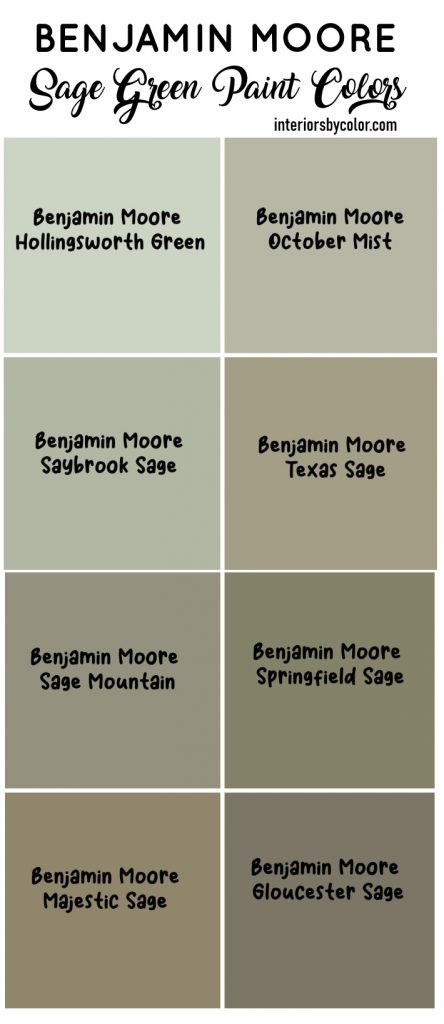 Sherwin Williams Sage-Green Paint Colors: