Green Kitchen Cabinets and Island Trend 2023
Green Kitchen Cabinets and Island Trend 2023.
Green has been trending like crazy this year, it has easily become the go to color choice for everything from wall paint to furniture, we especially love the use of this leafy hue in the kitchen as it invokes freshness and new beginnings.
In a green painted kitchen, the interior design can take on a fresh and vibrant atmosphere while incorporating elements of nature. The color green is associated with growth, harmony, and renewal, making it an excellent choice for creating an inviting and soothing kitchen space.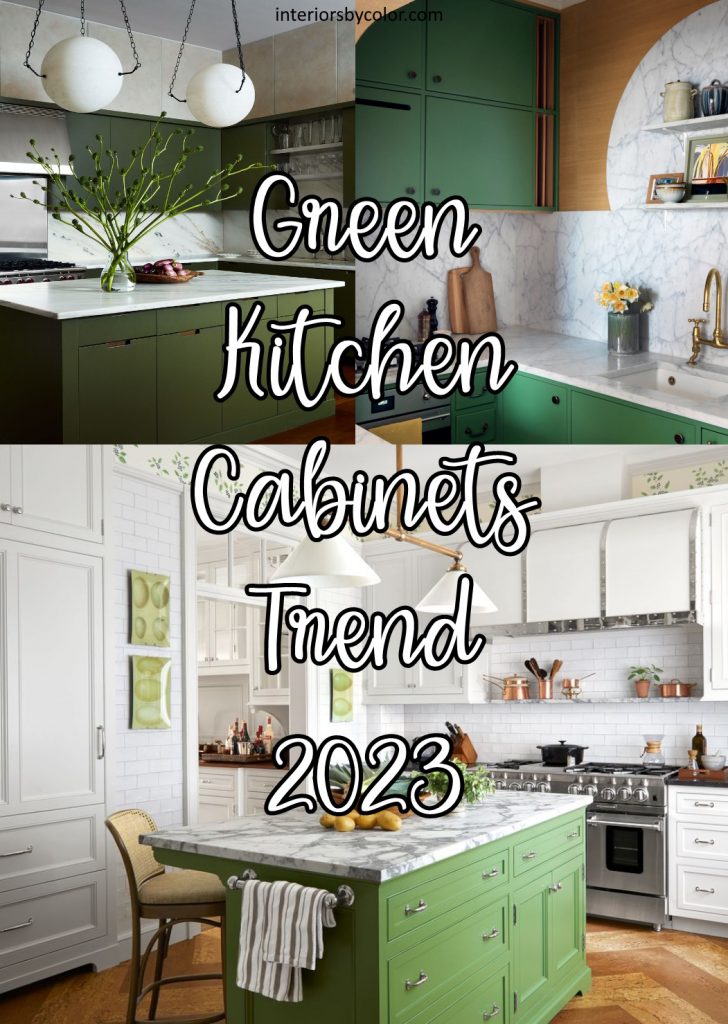 Green Kitchen Cabinets
Green kitchen cabinets and island painted in Behr Russian Olive green paint. This deep green combines well with stone countertops and splashbacks. A muted dark olive green can almost be treated as a neutral. Augusta Hoffman's kitchen via Elle Decor. Olive green provides a cozy and earthy feel to a room with it's warm undertones.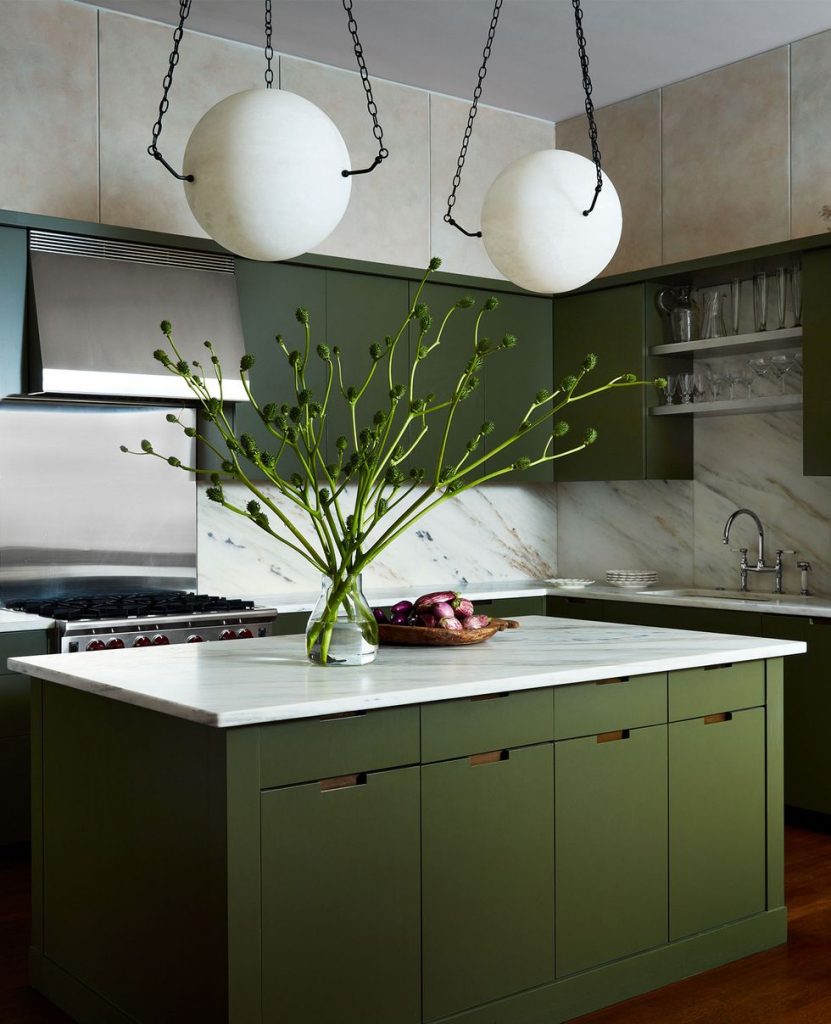 A green with a touch of yellow.
Beata Heuman's client wanted a striking color that wasn't too overwhelming for the kitchen of her London pied-à-terre. "Green is a great color for that reason," reports the designer, who went with a slightly yellow shade of forest green. "With its association to nature it will always feel calming, but it is quite rich at the same time." Since this kitchen was located in the middle of the apartment, with no windows or direct natural light, the color was, in Heuman's words, "a nod to the outside."

Architectural Digest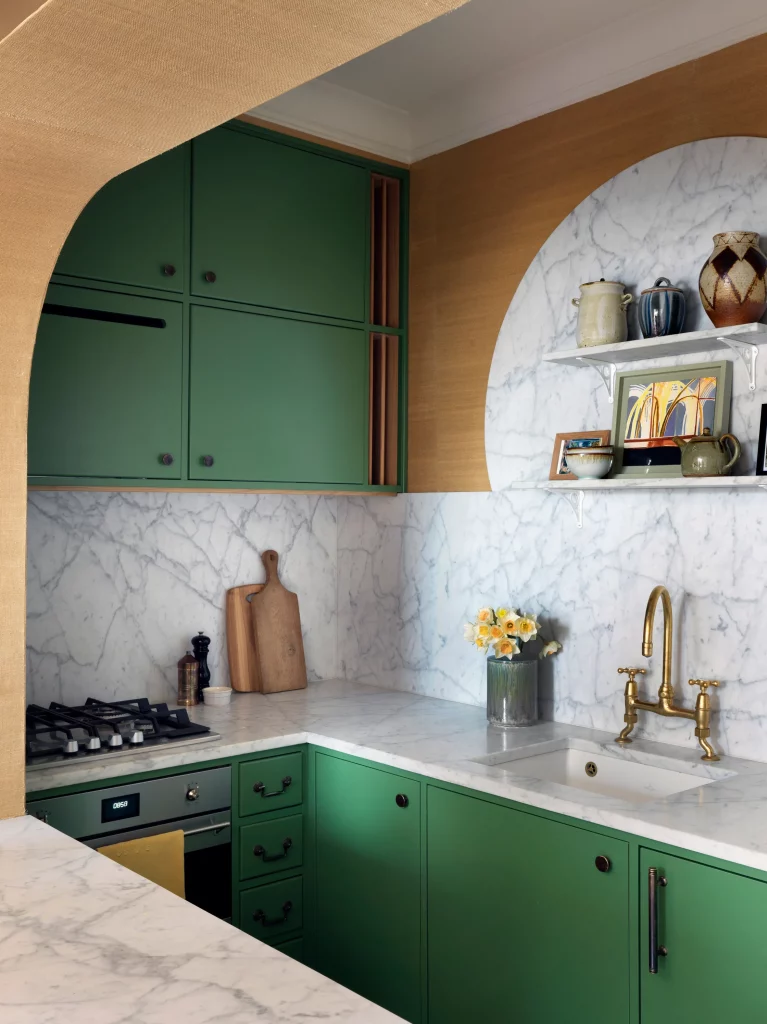 Green Kitchen Islands
Combine the classic white kitchen with some pea green detail by painting the kitchen cabinet and adding accents of the same color on the walls.
In the kitchen, the Josef Hoffmann stools are from Bauhaus 2 Your House, the cabinetry is custom, and the subway tiles are by Ann Sacks. The billiard-style pendant is from Ann-Morris, the flooring is by APC Cork, and the decoupaged trays on the wall are by John Derian.

Elle Decor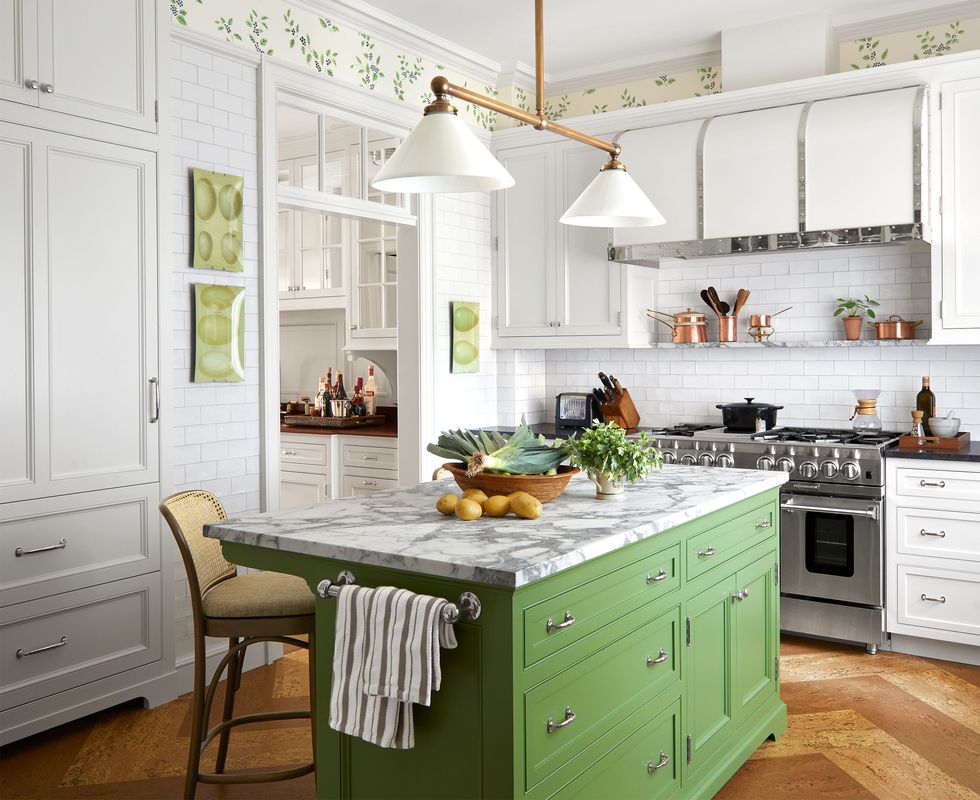 A Hamptons style white kitchen with the island bench painted in a very dark green. This kitchen is in the home of architect Reinaldo Leandro. The white painted cabinets seem to extend to the roof, this effect is given by the pitched ceiling and all trims being painted in the same white. The glass paneled kitchen cabinets blend in with the check window panes creating a seamless look. The timber countertops add warmth to the counter. This rich shade of forest green evokes a sense of elegance and opulence, as a result, it can be used to create a sophisticated and dramatic atmosphere.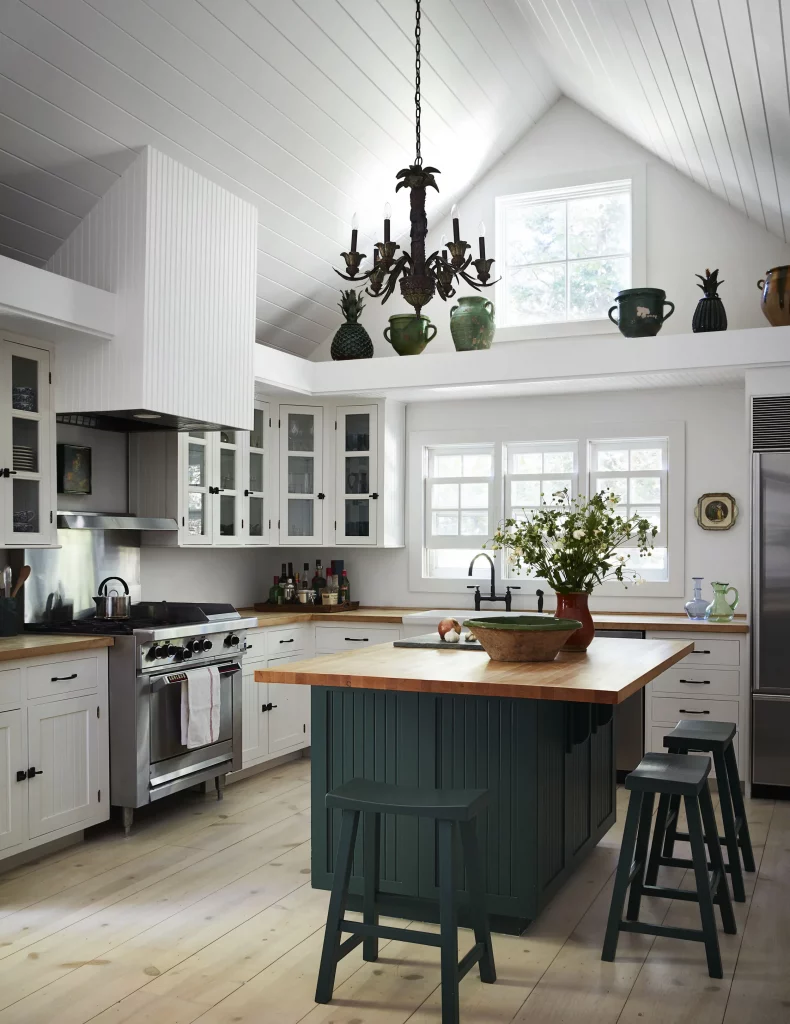 Overall, a green painted kitchen offers a refreshing and tranquil environment, because it creates a connection to nature while providing a functional and visually appealing space for cooking and gathering with family and friends.
Interior Design Elements in a Green Painted Kitchen
Walls
The walls of a kitchen can be painted in various shades of green, ranging from soft pastels like mint or sage to deeper tones like emerald or forest green. The choice of shade depends on the desired atmosphere, with lighter shades providing a more airy feel and darker shades creating a sense of richness and depth.
Cabinets and Countertops
The kitchen cabinets can be in complementary colors, such as white or light wood finishes, to provide a contrast against the green walls. Alternatively, natural wood cabinets with a green stain can add warmth and create a cohesive look. The countertops could be made of materials like granite or marble in neutral colors, or even green-toned materials like recycled glass or green-veined marble for a more dramatic effect.
Flooring
The flooring can be in light or medium-toned hardwood or a neutral tile, allowing the green elements to take center stage. Natural materials like bamboo or cork flooring can also be used, further emphasizing the connection to nature and sustainability.
Backsplash
The backsplash behind the stove and sink area can feature green tiles in various shades, patterns, or even mosaic designs. Alternatively, a white or light-colored backsplash with green accents can provide a subtle yet visually appealing touch. The countertops are chosen to enhance the green color scheme. Light-colored marble or granite countertops with subtle green veining are an excellent choice, as they tie in with the overall theme while adding elegance and sophistication. For a more rustic or eclectic look, butcher block countertops made from reclaimed wood can be utilized, adding texture and a touch of authenticity.
Appliances
Stainless steel appliances are a popular choice in kitchens, as they create a sleek and modern look. In a green painted kitchen, stainless steel appliances can blend well with the overall design. Alternatively, matching green appliances, like refrigerators or stoves, can add a fun and cohesive element to the space.
Lighting
Ample lighting is essential in any kitchen, and it can be incorporated through a combination of natural light and artificial lighting. Large windows or skylights allow natural light to flood the space, enhancing the fresh and airy feel. Pendant lights or recessed lighting fixtures with warm white or cool white bulbs can be strategically placed to provide functional and atmospheric lighting.
Accessories and Decor
Green-themed accessories and decor items can further enhance the interior design. For example, potted herbs or small indoor plants can be placed on countertops or windowsills, adding a touch of freshness and color. Green patterned curtains, kitchen linens, or seat cushions can also tie the design together. Additionally, artwork featuring botanical prints or landscapes can be hung on the walls to reinforce the natural theme.
Popular Green Paint Colors
See popular green paint color schemes here.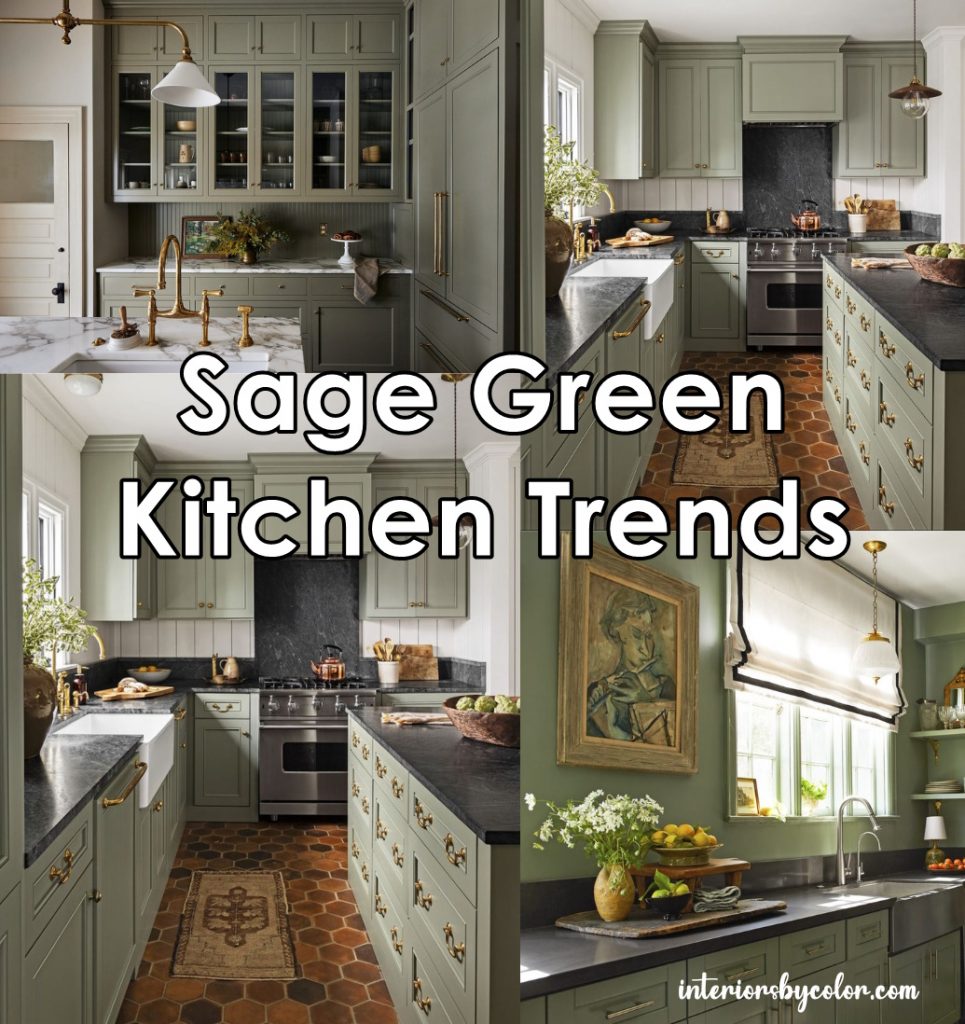 Check out these amazing sage greens to consider for your kitchen reno.
Benjamin Moore Sage Green Paint Colors: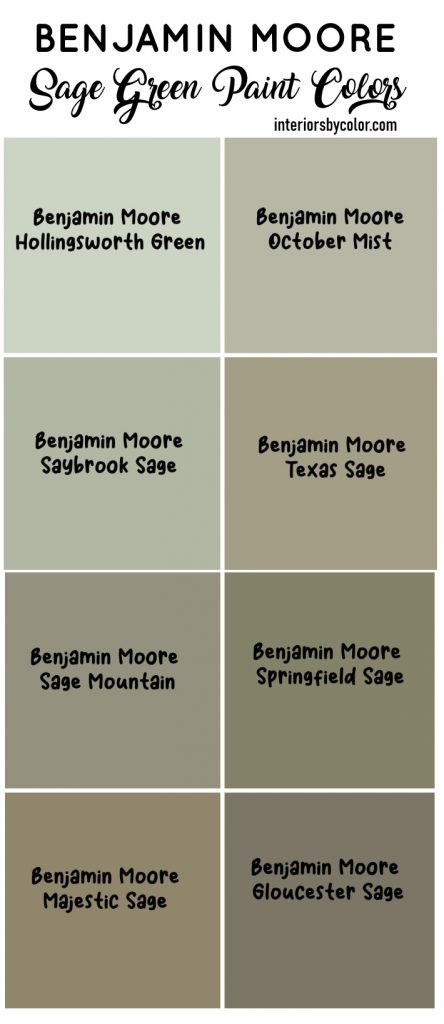 Sherwin Williams Sage-Green Paint Colors: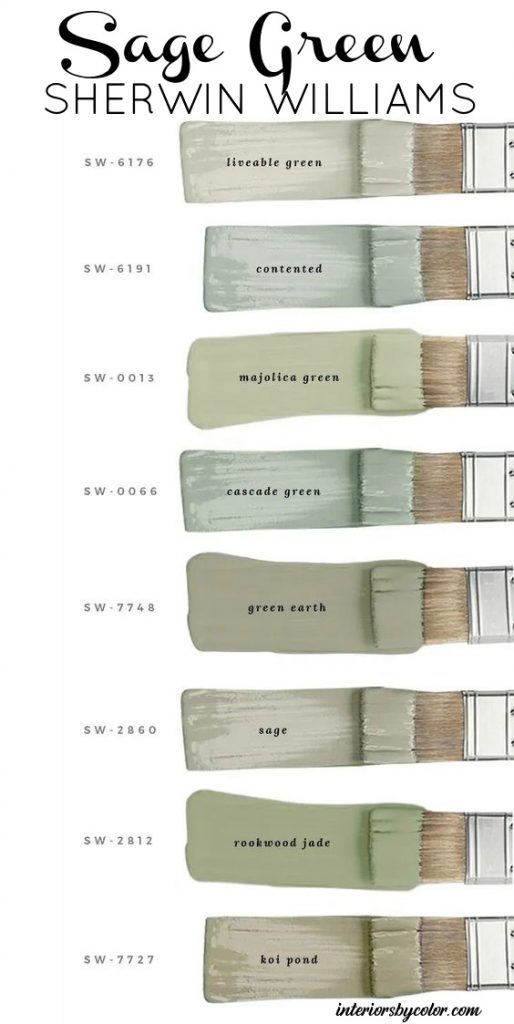 More Green Paint Colors