Top 9 Nursery Decorating Ideas in Red and Gray
Interior by Color's TOP 9 elegant, classic and modern baby nurseries with a gray and red color scheme!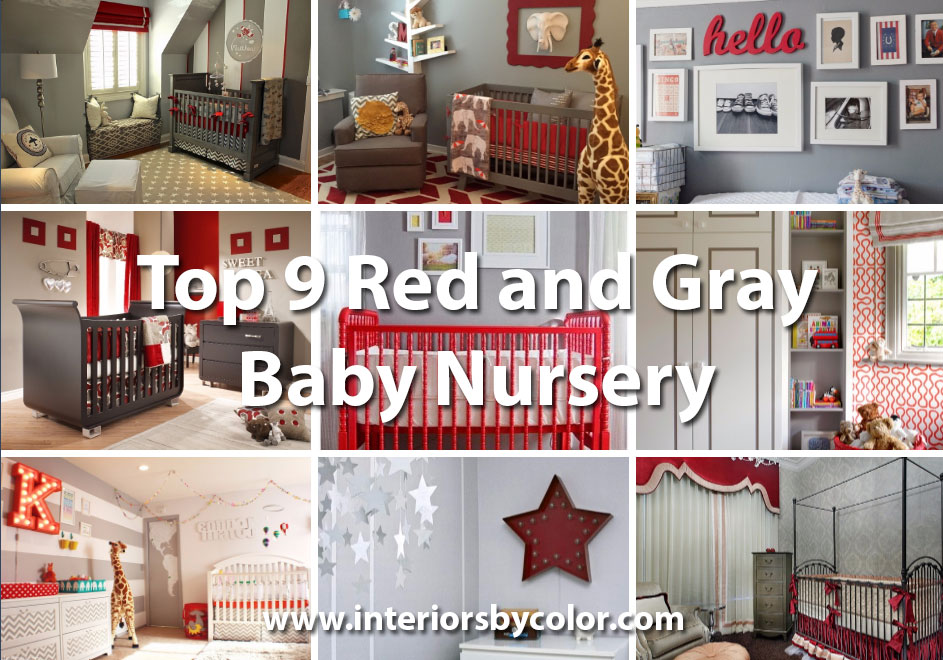 Restrained use of red in a gray nursery. Walls painted in Benjamin Moore's Plymouth Rock. Pinstripe feature wall painted in Benjamin Moore's Irongate and Ladybug Red. Beige and white rug Liberty Star Flat-weave Rug, Denim. Great combo of textures, graphics and geometric images in this grey, red and white color schemed nursery in Tudor home with a Southern Flair.
"This nursery was a fun labor of love and also a product of my addiction to thrift stores, antique flea markets, IKEA, Craigslist, Etsy, side of the road furniture finds and also digging through our parents' old things for books and vintage toys saved over the years! Its a serious mish-mash of things we love! Billy is from Alaska and I grew up in Vancouver so I tried to represent both worlds/families here and not go too "baby-ish" and matchy-matchy with the decor and furniture!" via Apartment Therapy.
Love the red vintage dresser contrasted against the gray wall painted in Benjamin Moore's Deep Silver. The red buting up top creates a fun, whimsical touch.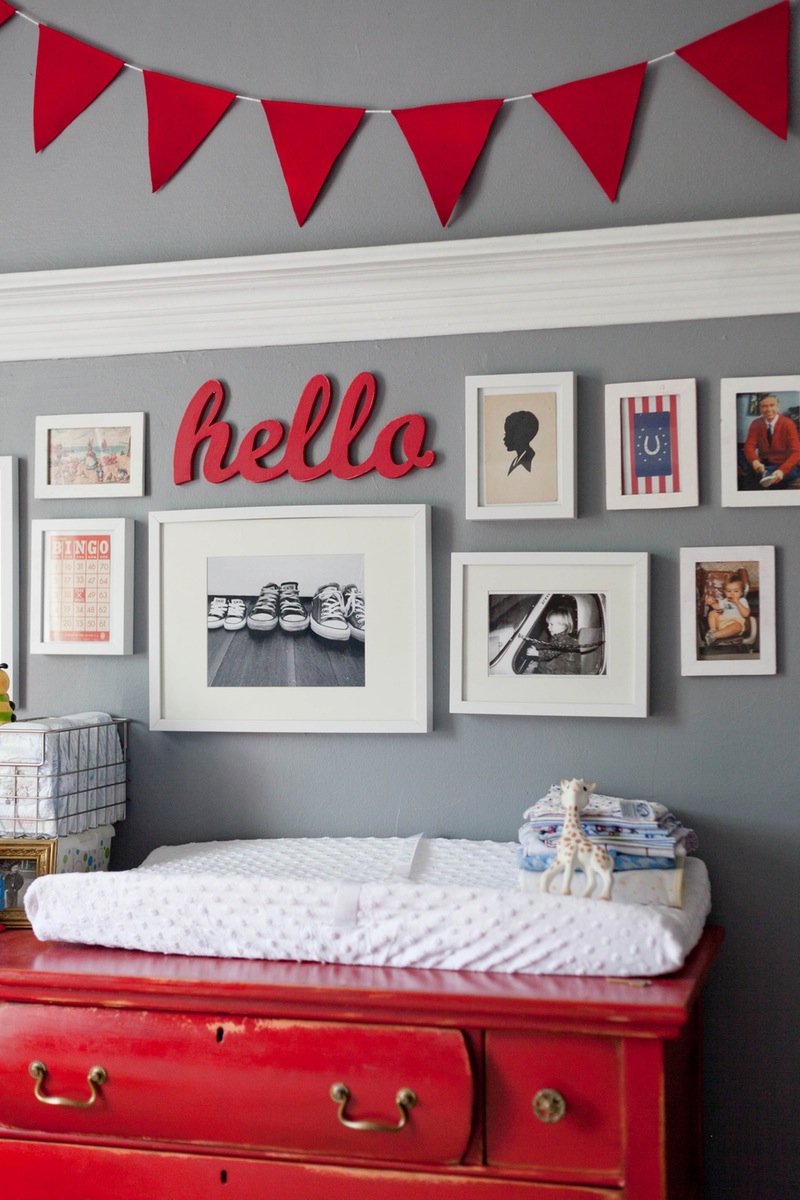 The creator of this next nursery states "I could not wait until my 20 week ultrasound to decide on a girls or boys room so I decided to just start working on something gender neutral. Red and Grey are colors that work for either gender and are still fun and playful. Design Inspo: Circus! What child doesn't love the circus. I wanted to create a room that was fun and playful that Samar would enjoy as soon as she was old enough. I can already see she has started pointing to different things in the room and smiles. She also adores her life size giraffe! I kept this room pretty modern with clean, simple furniture that can be used for both boys and girls in case I want to reuse for baby #2." via Project Nursery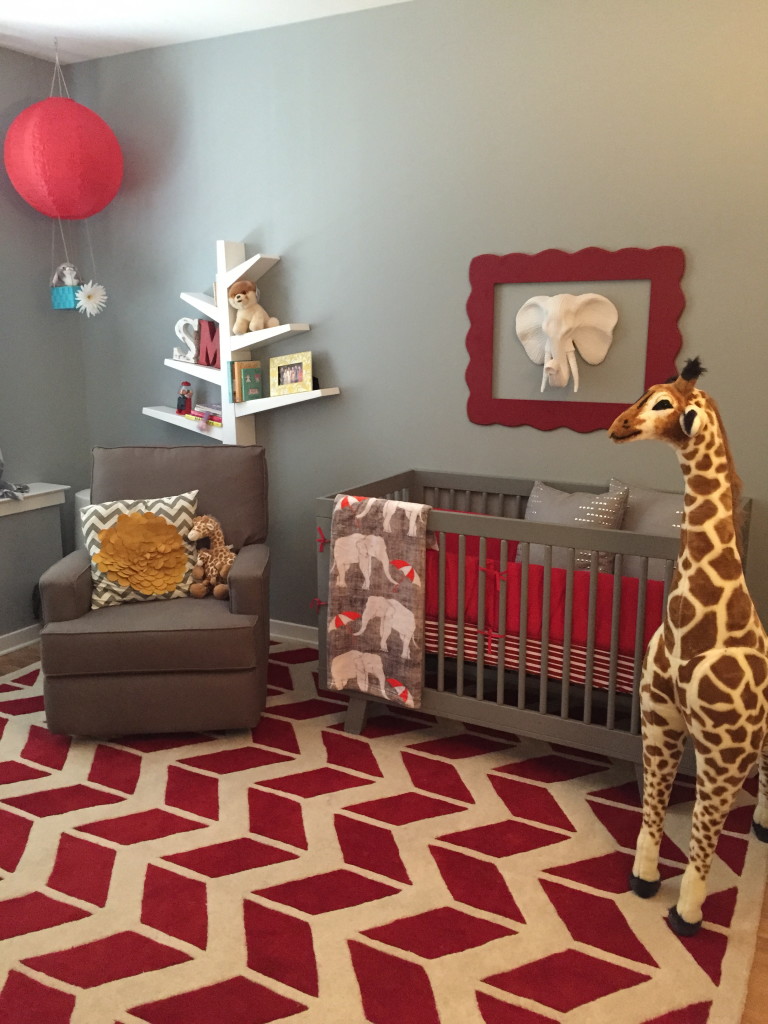 Modern and chic baby nursery decorating inspiration in red and a darker shade of gray. Love the red feature wall and the Tulip Pod Baby Furniture from Canada.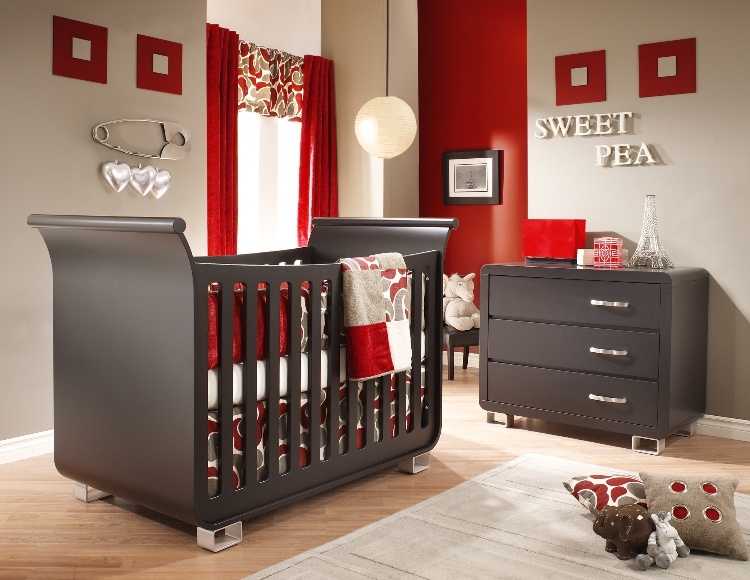 Vintage style crib, would normally be seen in white but here painted in bright red adds a delightful touch to this eclectic baby nursery. Love the soft gray walls painted in Martha Stewart Cement. via Apartment Therapy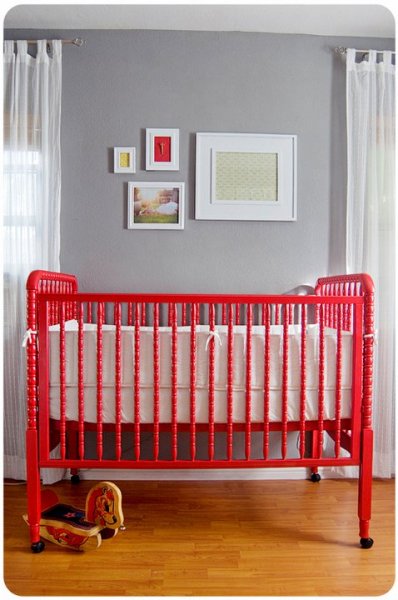 Gender neutral nursery - "Roll up, roll up! If you're looking for a fun theme, look no further than the circus. The grey, white and red colour scheme keeps this circus stylish rather than garish. It's the red marquee letter 'K' that really makes the room (you can buy them quite readily online from sites such as Etsy and eBay), while the oversized giraffe is another essential addition – after all, there must be something so magical to a child about a stuffed animal that's bigger than he is!" via Joy Kelley from HowJoyful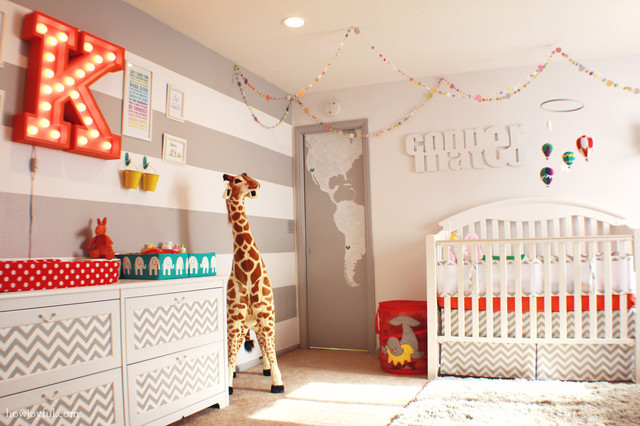 Traditional nursery idea with some contemporary elements like the Red Squiggle wallpaper by Vivienne Westwood. Love the use of gray and light gray on the walls and closet.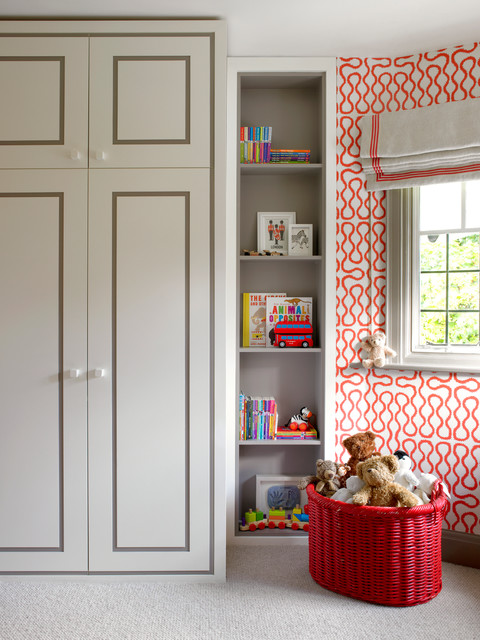 A mostly light gray and white themed nursery with a star theme, accents in dark red. "I am so over the moon about Rockwell's Star-Gazer Nursery — it was so fun to plan and create. We love to throw parties, and designing a room is so similar to designing a party, only you get to enjoy your creation for a lot longer. Since we already had a complete nursery setup from baby Modette, the objective here was to transform the space into something fitting of a boy with as little hassle and expense as possible." via Land of Nod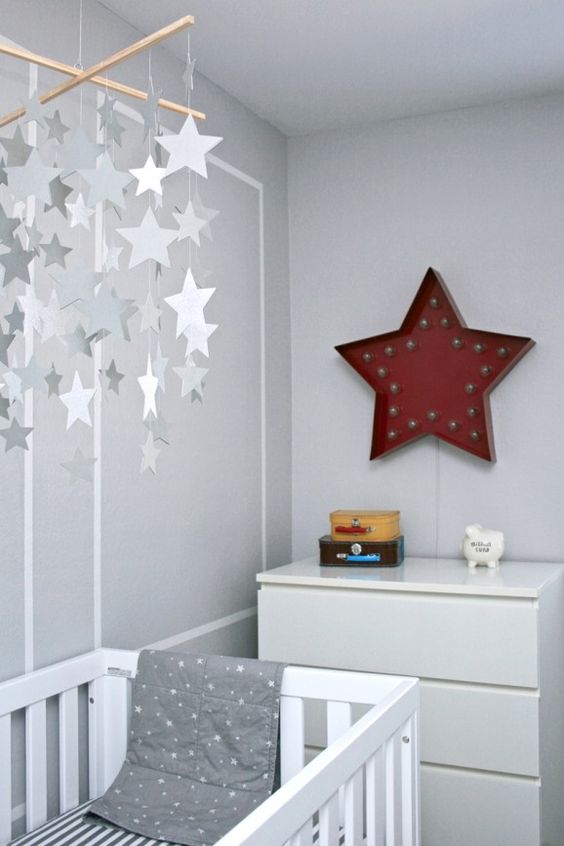 Glamorous and slightly Gothic baby nursery in grays and reds with a four post crib, gray damask wallpaper, chandelier and plenty of satin and velvet. By designer Christina Forrest.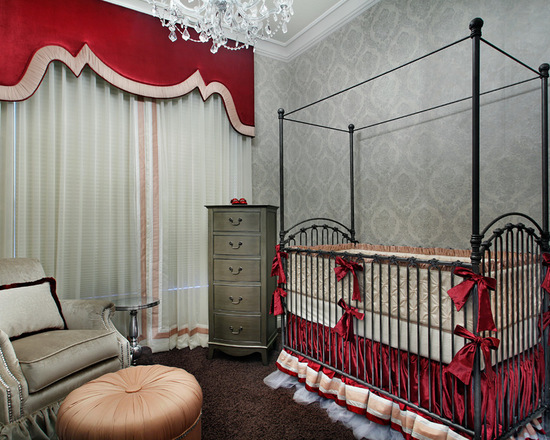 baby nurseries, baby nursery ideas, best nursery Furniture, good nursery Design, nice nursery design, nursery Decorating Decor, nursery Decorating Ideas, nursery design ideas, nursery Designs, nursery Furniture, nursery Furniture Ideas, nursery ideas, nursery room design, nursery room photos, nursery rooms