Yellow Interior Color Schemes for 2023
Yellow Interior Color Schemes Designers Can't Resist. In interiors yellow is better when matched with natural woods or plants. Yellow goes well with some shades of pink and aqua. Yellow also works well with some shades of camel and brown.
Types of Yellow Paint Colors
Yellow – Yellow is a primary colour. It represents happiness, cheerfulness, sunlight and optimism. In interiors you can use yellow to create a bold contrast with other colours. If you want to create more vibrancy in a room you can substitute grey for yellow.
Ocher – Ocher is not exactly yellow, brown or mustard; but a combination of all three. It is a colour that can range from tan to slightly green. This is a natural earth pigment made mostly out of clay that is coloured by iron oxides.
Pale Yellow – A buttery yellow that is achieved by adding white to primary yellow. It is considered less garish than yellow and is great to use with within a neutral palette.
Yellow Living Room Interior Design Ideas
A bright and charming living room with bright yellow walls. Love the colour scheme with the olive green and terracotta red soft furnishings. Building contractors @lofty_creations, photography @82mmphotography, styling @rachel_moreve_styling.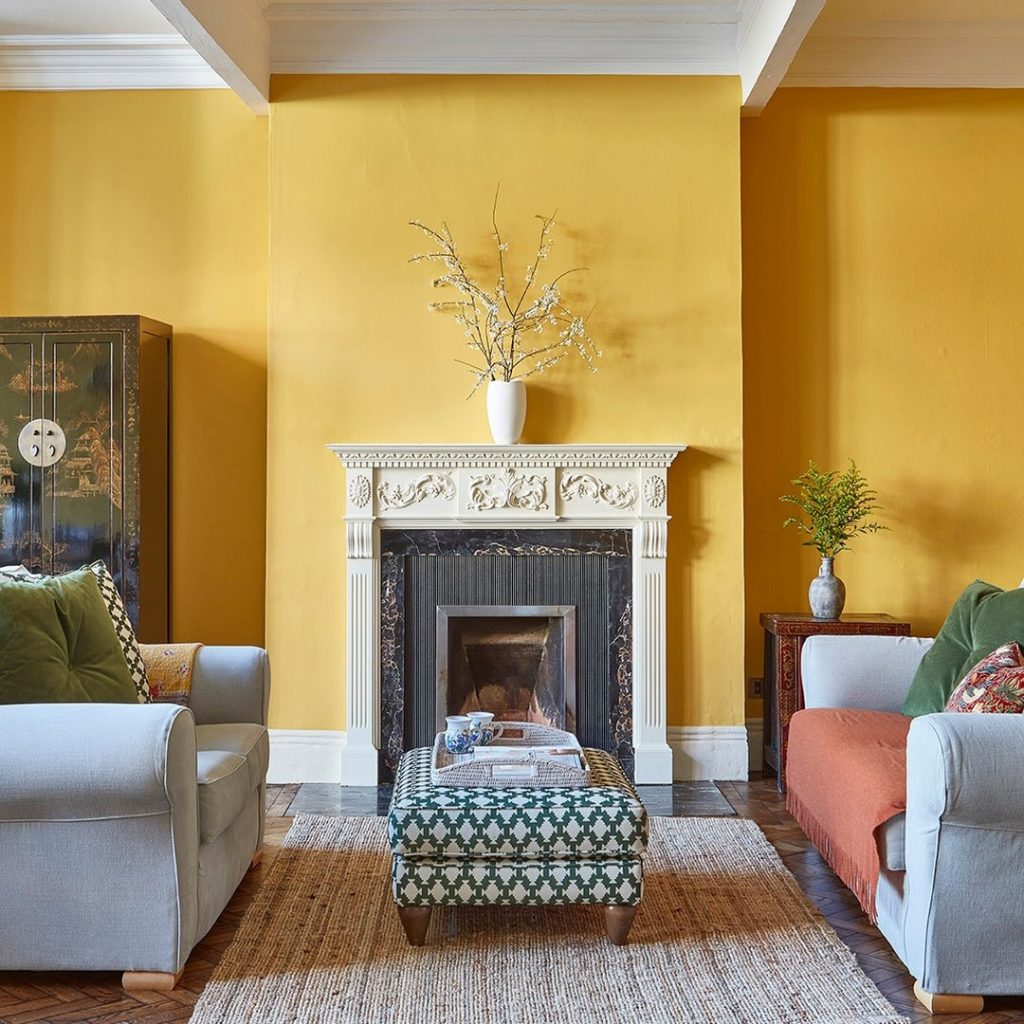 High ceilings and a cozy log burner in the fireplace, this warm and inviting room is everything with the addition of this bold yellow paint color! Via misterpip.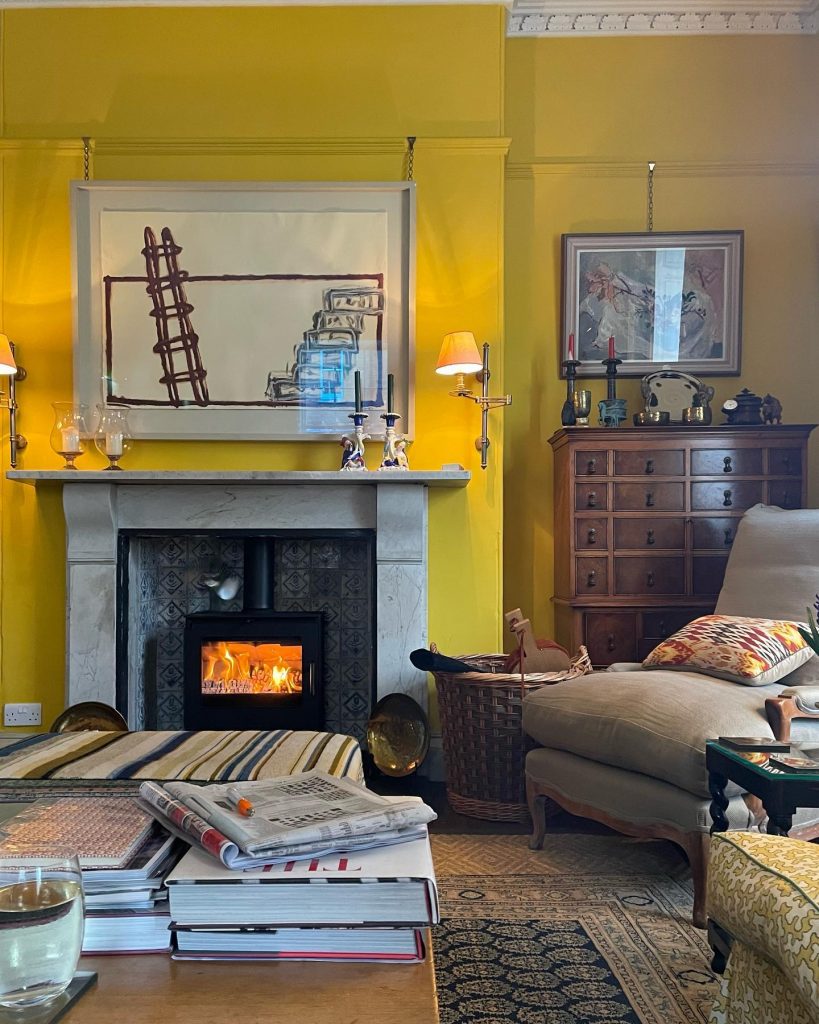 The drawing room of this Georgian townhouse is stylish and lush with well arranged antiques and a color scheme of bright yellow and muted blue.
Take a seat – a vignette of Sibyl Colefax & John Fowler gorgeousness.
The Art Deco sofa. Based on a 1930's original. Made to order in the fabric of your choice.
The Lyall coffee table with diagonal set supports. Available in two sizes or bespoke by quotation.
Squiggle bespoke carpet. Made to order.
Hambleden Yellow paint. Available through @fenwickandtilbrook

sibylcolefax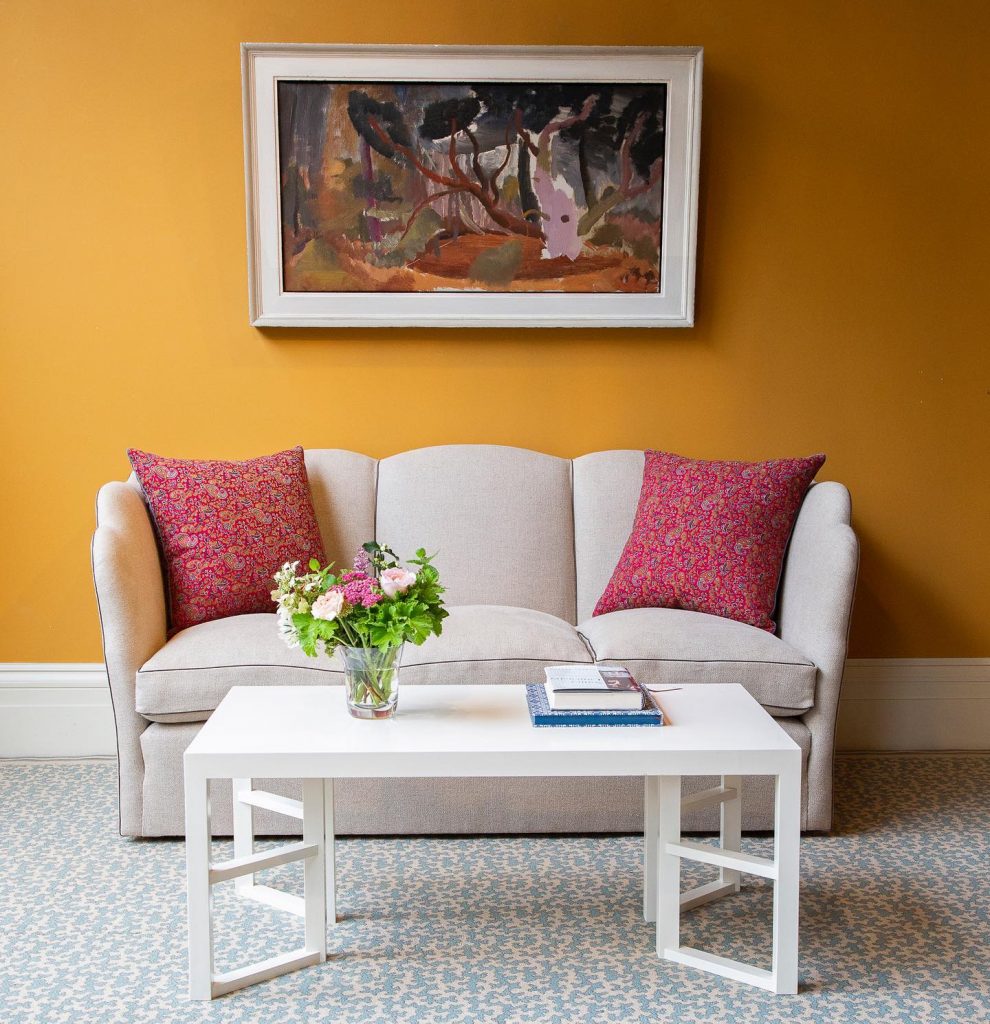 More of this fabulous paint color, Hambleden Yellow walls.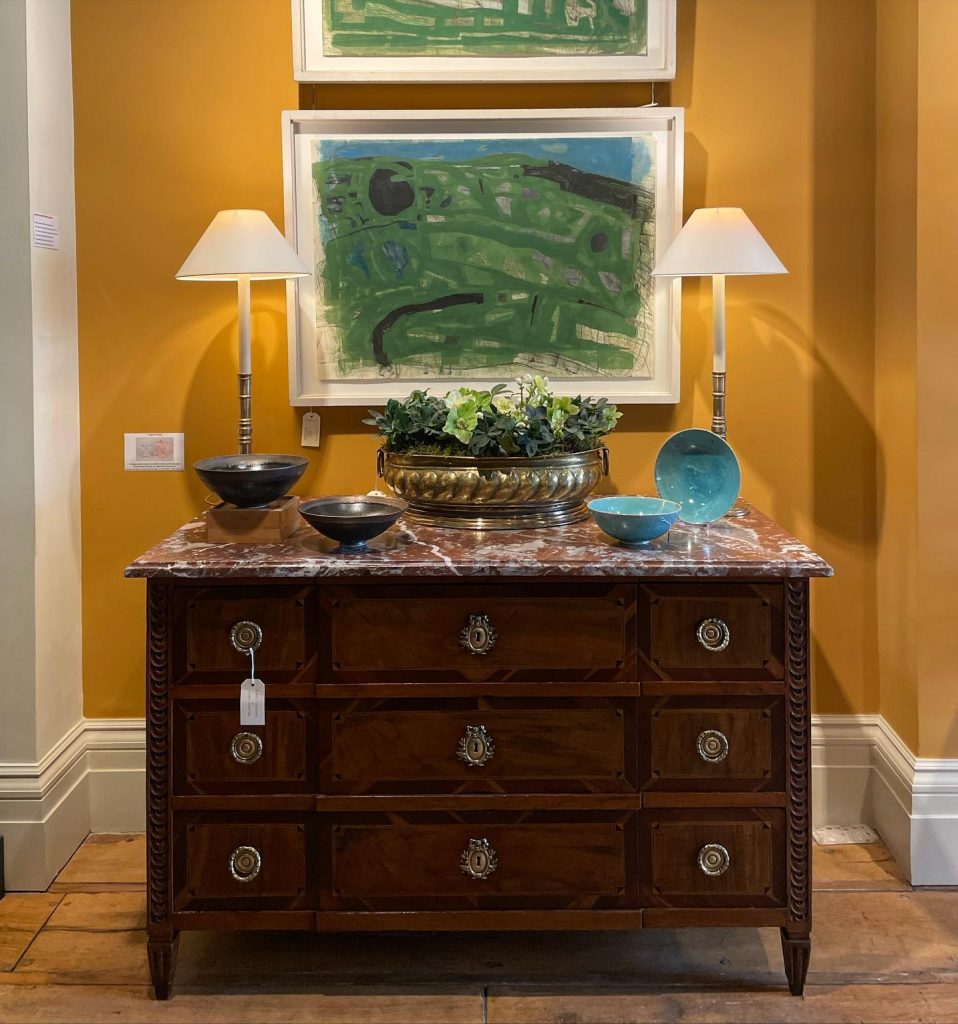 Lemon yellow for the walls in this small study and this dining room.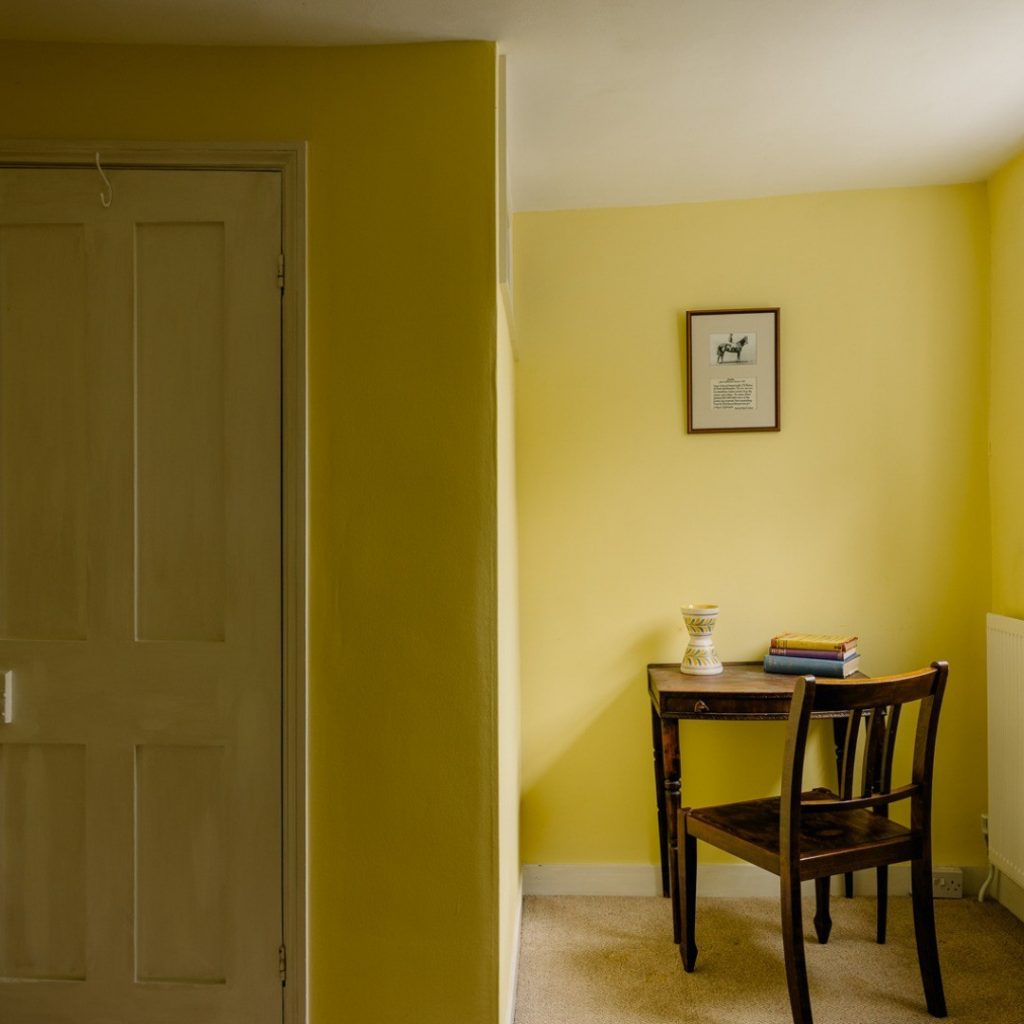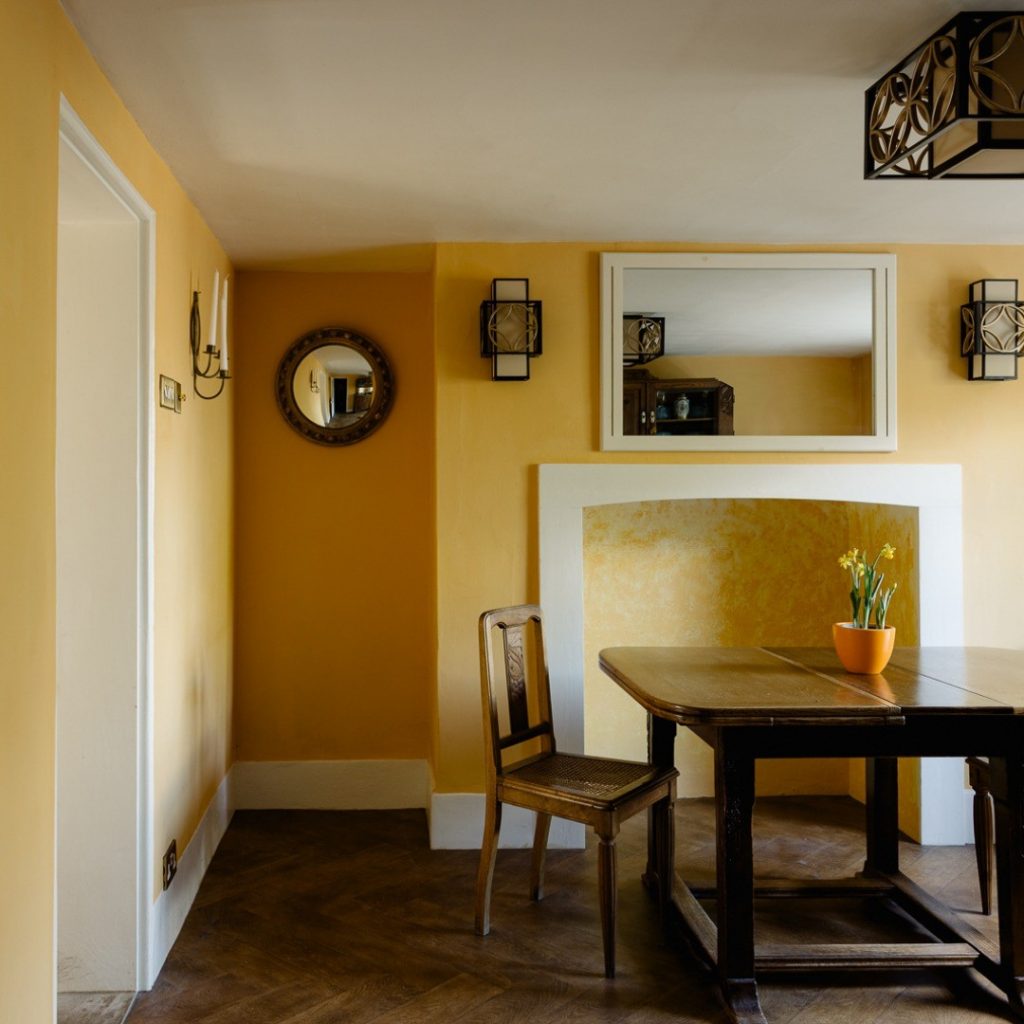 Yellow Paint Color for Bedrooms – 2023 Colour Schemes
A bedroom with a sunny yellow loft painted in Farrow & Ball Sadbury Yellow. Via pollyashman_design.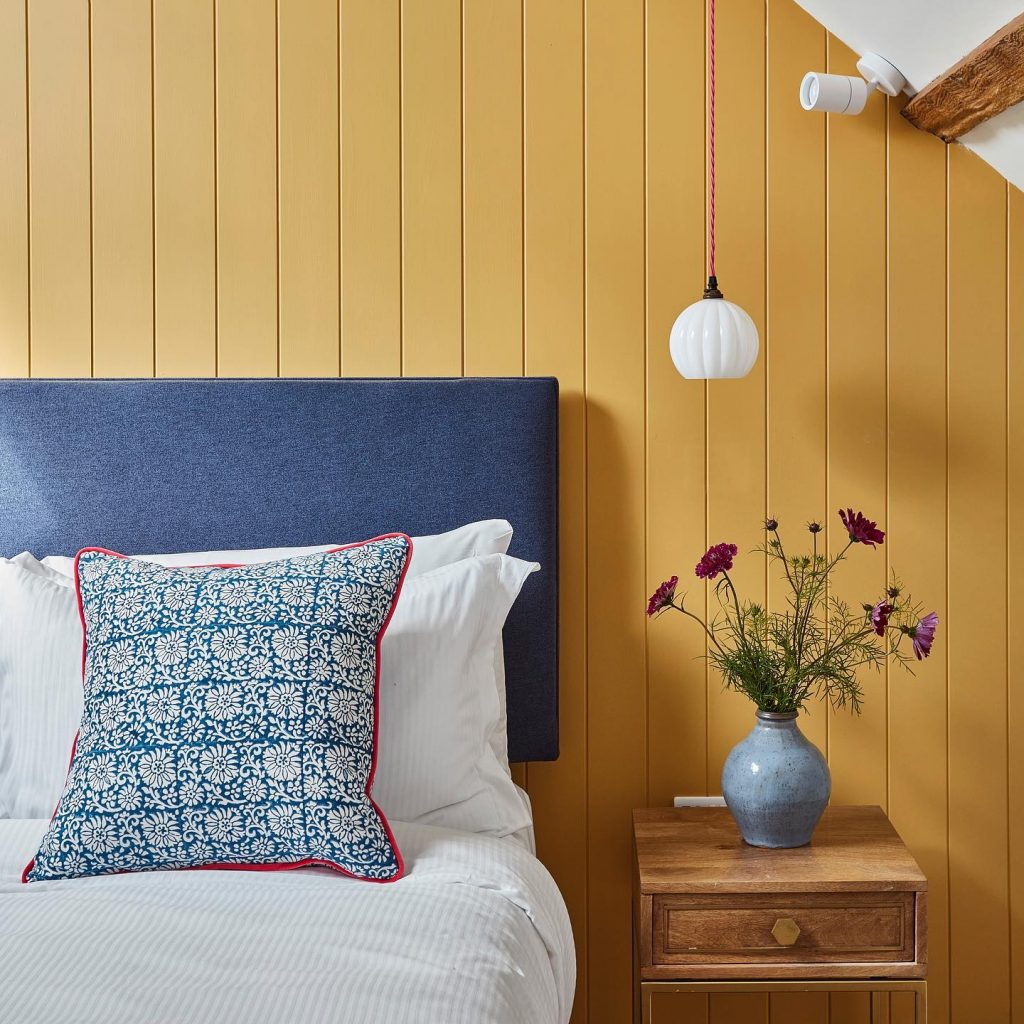 Boys Bedroom
It's really so dismal outside today, I needed to see some sun and some sunny yellow, so here it is….sun from last week and the colour that runs through our house.

A corner of the eldest's bedroom.
The walls were painted in French Grey and all the woodwork is Mister David, both by Little Greene.
It's a very bold yellow. I just love the way it frames the room and brings some interest to a boys room. And well, you know I love yellow…

thegeorgianonthecrescent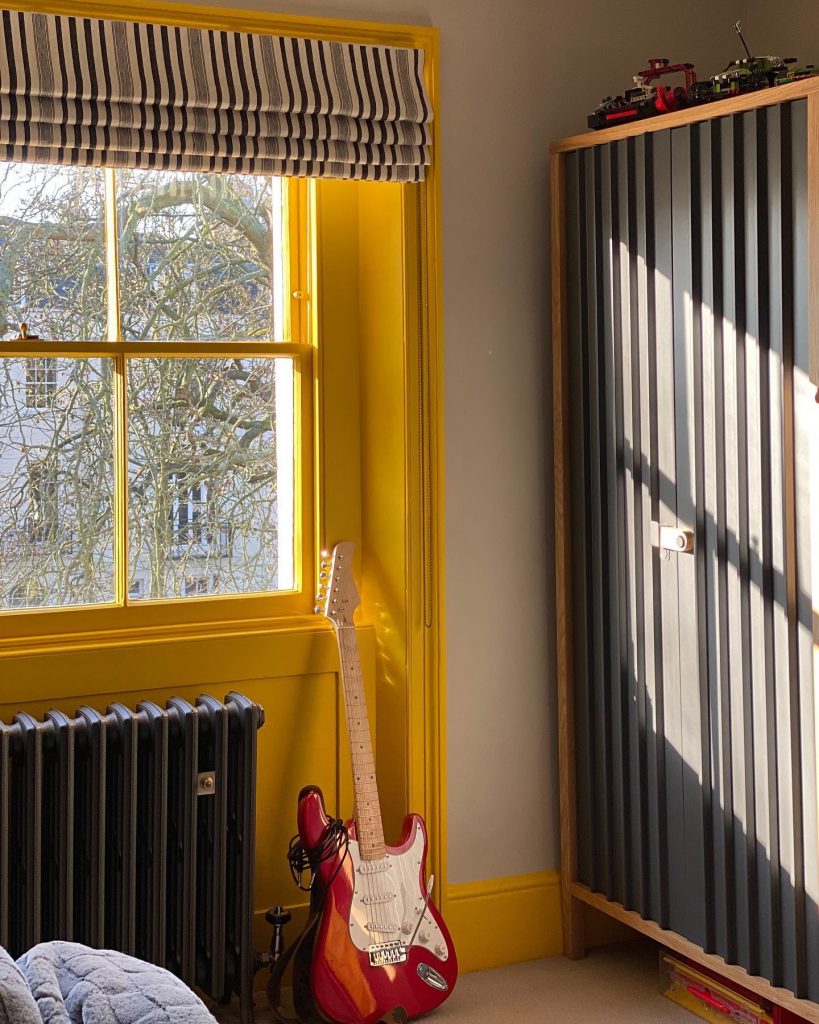 Yellow Kitchen Cabinet Designs for 2023
Our kitchen at home with the Workman's Stool, launched as part of the 2019 Pantry Collection; Each piece is inspired from an antique original we have owned and our love of the English country house aesthetic, crafted in England using the finest sustainable materials. Shown here in English Oak.

jamb_london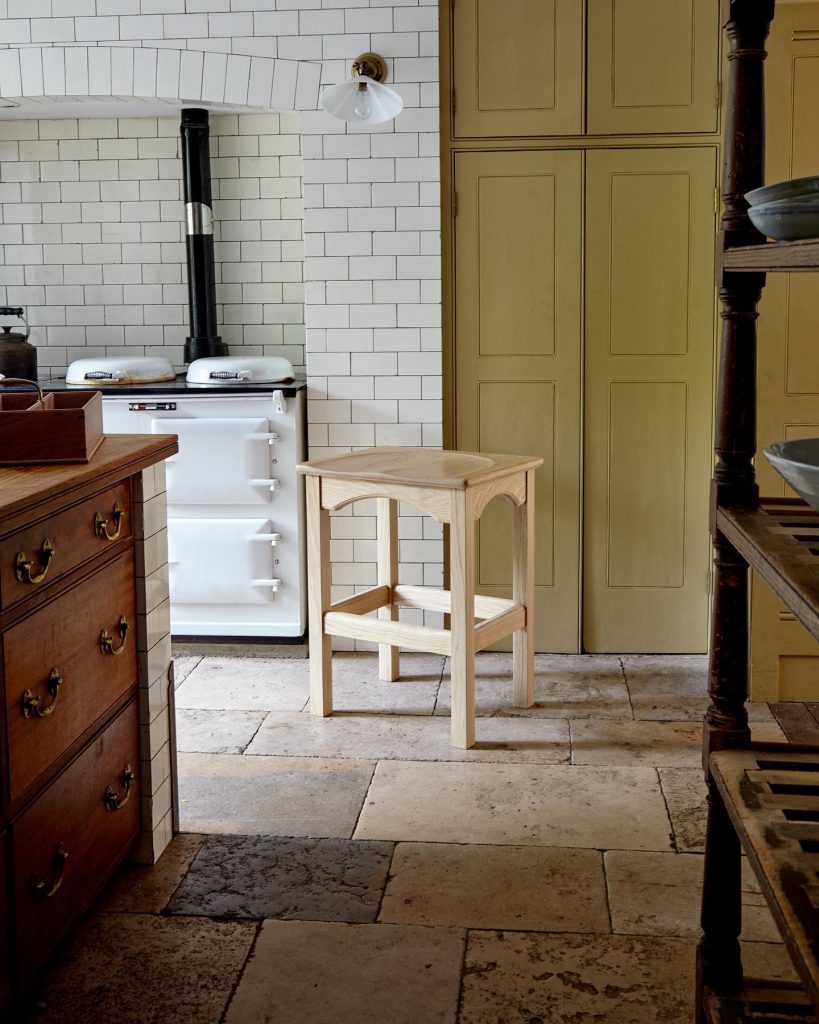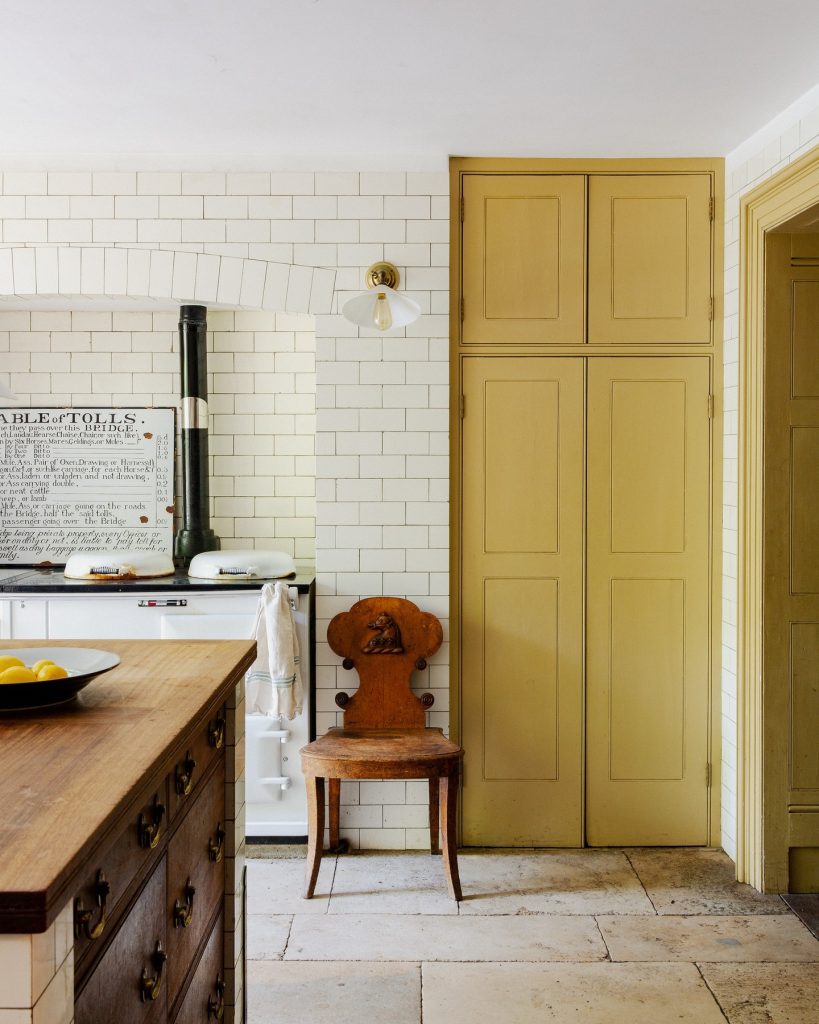 Not finished yet but the Chef's NOOK @langdoncourtmanor is really taking shape. I absolutely love how Farrow and ball India Yellow glows and creates the most amazing atmosphere.

apponyidesign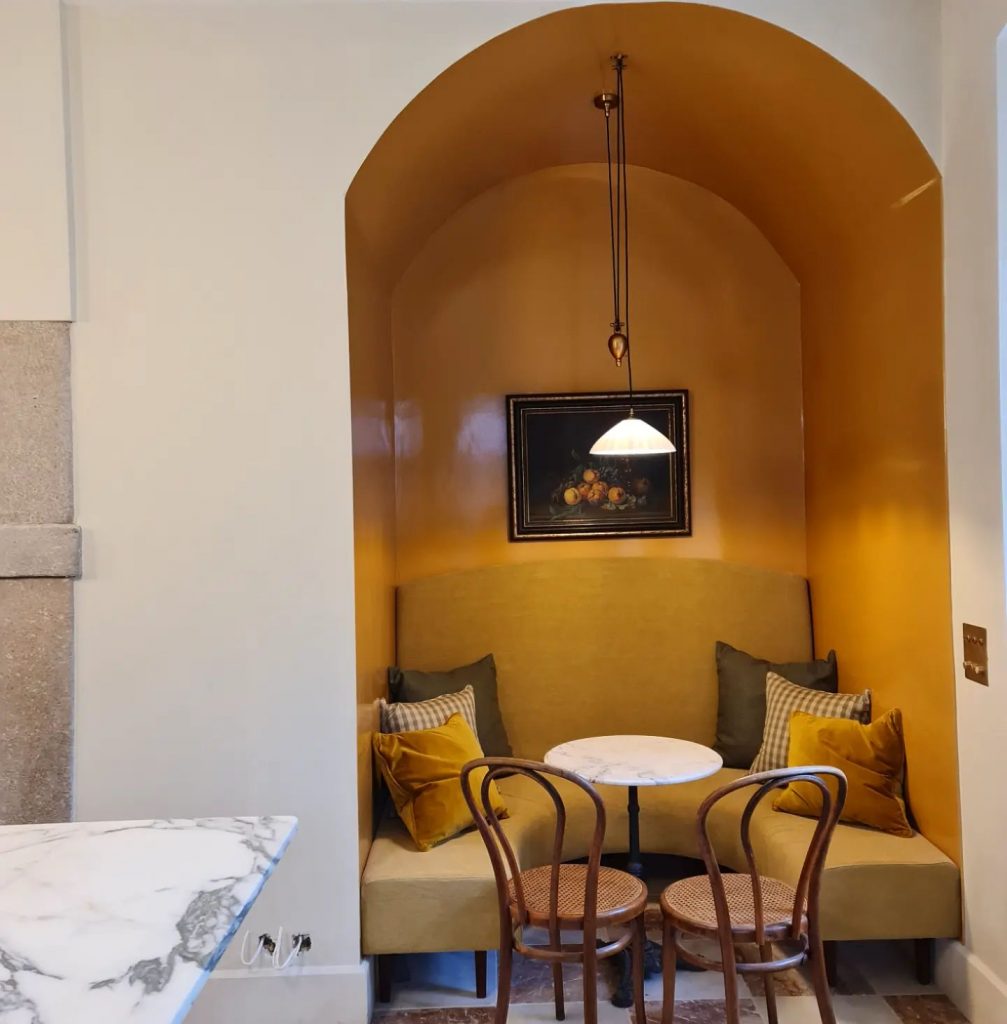 New England modern country house pantry that I decorated. I mostly work on old houses but enjoy challenges and variety. This was a wonderful new build house in Boston's North Shore, USA. And when your client wants a yellow pantry, she must get a yellow pantry. For utility areas, I commissioned lampshades made from recycled detergent bottles.

susandeliss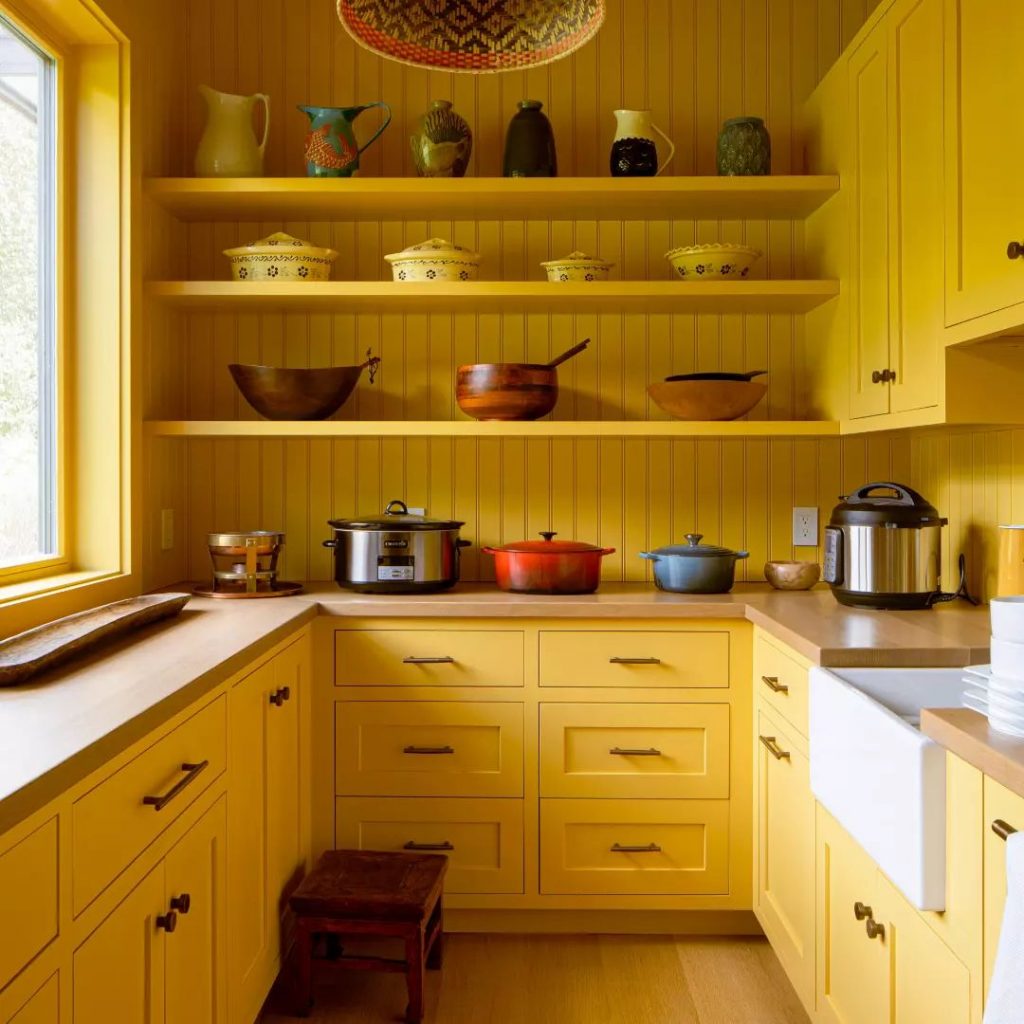 Another kitchen in a bright and chirpy yellow, love the scallops on these kitchen cabinets.
What better room to inspire you than this scullery from a recent country house project. We wanted it to be a cheerful place that always felt sunny even when the weather outside had other ideas… somewhere that makes getting organised fun!

We suggested that the client get traditional glass cloths made for the house, which we then joined together to make the gathered curtain. The fact that they weren't quite long enough meant that this was the perfect place to reuse the scalloped pelmet from a four poster bed that we were repurposing in another room! The perfect opportunity to reuse and reinvent.

The scallop motif was then echoed in the shelf apron to make sure that this room felt decorative and not just utilitarian and now it's a very happy place to get jobs done in!

salvesengraham.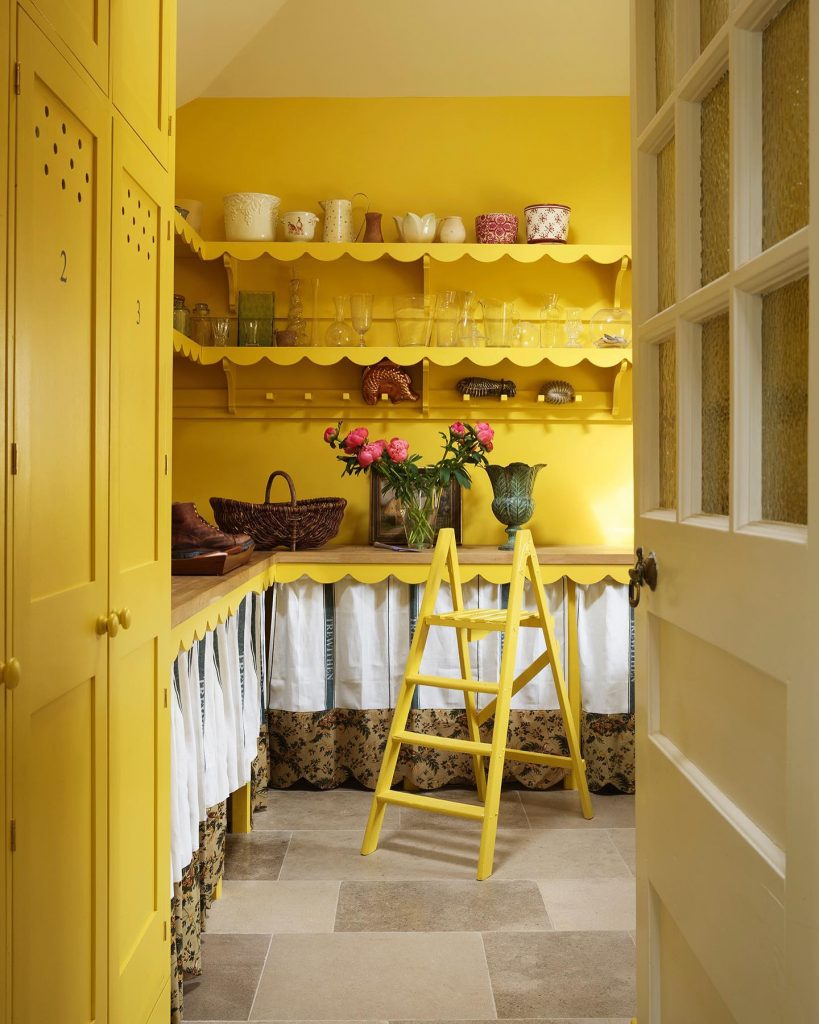 The archetypal country kitchen is all about comfort and character, and relies more on look than location. Key ingredients often include a deep ceramic sink, a generous large-scale scrubbed table and plate racks brimming with china. Image: @devolkitchens

Via English Home Mag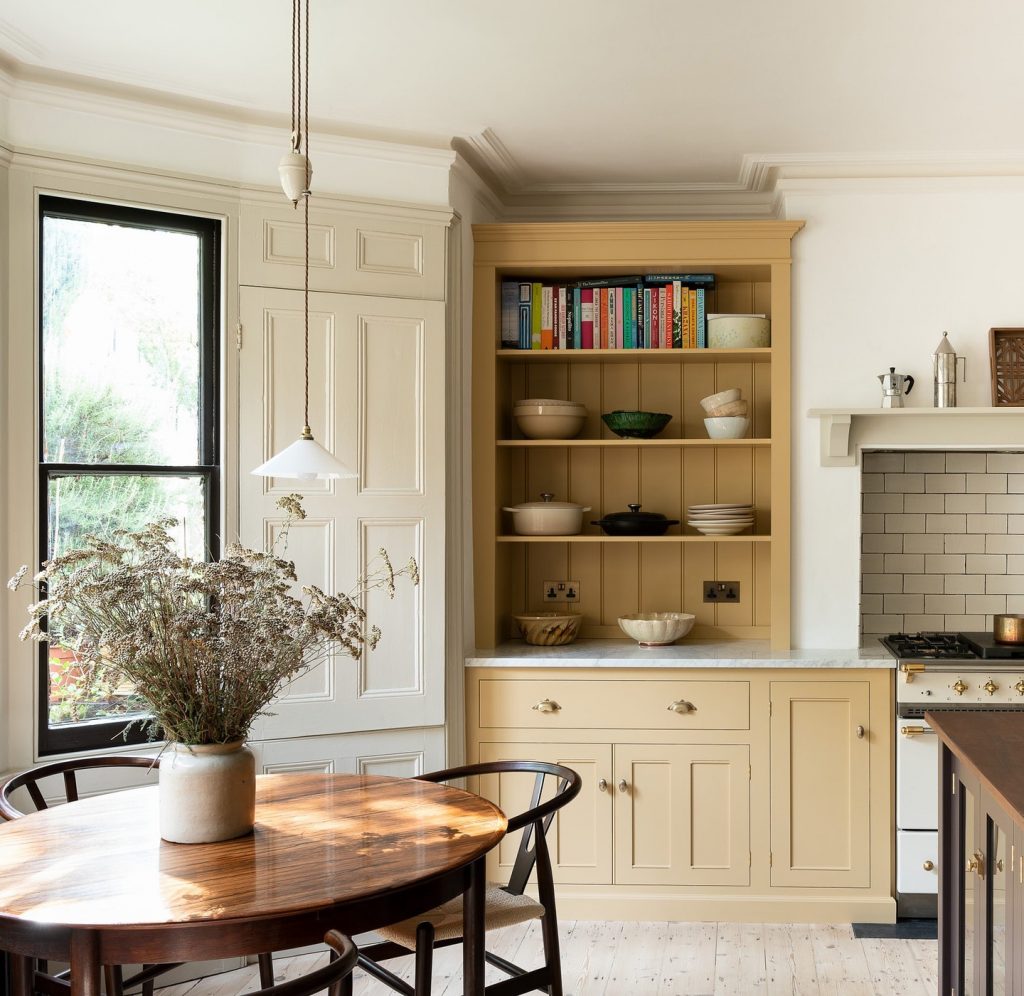 Practical storage is key in any home and not least when childhood paraphernalia is involved! These cupboard, part of an extensive storage solution in a playroom needed to be robust and house and endlessly rotating number of toys, crafts and books.

salvesengraham.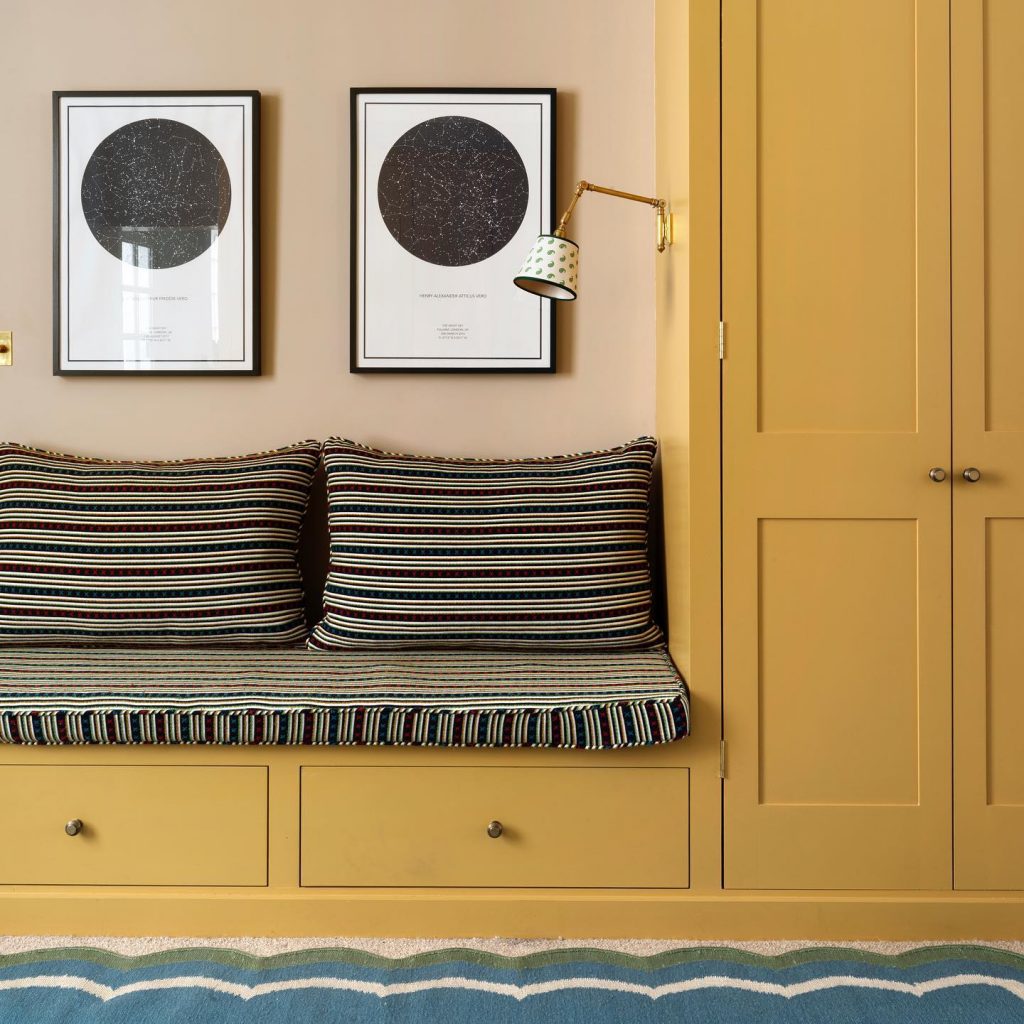 The yellow kitchen of a Grade II-listed early Victorian home in Leominster, Herefordshire. Yellow walls, ceiling and painted kitchen cabinets with black painted trim and door. Via Inigo House.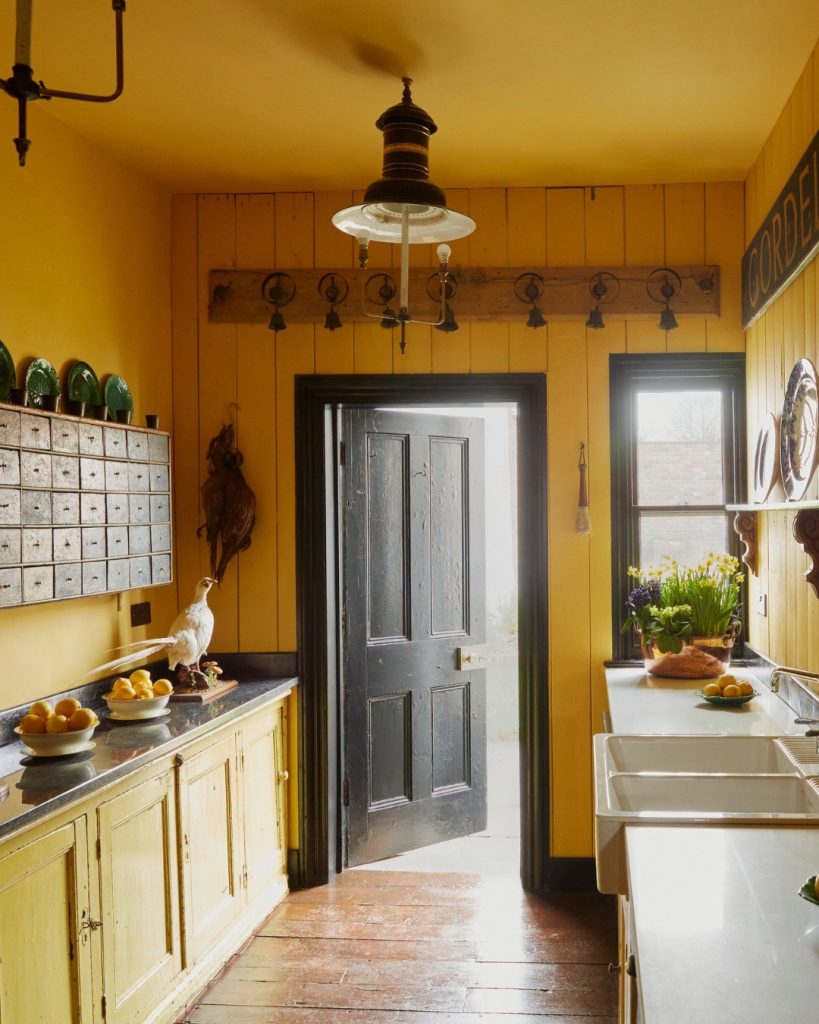 An amazing modern kitchen in blue, white and yellow.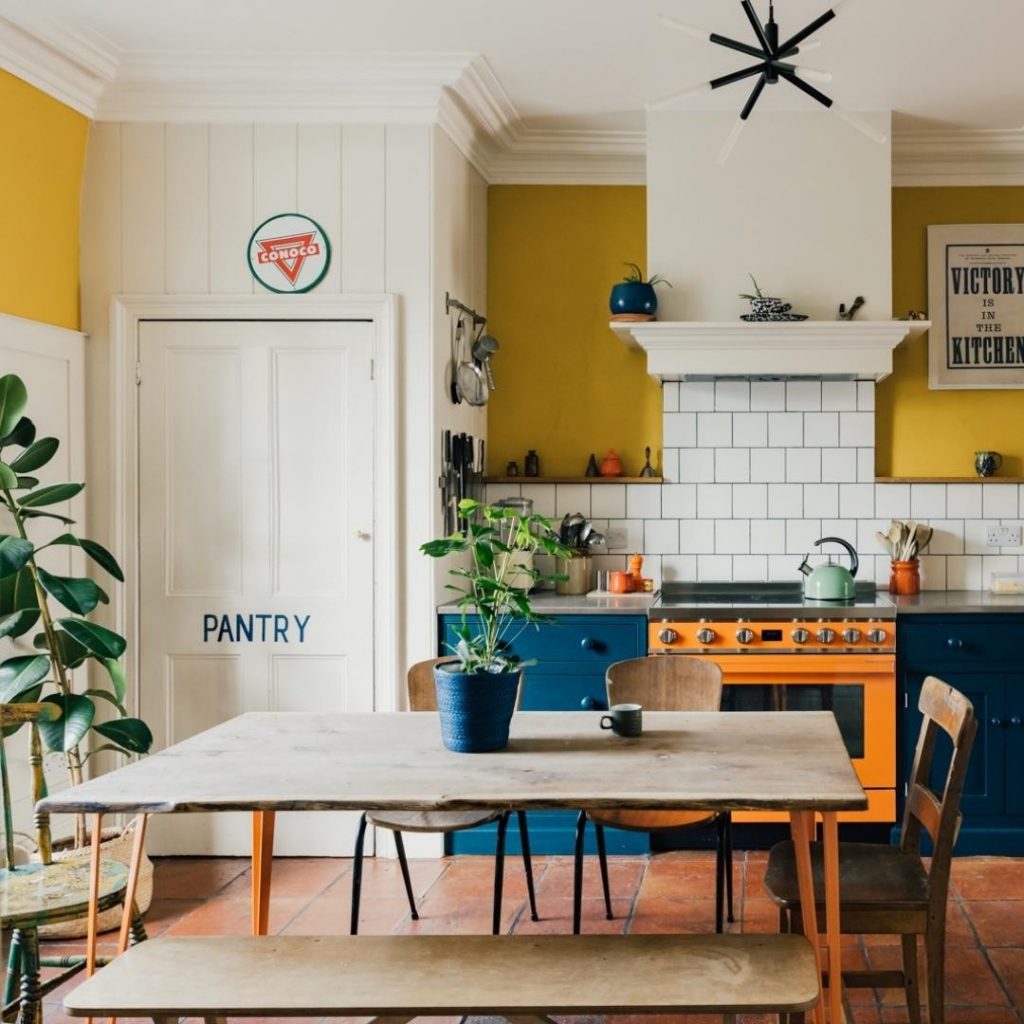 Golden yellow paint colors pair well with wooden accents and trim. Light yellow paints provide a subtle cheer in every room, strong yellow will create an upbeat sense to any room, darker yellows like mustard and ochre are great for a cosy feeling, especially in the evenings. Yellow is warm and is perfectly suited for south-facing spaces. Yellows can be used in casual living areas, hallways and entry spaces to create a light-filled bright setting.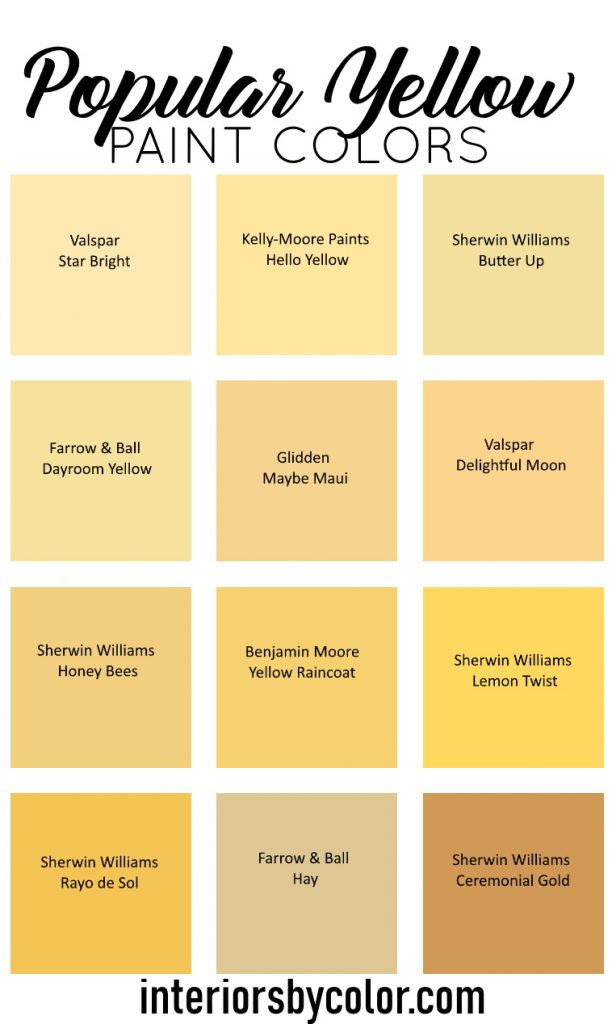 Sherwin Williams Yellow Paint Colors.
A cheery nature follows yellow wherever it goes. This golden hue triggers thoughts of happiness and sunshine especially when it's used in a room with lots of natural light.